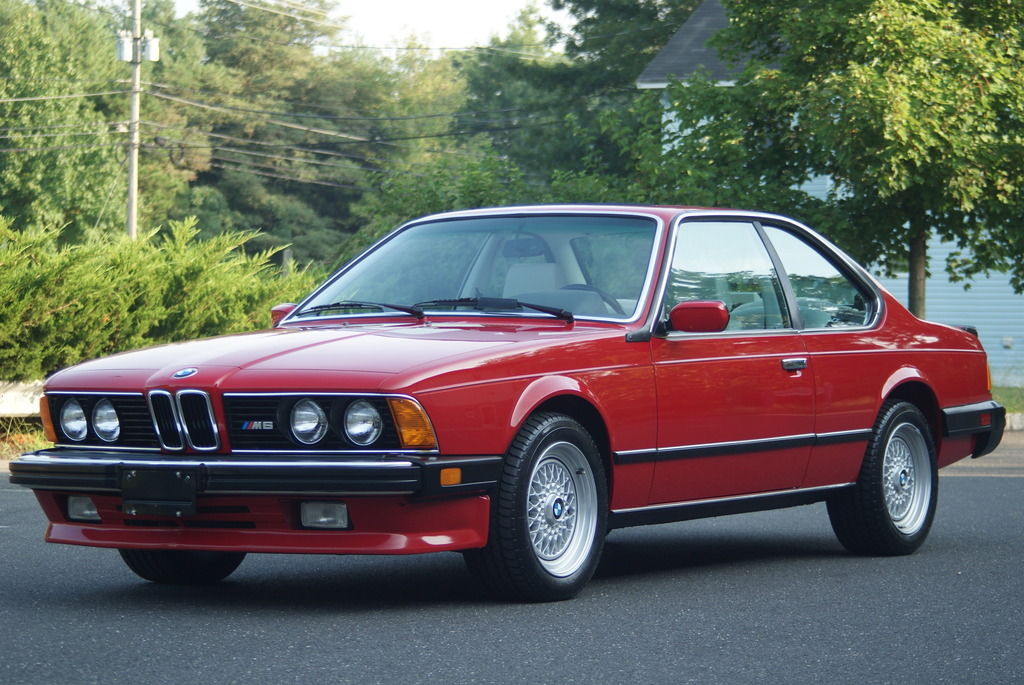 While it's easy to be a 'Monday Morning Quarterback' and scoff at the prices for lightly used cars from the recent past, true time capsules like the Porsche Rob just wrote up are generally the domain of pure wonderment. How have owners been able to restrain themselves for decades without driving a car? This afternoon's M6 is in a similar vein to the lineup we've been looking at; pristine, original condition, and low mileage. While the 36,800 accrued far outstrip those of the RS6, M3 and especially the 911 RSR, finding an all original M6 with below 40,000 miles in near perfect shape is certainly worth a look: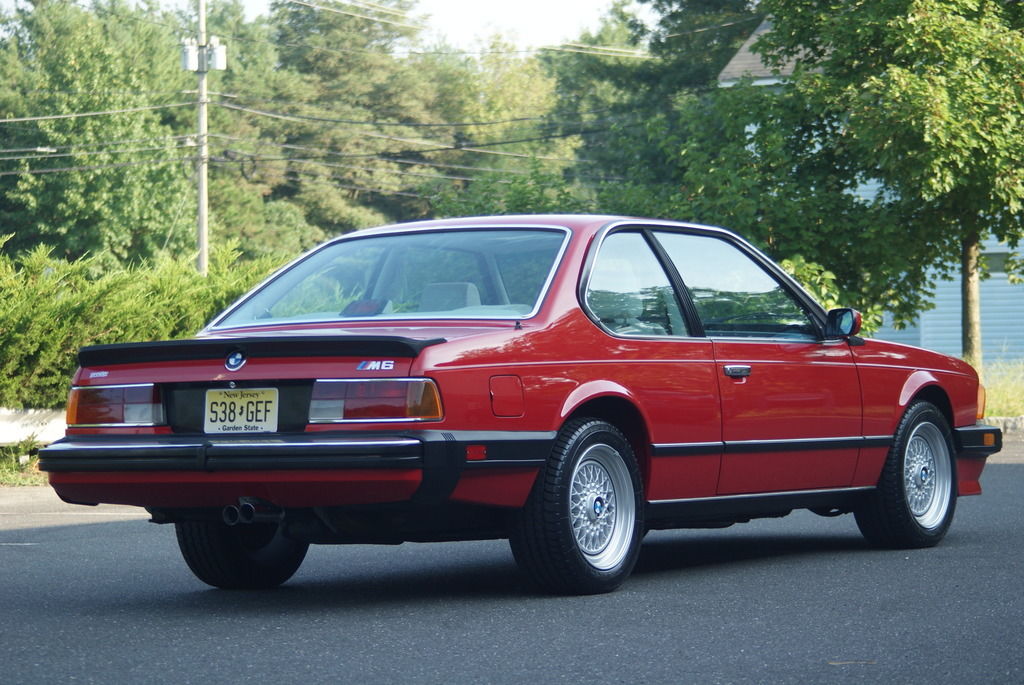 Year: 1987
Model: M6
Engine: 3.5 liter inline-6
Transmission: 5-speed manual
Mileage: 36,800 mi
Price: Reserve Auction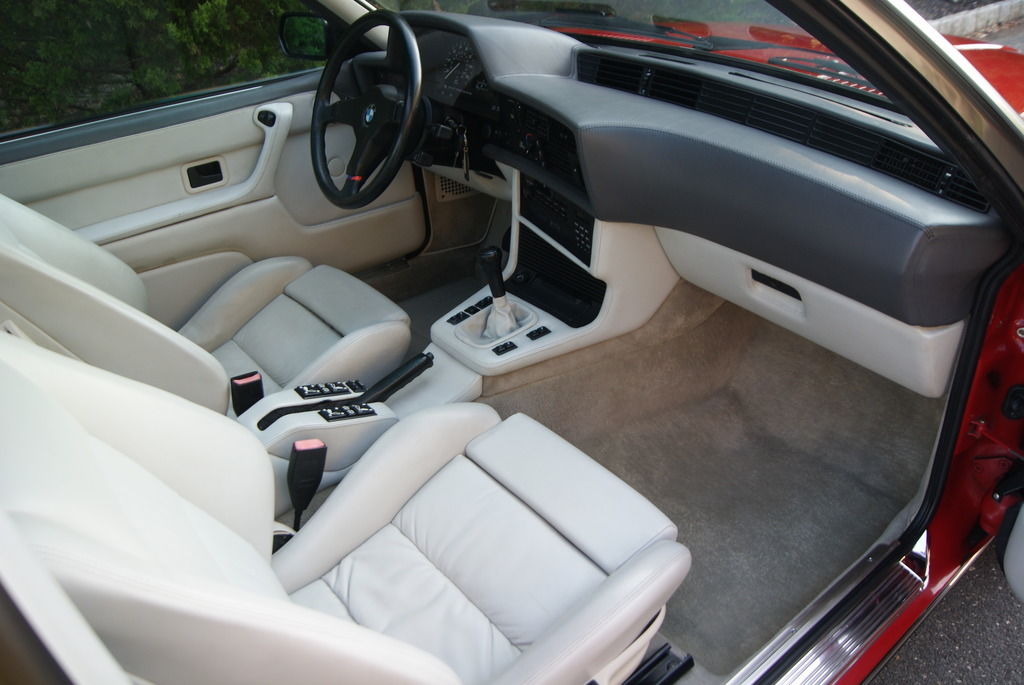 1987 BMW M6 Sports Coupe

36,800 miles from new.
Zinnoberrot Red.
Lotus White leather interior.

ALL ORIGINAL CONCOURS LEVEL EXAMPLE !!!

Rare leather wrapped dash .
Pristine all original collector quality example.
Pre-purchase inspections welcome at my facility !!!

CONTACT DEAN LAUMBACH AT 848-459-7776
Quite simply one of the best preserved and all original examples of a E24 coupe on the planet.
Cosmetically the vehicle is ready to show at a Concours Event, and mechanically the vehicle was recently sorted through by one of the top BMW M Series experts on the East Coast.
Pre-purchase inspections are welcome at my facility in Central NJ 07753.
There will be no disappointments with this M6.
Cosmetically you will be extremely hard pressed to find a nicer example.
The all original Zinnoberrot Red paint was professionally detailed to an extremely high standard and is well complimented with crystal clear original glass and bright anodized aluminum trim.
Un-restored original Lotus white interior is breathtaking and Napa leather is butter soft to the touch.
Rare leather dash in excellent all original condition.
If you look inside of the fenders and rear quarter panels you will see that the original red finish is remarkably clean and highly detailed.
The undercarriage of this vehicle is show quality with minimal paint loss and still wears its original cosmoline coating from the factory.
My company Dean Laumbach Consulting LLC spent over 50 hours detailing this car to a Concours condition in 2016 and the vehicle has been maintain in a dehumidified climate controlled environment since.
Please view the 20+ photos of the vehicle's undercarriage at the end of this listing.
Engine bay is also highly detailed and all refreshed components such as clamps, wire insulation and new fan shroud are OEM from BMW.
The vehicle runs and drives like new as it just went through a complete bumper to bumper sorting by one of the best BMW M Series Marque experts here on the East Coast.

Services performed in the past 200 miles:

Oil and Filter change, Coolant flush with BMW OE coolant and distilled water
Brake fluid service with clutch line bled
Replaced power steering pump and flushed system
Performed valve adjustment & replaced valve cover gaskets
Replaced fuel filter
Replaced engine air filter
Replaced spark plugs with Bosch X5DC
Replaced distributor cap and rotor
Wire set Ohmed out and passed test, new wire set will be included for future use
Performed diff service
Performed trans service
Replaced rear dogbones
Replaced all heater and cooling system hoses and clamps with BMW OE parts.
Replaced aged under-hood fuel lines.
replaced intake boots, o-rings on throttles and mass air flow meter boot and clamps.
Replaced vacuum hose from fpr to intake
Cleaned under-hood connectors with deoxit.
Replaced alternator with BMW OE unit.
Replaced radiator, expansion tank, cap, fan clutch and shroud with BMW OE parts.
Bled, filled and adjusted rear SLS system to perform as designed.
Mounted and road force balanced 4 new Michelin TRX-GT tires.

Needless to say this car is turn key and ready to be enjoyed for spirited fair weather driving!

Please take the time to view each section of this ad, and do not hesitate to ask any questions regarding both the cosmetic and mechanical condition of this vehicle.

Over 200+ photos on display so please scroll through each section.

This vehicle is located in Central NJ 07753.

Pre-purchase inspections are welcome and encouraged.

NO DISAPPOINTMENTS !!!

Exterior:
The vehicle's exterior is in pristine all original condition and the Zinnoberrot Red exterior has a showroom quality finish. (see paint meter readings)
The OEM Metric wheels have not been refinished and are in NOS condition.
Previous owner removed them shortly after purchase and had them cleaned to perfection inside and out before storing in a climate controlled facility.
Special order from Coker Tire are the OEM Michelin TRX-GT tires that you see currently mounted on the M6 and they have less than 25 miles of road use.
If you look inside of the fenders and rear quarters you will see that the original red finish is remarkably clean and highly detailed.
Bright-work is exceptional all around with only the most minor flaws being present on the top of bumper covers.
OEM glass is crystal clear and all the rubber trim and seals are nearly flawless.
Anodized aluminum trim around the glass is in excellent condition and very bright and shiny.
Upper rubber trim along roof line is excellent and not faded.
Headlights are also crystal clear and NOS BMW fog lamps were recently installed.

Rare leather wrapped dash in nearly flawless condition as Lotus white leather seating surfaces are also exceptionally clean and soft to the touch.
All gauges, electronic amenities, AC, and OEM BMW stereo are in perfect working order as the vehicle's cabin was also maintained to a very high standard.
Bright-work inside of the jambs are exceptional !!!
Trunk is also exceptionally clean and dry with the unused OEM spare tire present as well as tools.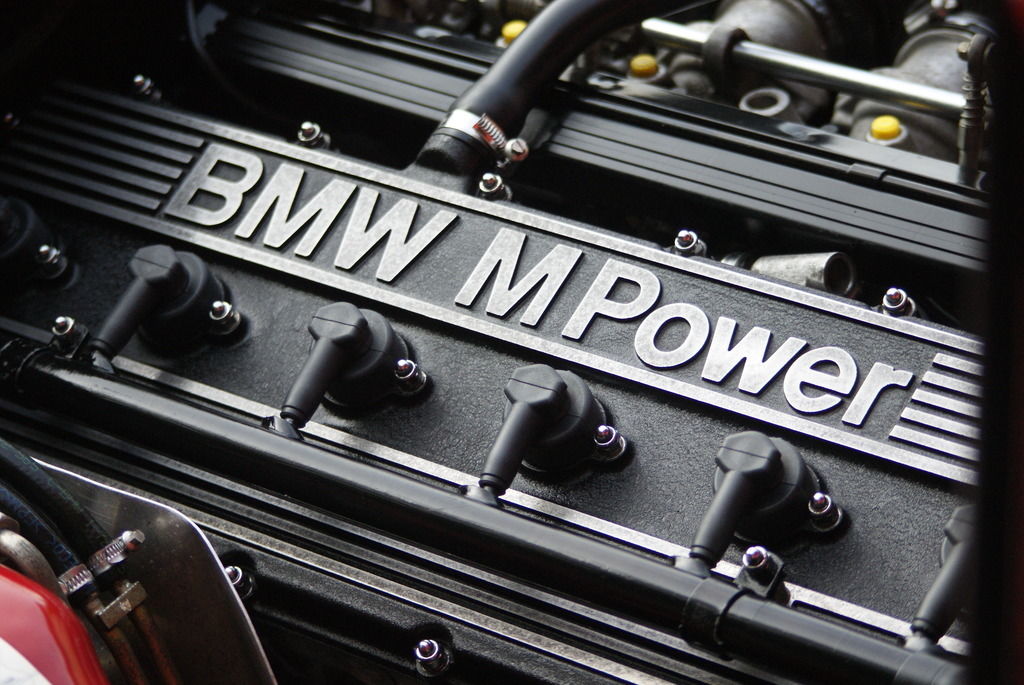 While most would consider the '88 refresh the better looking one to go after, this '87 is just mega. The condition throughout and presentation are top notch, and on top of that the seller has thoroughly refreshed the car with new old stock parts to near showroom condition. Want to win a preservation class at basically any BMW show? Here's your ticket. I especially love that they've even gone so far as to keep the original TRX M6 stripe BBS wheels, The updated TRX GTs are $410 each, unshipped and unmounted. That level of detail is exactly what you'd want. On top of that, the color combination of Zinnoberrot and Lotus leather is gorgeous and one of my favorite aspects of the E24 M versus the E28; Black was bad to the bone, but color always makes these big coupes pop, and the finish in white inside is beautiful. Add to that this car had the rare leather dash, and it's easy to see why it's so desirable, and why the bids are following.
M5s and M6s have been surging in the past few years, and this example certainly is one of the best and most original that has come to market that I can remember. Bidding has been active and with a day left, the reserve remains on at $53,000. Only 1,767 M6s were made for the U.S. market, and you're just not likely to be coming across many examples better than this in the future.
-Carter