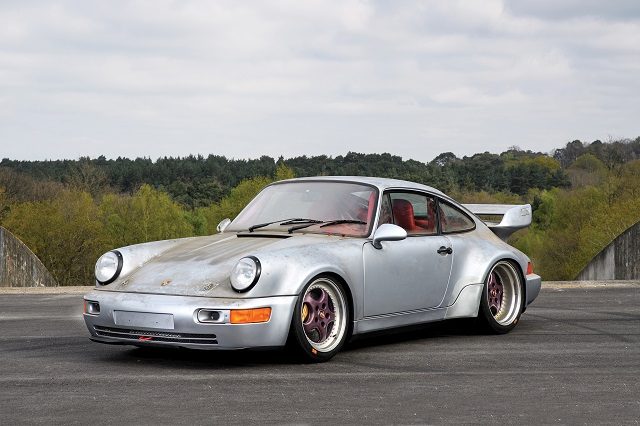 This Porsche has been making the rounds over the past few days in a pretty wide variety of mediums so we figured we might as well add our take to the mix.
Because as absurd cars go this one might take the cake. This is a 1993 Porsche 911 Carrera RSR with a mere 10 kilometers on the clock. It's full of special order features. It also looks like it's been parked in a shed. Given everything else about this car that last point strikes as perhaps the most peculiar. Regardless, it's going up for auction as part of the RM Sotheby's Villa Erba auctions in late May. The estimate: €2-2.2mil. That strikes me as about right, but with a car like this it's very tough to judge.
The RSR is another, and possibly the ultimate, in a long line of rare special 964s. I have mentioned this previously, but it always seems to me that Porsche couldn't decide what to do with the 964. The models are so various and numerous it's as if each engineer was told to brainstorm and then they just went ahead and made everything. Not a complaint, just an observation. Naturally the RSR fits into its own world given its racing pedigree, but this one tries to blend the racing and road just a little bit as it's one of two RSRs to have been ordered with a full leather-trimmed interior. The choice of Can Can Red for that interior was simply brilliant. My first question: was the original buyer of this car the same person who ordered this Turbo S Leichtbau? They're twins!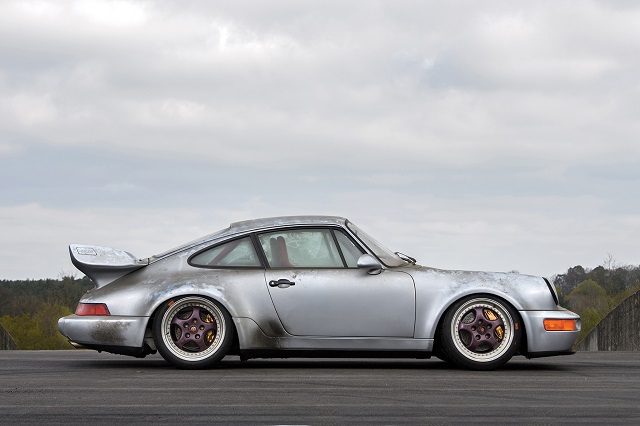 Year: 1993
Model: 911 Carrera RSR
Engine: 3.8 liter flat-6
Transmission: 5-speed manual
Mileage: 10 km (~ 6 mi)
Price: Auction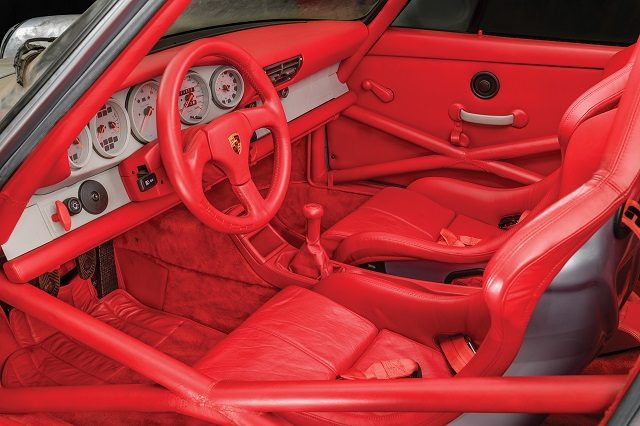 Only 10 kilometres; completely original and as-delivered
Still covered with the factory-applied Cosmoline
Special-order Polar Silver over Can Can Red leather
One of two race-derived RSRs with a fully trimmed interior
One of only 51 Carrera RSRs produced

Imagine that as a die-hard Porsche fanatic, you wish to have the fastest and wildest 911 that the factory has to offer—a car that can handily compete on the track right out of the box. The choice is obvious: a new Carrera RS, or better yet—and faster still—the fully race-prepared Carrera RSR. You contact Porsche, and with considerable means, special order such a 911 to your own unique specifications. However, once delivered and with only 10 kilometres recorded, this limited-production 911 vanishes into a private collection, where it remains untouched and never driven for almost 25 years, still covered with its factory-applied Cosmoline coating.

The exclusive Type 964 Carrera RSR, of which only 51 examples were built, was the Turbo-bodied racing version of the Carrera RS. It was fitted with a 3.8-litre type M64/04 RSR-specific engine. This dry-sumped, single-ignition powerplant developed an impressive 350 horsepower and 284 foot-pounds of torque, all fed through an uprated five-speed manual transaxle. Unbiased reviewers viewed those official numbers as very conservative. A more realistic figure, they declared, was at least 375 horsepower. Car and Driver magazine produced a 0–60 mph result of 3.7 seconds, quicker than a Ferrari F40.

Ever dominant, the RSR racked up stunning race results from the outset, winning overall at the Spa 24 Hours, Suzuka 1000 KM, and 24 Hours of Interlagos. There was also a class victory at Le Mans, a 1-4 class sweep at the Daytona 24 Hours, and another class victory at Sebring.

Interestingly, this all-original example was special-ordered and delivered with numerous creature comforts (compared to the stripped down race cars). The RSR was specified with Polar Silver Metallic paint and trimmed in Can Can Red leather, including the competition seats (whose rear panels were painted body colour), headliner, upper and lower dashboard, steering column and steering wheel, door caps, and even the bolt-in roll cage. The carpeting and six-point Schroth racing harnesses were colour-matched, while the silver-faced instruments were surrounded with silver-grey leather, as were the door pulls. The battery master switch mounted in the front trunk compartment can be operated from the driver's seat. The centres of the wide Speedline three-piece wheels were ordered in Amethyst Metallic, while the callipers for the huge disc brakes are painted a contrasting gold.

RM Sotheby's is thrilled to offer this magnificent 964 Carrera RSR 3.8 in unused condition, just the way it was completed by the factory. With only 10 kilometres, this exceptional and ultra-exclusive Porsche is thoroughly and absolutely original.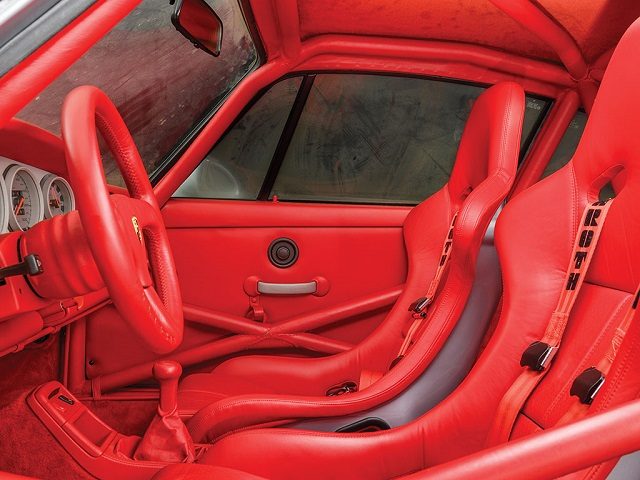 Alright, we know this is a special car: it's 1 of 51 964 RSRs produced, 1 of 2 with a full interior, and it has 6 miles on it. Does all of that combine to make it a $2mil 964? We've had a lot of discussion on these pages during the past year about the air-cooled 911 market returning to sanity. However, to a degree that sanity has applied only to the many very nice, but ultimately regular 911s on the market.
So what can we expect here? The only close comparison I know of is the Speed Yellow Turbo S Leichtbau that sold at Amelia Island in March. The price: $1.54mil. There also was a 964 RSR up for auction at Amelia Island, but it failed to meet reserve and I cannot recall where bidding stalled. The Leichtbau gives us a ballpark figure though. It's a similarly rare performance-oriented model. It's mileage (~1,400 mi) was quite low, but still far from this RSR, and it was completely original. All of that said, this RSR has 6 miles on it and that by itself could propel it to significant heights if the stars align. When the Leichtbau was up for auction bidding nearly faltered at almost half its selling price. Then two bidders got involved and suddenly there we were at $1.5mil. I suspect we might find something similar here. If two bidders really desire this RSR, then the price could be huge. But if not…. Getting excited for an auction is kind of peculiar, but how often does a car like this come up?
-Rob