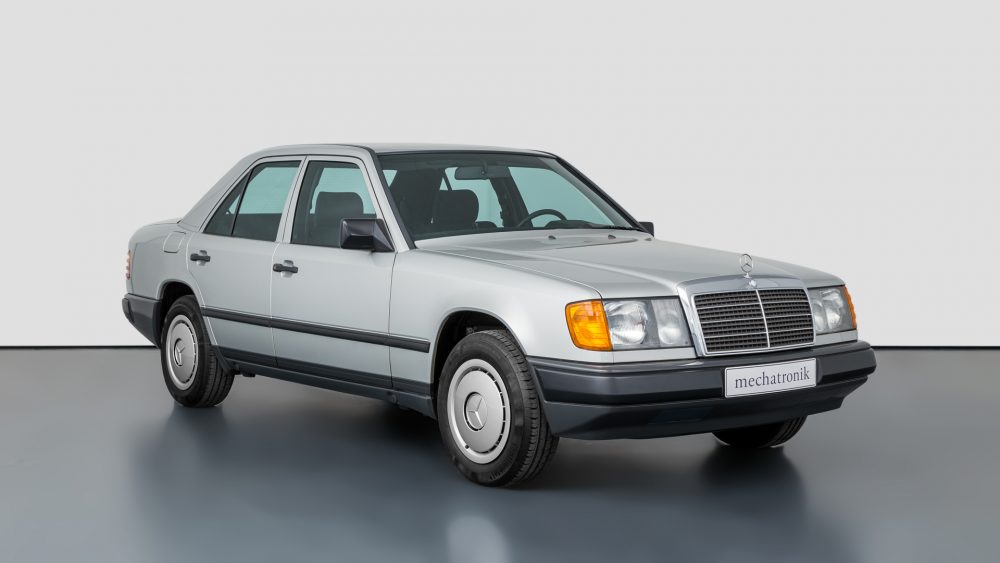 These are always fun. This is a 1987 Mercedes-Benz 230E with a mere 995 kilometers, or 618 miles for us Americans. The story says that it was used as a dealer demo car for a showroom in Germany then stashed into storage until recently discovered. As crazy as it is to see 618 miles, this is about as basic as a W124 gets. The M102 inline-4 with a cloth interior, no power windows, no air conditioning, and a manual transmission. Puzzling at the time, but now as we are entering an era where some covet for basic models with nothing to go wrong, it is tough to argue against this one. Problem is, this one comes with a massive price tag. Like, nice 500E price tag.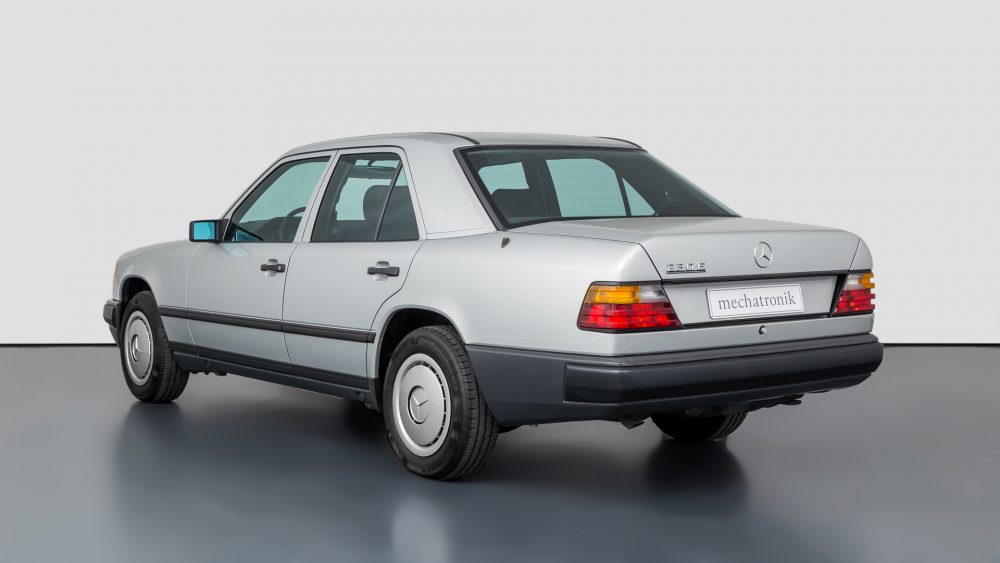 Year: 1987
Model: 230E
VIN: N/A
Engine: 2.3 liter Inline-4
Transmission: 5-speed manual
Mileage: 995 km (618 mi)
Location: Pleidelsheim, Germany
Price: €49,500 ($58,675)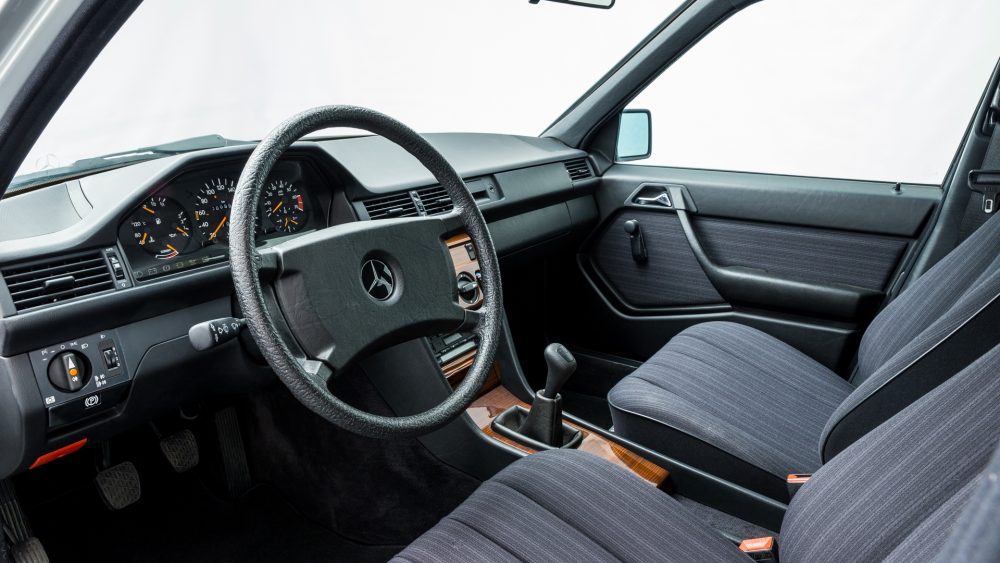 The Mercedes-Benz W124

Development of the W 124 began in the autumn of 1976 under the direction of Hans Scherenberg. The W 124 program officially started in July 1977, and research and development began work under the newly appointed head of development, Werner Breitschwerdt. In April 1978 it was decided to orientate the development on the Mercedes-Benz W 201. The specifications, in which the basic parameters of the project were defined, had been completed by April 1979. The final exterior design for the W 124 program was completed in the winter of 1980 and finally approved by the board in early 1981. The first prototypes were completed in mid-1982. In March 1984, pilot production began and sedan development was completed. In November 1984 Daimler-Benz presented the new sedan in the upper middle class as the successor to the W 123 series, initially under the name "Middle Mercedes class". Elements from the W 201 were adopted for the 124 series, but remained independent in terms of technology and design. There were parallels to the compact class, for example, in the use of high-strength sheet steel and other weight-saving materials. Despite the lightweight construction, vehicle safety has been improved. The W 201 and the S-Class of the 126 series served as benchmarks for this. The passenger compartment of the 124 series was characterized by high side impact and rollover resistance and was provided with ingenious deformation zones in the front and rear. The criterion of an asymmetrical frontal impact with 40 percent overlap and 55 km / h has now also been met by the sedans of the medium-sized series. In addition, possible contact zones to protect pedestrians and two-wheelers have been designed to be flexible.

The vehicle offered here was delivered to the Mercedes-Benz branch in Braunschweig on May 27, 1987 and presented as an exhibition vehicle in the local showroom. After about a year in the showroom, it was decided to store the car. This 230e remained in this Sleeping Beauty sleep for the next 33 years! Unused and in absolutely new car condition. In March 2021, a dealer discovers this time capsule and purchases the vehicle in order to offer the vehicle for sale to our company immediately afterwards. And so this W124 230e, which can still be described as a new car, is now for sale from us. We are handing over this collector's vehicle including a new customer service, as well as a new TÜV approval. Our sales staff will be happy to answer any questions you may have at any time. Please note,

Equipment list:

211 AUTOMATIC LOCKING DIFFERENTIAL (ASD)
254 RADIO MB AUDIO 30
412 ELECTRIC SLIDING ROOF
470 ANTI-LOCKING SYSTEM (ABS)
531 AERIAL AUTOMATIC
550 HANGING DEVICE
591 WD-GREEN GLASS ALL AROUND, HEATING. REAR WINDOW ESG
620 EXHAUST GAS CLEANING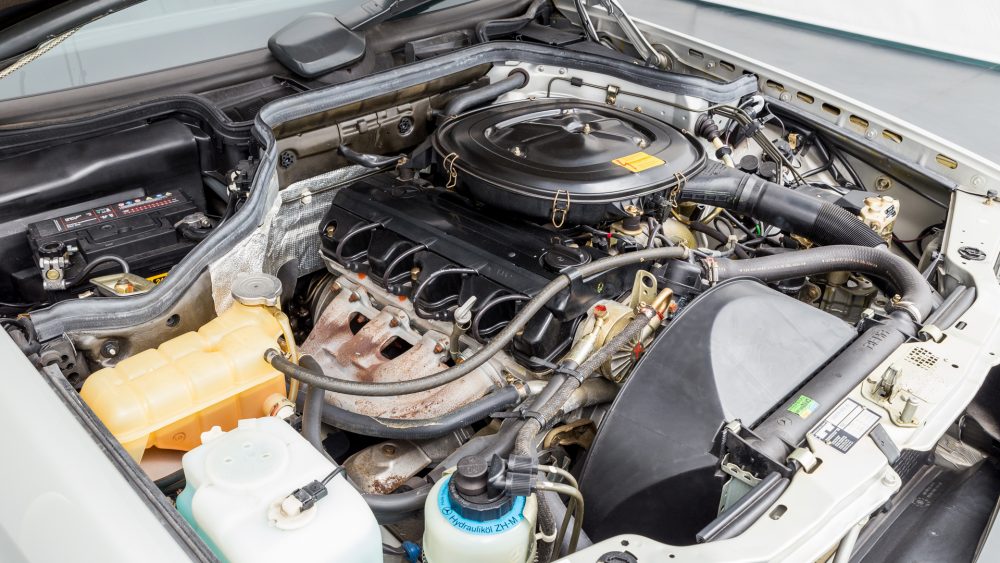 This is a really fascinating car when you sit and look at all the details. It is easy to find expensive cars that are perfect, but 99% of these basic W124s are long gone or limping along on their 14th owner. The cloth seats are torn to shreds, the wood is cracked or completely missing, the radio isn't replaced by one that literally doesn't have a name, and the coolant expansion tank cap isn't a piece of tin foil held on by a rubber band. Pure bliss.
However, this is the price. €50,00 or $59,000. That is all the money and then some for a 230E. Keep in mind this is for sale at Mechatronik, which is one of a kind in terms of what cars they build and sell, so you aren't shopping for a bargain here. Still, where else are you going to find a new W124 in 2021? I'm sure it will find a home, but it might just be a little.
– Andrew