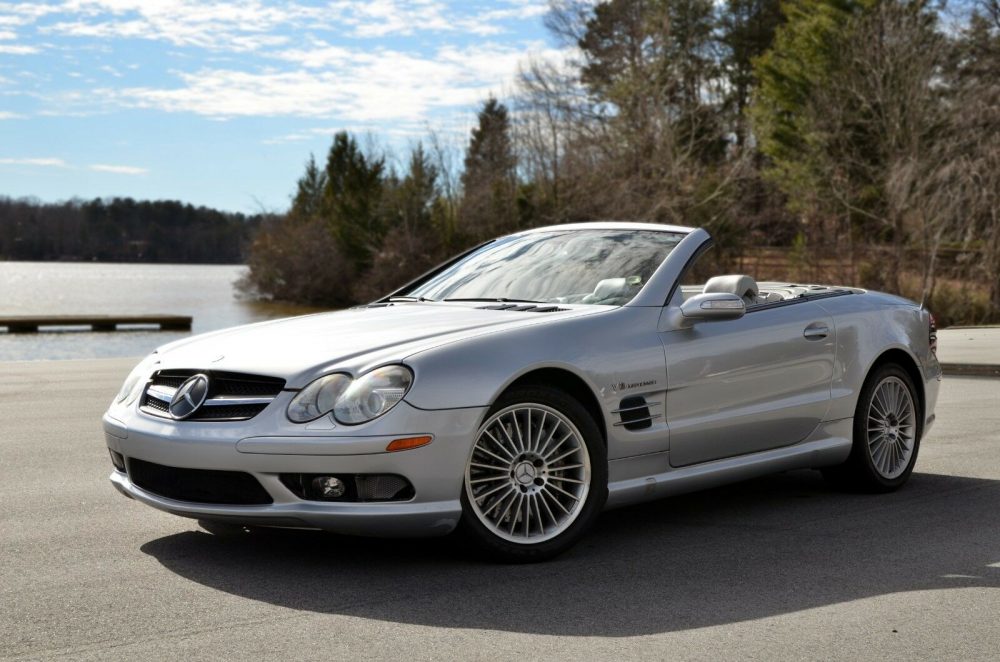 Now that I've exhausted all of the nice Mercedes-Benz R129s currently on the market, I wanted to wander over to the R230 to see how things are going with the first SL with a folding hard top. The R230 was a giant leap forward in terms of styling and technology compared to the R129 as now the normally boxy and square roadster suddenly didn't have a flat edge on the entire car. It was what needed to be done to keep the car relevant in the new millennium with the legacy buyers coming back as well as capture the hearts of all the new money buyers that wanted a sleek roadster that didn't feel like an old man or woman's car that was driven to the country club on a Sunday morning to play golf. It is tough to stay that Mercedes didn't succeed in that as even now that the R230 is 17 years-old, it still doesn't look or feel that age. Sure, some of the tech is dated, but getting in of these cars doesn't scream "this car can legally buy cigarettes next year" old.
Of course, with the introduction of the SL500 and V12 SL600 in the R230, Mercedes stepped up their game in the US market by giving customers the SL55 AMG that was a hit as soon as they landed on dealer lots. A 0-60 time in 4.4 seconds thanks to 493 horsepower and 520 lb⋅ft of torque, the SL55 wore the crowd of the fastest automatic transmission car in the world for a short time before the big brother SLR came on to the scene in 2003. The SL55 continued to be the model of choice over the more expensive V12 SL600 until it was replaced by the SL63 in 2008. The SL65 AMG joined the lineup in 2005 with its twin-turbocharged V12 making an insane 604 horsepower and 738 lb⋅ft of torque, but also carried a price tag starting at $185,000. Needless to say, the SL55 remained the best bang for the buck at a still very expensive $115,000, but was a bargain compared to competitors Ferrari 360 and Aston Martin's DB7 Volante in terms of both purchase price and cost of running. Today, the SL55 sits in that no man's land of not old enough to be considered a classic and not modern enough to be considered by people who want to be impressed by a bunch of tech. Add in the fact that the running costs can scare some people off, a Corvette seems like a much better buy for the convertible crowd who take Sunday cruises to the Daily Queen. What does that mean for prices on these beasts? Very good things if you are willing to commit to owning one. At least this example up for sale in North Carolina proves that.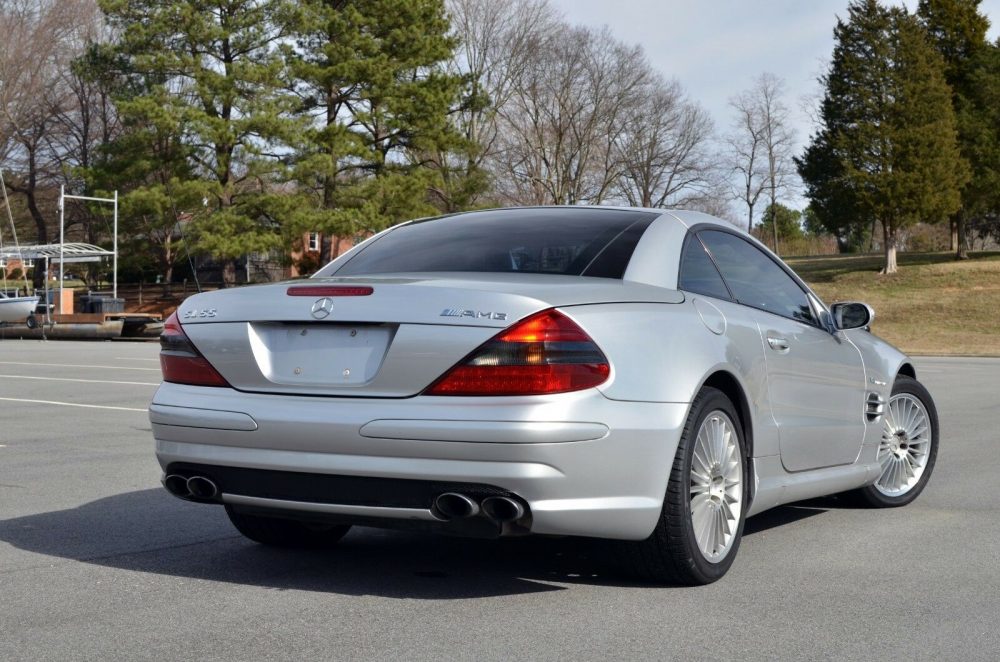 Year: 2005
Model: SL55 AMG
VIN: WDBSK74F25F090751
Engine: 5.4 liter supercharged V8
Transmission: 5-speed automatic
Mileage: 92,326 mi
Price: $15,499 Buy It Now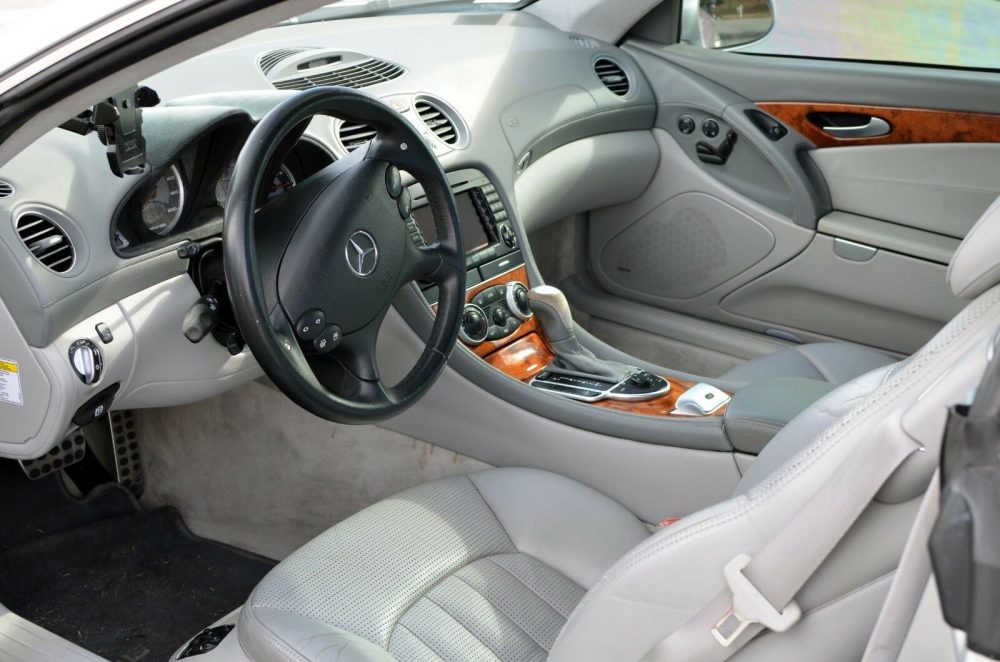 We have for sale an excellent condition 2005 Mercedes SL55 AMG

Current NC inspection
Clean title
Great running condition with fresh oil change
Tires are in good condition
Paint is in overall great shape with a couple minor dings
Convertible top works flawlessly
Original FL car

Low miles 92,326

Asking $15,499
Call or text 336-663-1570
Visit us online at www.northcarolinaspeedshop.com

**We are a small enthusiast, family-owned dealership. We have no dealer fees, no doc fees, no add-ons or any other type of magical pop-up fees. Think the price is unreasonable? Let us know! You're speaking directly with the owner. There's no finance manager and no salesmen. We care about your experience and we want to change the way you buy cars.**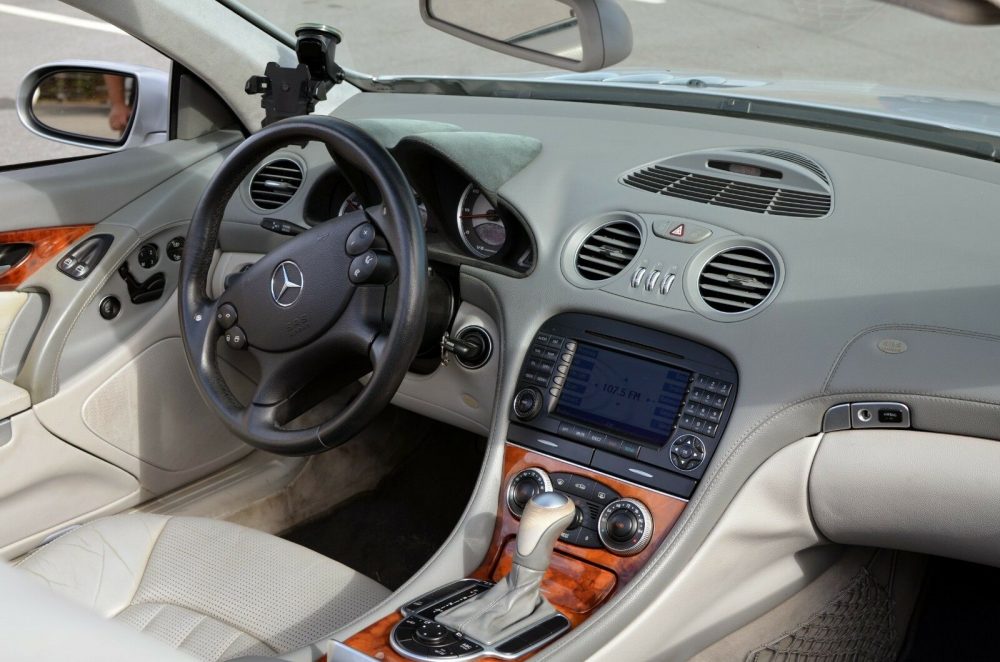 This 2005 checks-in with just over 92,000 miles and if you are looking mint car, as the kids say, "this ain't it, chief'.' This car has some scuffs on the exterior and a cheap aftermarket grille but the interior really shows its flaws. The shift knob has some nasty stains on it, some leather is starting to sag on the center console tunnel, there is a strange stain where something was dripping in the driver's side foot well where your knee would sit and basically everything else that you touch with your hands has many years of dirt on it. The wear on the driver's side is average for this age with some heavy creasing and the trunk looks like it has it's fair share of spills over the years. Other than that, it doesn't look all that bad. Mechanically, the selling dealer says nothing about it and while the M113K is generally pretty reliable if stay on top of maintenance, the Active Body Control system and very complicated top scare me the most with these cars. You really need to have someone with factory diagnostic software to work on these cars as they aren't as easy to DIY as the R129 without it. Will this stuff put you into bankruptcy? No, not really. Does it cost more than an average convertible to fix? Very much so. Would I be scared of owning on these? No. Would it be my 3rd or 4th vehicle that is purely for pleasure? Surely yes.
Now lets talk about price. These early SL55s are probably at the point where they are going to be as cheap as they'll ever be. Really clean ones with low miles are in the $20,000-30,000 range and ones that aren't perfect, like this one, are in the teens. This one priced at $15,500 is a good buy in my eyes. You are buying a ton of car for that price that still has a bunch of life left in it. Again, I can't stress this enough, do not even consider this car unless you have an independent Mercedes shop that knows these cars and you also can be without it for days at a time. If you want a SL55, find a clean one, get a pre-purchase inspection and set aside a small chunk of change for maintenance every year and you'll be fine. Just don't put a tacky grille on it like this one. It looks horrible.
– Andrew