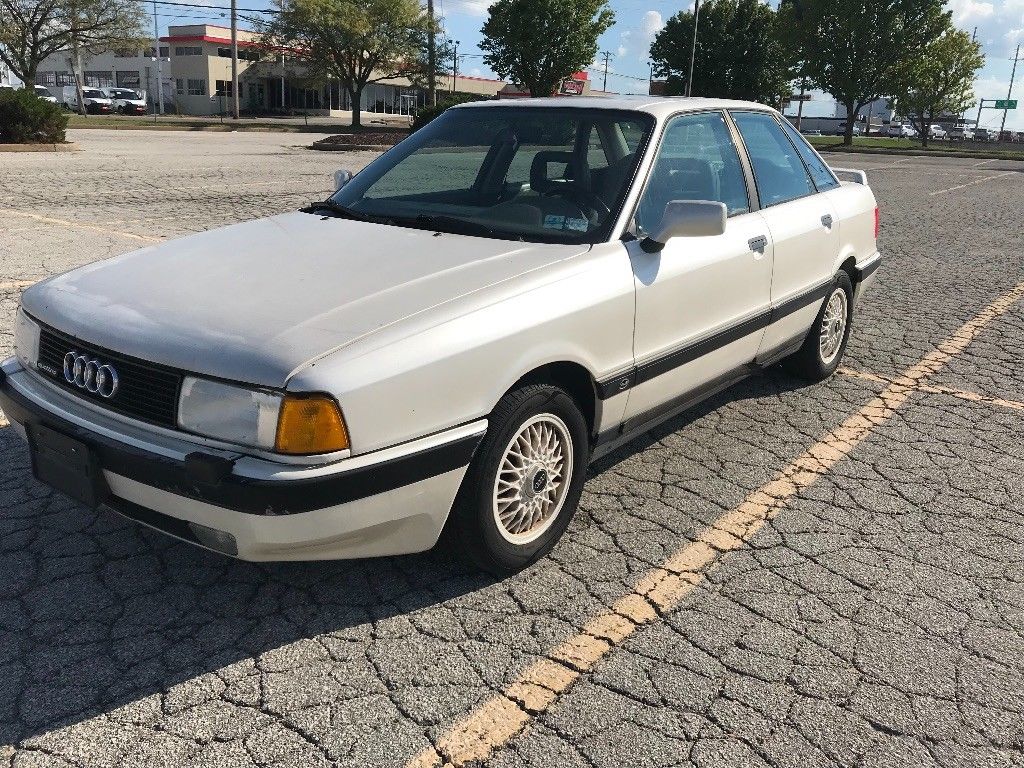 Update 10/24/18: After being listed as sold, the Coupe Quattro was resold in a no reserve auction format at $3,500.
Update 9/26/18: The 90 quattro 20V sold for $2,600, and the Coupe Quattro sold for $4,249
I've owned Audis of all sorts, but the B3/4 chassis has so far eluded me. It's not that I haven't come close, though. My first experience with a B3 was at one of my first jobs. One of the delivery men had bought a brand-new 1990 Coupe Quattro. It was a mess, though it was only 6 years old at that point. I offered to clean it for him, and thus was born my first drive with the 7A. It started up and sounded just like my 4000CS quattro, and if I'm brutally honest, below 3,000 rpms you couldn't tell any difference between the two in performance. But keep your foot buried in the loud pedal and the DOHC 2.3 inline-5 began to sing, eagerly heading for the redline at every prodding. The fit, finish and luxury of the Coupe made me envious of the time; though my Audi was only four years older, it might as well have been five times that. Such was the jump from the B2 to the B3. Soon after I met another Audi fanatic who had a string of Lago Coupes I would often drool over.
My later encounter came much closer to actual ownership. I met a friend in England during grad school and we quickly bonded over Audis. It turned out that back in his hometown in Canada, he, too, had an Audi waiting. It was a graphite 1990 90 quattro 20V. And, after some time, he asked me if I wanted to buy it. When I got home I pursued this prospect since I had sold the 4000 to leave for England. Long story short, when the photos arrived of the car, it was quite a bit more crusty underneath than I was hoping. His price was reasonable, but then for about the same ask a 1993 4.2 V8 quattro came up for sale locally, and the rest was history for me.
The B3 20V has never left my thoughts, though I haven't gotten any closer to owning one. The Coupe and its 90 quattro 20V brother each have their devoted fanbase, yet they're remarkably different cars both in how they look and who wants to own each. Both are fairly rare, with around 1,500 Coupes and roughly 1,000 90s imported with the 7A originally – and, in all honesty, probably only a fraction of that number remain today. But surprisingly I found two examples of Pearlescent White Metallic to compare: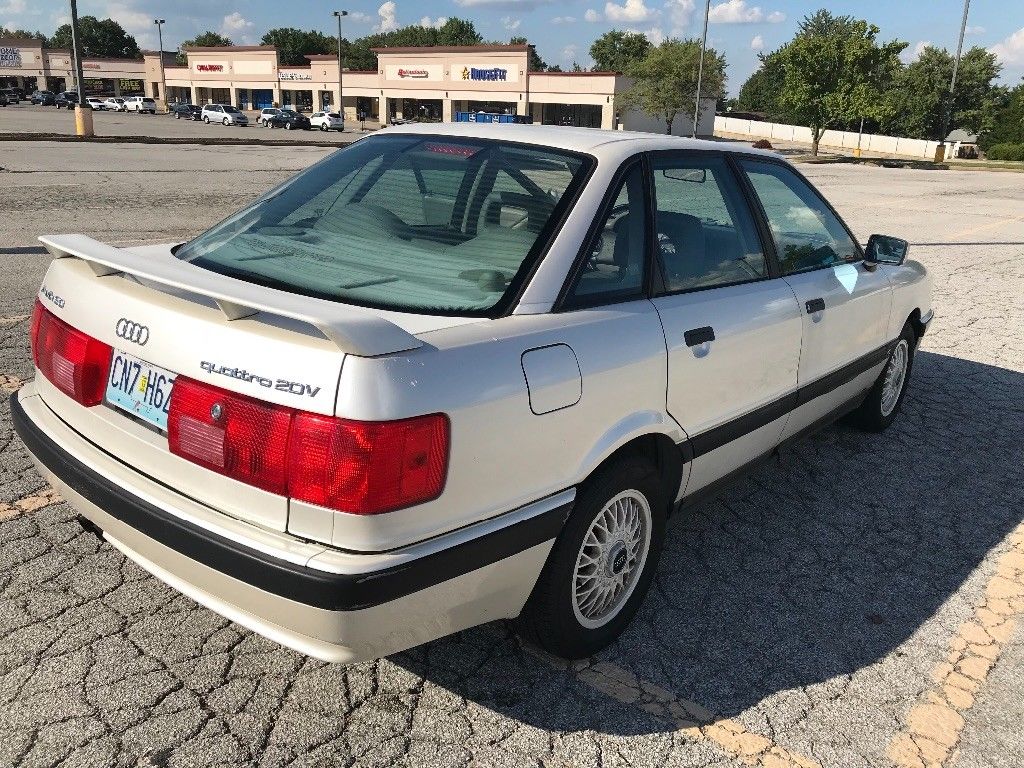 Year: 1990
Model: 90 quattro 20V
Engine: 2.3 liter inline-5
Transmission: 5-speed manual
Mileage: 121,000 mi (TMU)
Price: No Reserve Auction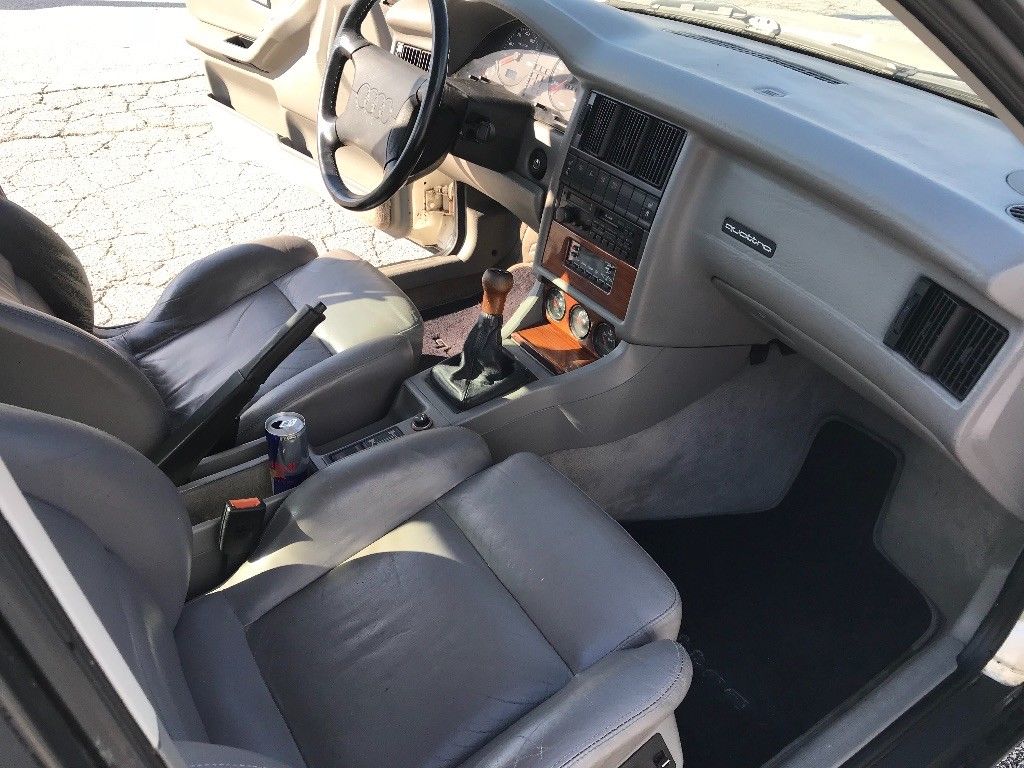 1990 Audi 90 Quattro 20v mached with a 5 speed manual awd! Equipped with pwr/heated seats, pwr windows! Interior is very clean near mint condition. Exterior has scratches but little to no rust! Engine and transmisson are 100% functional and healthy! Odomoeter reads 121k miles not actual stopped working! This is a true example of an classic! Clear Missouri title! Please ask for additional info and bid with confidence!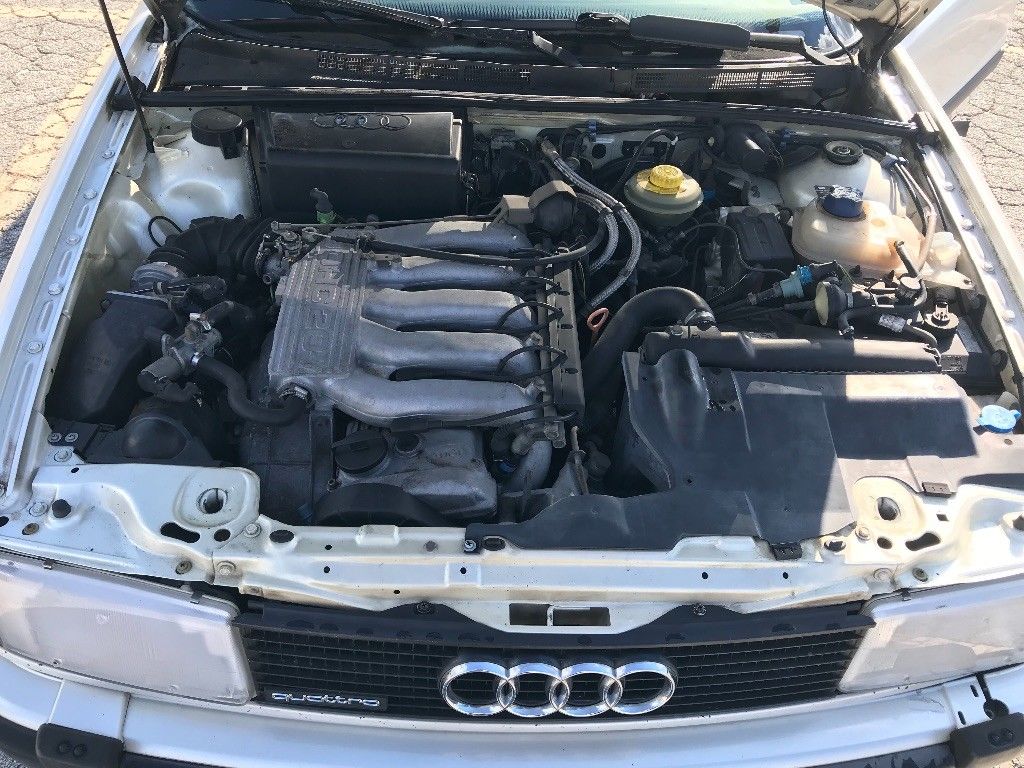 Between the two models, I really prefer the 90 over the Coupe. And, if I'm honest, I'm not sure exactly why. But I think it comes down to three things: the 90 was more rare, the integration of the U.S.-spec equipment was better, and the 90 was the better performer of the two because it was lighter. Had I the choice, I'd prefer one of the later Sport-equipped 90s even with their harder to find brake parts which were specific to the 90 20V. The higher-offset Speedlines are just about the perfect look coupled with the lower ride height, but the BBS 14″ color-matched wheels are correct here. Generally this car looks to be in good shape, and though it has a broken odometer it doesn't look to have a lot more miles than shown. But the best part here is that the generally less-desirable 90 is also a lot more affordable than the Coupe equivalent; here on this no reserve auction with a day to go, it's yet to break $1,500. What a steal!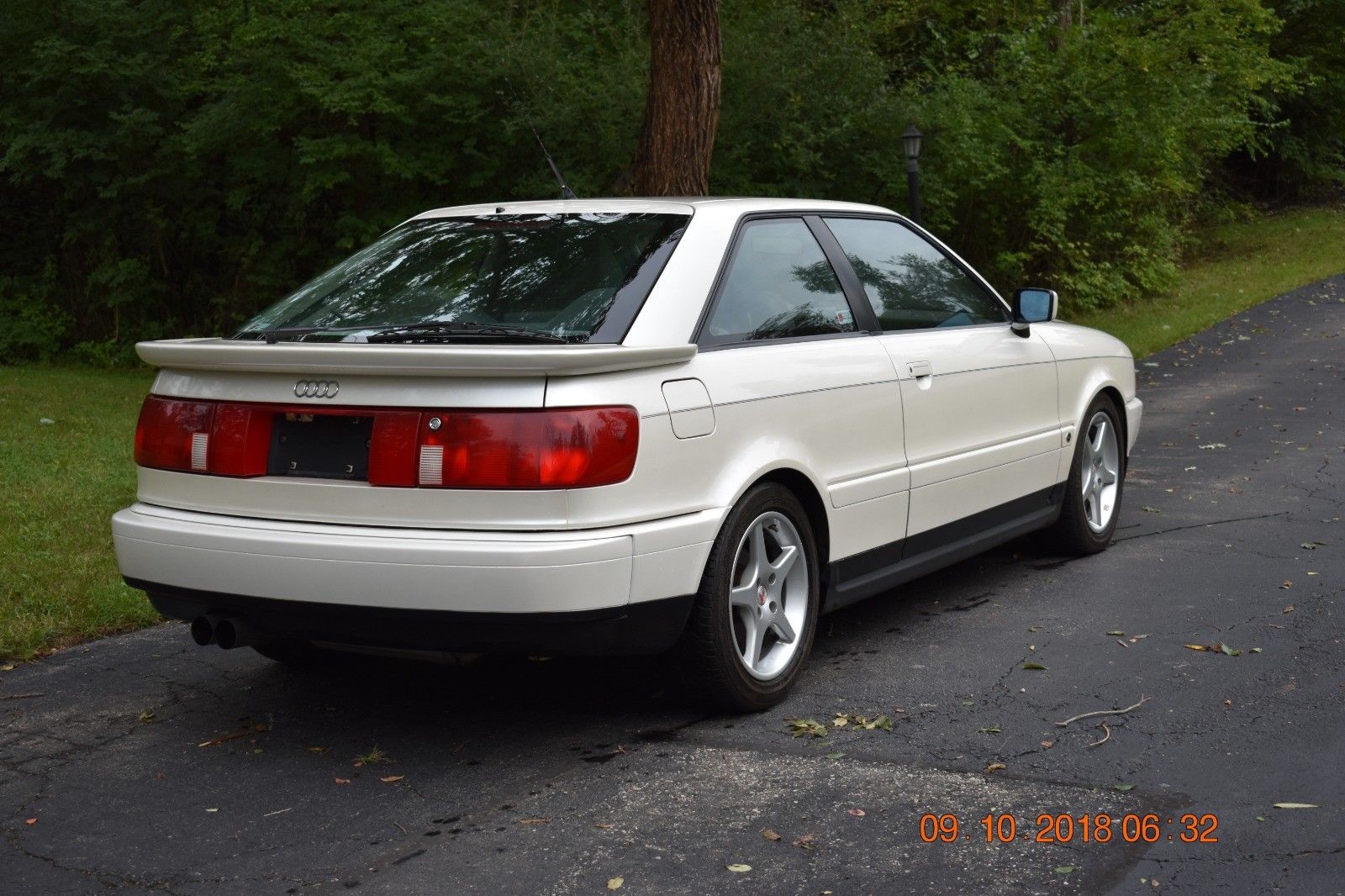 Year: 1990
Model: Coupe Quattro
Engine: 2.3 liter inline-5
Transmission: 5-speed manual
Mileage: 153,388 mi
Price: No Reserve Auction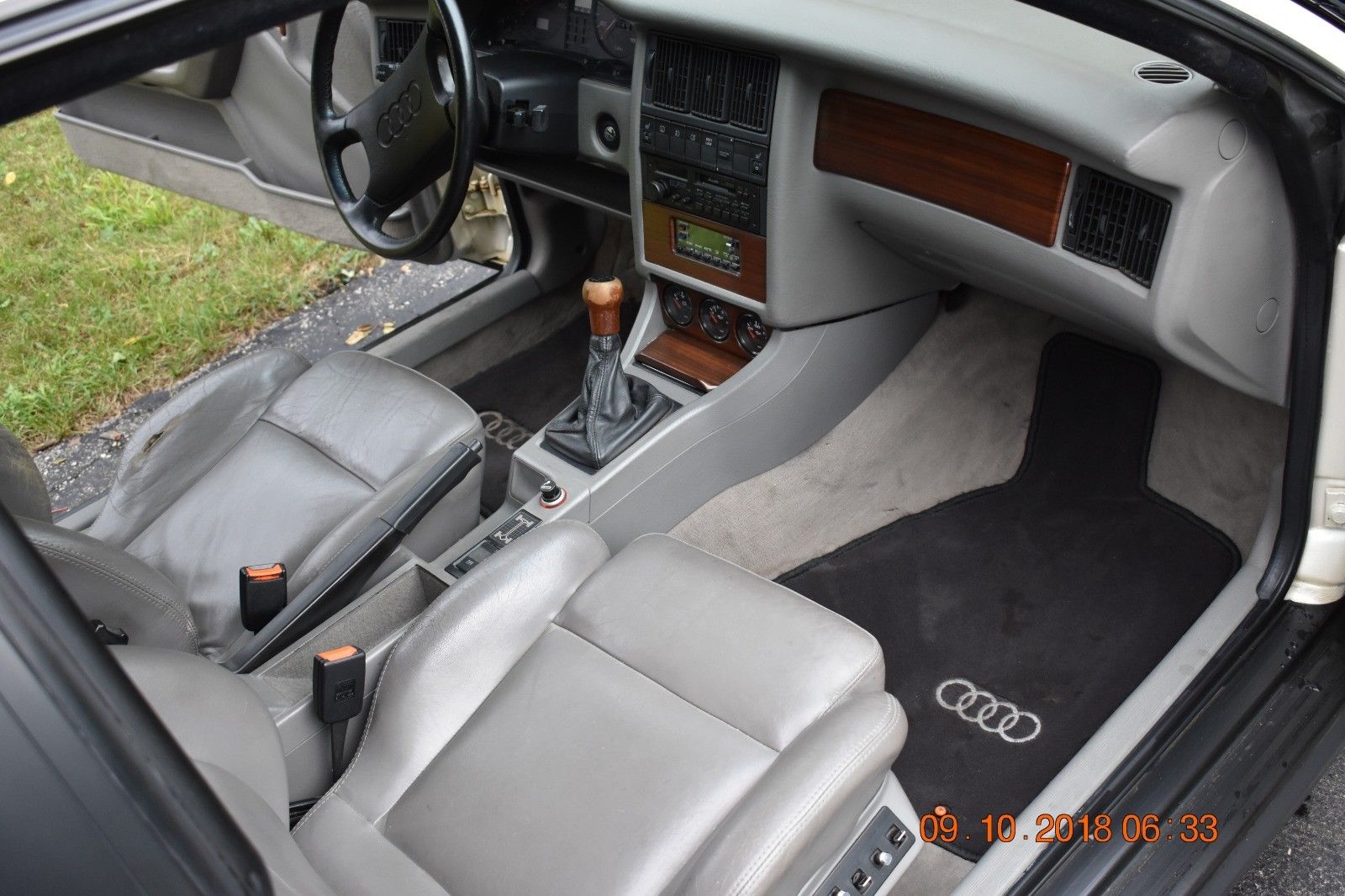 1990 Audi Coupe quattro 2-Door Hatchback
Title: Clear

Exterior Color: Pearl Effect Metallic White
Interior Color: Gray
Drivetrain: All Wheel Drive
Engine: I5 2.3L DOHC 20v, 164HP

Mileage: 153,388
Fuel: Gasoline
VIN: WAUGD08B0LA000570
Exterior Color: Pearl Effect Metallic White
Transmission: 5 Speed Manual

Key Features:
Automatic Climate Control
Power Door Locks
Anti-Lock Brakes
Power Sunroof
Power Windows
Leather Seats
Power Steering
Cruise Control

Sun roof

Factory exhaust header with Gnarly exhaust note!

Factory VDO triple gauges

Suspension Front, Strut-type, coil springs
Suspension rear, Strut-type, coil springs
BRAKES F/R: Vented discs/discs, ABS
WEIGHT: 3174 lb.

Front and rear flog lights

Cold weather package,

Headlight washers (heated)

Heated seats

Heated door locks

Defogging side-view mirrors

Wood shift knob

Zebrano wood trim

9-function auto-check system

6-speaker sound system

8 way power adjustable front seat, 4 position memory for driver's seat

Factory exhaust header

This car has been in storage for over 5 years, but still started right up. I will try and tell you everything wrong with the car, but please take time to look at all the pictures. Tires are out of round and are older. I would not trust them for a long ride. No check engine lights are on, and the vehicle runs as it should. If you replace the tires this could be a daily driver now, but here are the things that I see are wrong or need to be addressed to make the car perfect. Rear half shafts are leaking from the boots, but not CV joint noise. I suspect you can get the boots replaced without much issue. There appears to be no damage to the CV joints. Front speakers sound blown, cracked or torn. The AC compressor does not turn on but turns freely. This is an older R12 system, if you can find R12, I'm sure you can recharge, but you might do well to convert to R134a. The brake rotors are in poor shape from sitting, but do not appear to be warped. Both front seats do have some wear on the bolster, but not bad. The Driver's seat does have a tear at the thigh, I talked to a local upholstery shop, and they said they could replace that panel for around 250. There is absolutely no rust on the body at all. If I'm not mistaken, these cars were galvanized, and it seems to have held up really well. Overall the body is very straight, The Battery is holding a charge but seems to be old. Both outer mirrors are starting to have the backing peel away, I'm not sure why this happens on Audi's so much, but I have seen this time and again with these older German cars. Both mirrors are still fully functional and have not yet gotten to the point where you must replace them. Once this happens, you can get just the glass off amazon or ebay for pretty reasonable. The interior is clean, but not immaculate. The head liner is in need of a good cleaning. All seals on doors, hatchback, and sun roof appear good, and do not leak. This car was stored inside for all of its life and was a daily driver until 5 years ago when the owner at the time suffered a personal injury that prevented him from driving a stick shift. Due to some unforeseen financial issues, I ended up picking up 2 cars from him in a 2 for 1 deal. I only intended to pick up the 1 vehicle, but he would not let it go unless I took both cars. I'm just trying to recover my expenses on this Audi. If I did not already have a winter vehicle, I would be keeping it. The quattro drive on this is super. Let me know if you have any questions. I will include the media release that Audi put out with this car, in the pictures, it's outlines all the options that came with the car. I have 2 keys for the car, but no remote. I'm not sure if a remote can be had anymore, but it would be interesting to track one down. all windows and locks work as they should.

Please only bid if you have funds. Buyer to pickup or arrange for shipping.

I have additional photos, and will make any you would like to see.

http://village.photos/members/koltonv/1990-Audi

Finally I reserve the right to end the Auction early, car is for sale locally.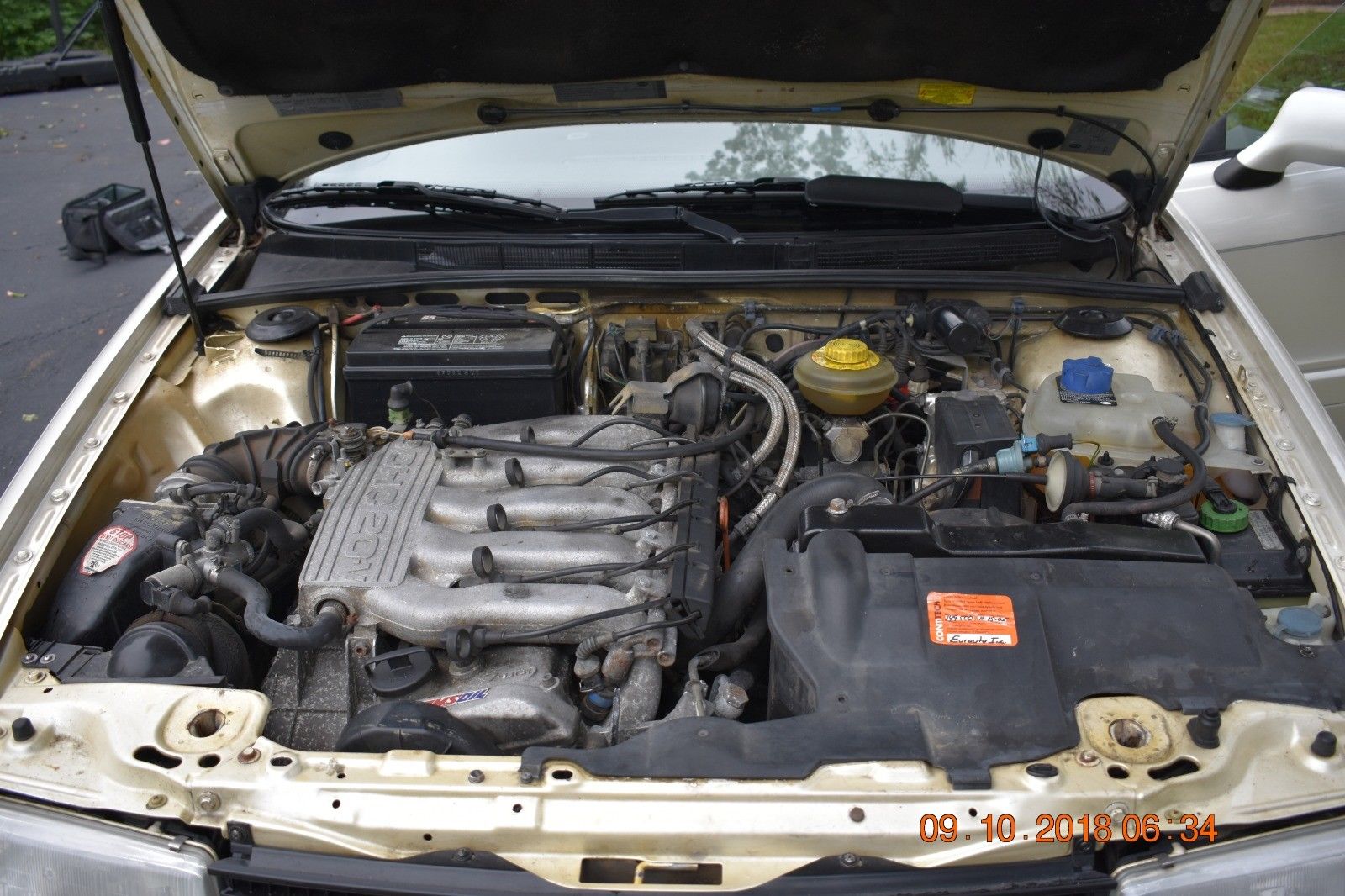 The Coupe Quattro shows some of the minor differences between it and the 4-door version, with slightly more wood inside and completely different bumper setup. The Coupe also got, as standard, ET37 2-piece look Speedline wheels rather than the 14″ BBSs standard on the 90. And for the premium of getting the 2-door (it was a few thousand dollars more than the 90), Audi chose to link it to the earlier Quattro model and also capitalized the "Q" – one of the very few models to do so. Both early Coupes and 90s got the tubular header, while there was a rolling change to cast iron in mid-90 and additional rear sway bar and glass roof added later. Both of these cars have the early aluminum heat shield for the header, so I believe both still retain it. ISVs and MAFs also changed later in the run, and the claim is the later cars run a bit better. There was no change in power levels, but the noise of the header is worth having it alone.
The Coupe shows as well as the 90 does, if not better outside of some wear on the driver's bolster. But the price delta in between the two shows how they differ in desirability. While the 90 has flown under the radar, the Coupe is already over $4,000 with a few days to go. Most of the decent Coupes are trading in the $3,000 – $6,000 range depending on condition, and I'd expect this one will land right in the middle of that spectrum. If you can live with hard-to-source parts, there's an active community who loves to keep them alive, and both are compelling alternatives to the normal (and fully saturated) E30 market.
-Carter