Warning!
This post is in our archives. Links in this post may have been updated to point to similar cars available to bid on eBay.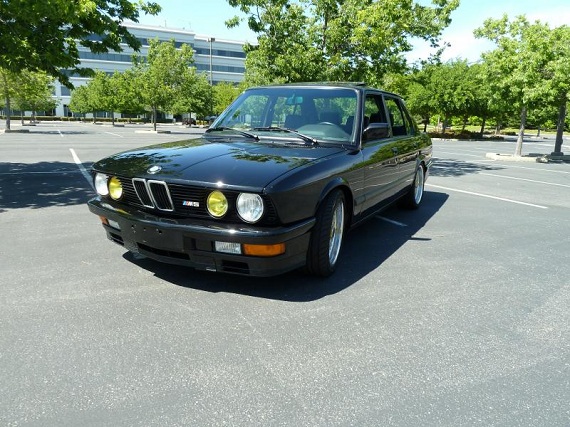 Not many people would dare to accuse the E28 M5 of having faults, but I will. First, the engine was turned down for the U.S. market. That's a reality of the 1970s and 1980s, I know, but it's still a gripe. Second, it only came in black to U.S. shores. And that too is a shame, because the E24 M6 really shows what a little color does to those classic lines. Third, on top of the black-only stance, it had bumpers that easily double as benches – for Americans, even. Fourth, though wide 16″ wheels were pretty advanced for the day, the reality is that there are increasingly limited good options for filling out those rims. Fifth has to be the interior. My dad has an 88 M5, and it's a very nice car – but the seats are well worn and look nearly double the mileage they actually are. It's often the case when I look at an E28 M5 that the seats either look completely redone or wrecked. Sixth has to do with the engine again – because the reality is that 25 plus years on, keeping the S38s running in top condition can be an expensive proposition. Okay, so maybe I'm overstating my gripes a bit, but it just goes to show that there's at least room for improvement with the U.S. spec M5. How do you fix my list of gripes? Well, buying this car would be a pretty good start: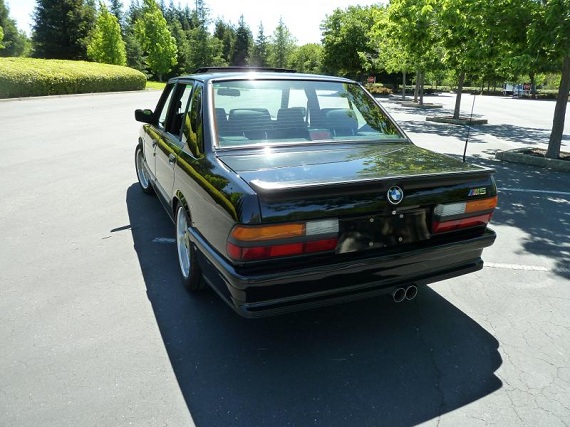 Year: 1988
Model: M5
Engine: 3.2 liter inline-6
Transmission: 5-speed manual
Mileage: 136,806 mi
Price: Reserve Auction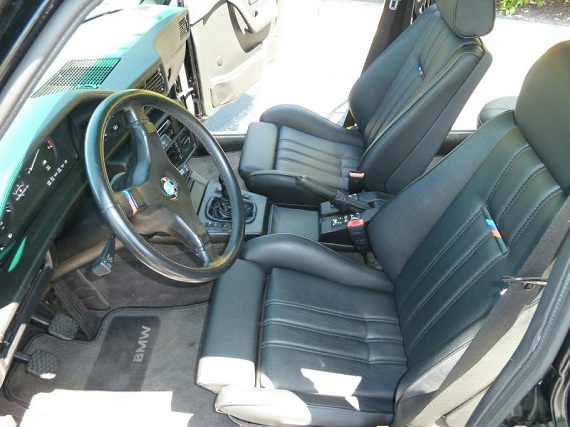 1988 BMW M5 with S54 engine.

Classic M5 that has been restored to nice daily driver. The car has been driven about 10k miles since the completion of the build and is solid as a rock. Has been on the drag strip and road course with no issues. Car runs 13's in the qtr mile with a naturally aspirated straight 6, simply WOW.

Originally a Canadian M5, which was imported into the States, of which only 101 were made to Canadian specs according to the M5 Registry. This M5 comes with a glass sunroof, Mtech body kit and black on black interior.

Recent work include the installation of a new throwout bearing (was noisy) and new transmission output shaft and shifter seals (both had a very slight leak). The engine had about 17k miles on it when it was purchased and installed in the car, bringing the total miles on the motor to just around 30k.

The car comes with ice cold AC to make long summer drives a pleasure.

Many hours have gone into the car and from a rating standpoint, the exterior is 9.5/10, the engine bay is 9.5/10, and the interior is 10/10.

Build details are listed below the photos, followed by photos of the restoration process. Let the page load, there are many detailed photos here.

Body:

-Was repainted in 2011 – No Rust Issues

-Euro Bumpers with MTech covers front and rear

-Both front fenders replaced.

-Euro Headlights and Grills

-New fog/driving lights

-New Windshield

-Glass BMW Moonroof (was only a Euro option)

-BMW Z3 Radio Antenna Installed

Engine/Drivetrain:

-BMW S54 Engine from a 2005 M3 (Approx 20K Miles)

-E34 Oil Pan, pick-up and dipstick

-New Hoses Throughout

-Z3M wiring harness and airbox

-Bimmerworld ECU reprogram

– Drive By Wire (DBW) Gas Pedal

-BMW M3 ZF 6 Speed transmission (Approx 20K Miles)

-E36 M3 Evo 6 speed shifter

-Custom Stainless Steel Long Tube Headers to dual 2.25" pipe

-Exhuast / Mufflers – Dual Magnaflow Cats, into X-Pipe, into dual in/out Borla stainless steel muffler, into dual 2 1/4 glass pack exiting through 3 1/2 polished tips.

-Custom Driveshaft (Portland Drivline) with New Guibo and Center Support Bearing

-Limited Slip Differential (3.46 ratio).

-New Axle Half-Shafts

Suspension/Brakes:

-Big Brake Kit – 7 Series (E32) Front and 5 Series (E34) Rear – With new wheel bearings, rotors and pads

-Porsche 924 Brake Booster with 7 Series Master Cylinder

-Stock e28 M5 Sway Bars

-All suspension bushings replaced with new OEM rubber

-New Front Control Arms

-Braided Stainless Brake Hose

-Bilstein Sport Shocks

-H&R Sport Springs

-New Shock Mounts (Front and Rear)

-Mason Engineering Front Strut Bar

-E39 Style 5 BBS Wheels with fresh BBS gold paint and polished lip

-Yokohama S-driver tires with good tread remaining

Interior:

-All Seats, Door Cards/Pulls were recovered with Creative Options interior kits.

-Dynomat on various parts of the interior for sound deadening.

-Front seats are out of a 1984 735i e23, with direct fit into the e28 mounting points.

-Dash Recovered with leather

-New Creative Options fabric headliner

-New carpet

-New BMW Floor Mats

-German 13 button OBC and Check Panel

-Map-Light Rear View Mirror

-M-Tech I Steering Wheel

-JVC Head Unit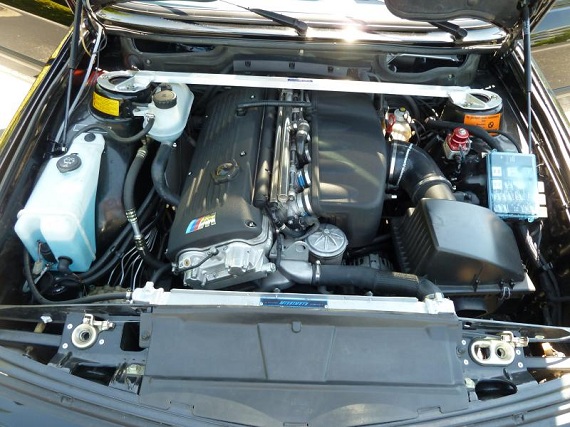 Wow. You can decry the lack of purity in the S54 swap, but for the torque you lose you gain a bit of driveability day to day with more modern computers running the ship, and let's not forget the S54 pumps out nearly 50 horsepower more than the M88 did. Then there's the Euro-spec M-Technic body kit; admittedly, I prefer the stock Euro-M5 look to the busy M-Tech look but I'd regard it still as an improvement over the U.S. spec bumpers. I love the larger Euro-spec lights, too. Then there's the interior – no Natur here, this is a Canadian-spec all black interior with the bonus being that it was originally in this configuration. The wheels are to me a bit overdone as I don't think the gold and polished look works all that well here, but some silver paint or Nogaro graphite could fix that easily. Otherwise, this looks like a well sorted and very desirably built M5. Bidding is already quite high to match the amount of money that's been invested, but with current trends on the E28 you really might be better buying one at a premium that's done rather than buying a wreck to work through.
-Carter