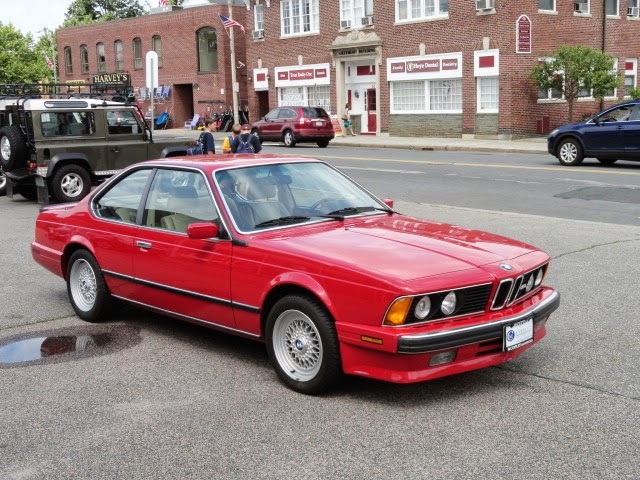 When someone is asked to name some of the great models in BMW history, historically the same names populate the list – 328, 2002, 3.0 CSL, M1, E30 M3 and the E28 M5. Newer converts to the BMW brand will extol the virtues of the E36 and E46 M3, E39 M5 and the monstrous howling V10 E60 M5. They would be right, for sure, but notably absent from the front of most enthusiast's minds is the spectacular E24 M6. Available initially in Europe in 1983 with the M88 motored M635CSi, North America later received a special S38 (catalyst equipped) version of the magical 24 valve inline six motor churning out enough power to scare most supercars. Though designed in the 1970s, the E24 seemed to really come into its own in the 1980s and defined "the look" – low, sleek and aggressive, these were highway predators that could hold their own on any back road. In terms of grand touring coupes, the M6 was simply in a class of its own with its unique combination of luxury, style and sport. Today's 1988 M6 is an example of how perfect that combination was: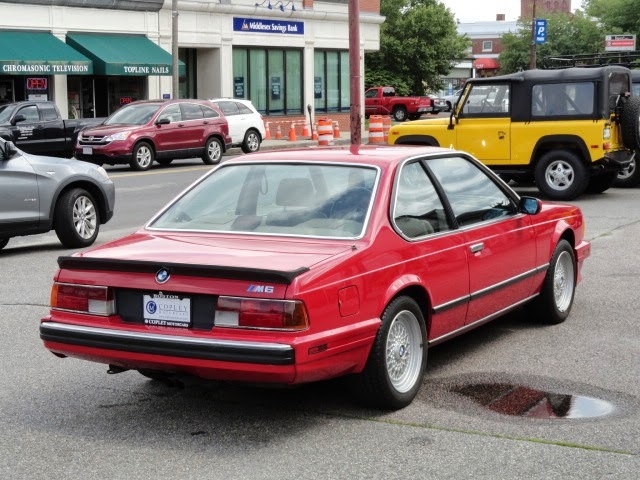 Year: 1988
Model: M6
Engine: 3.5 liter inline-6
Transmission: 5-speed manual
Mileage: 63,700 miles
Price: $23,800 Buy it Now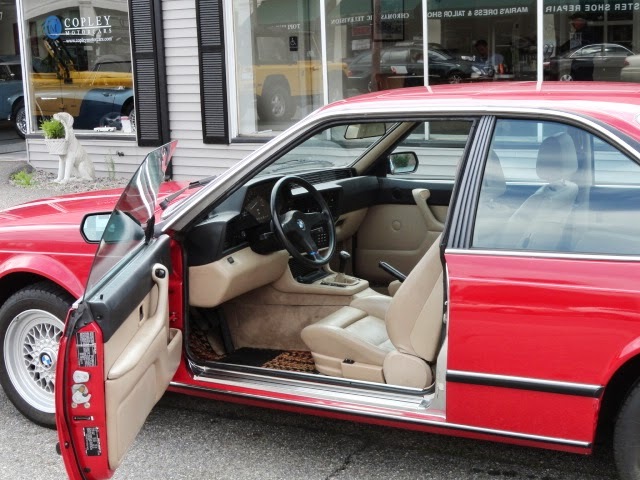 1988 BMW M6 coupe, Cinnibar Red with natural, 63,700 miles, 256hp in-line 6 cylinder normally aspirated M6 engine, 5 speed manual transmission, power seats, factory power sunroof, factory alloy wheels with correct Michelin TRX tires, fresh servicing, owner's manuals, tools and jack, clean CarFax title history, USA example. Nationwide and international delivery arranged from our suburban Boston showroom. We reserve the right to end the auction early if the reserve has not been met. For more information about Copley Motorcars, please refer to the "About Me" button in this listing. Telephone: 781.444.4646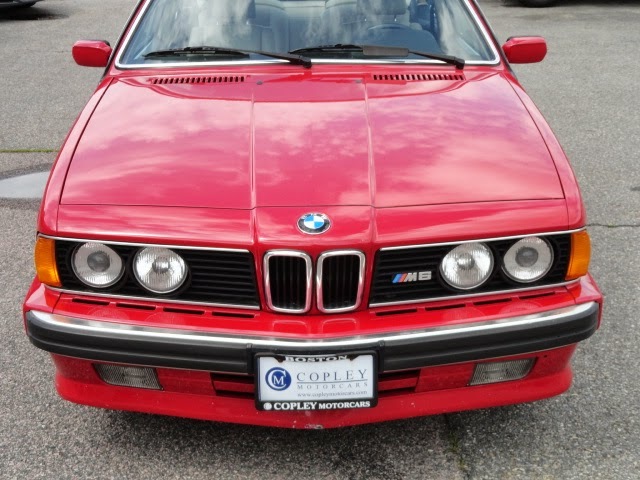 M6s come to the market in generally two fashions – near perfect examples, or examples with serious needs. This example seems very much to be the former as a lower-mileage survivor. The advertisement states fresh servicing, which is a plus, though it would be nice to know if that was just an oil change or a full valve adjustment service. At this point in their lives, the S38 motored BMWs aren't a cheap car to keep running in top condition, so finding one that is in good shape like this is a great starting point. Being that the car is in Massachusetts, it would be prudent to check the bottom of the car for rust starting though it appears to be well cared for. Other than some small chipping on the chin spoiler, the new owner would most likely want to get a replacement set of wheels and tires immediately – at nearly $2,500 for a new set TRX tires, you'd be better off sourcing some Style 5 17" BBS RC wheels from a 528i sport to maintain the look and have affordable (and much better) tire options.
I really think the M6 market is undervalued right now. Values on the M3 continue to soar and are pulling other BMW models up with them. The price seems in line with the high end of the market, but represents only about 50% of the price of a similar mileage and condition E30 M3 right now. While having the 4 doors of the M5 is certainly a plus, the M6 was available –thankfully – in colors other than black, such as this pretty and eye-catching Cinnibar Red. The 88 and 89 models also have slightly revised and much more slick looking bumper covers and ellipsoid headlights. They are supreme highway cruisers, more comfortable for two than the M5 and with enough luggage space for a long weekend trip. As $24,000 is buying you less and less 25 year old BMW these days, this M6 offers you a lot of car for your investment, with the promise to appreciate as the years and the smiles grow.
-Carter