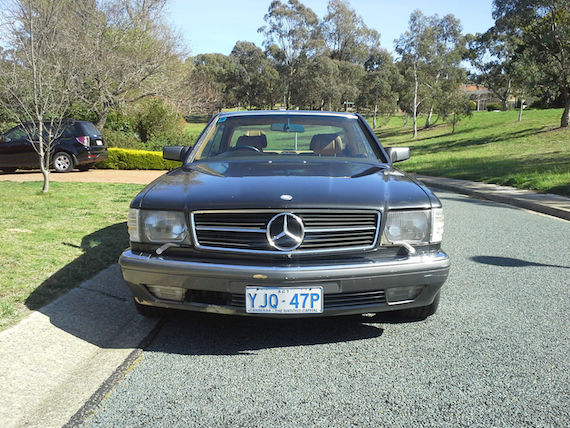 Here is an oddity for your consideration. The mighty Mercedes 450SEL 6.9 remains quite a car today and the 560SEC represents some of the best of an old school Benz, however put them together and perhaps you are taking away from each. This isn't the first time someone has decided to combine 6.9 parts with a W126 chassis, Google Sbarro Mercedes for instance, as with their creations results are mixed.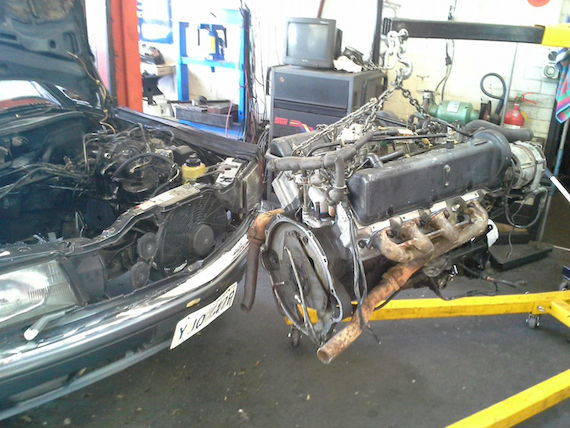 Year: 1988
Model: 560SEC 6.9
Engine: 6.9 liter V8
Transmission: 3-speed automatic
Mileage: 61,453 mi
Price: AU $12,000 (~ $13,280 USD) Buy It Now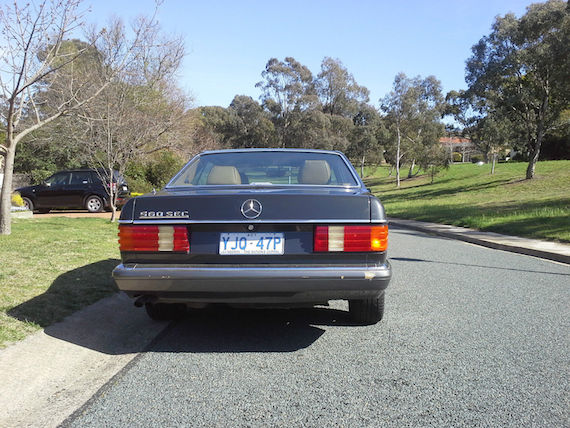 If you know what a 450SEL 6.9 car is and you know what a 560SEC coupe is, then you may imagine what the result of combining the two together might be. Awesome! The result is a Two door pillarless coupe, 6.9 liter big block, fuel injected alloy headed, dry sump beast of a car. Huge one of a kind wow factor! It is of course much lighter than a 450SEL 6.9 car, with a factory alloy bonnett and boot lid, no complex suspension systems. Even the rear self leveling has been removed, standard front and rear spring and shock suspension only. No air conditioning is fitted but could be if new owner wanted to fit it. Also the cruise control is not functional.

This car is currently registered and completely functional however it will need engineering and some minor finishing touches to complete the conversion. I have done all the hard work only a small amount of time and money left to go. You can drive the car anywhere in confidence right now! The engine has new head gaskets, timing chain, guide rails, water pump, fuel injectors and front crank seal, valve stem seals, etc. Very healthy engine and gearbox.

This car is a Honkong import but has been in Austrailia since the early nineties. It was originally smoke silver in colour, a comprehensive colour change to Anthracite was done many years ago. The M100 6.9 engine has just had new timing chain, guide rails, reconditioned cylinder heads and reco waterpump. new injectors and warm up reg, new 560 radiator etc. The car is of course 3 speed auto now instead of 4 speed. It has the original 2.65 lsd diff. A 3 inch single exhaust gives the car a distinctive note without being to loud.

This car has to be seen and driven and personally inspected , it is the only one available, possibly in the world. So think hard and please call me prior to bidding so you know exactly what it is and what it still needs. ONE OF A KIND. 560 SEC 6.9 LITRE COUPE. CALL  Mark 0414482293.I WILL NOT RESPOND TO TEXT MESSAGES OR EMAIL. PLEASE CALL ME IF YOU ARE SERIOUS.

This conversion was all peformed late in 2013. There is still some work to be done to complete this project. I have to sell this car as i have a space issue. too many cars. A very cool car indeed and it will no doubt atract attention at car shows etc. Please note, standard leather steering wheel and factory front orange indicator lenses fitted. STARTING PRICE DROPPED. NO RESERVE AUCTION. THIS CAR WILL SELL. YOU COULD NOT BUILD THIS CAR FOR LESS THAN 20K. ABSOLUTE BARGAIN.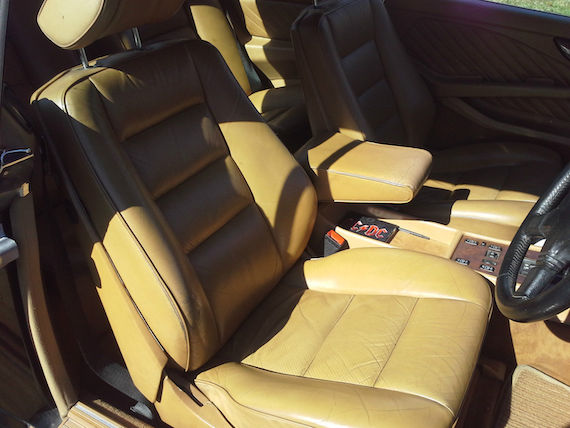 It takes a bit of a crazy genius and being a fun loving Mercedes fan to desire to pull off a swap like this and a bit of skill as well. Unfortunately none of this really comes across in the text of the advertisement. A bit more info and pictures about the swap itself would be useful. What was known about the donor car for instance? Plus we have seen over and over cleaning up your eBay ad can make a world of difference in attracting bidders.
A swap like this will gain you a lot of uniqueness points, but in terms of performance there isn't a whole lot to be gained by dropping the monster 6.9 liter engine in where the 5.6 liter once lived. There will be more torque, but also more weight to haul around, not even including the extra oil from the dry sump. I'm a big fan of the 6.9 and I can appreciate the effort here, but I'm afraid this presentation is going to make this car a hard sell.
~Evan