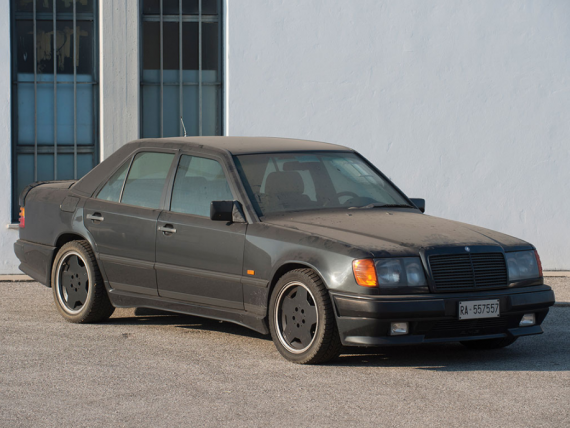 You probably know all about the W124 AMG 'Hammer' cars by now. A normal 300E that was transformed by then independent company AMG into a four-door monster thanks to the punched-out 6.0 liter M117/9 and various other à  la carte options depending on the owners desires. They didn't call these cars the 'Hammer' for nothing with 375-ish horsepower and even more torque. Because of this, the values have held strong at nearly 10 times and sometimes even more than what you'd pay for a normal W124 300E. When one of these cars come up for auction, it's usually a big deal. This 1988 Hammer heading to the block at the end of the month will probably fetch a pretty penny, despite what Sotheby's is predicting. So let's check this monster out: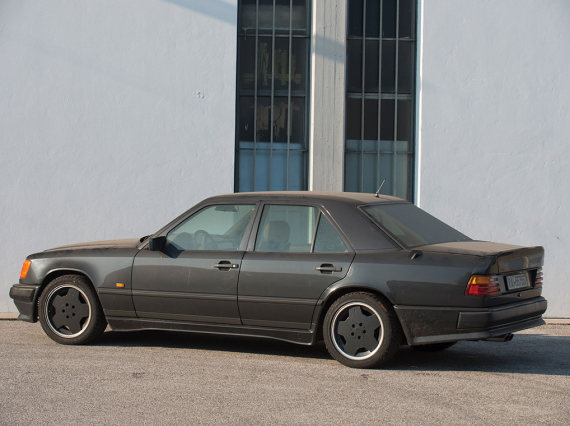 Year:Â 1988
Model: 300E AMG 6.0 'Hammer'
Engine: 6.0 liter V8
Transmission:Â 5-speed manual
Mileage: Unknown
Price:Â Auction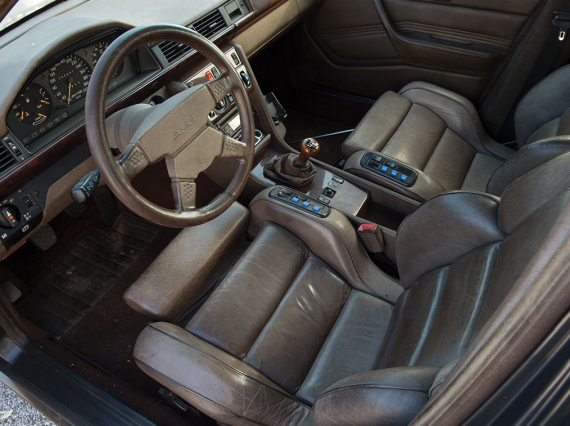 Lot 217

1988 Mercedes-Benz 300 E Sedan 'AMG'

€2.500 – €5.000

Without Reserve

To be auctioned on Friday, November 25, 2016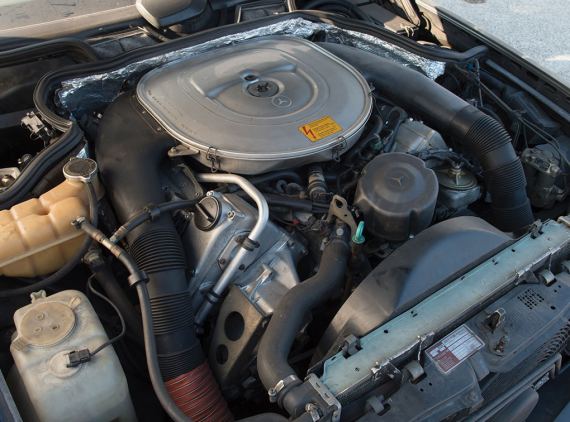 Looking at this car, it seems to be some sort of barn find. It's clearly not seen water in a long time judging by it's dust. Everything on the exterior seems to be well sorted with the AMG aero pieces and the signature wheels. Inside is where things really get crazy. This car is equipped with a rare five speed manual transmission which I never see on Hammer cars. The Recaro seats are also very rare and the steering wheel was also an option when AMG was rebuilding this car. One thing to note is that the center console only has two electric windows switches which would lead me to believe that the rear windows were manual — which is a little odd. Under the hood, it looks to me like a 6.0 M117/9 V8 that is pretty clean considering the condition of the rest of the car.
RM Sotheby's did this car zero favors when it came to listing this car. I don't know if cars like these aren't worth their time but to give it a predicted value of €2.500 to 5.000 is crazy. Even the most basic Hammer cars sell north of $50,000. Seeing at this car has the Recaros, steering wheel and the manual transmission, I could see it going for much more than $50,000. One thing to note is that there is a 22% VAT on the auction as well so if you are planning to head to Italy to bid on this car, bring more than one check.
– Andrew