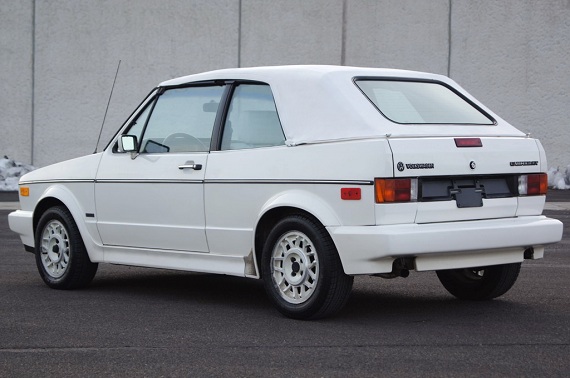 Okay, call it wishful thinking, but as the "white stuff" descends on New England I think it's a great opportunity to look at a the perfect winter car – an all-white Volkswagen Cabriolet. By perfect car, of course I mean it's the perfect car to hide in a snowbank and dream of a warmer climate. Plus, the wheels are affectionately known as "Snowflakes"! In all seriousness, these Cabriolets soldiered on long after their Mk.1 brethren had been replaced by the second generation Golf. It wasn't necessarily laziness on the part of Volkswagen, but a testament to the lasting appeal of this not-so-cheap but cheery convertible. Of course, if you were "Daddy's girl" in the 1980s you were probably destined for an automatic version of today's triple-white "Molly Ringwald" edition Cabriolet, but thankfully this example has an more fun to drive manual: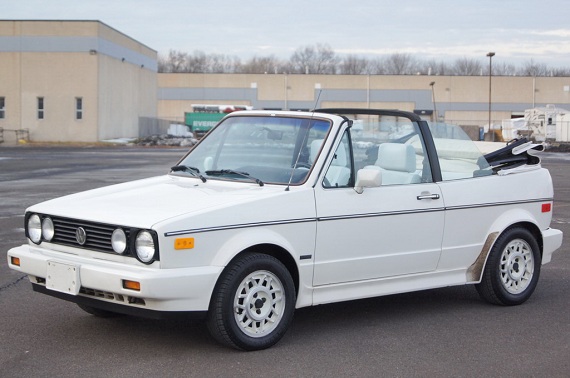 Year: 1988
Model: Cabriolet
Engine: 1.8 liter inline-4
Transmission: 5-speed manual
Mileage: 142,243 mi
Price: $4,995 Buy It Now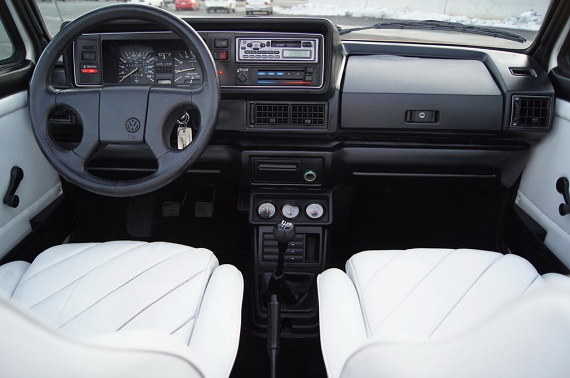 5 SPEED MANUAL

KARMANN

LEATHER

ALLOY WHEELS

You are looking at an extremely nice and very clean VW Cabrio KARMANN edition that was garaged, regularly serviced, and taken good care of. This beauty combines GERMAN reliability and safety in one stylish, elegant, and sporty convertible.

1.8L engine is mechanically sound and provides lots of power, just as you would've expect from any VW. Despite its power, it combines its performance with excellent fuel economy, making it a very fast, comfortable, and economic everyday vehicle.

Engine compartment is very clean and is free of any leaks.

The White exterior of the vehicle is in Great condition. Paint is shiny, not faded, has no visible dents, no dings for the year and miles of the vehicle.

The White interior of the vehicle is in near excellent condition. Leather seats shows minimal to no wear at all for the year and miles of the vehicle. Nothing is broken. Interior looks and smells very clean !

Convertible top is in near excellent condition. Does not leak, and looks almost as if it was new.

Tires were balanced, rotated, and still have plenty of tread left.

The vehicle was inspected by our mechanic and was found to be in GREAT CONDITION for its year and miles.

WE TAKE OFFERS, AND TRADE-INS (please make sure to call us for your trade-in approval.)

Please call us at: 610 990 7731Alex if you have ANY questions!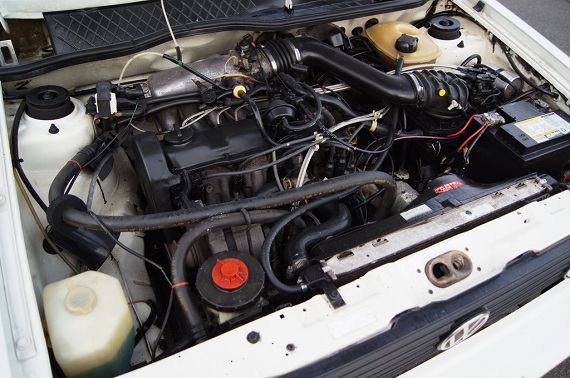 The miles may be high, but the overall condition of the car seems to be great. The leather looks fresh, the wheels are reasonably clean – hard to say of many 25 year old white wheels – even the top looks in great shape. The engine bay also looks good, though I spot what is certainly an aftermarket alarm siren. That's not a good thing, since Volkswagen electrics from this generation didn't need help to be a bit sketchy. Were I to purchase this, high on my list would be removing that alarm as quickly as possible. Otherwise, the car looks well kept and not unreasonably priced at just below $5,000. A friend of mine's mother had nearly this exact car when we were in high school, and I have a few fun memories of driving around with the top down even in winter. It was a fun car if a bit buzzy on the highway – a perfect excuse to take the back roads and enjoy some top down motoring!
-Carter