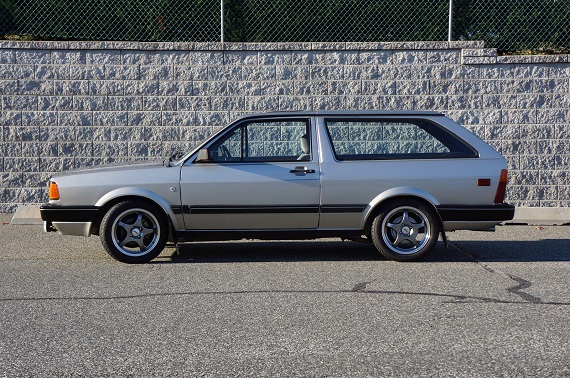 The Volkswagen Fox is a model which is almost entirely overlooked by us. It's not because we don't like the concept of the entry-level Volkswagen brought to the U.S. from Brazil, but the budget pricing coupled with legendary 1980s Volkswagen reliability and build quality (cough cough) hasn't exactly left a plethora of examples of these small VWs left to contemplate. The Fox was offered in three configurations – two door coupe, four door sedan and two door wagon. Without a doubt, it was the wagon which gets the most enthusiast attention these days. In profile, it looks a bit like a B2 Audi if they had made a wagon, and indeed pop the hood and you'll see the same longitudinal configuration. Some parts are even interchangeable with the B2 Audis, like the steering rack. But more of this car was shared with the Golf than any Audi product, and though the Fox resurrected the Audi B1 nameplate here the two shared only a passing resemblance. Infrequently seen, these little wagons are neat cars that march to the beat of slightly different Brazilian drummers: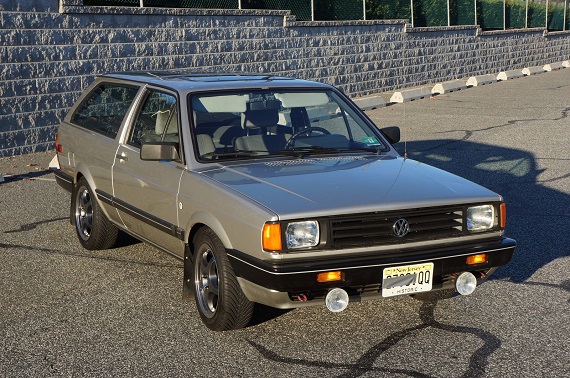 Year: 1988
Model: Fox GL Wagon
Engine: 1.8 liter inline-4
Transmission: 4-speed manual
Mileage: 67,373 mi
Price: No Reserve Auction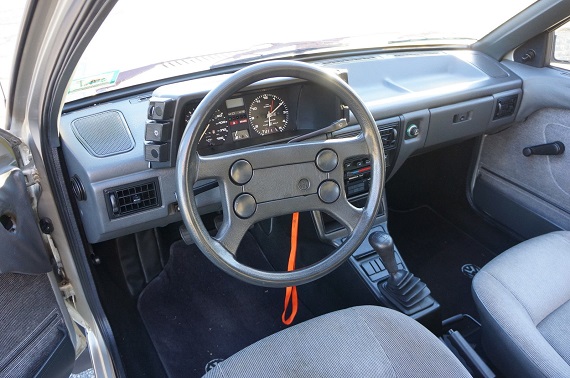 For sale is my 1988 Fox Wagon with only 67373 miles on the odometer. (Miles may increase slightly.) It's a 4-speed manual. This is a nice example of this model, which is getting hard to find in decent condition. It has been collector owned for many years.

It's equipped with some performance parts:
– Neuspeed/Bilstein suspension (struts, shocks and springs)
– Neuspeed three-point rear tie bar (Mk2 Golf model adapted)
– TSW 15 inch wheels (brand new)
– Audi Fox dual-outlet exhaust manifold
– Techtonics Tuning dual down pipe
– Hella H4 European headlights

The Fox is running well. There are no fluid leaks. I've always used original equipment manufacturer parts for maintenance. Some of the recently installed parts include:
Installed ~1000 miles ago:
– Main fuel pump
– Transfer fuel pump
– Fuel Injectors (4)
Installed less than 100 miles ago:
– Water pump
– Thermostat
– Radiator and radiator hoses
– Timing belt and tensioner
– Front crankshaft, intermediate shaft and camshaft seals
– Valve lifters (8)
– Exhaust hangers

While I think it's in unusually good condition for it's age, it's not perfect. The negatives include:
– AC parts all present and appear to be in good physical shape but the AC isn't functioning. I've never investigated the problem.
– Paint showings signs of age, including: dull in areas around the sunroof, light scratches and a small ding on the hood and left front fender. See the photos.
– Rust spot on left rear fender lip. See the photos.
– Fuel and temperature gauges stopped working last week. Probably needs a new voltage regulator for the cluster.
– Left Rear brake noisy as of last week.
– Fog light power wiring is disconnected.
– Currently fitted with Golf GTI steering wheel which is not in the best condition.
– Tires have tread but are cracked due to age and need to be replaced.
I forgot to mention in my original posting:
– Needs a new lift strut for the tailgate

Please consider the following before bidding:
– Please do not bid on this auction unless you are serious about purchasing the vehicle.
– I've attempted to describe the car accurately and disclose all I know about it but this is an older car and is sold "as-is", with no warranty.
– The winning bidder is responsible for picking up the car. I can not deliver it or make arrangements to have it shipped.
– The winning bidder is to make a $200 down payment through PayPal within 24 hours of the end of the auction.
– Full payment is to be made within 7 days of the end of the auction by cash (preferred) or cashiers check.
– The car will be advertised for sale locally and the auction may be cancelled if the car is sold by another means.
-Mileage may increase slightly due to test drives.

Edited 12/17/2015;
– Added "4-speed manual" to description
– Added "Needs a new lift strut for the tailgate"

On Dec-19-15 at 19:41:41 PST, seller added the following information:

Edited 12/17/2015:

– The body is straight. The paint appears to be all original and I see no signs of body repairs.

– Added photos of luggage cover and cargo area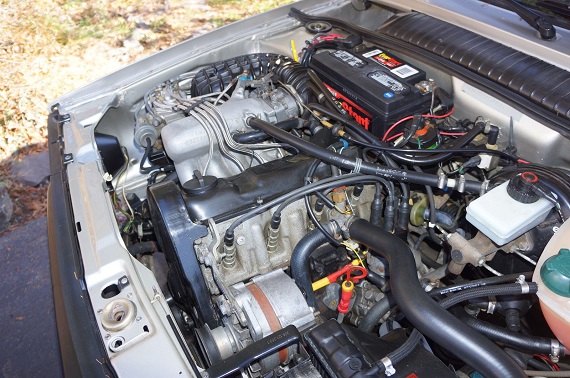 The slightly lowered stance coupled with some good looking and nearly color matched alloys suits the design well, and though the rally lights in front look cool the square on square styling would in my mind look better with rectangular units. The metallic silver paint appears far above average, as does the interior condition. I think the seller is right in stating that this is in nice condition and increasingly rare to find. With some good maintenance but some things still to fix, it looks like a good driver quality car for someone who wants a little cargo capacity and loves 1980s Volkswagens. Bidding has been slow and this no reserve auction is currently sitting under $3,000 with a few days to go. If it stays below $4,000, I'd say it's well bought.
-Carter