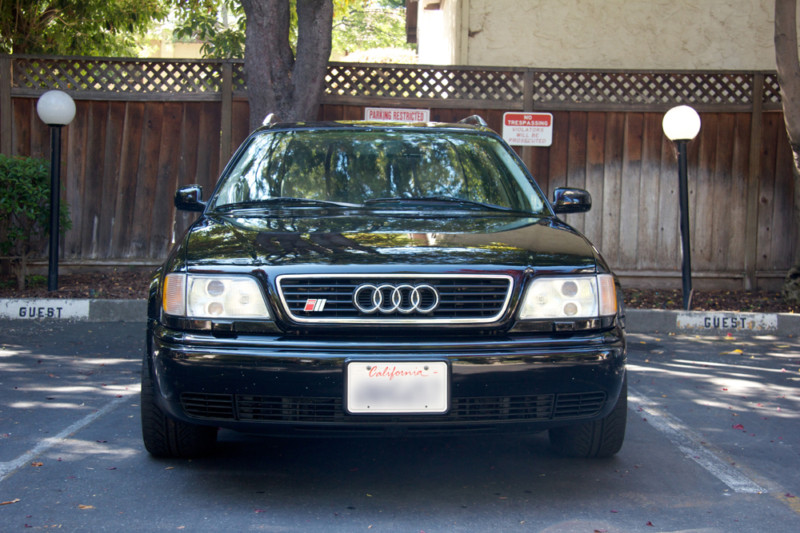 If the Porsche 944 Turbo remains the best value among German sports coupes, the 1992 to 1995 Audi S4 and S6 are solidly the best value in the fast executive saloon market. Not only can you purchase a very clean example for well under $10,000 (hard to do with either an M5 or 500E), but you can also get that speed in wagon form. Long considered one of the classics produced by Ingolstadt, these cars were snapped up by enthusiasts when they were undervalued in the early 2000s. Despite an uptick in their value on the market, you can still see clean examples regularly trading for $5,000 – but the good examples are getting harder to find. Today we found a solid looking example of what is to many the most desirable of the breed, a 1995 Audi S6 Avant: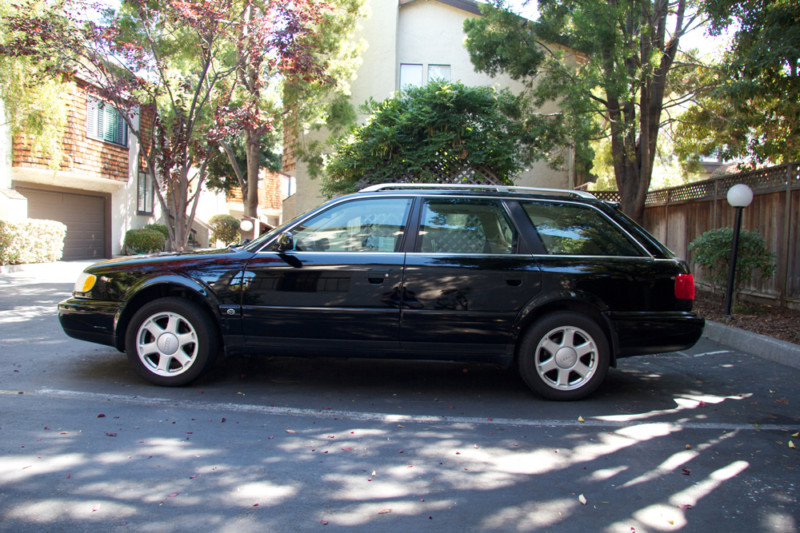 Year: 1995
Model: S6 Avant
Engine: 2.2 liter turbocharged inline-5
Transmission: 5-speed manual
Mileage: 170,994 mi
Price: No Reserve Auction, $2,999 opening bid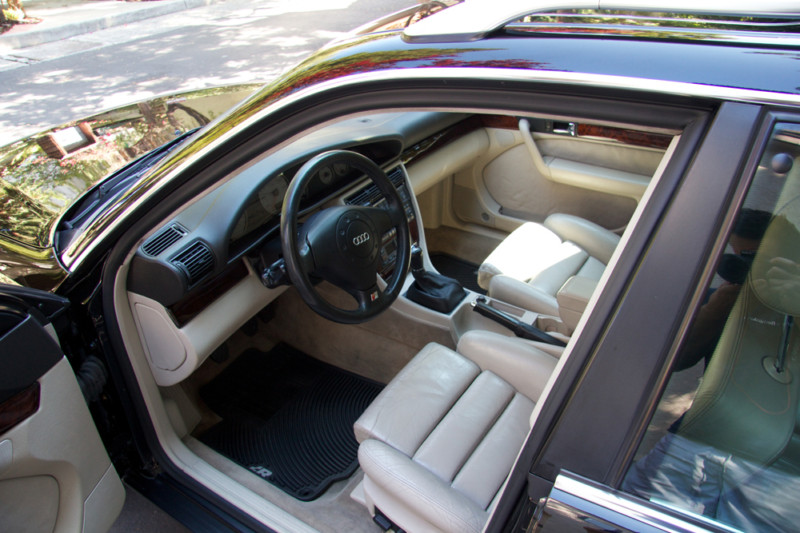 OVERVIEW

This auction is for a 1995 Audi s6 Avant with ~171,000 miles. I am the second owner and purchased the car from BMW of Mountain View (1st owner traded it in) in early 2009 with 149,000 miles on it. It's been garaged for the entire time that I've owned it. I've changed the oil every 3,000 miles using OEM (Mann) filters and Mobile 1 full synthetic 15W-50 motor oil. It's been power waxed and polished every 6 months or so and had Meguiar's spray wax applied when washed in between those 6 month intervals. Techron fuel cleaner has been used in 1 year intervals. I have three keys (1) master key with separate electronic key fob (2) backup key identical to master key and (3) a valet key (doesn't open the glove compartment). I have all original documentation and owner's manual. The car has it's original paint, it's never been restored or touched up. As such, the front, hood, and headlights do have some pitting and rock chips. There are some parking lot dings (see pictures) and general use scuffs. Also, when I replaced the battery, I thought I had the radio code but I didn't and so the radio is in safe mode and will need to be unlocked by Audi or replaced. The car has never been in an accident. See FULL DISCLOSURE section for additional details.

The car is fantastic, it's been my baby for the last 4 years. It's drives really well, the engine is smooth, and I'm going to miss it when it's gone. My original intention was to fully restore this car, however, I just don't have the time or space. It's my second car and it spends a lot of it's time in the garage (22,000 miles in 4 .5 years). I want someone with an appreciation for the original s cars to give it a good home.

VEHICLE EQUIPMENT DETAILS

· 1995 Audi S6 Avant

· 5-speed manual transmission (01E)

· AWD Quattro

· 2.2L I5 Turbo engine 226hp (AAN)

· Black exterior / Ecru (beige) interior with black dash and leather seats front and back

· Heated front and rear seats

· Rear third row flip out bench seat

· Power Sunroof

· Cruise Control

· Power seats with memory / power mirrors / power windows front and rear

· Power voltage gauge / oil temp gauge

· Keyless entry / automatic door locks

UPGRADES / MODIFICATIONS

The car is more or less stock with a few key upgrades. It's never been tracked, chipped or had anything done to the engine. Upgrades are as follows:

· Bilstein Sport Shocks (on stock springs, stock ride height).

· 034 Motorsport coil pack conversion (the original coils are on plug and get very hot, this new system has proven to be much more robust as the coils are separate from the plugs)

· Silicone coolant replacement hoses

MAINTENANCE (LAST 4.5 YEARS)

I've done extensive maintenance to keep the car running smoothly and I've tried to use OEM as much as possible to keep it stock:

· Ignition switch replaced (OEM)

· Starter replaced (OEM)

· Valve cover gasket replaced (OEM)

· All 5 coil packs replaced (non-OEM, 034 Motorsport conversion kit)

· Spark plugs replaced (OEM)

· Brake Hydro-Accumulator (brake bomb) replaced (OEM)

· Battery replaced (non-OEM, Bosch)

· Auto door locking air-valve control unit replaced (OEM)

· Antenna base and mast replaced (OEM and non-OEM respectively)

· Front control arms replaced (OEM)

· Front tie-rod ends replaced (OEM)

· Steering Dampener replaced (OEM)

· Rear sway bar links replaced (OEM)

· Transmission mounts replaced (OEM)

· Center prop-shaft bearing replaced (non-OEM, 034 Motorsport)

· Center prop-shaft CV joints replaced, both ends (OEM)

· Fuel pump (in-the-tank) replaced (OEM)

· Fuel filter replaced (OEM)

· High pressure power steering hose rebuilt (sent to professional hose repair company in WA)

· Coolant system flushed and original blue G11 fluid replaced with newer pink G12 fluid (OEM)

· Transmission fluid changed (non-OEM, Pennzoil SynchroMesh)

· Front and rear brake rotors replaced (OEM)

· Front and rear rubber brake lines replaced (OEM)

· Shocks replaced (non-OEM, Bilstein)

· Dash bulbs replaced (except for temp gauge) (OEM)

· Leather shift boot replaced (OEM)

FULL DISCLOSURE

In the interest of being honest and open, here is a list of things that I've noticed that will need work or are wrong with the vehicle:

· The front tires are wearing and will probably need to ne replaced within a year (rears look great though)

· As far as I know it's the original clutch although you wouldn't really know it by driving it. I've babied it, always rev matching on downshifts and never done any crazy launches or anything. Being 171k miles though I would say this would be a replacement item to consider when purchasing.

· There are three noticeable parking lot scratches/cracks/dings and a couple other minor paint issues that you can see from the pictures. (1) crack on the front bumper corner with (2) scratch on driver's side front lower fender (3) ding above front driver's side wheel well (4) rear roof spoiler paint is fading and has some visible defects (4) rear bumper corner trim piece paint is fading with visible defecting.

· It has the original paint and thus there is fair amount of pitting and rock chips in the front, hood and, headlights (see pictures).

· The radio works, however after replacing the battery it went into safe mode and I don't have the radio code to unlock it. Fixes would be (1) call Audi and try to get a code from them (2) replace the radio head unit.

· The leather seats do show wear and the front driver seat is the most visible with some cracking in bolsters. The left torso bolster cracked open exposing the foam underneath and I've patched it with beige duct tape to stop further damage (see picture).

· It has not had the timing belt and water pump service. It's been babied and garaged so the belt actually looks to be in really good condition but this was something that I had planned on doing soon and something you will want to factor in when purchasing. (I have the parts for this for DIYers).

· There is a very small coolant leak, it's so small that it evaporates in the engine compartment as there are no drips on the floor. Just FYI.

· It didn't come with any of the OEM floor mats for some reason. I have two rubber matts that fit decently from a first generation VW R32. There are no rear mats.

EXTRAS FOR DIY

· New water pump and timing belt

· 8 OEM Mann oil filters / 8 OEM crush washers for oil drain plug (replace after every oil change)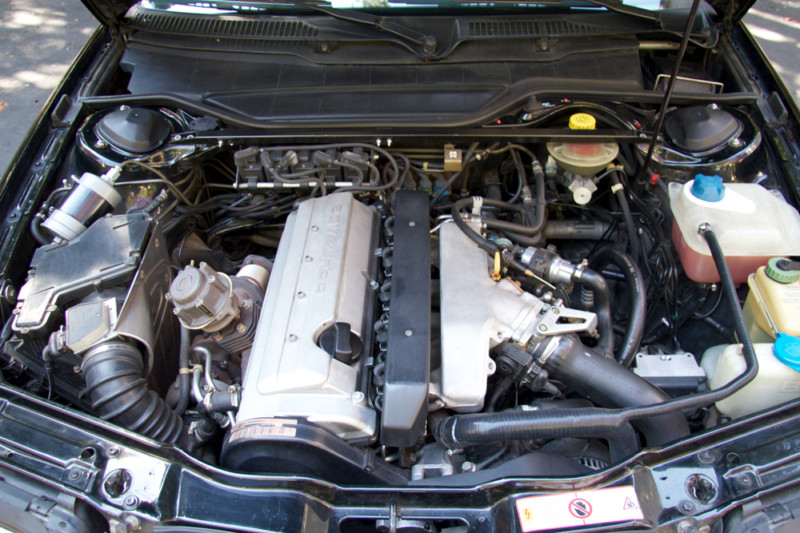 Sellers, take note; full disclosure is such as great thing to see. The seller could likely have gotten away without disclosing things like the small coolant leak, but the attention to detail is reassuring when looking at purchasing a car such as this. Most of the cars that we feature on GCFSB are out of the reach of your average buyer, but these cars offer an opportunity to get a reasonably reliable daily driver that's exotic and fun to drive while practical. There are items that are harder and more expensive to replace, but this is a car that you really can DIY and keep running for hundreds of thousands of miles. This car has a leg up on most with a well documented history of repair.
Mileage is on the higher side for many "normal" cars, but still in the reasonable range for one of these limited production cars. The interior is what I would prefer in Ecru; while it shows more wear than the black typically, with all of those windows having a black interior can eliminate the need for seat heaters. Speaking of seats, this car also has the third row option, making it even more functional as a family hauler. The silicone hoses and coil pack replacements are necessary items for the long term, and Bilsteins help to firm up the floaty ride many older Audis suffer from. This may not be the dream ride that many who look through these posts hope for, but it is a solid driver that offers high performance and practicality on a level few cars can attain. Watching the prices of 200 20V Turbo Quattro Avants rise over the past few years, one has to wonder when the market will similarly take off for these S6s.
-Carter