Warning!
This post is in our archives. Links in this post may have been updated to point to similar cars available to bid on eBay.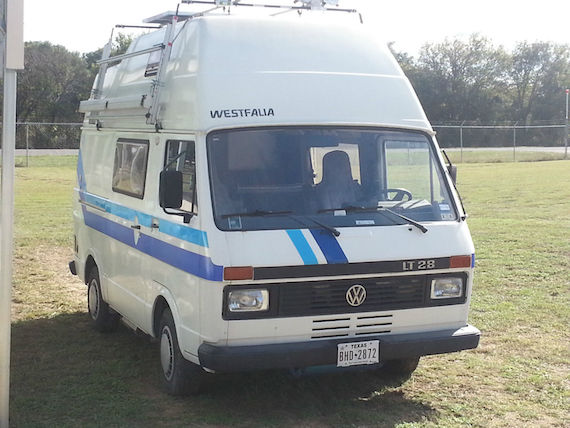 We've posted some interesting variations on the Volkswagen LT vans, the plus-sized Vanagons that never came to the US. From firetrucks to zombie defense vehicles to race team vans, they're like VW's Sprinter. Today's LT28 model, indicating the lightest gross vehicle weight available (they went up to the LT55), is a special edition form Westfalia called the "Sven Hedin," the Swedish world explorer. The bigger size of the LT allows for more amenities than would ever fit in a T3 like a shower, while the hightop makes standing up much more comfortable. The size and rarity are definitely the main draws here, as it's showing some wear after its 125k miles and 28 years. The interior looks original but droopy, especially the wall-mounted cloth storage sacks. The exterior shows some cracked and possibly redone paint areas, and the incredible blue stripes have seen better days. All of the thick plastic Westfalia interior bits look great though and the turbodiesel inline-6 should be just getting into its prime, so as long as there aren't a bunch of rust spots hiding, I think it has a lot of potential as a plus-sized camper.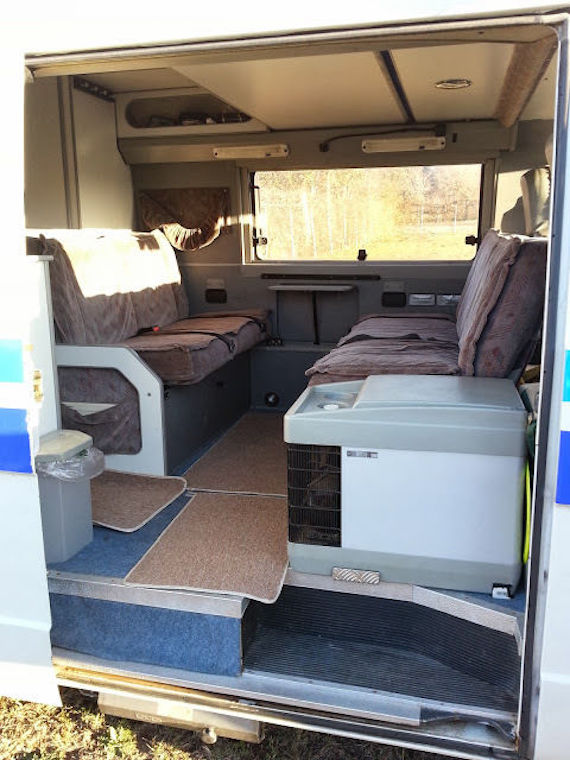 Year: 1988
Model: LT28 Westfalia "Sven Hedin"
Engine: 2.4 liter turbodiesel inline-6
Transmission: 5-speed manual
Mileage: 124,500 mi
Price: $20,000 Buy It Now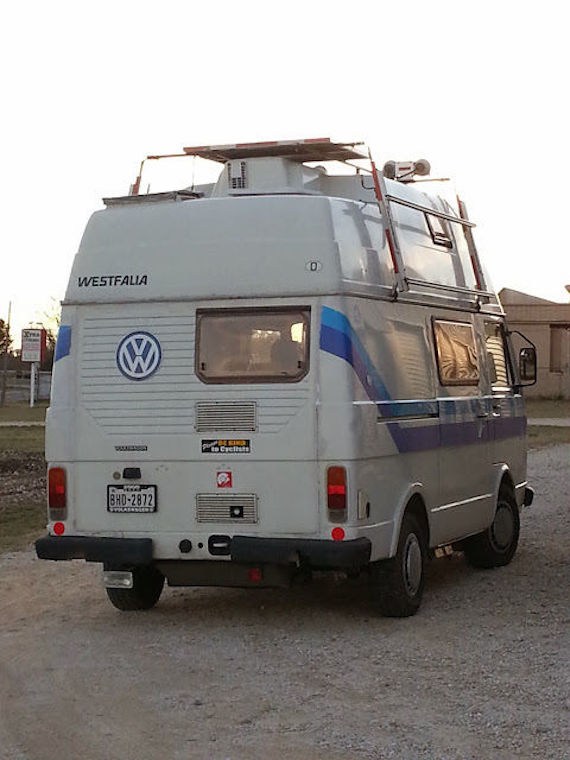 HELLO EVERYONE. I AM PUTTING FOR SALE MY BELOVED 1988 VW LT28 SVEN HEDIN WESTFALIA SIX CYLINDER TURBO/DIESELCAMPER. THIS CAMPERS WERE PRODUCED FROM 1976 TO 1991 AT THE VW PLANTS IN GERMANY. THIS ONE IS 28 YEARS OLD, SHOWING VERY LITLE WEAR FOR THE AGE, THIS ONE HAS HELD SOLID AND DRIVES GREAT IN ALL GEARS. THE SPEEDOMETER IS IN KILOMETERS AND HAS NOW 202049, equal to 125000 miles. NOTHING FOR THESE DIESEL ENGINES THAT LAST FOREVER. DRIVING IT FEELS LIKE A BIG VANAGON. THE MOTOR IS IN FRONT, BETWEEN THE FRONT SEATS. I WILL COUCH YOU TO BE ABLE TO GET FAMILIAR WITH IT AND ANSWER ALL YOUR CONCERNS, SHALL YOU BE INTERESTED IN BUYING. THIS VEHICLE IS VERY COOL AND HAS THE SOLUTION TO ALL THE DREAMS OF ANY VW CAMPER LOVER. EVERYWHERE I HAVE TAKEN IT HAS LEFT PEOPLE MOUTH OPEN LIKE IF IT WAS A UFO. I PERSONALLY BROUGHT THIS ONE FROM EUROPE AFTER EXTENSE SEARCH FOR THE RIGHT ONE, SOME YEARS AGO. I HAVE TREMONDOUSLY ENJOYED IT HAVING CERO TROUBLES WITH IT. THE PICTURES SPEAK FOR THEMSELVES. THERE IS SO MUCH ABOUT IT TILL THIS DAY, A BOOK COULD BE WRITTEN DESCRIBING ALL THE FEATURES AND SO ON. I HAVE THE OWNERS MANUAL, RECORDS OF MAINTENANCE FROM GERMANY, ENGLAND AND THE USA. THE VEHICLE IS REGISTERED IN THE USA SINCE ABOUT 3 YEARS AGO. HAS A TEXAS TITLE IN MY NAME. IT IS READY TO GO TO YOUR DESTINATION FROM WHERE IT IS NOW, WITH OUT DOUBT. IT IS VERY RELIABLE. KEEPS UP WITH THE TRAFFIC PACE ON THE HIGHWAY, THANKS TO IT'S TURBO ENGINE. HAS ALL YOU EXPECT ON A WESTFALIA AND MORE, LIKE SOLAR PANELS, CAYAK SIDE RACKS, ORIGINAL UPOLSTERY IN AMAIZING CONDITION, CERO LEAKS OF ANY KIND. RUNS LIKE A CHAMP WITH A FIVE GEAR MANUAL TRANNY. YOU WILL BE VERY PLEASED TO BECOME THE NEW OWNER OF THIS GEM. I AM HAPPY TO ANSWER ANY QUESTIONS TO SERIOUS BUYING PROSPECTS. TIRES ARE STILL GREAT AND LOTS OF GOOD THREAD LEFT. THE ONLY AREA THAT HAS SHOWN SOME RUST THAT MAY NEED REPAIR IS THE REAR LEFT WATER GUTTER. NO WATER INTRUSION THOUGH. SEE PICTURE. I WOULD NOT LET GO OF THIS AWSOME CAMPER IF THERE WAS NOT A FINANCIAL NEED FOR THE BUILDING OF MY HOME. SO HERE IS A CHANCE FOR THE RIGHT INDIVIDUAL TO BECOME THE NEW OWNER OF THIS FINE WESTFALIA GERMAN MADE CAMPER IN ITS TOTALITY. VIN # WV2ZZZ28ZJH017548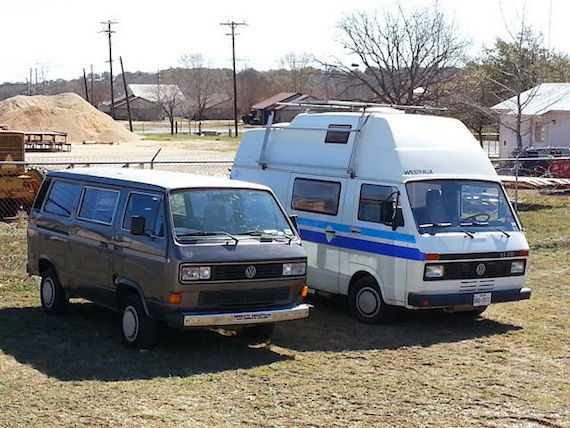 The combo kayak/solar platform rack is pretty sweet, and this would be a much more comfortable van for really extended vanlife. The seller says it hasn't been lived in, but includes pictures showing the countertops covered in canned food, and it at the very least has experienced some less than gentle use. A thorough inspection is necessary before diving in here, but if you compare what kind of T3 Westy you'll get for $20k, this LT28 has a lot of upside. As long as there are no major mechanical issues, a few grand and some weekends spent redoing the interior and exterior would make this van a seriously desirable piece of camping kit that could indeed make you a modern day Sven Hedin. I'm picturing it with a new paint job, new stripes, GoWesty wheels and some nice VW cloth inside, and all of a sudden this van could be charging twice its $20k Buy It Now price.
-NR