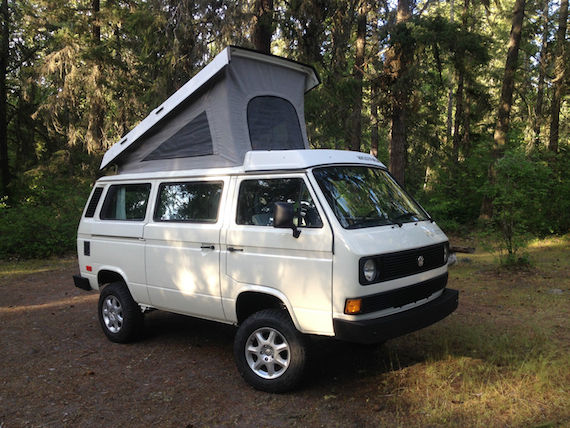 I've been writing up quite a few Vanagons over the last few months that are more affordable options, meaning they lack the Westfalia or Syncro options. Today's is one of the great ones that has a very long name and a longer list of upgrades. We've seen some of this variety edge towards the better part of $100k, but this diesel-swapped and fully repainted Westy Syncro can be yours for less than $40k. It's not a modern TDI but a rebuilt Audi 5000 turbodiesel, coming together for an efficient package that can take you anywhere. It's still a lot of money, but a very cool Vanagon and a deal compared to some out there.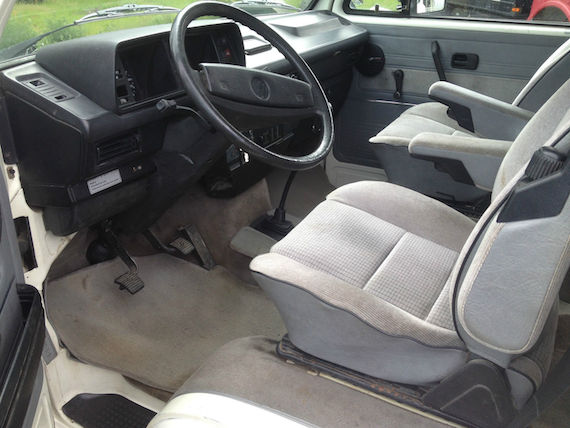 Year: 1988
Model: Vanagon Westfalia Syncro
Engine: 1.9 liter turbodiesel inline-5
Transmission: 4-speed manual
Mileage: 1,000 mi on engine, 133,000 mi on chassis
Price: $38,000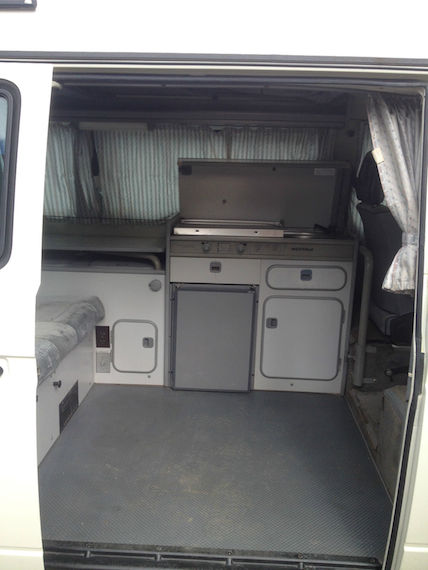 This van is ready to anywhere. Currently has 133,*** miles, has a clean Oregon title with noted fuel type as diesel. This is not a TDI it is a Turbo Indirect Injection Diesel so there are no electronics to fail you out in the woods. The engine is very similar to the 1.9 AZZ motors and many of the parts are identical. The benefit of the 5 cylinder turbo is smother operation as well as a little more horsepower and torque.

Items replaced and upgraded.

1. 1 year old full window out factory white paint job removed exterior utilities for ensure no water gets into the van. All utilities still function great and water tank is filled from the inside with a hose to keep filling outside the van.
2. GoWesty steel bumpers with intergraded rear hitch
3. Round H4 headlights with high output lights and relays
4. Audi 5000 Indirect Injected Turbo Diesel Rebuilt with ~1000 miles.
5. New rebuilt injection pump and Water cooled Turbo Charger
6. New injectors and Glow Plugs
7. New water pump
8. New timing belt
9. New Big diesel rebuilt Bosch starter
10. South African Perfect Fit Bell Housing
11. South African engine carrier bar
12. New hydraulic motor mounts
13. Rebuilt transmission stock gearing to maintain the best overall performance and strength.
14. New Audi 5000 clutch
15. New Audi 5000 pressure plate
16. Locking rear differential
17. Locking front differential
18. Decoupler for quick changing form 2WD to All Wheel Drive
19. New Front and rear axles and joints. New driveshaft as well.
20. New GoWesty Syncro Progressive 2" lift Springs
21. New Old Man Emu Shocks and Struts
22. Front big brake kit upgrade
23. New rear drum brakes and wheel cylinders
24. Flushed entire brake system
25. New front end bushings and ball joints
26. New front wheel bearings
26. All new window seals, scrapers and felts
28. Newer Pop top seals
29. New 3 window acrylic GoWesty canvas
30. Upgrade refrigerator 12 volt works way better than the original 3 way refrigerator (look at the pictures within 5 minutes the cooling section was down to 8 degrees
31. Duel battery system
32. Eight Mercedes 16 x 7.5 et46 wheels
33. Goodyear MTR 225/75/16″ tires in good condition mounted currently
34. AllTerrain Tire Set Wildcat tires same size as above
35. Updated stereo system Kenwood CD player high performance speakers. Currently in protect mode, so there may be a faulty gound.
36. Sound deadening in all doors and panels

The list goes on and on. There has been a lot of work done to this van and it also has a lot of great upgrades. I really do not want to sell it, but I have relocated to Hawaii. I do not feel I need a Syncro as nice as this on a small island. This van wants to play in the snow camp in the woods and celebrate to open roads. I have this van listed in multiple places and if the van sells through the other listings I will pull the ad. Please let me know if you have ay questions.

One question I tend to get is what would you do next? I would add a water methanol cooler system, I feel this will bring out the best intake cooling as well provide more horsepower. Systems can be purchased for $500, I have already tapped the intake to make this modification very easy to complete. Currently I am in Maui and the van can be view at Halsey Imports by appointment. Please contact me if you would like to see the van or have a pre purchase inspection completed.

Aloha Joe,
I love the signature. Cost-as-no-object, this is absolutely the kind of van I want. You could go up any four-wheeling trail, attack any weather, and just generally be a badass adventurer. There are more exciting engine swaps out there, but this one is certainly pragmatic. There are usually caveats when writing up Vanagons – could have more factory options, could have a cooler swap, could be a better camper, could be a manual – but this one takes care of just about all of those. The repaint is the cherry on top, and the buyer will get covetous gazes from any Vanagon fan as they drive past.
-NR