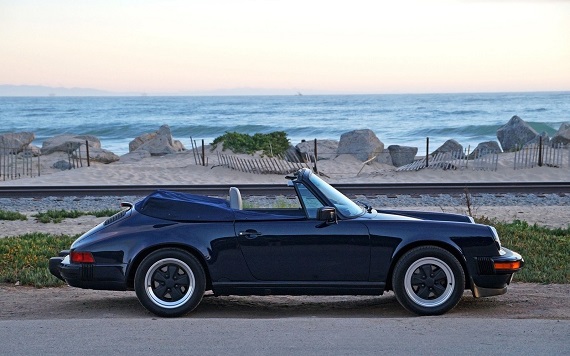 I mentioned briefly in a previous post the transmission differences between the '86 and '87 model years for the 911 and we can see here how much sellers take pains to emphasize the presence of the G50 transmission. I always find it a humorous strategy. As I mentioned in that post, and as a few noted in the comments, the G50 is better, but not necessarily enough so that we should ignore the early years of these cars. With that said, we could probably make the case that the transmission should matter more to collectors rather than those looking for a driver as the G50 will likely show better value down the road. Which brings us to the car seen here: a Dark Blue 1987 Porsche 911 Carrera Cabriolet, located in California, with just shy of 50,000 miles on the clock. This Cabriolet appears to be in excellent shape all around, the mileage is pretty low, and it came with a few highly desirable options, all of which likely suggests interested parties will have an eye towards the future when considering this as a purchase.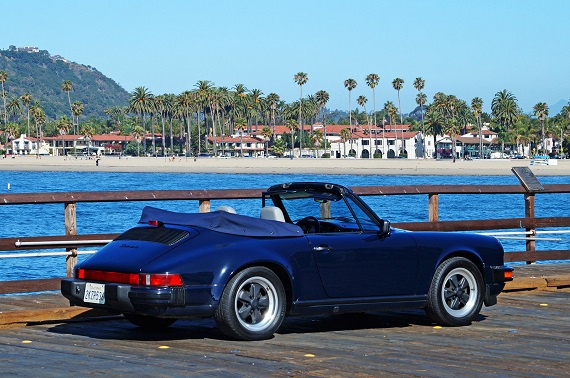 Year: 1987
Model: 911 Carrera Cabriolet
Engine: 3.2 liter flat-6
Transmission: 5-speed manual
Mileage: 49,957 mi
Price: Reserve Auction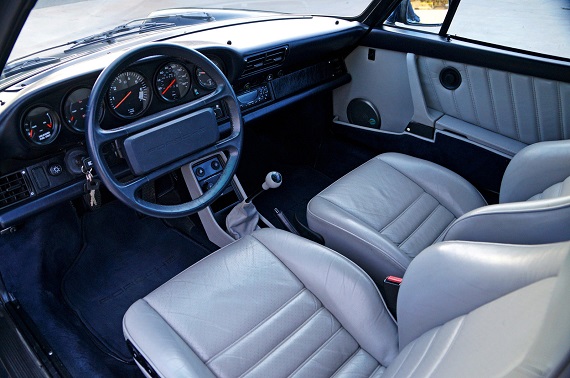 Offered for sale is an exceptionally original, stunning, heavily optioned and well maintained 1987 Porsche 911 Cabriolet with only 49k original miles from new. Finished in rare and ceaselessly tasteful Dark Blue (Dunkelblau L347) factory original paint over Classic Grey leather and navy carpet interior, the car is as mechanically sound as it is beautiful, a rare original example that comes with a stack of service records, its original owners manual and stamped service booklet, a completely clean CARFAX report helping to document the mileage and multiple spare keys. Whether you're in the market as a seasoned Porsche collector or just as a weekend enthusiast, this exceptional G50 transmission example is absolutely the car to have.

Delivered new to its first owner by the Porsche dealership in Natick, MA, he would retain the car for a decade, accumulating a mere 21k miles and always keeping it well maintained and dealer serviced. The second owner also ensured the car was extremely well cared for and also used the car sparingly, keeping it for the next 16 years before selling it to its next owner in 2013. Unfortunately an unexpected injury and the necessary surgery forced the third owner to part with the car last month, which is when we acquired it.

The car's factory original finish is exemplary, consistently deep and lustrous and marred only by the most negligible of touched-up imperfections (a few rock chips and the like), none of which detract from the car's considerable appeal. The body is entirely straight and free of dents, with factory consistent panel fits and gaps throughout and absolutely no evidence of any accidents. All of the glass and rubber is in excellent condition, the power cabriolet top shows virtually no wear whatsoever and neither do any of the Fuchs wheels, which are wrapped in tires with plenty of remaining tread. The car's undercarriage is completely rust-free, original and untouched, showing only road dust consistent with 49k miles of well-cared-for use.

The car's interior is equally as clean, the Classic Grey leather sport seats showing only nominal wear to the driver seat bolster. The same can said of the beautifully offsetting navy carpets and grey interior panels. The door pockets retain their shape – which is a common problem for this model – and the dash is free of cracks or warping, housing a newer and upgraded Blaupunkt CD, however the original still comes with the car. The car left the factory heavily optioned, including the following:

Code Option Description

070 Tonneau Cover – Cabriolet
139 Seat Heating – Left
158 Radio – "Reno"
220 Locking Differential
286 High Intensity Windscreen Washer
288 Headlight Washers
340 Seat Heating – Right
341 Central Locking System
383 Sport Seat – Left
387 Sport Seat – Right
395 Light Metal Wheels – Forged
424 Automatic Heating Control
439 Electric Cabriolet Top
454 Automatic Speed Control
474 Sport Shock Absorbers (Bilsteins)
533 Alarm System
C02 Equipped with Catalytic Converter

The car is also mechanically excellent, which isn't surprising considering the amount and quality of care and maintenance it has received. The bulletproof 3.2L engine fires up without any smoke or hesitation, pulling strongly and smoothly through each of the desirable G50 transmission's gears. Compression is excellent, as is oil pressure, and it's easy to understand why this era of 911s is one of the most desirable: it beautifully melds efficiency, reliability and everyday ride quality with a truly visceral, vintage driving feel that is sure to provide anyone behind the wheel a wonderfully grin-inducing experience.

If you're in the market for a late '80s G50 transmission 911, there are very few examples that can best this exceptional 911. It checks all the right boxes: exceeding originality, excellent provenance, low mileage, clean CARFAX report, desirable livery, exceptional cosmetics and strong, well-maintained mechanicals. With the market reflecting continued and rapid appreciation, this is arguably one of the best examples of one of Porsche's best creations and we expect interest to be considerable. Please bid accordingly and feel free to contact us to discuss the car further.

We want this car to go to great home and would be happy to answer any questions, so please feel free to email us or call us at 805-202-4557. You can also visit us online at GoodmanReed.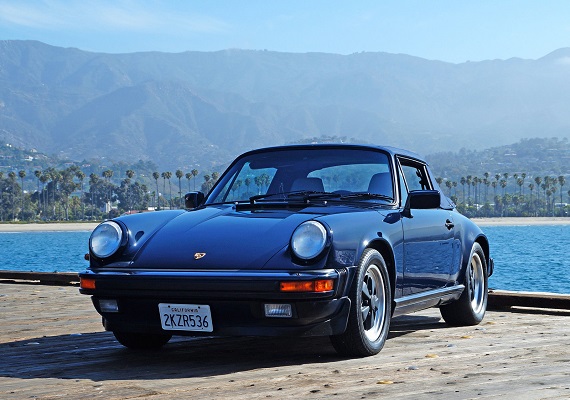 What a beautiful car! This is another example of a seller providing nearly the best possible backdrop to showcase his car and I especially enjoy the way the exterior color changes in light and shade. Everything here looks about as we'd expect so assuming it comes with a good PPI, then it looks like a winner. Bidding has already been pretty aggressive and it wouldn't surprise me if in the end this one stretches above $40K.
-Rob