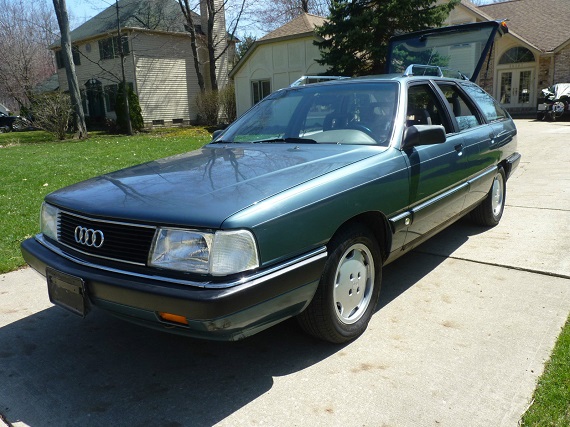 In yesterday's post on a 1978 Porsche 930, Rob asked "What happened to Guards Red"? Well, I have a similar question – what happened to all of the front wheel drive Audi 5000s and 100s? Occasionally we see some turbocharged front-wheel drive 200 models come up for sale, but even they're a rarity; yet, in the 1980s it was those front-wheel drive models that provided the revenue stream for Audi, who struggled to sell vehicles increasingly towards 1990. The 5000 and 100 were actually pretty popular, too – competent, quiet highway cars that looked much more updated than the rivals from Munich when they launched. Sure, they weren't the best performing cars in their day, but they were a reasonable alternative to the Mercedes wagon, which was the only other big German wagon at the time. Despite that, there just aren't many left – especially not in this condition: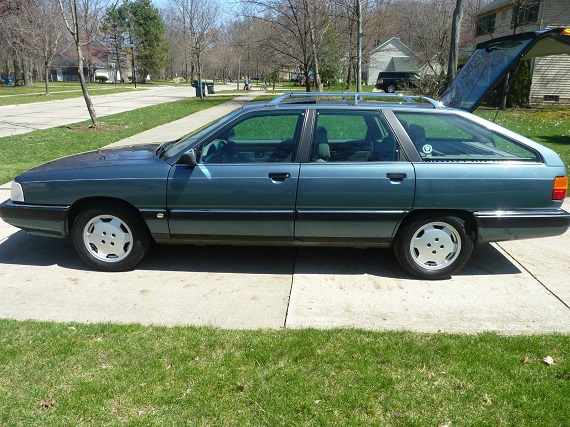 Year: 1989
Model: 100 Avant
Engine: 2.3 liter inline-5
Transmission: 3-speed automatic
Mileage: 122,800 mi
Price: $4,500 Buy It Now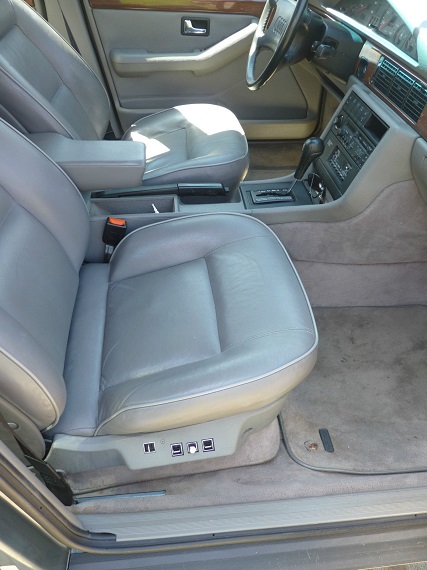 Beautiful Rare Audi Avant 100 automatic. Original paint in great condition and the interior is well preserved.No rips in the leather seats. Roof liner is good not so perfect the sunroof liner.One family owned till 122600 miles second owner has 123300 miles (been driven daily, miles may increase).Lots of new parts,timing belt done April 2014, one rear wheel bearing, new right axle, rebuilt rack,new head and corner lights.recent tuneup, newer exhaust in middle.Tires are Michelin at %80 Engine runs like it should, sharp and quiet. Transmission shifts good.No rust what so ever! Some small dings bot no real scratches on the body. Passenger window not working, ordered new switch. So cold yet head no chance to try AC ( to be safe I say is not working, clutch kicks in some time)
Please send all you're questions and needs for more pics! 646-3212526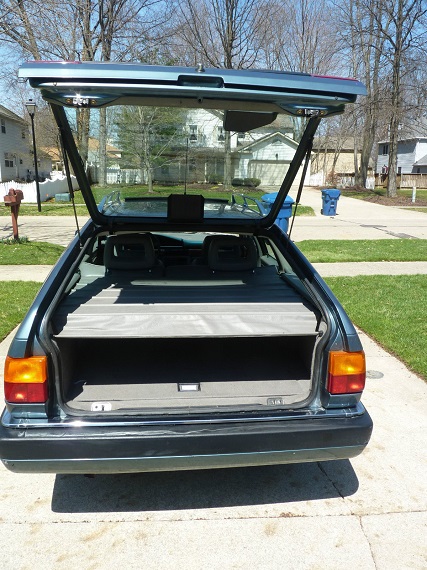 As Emerald Green Mica was to the early 90s Audi, Lago Blue Metallic was to the 88-92 period; it seems to pop up everywhere. I had one, a 1989 200 10V Quattro Avant in Lago Blue; cleaned up, it's a nice color if somewhat dated. The miles are right on this car, and they're known to go for 500,000 miles or more. Sure, you want the turbocharged quattro version – at least on paper. The reality is that the were complicated cars then, and keeping those older all-wheel drive turbocharged wonders going these days is really a labor of love. With the 2.3 normally aspirated motor, this is fine transportation with adequate motivation but the bills are much lower. You won't win any popularity contests with this car, but there are few that can carry such an impressive load and the build quality of these cars was quite high overall. While what appear to be Euro-spec H4 lights ultimately provide a lot more illumination than the stock DOT lights, I'm really more fan of the H1/H4 lights. $4,500 seems like a lot for one of these cars – but there aren't many left, and few – very, very few – appear in this condition. You could easily spend a few thousand dollars trying to keep a bad one going; or, pay a bit more up front and get a clean, maintained car like this. If you're in the market for an early Audi wagon, this strikes me as a very sound purchase overall.
-Carter