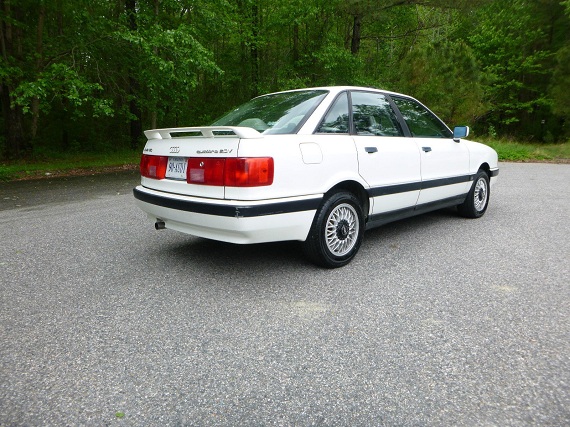 While the Audi 100 Avant I wrote up the other day was certainly a treat to see, for most late 1980s and early 1990s Audi enthusiasts, the cars that they're interested in are the quattro all-wheel drive models. There are certainly many popular ones to choose from; recently we've seen the 4000 quattro and S4 quattro really take off, but the 200 20V quattro and Coupe quattro also grace these pages on a regular basis. One car we don't see much of, though, is the 90 20V quattro; effectively the same car as the Coupe underneath, these 90s were rare when new and are more rare today. Featuring the awesome 7A 20 valve 2.3 motor and the legendary quattro drive system, unlike the earlier 4000s they were galvanized, meaning at least some could survive life in the environment which they were designed to conquer: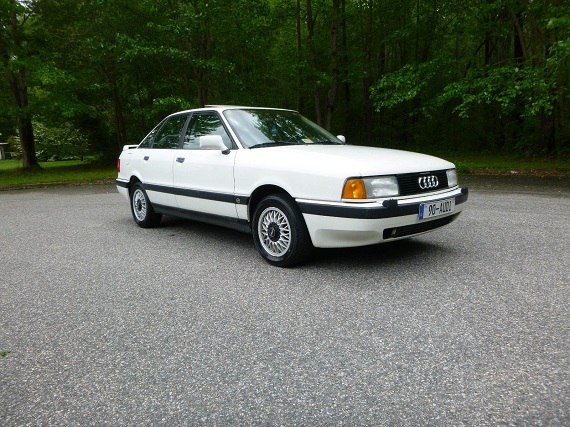 Year: 1990
Model: 90 20V Quattro
Engine: 2.3 liter inline-5
Transmission: 5-speed manual
Mileage: 149,298 mi
Price: $4,200 Buy It Now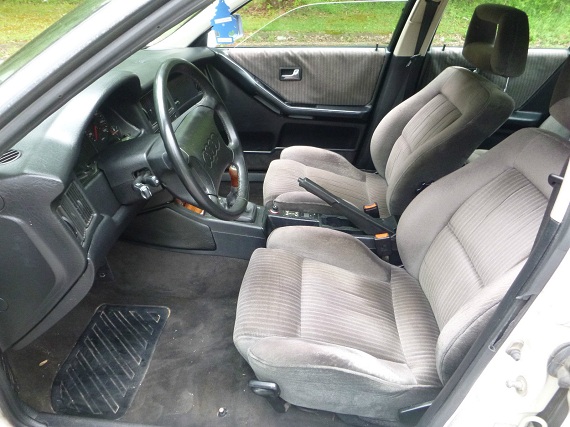 1990 Audi 90 20v Quattro

Very rare Audi that was only made with this engine in 1990 and 1991. It was offered in both a coupe and a sedan. During those two years Audi built around 1700 coupes and less than 1000 sedans. They came with tons of features that were pretty far ahead of the times back then. It was equipped with power everything, heated seats, automatic climate control, a power moonroof, drivers airbag, headligh washers, integrated ski bag, a factory rear spoiler, BBS alloy wheels and with things that are still unheard for today like an ABS kill switch and a locking rear differential.

Here is an article that Automobile Magazine did on this car under its collectible classics section a few years ago.
Just to clarify two things about the article
1. This is not the exact car featured in the article looks similar but its not the exact one.
2. You will have to copy past the link or just google it. eBay doesn't let you include working links.

automobilemag.com/features/collectible_classic/1011_1990_1991_audi_90_quattro_20v

I had been looking for one of these for quite some time in unmodified condition. It was a 2 owner car that was originally purchased in Roanoke Virginia (autocheck is counting title events from when the second owner moved from Virginia to North Carolina as a new owner). I found it when the second owners son convinced his mother to sell it and get it out of their yard where it had been sitting for a while. Due to it sitting it had some issues and I have addressed nearly all of them and have over $2000 worth of receipts dated since October to prove it!! It is now in great running condition. The engine is strong and has great compression and the Quattro all wheel drive works great (check out the snow pic)!! The interior is also in great shape with no rips or tears in the seats, and no major stains, the power windows and locks are all working as well

Here is a partial list of parts and maintenance items that I have completed (again I have receipts for all of this no gimmicks here). I have used only oem or oem spec parts and have not modified the car in anyway, except for the radio (I wanted something with an aux input and found the most factory looking radio I could). I still have the factory radio and it will be included.

Front and rear struts
Front and rear strut mounts and boots
4 new tires
2 Front wheel bearings
Front breaks
Rear Rotors
Rear Breaks
Tie Rod assemblies (inner and outter ends)
Steering rack boot
Front ball joints
Rear ball joints
Drivers side Window regulator
Front control arm bushings (4 total)
Rear control arm bushings (4 total)
Front sway bar links
Thermostat
Oil change
Several new switches
Radio/rear speakers
Headlights
Custom exhaust repair
Power steering hose
Hydraulic fluid
Full size matching BBS alloy wheel as a spare

So onto some things I haven't completed. It still needs a good detail inside and out. The headliner isn't sagging but has some stains and was cut along the side when the previous owner had a phone installed (yes a car phone not a cell phone!!). The interior dome light isn't working could just be bulbs but I haven't played with it. There are some minor body work issues that you may want to fix (minor dents) they didn't bother me but they are there (luckily the white paint doesn't show much). The drivers side seat heater is not working, the passenger side works great but I haven't looked into the drivers side yet. I did pick up a new switch for it but I haven't replaced it yet and I'm not sure that's the problem. The rear differential is a little wet it looks like the axle seals are seeping a little but I have checked the fluid and the level is good so I haven't touched that yet either. Germanautoparts website sells the seal kit for $80. The AC is not working and would need converted to r134a. The only other thing I can think of is the fog lights, one of them has a shattered lens and I haven't been able to find a replacement. The other one is in good shape but I had to pull it out to pass Virginia inspection. I know that sounds like a lot but I am just don't want there to be any surprises!

As you can see in the pictures I have two keys, the original owners manual, and a Bentley repair manual. I also have some receipts from the previous owner that include a $3000 service from 2007. Some spare switches for the interior, the factory radio and a few other spare parts that will be included with the car.

So why am I getting rid of it after all this hard work and money invested? I unfortunately can't afford a project car at this point and even though its in great shape now it is still a 24 year old car and anything can happen so I have decided to move on.

Feel free to call, text or email me with any questions.
Chuck
724-880-9525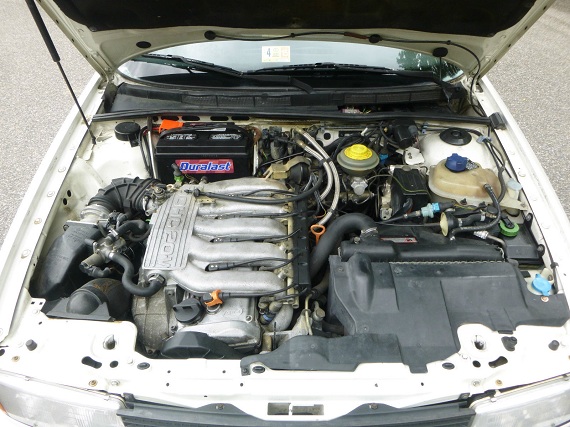 While there's a list of "to do" items, this car presents better than probably 90% plus of the 90 20Vs I've come across. That certainly doesn't mean it's perfect; you've got to source some foglights, correct some minor dings and repaint those wheel centers if you want it to be more original, but this car really strikes me more as a very clean driver that you could slowly correct the faults of. They're easily capable of multi-hundred thousand miles, and while not necessarily as exciting as some of the turbocharged versions, the 90 20V is a solid platform that you can have fun with in just about any condition, or swap in a crazy power train for some real performance. This car is a blank slate, and considering the rarity and condition I think it's priced pretty appropriately just over $4,000.
-Carter