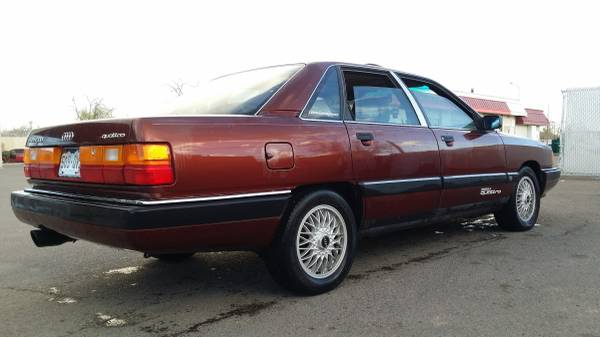 The Type 44 Audi was a car that was, in many ways, ahead of its time. Aerodynamic and technically advanced, the Audi 100/200/5000 offered automatic climate control, ABS, the normal host of electronics and on board diagnostics you'd expect from a top-flight executive sedan. But what it was best remembered for was a turbocharged motor connected to all four wheels via a manual transmission and all-wheel drive. Early models had twin locking differentials, just like the Quattro and smaller 80/4000/Coupe quattros, but Audi streamlined things in 1989 with the revision to the model line. Sporting new dashboards, new badges, and new BBS wheels, the real change was under the skin where the now worldwide "200" model featured a revised drivetrain. Gone were the twin locking differentials; instead, Audi simplified things for drivers by switched to the Torque-Sensing limited slip center differential, better known as Torsen. In the rear was still a manually locking differential; however, instead of vacuum operation like the early cars, it was now electronic, which allowed Audi to program in a feature which disabled the lock at 25 m.p.h.. While the 200 was a refinement of the early cars, the reality is that most remember it for the last-of-the-run 20V models that introduced the new 3B motor to the legendary platform. But the earlier 10V units in both MC1 and MC2 configuration have proven to be long-lived, well built classics that are rarely seen too: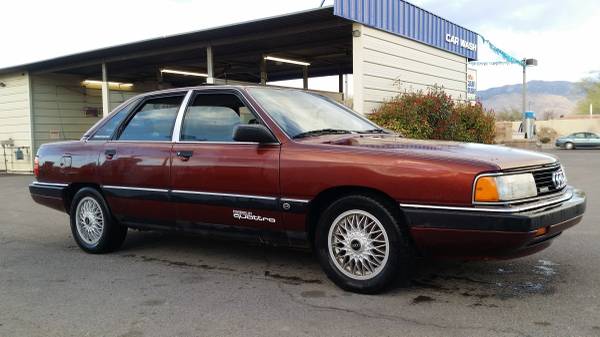 Year: 1989
Model: 200 quattro
Engine: 2.2 liter turbocharged inline-5
Transmission: 5-speed manual
Mileage: 254,000 mi
Price: $5,500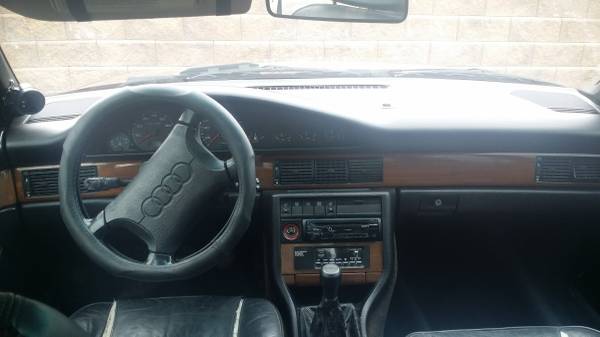 Hello i have a 1989 audi 200 quattro, 2.2 5 cylinder 10valve turbo, 254k miles, Clean Colorado title, locking rear differential, black leather interior, power windows, seats, mirrors, sunroof, and heated front seats. I am the second owner of this car, purchased from the original owner with paperwork to prove. Always ran synthetic oil. The car spent most of its life in NM and has absolutely zero rust. Overall a clean car. I have taken on 10+ hour drives with no issues. This is my daily driver. Passes emissions. I installed a bulb in the dash for the check engine light, so you can read codes and trouble shoot much easier if necessary.

-Here is a list of work that has been done within the past 1000 miles, over $3500 in parts alone, all receipts in hand.

-Battery
-Starter
-Ignition coil assembly
-Crank angle sensor
-Throttle position sensor
-All temp sensors/ fan switch
-034 Spark plug wires
-Rotor,cap, and pick up coil for distributor

-034 metal 20v head gasket
-Timing belt
-Waterpump
-Bosch 040 fuel pump
-Fuel filter
-Manley stainless steel oversized exhaust valves (34mm)
-OEM K24 turbo
-1.9 Wastegate spring
-Ben Swann 2.0+ "Super" chip
-3″ exhaust w/ lava wrapped down pipe
-Waste gate diaphragm
-Exhaust/intake manifold/ turbo/ valve cover gaskets

-High pressure power steering hose
-Crank case breather hose
-Michelin man silicone intake hose
-Spark plugs
-Thermostat
-Fuel injector seals
-K&N air filter
-Radiator cap
-Coolant flush
-Custom Stainless steel adjustable waste gate cap
-10 color glow shift boost gauge
-034 derlin weighted shift knob

**The bad**
*Front seats are split at seams
*Front right headlight is cracked
*Headliner sagging a bit
*Original paint ( hood, roof, trunk are faded)
*left Rear window is intermittent
*Brake light and airbag light are on, brake light is intermittent.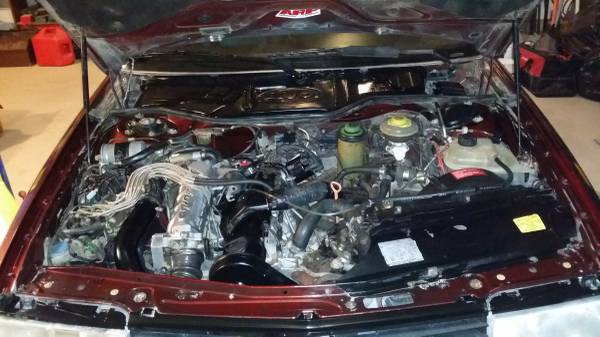 This car has undergone some nice updates, with increased boost being run through the lightly rebuilt motor. And for many who have owned these cars, looking under the hood will show the big difference between how many come to the market; it looks tidy and fresh. Additionally, a big benefit is the redone power steering hoses; expensive to fix and prone to leaking so far on in life. The car suffers from some typical Type 44 maladies; some flaky electronics, fading paint and sagging headliner are all common to these cars. There are a few small trim issues as well, such as the missing chrome strip from the front grill and cracked headlight, along with cracked seats. It's still possible to find parts through dismantlers and the enthusiastic community that supports them, but the pool of running 200s is steadily shrinking as time moves on. Does that mean this classic is worth the $5,500 asking price? I'll admit that it's much nicer – even at 254,000 miles – than most come to the market. The Cayenne Mica is a nice color and overall presents well, though the stickers and chromed B-pillars are a bit much for my liking. But no, it's not worth $5,500. That amount gets you into a much lower mile and much quicker S4 without the issues of this car, and the S4s are equally as rare. If you want something newer, $5,500 will also get you in to a B5 twin-turbo S4 if you're willing to look. And if you love the 200 and have to have one, I'd hold out for a 20V version that can be found for the same or less money. You won't get all of the expensive maintenance done like in this car, but unfortunately for this seller I don't think that work translates into a higher sale price.
-Carter