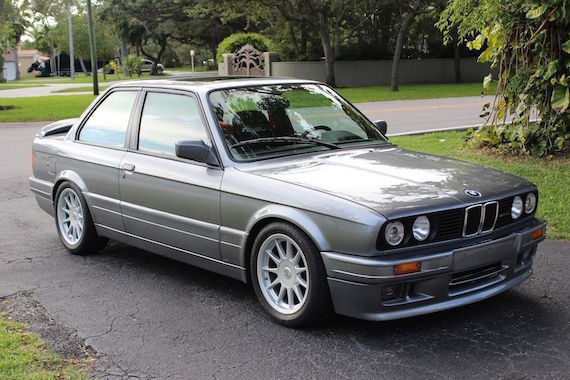 We've seen some great full-on Hartge automobiles here, and they've always struck me as an interesting (if not quite as desirable) alternative to Alpina. This 325is has no real Hartge provenance, but has had enough hard-to-find and period-correct pieces retrofitted to warrant mentioning. The factory original M-Tech II bodykit and cloth interior are nearly as desirable as the Hartge pieces, painting a picture of an owner who has spent a ton of time and effort sourcing parts to put together his perfect 325is. No doubt this is a gorgeous and carefully-composed love letter to the E30, but $21k is a lot of money for a 325is with 166k miles!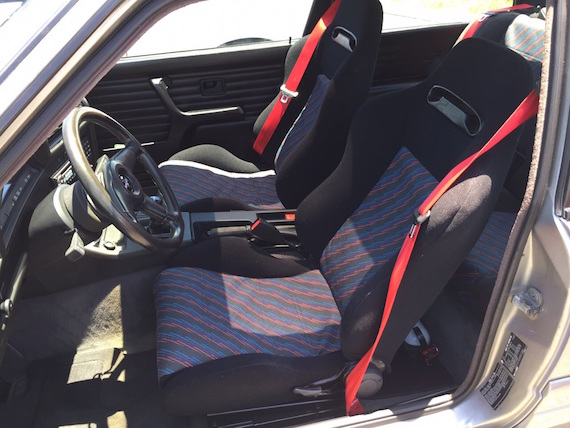 Year: 1989
Model: 325is
Engine: 2.5 liter inline-6
Transmission: 5-speed manual
Mileage: 166,250 mi
Price: $20,990 OBO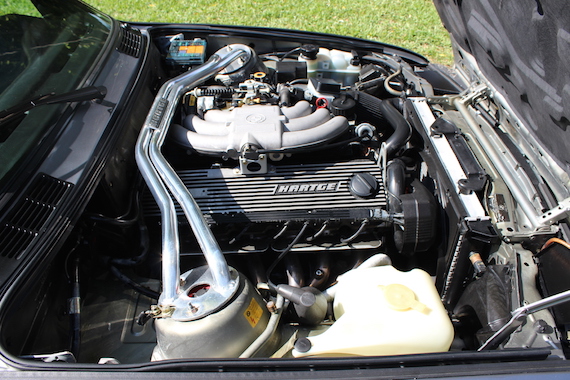 1989 BMW E30 325is with Mtechnic II kit and Hartge accessories
Year: 1989
Make: BMW
Model: 325is
Mileage: 166,250
Color: Silver
Interior: Black/M tech 044 cloth

This car has been my passion project and pride and joy for the past 13 yrs. I spent a good 3 years looking for a perfect E30 until I found this 1989 325is. A real "is" with receipts for every single oil change every 3-4k miles. It was extremely clean and very well taken care of with no stories whatsoever so I bought it after looking at probably 20-30 other E30's. The car was sold new on March 1989 by Reeves Imports BMW in Tampa, FL to Mr. Marvin Alexander. The second owner Mr. John Glasscock from St. Petersburg, FL then bought the car from Mr. Alexander in 1992. At some point he resided in TN and the car was registered there in 1998 and was then registered back again in St. Petersburg, FL when he returned back in 2000. I then purchased the car from Mr. Glascock in St. Petersburg, FL on March of 2003 with 163k Original miles which were easily verified by the extensive maintenance receipts and history.

So I am the 3rd owner, the car has a clean carfax and no signs of any accidents. The previous owner commuted heavily between FL and KY racking up the 163k miles but he did religiously changed the oil and didn't neglect the car of any maintenance which gave me full confidence on the car's condition. He gave me all the receipts as proof so I have a 3" binder with all service records and parts invoices since the car was new including the original window sticker and purchase invoice! First oil service was done at 1,200 miles! I also have all registrations dating back to '89!

Soon after I bought it, the car received a re-spray in BMW Silver Grey metallic and a brand new Factory Original BMW M technic II body kit was installed. (For those who don't know this is a factory BMW body kit, not an aftermarket bolt on special) Over the past 13 yrs I have also sourced and installed at an incredible expense and difficulty pretty much every original period correct Hartge accessory that was offered for these cars making it very rare and special. Altough not a Hartge built car this car has more Hartge parts on it than any real Hartge built car I've seen advertised in the US in the past 10 yrs.

The interior was also upgraded with SRD style seats and an E30 M3 rear seat both re-covered in ridiculously expensive and impossible to find REAL M Tech 044 cloth as seen in the E30 M3 Sport Evolution. Car is beautiful and has been very reliable due to it's extensive maintenance, oil has been changed every year regardless of mileage in my years of ownership! All upgrades and maintenance are less than 3k miles. The car has everything going for it as you will see, the paint shows very minor imperfections, just a couple chips in the front valance, some bubbling in the front bumper and a chip in the rear bumper from incorrectly removing the tow hook cover. The car has NO rust! Only rust you'll see on this car is surface rust on exposed metal parts like exhaust bolts, the exhaust connections/welds etc, etc. All VIN tags are present, the ones on the front fenders are coming off but you can still see that they were there as you can see in the picture I took. The car runs super strong, it's super tight with no strange sounds, shifts smoothly, feels really nice to drive and it sure pulls as strong as a stock e30 M3. Interior is also very nice, crack free dash, Original headliner professionally dyed black (looks awesome!), no stains on carpet and absolutely clean! The seats are clean with no rips, no burns, no stains. Being an "is" it also comes with the Premium Sound Speakers, full On Board Computer, Lighted Maplight Mirror and the 3.73 Limited Slip Differential. Nothing is missing from the car. All tools, jack, wrench and tow hook are there, even the white flashlight is in the glove box!

This is definitely not your average E30, far from it, this has been a collectible of mine and has always been kept garaged, never daily driven under my ownership and a car that has always been very well taken care of by owners who have never cheap out on maintenance or cleanliness. I have only put about 3k miles in my 12 years of ownership, I have 4 other cars so this one only gets driven on short weekend drives or to shows only when the weather is nice. I hate rain! I like to wash and wax the car myself every time I take it out, I usually use Mothers carnauba wax with a regular mist of Showtime or spray wax on top. On the interior I only use Aerospace protectant and nothing else on the vinyl. Carpet and mats get vacuumed every time as well. Bad things I can think of are the amount of original cosmoline still present in the engine bay, the few paint chips I mentioned that are pictured below and the front bumper paint has some bubbling, the rear bumper tow hook covers paint doesn't match 100%, the A/C acts up sometimes but the system is fine mechanically (I've pinned it down to a weak relay/switch/connection and the perpetual ~100 degree FL weather), the windshield has a scratch caused by an old wiper (can be polished out but never did as I wanted to eventually replace the windshield which is the original), tires are somewhat squared from the lack of driving but are always kept with air and have no cracks (they are fine once they drive/warm up).

I've documented the major parts of the build on the list below. Many other small parts have been replaced and are just too extensive to list. All parts are pretty much new with less than 3K miles:

Engine:
HARTGE Valve cover – Valves were adjusted at the time
HARTGE Headers
HARTGE Rear muffler
RACING DYNAMICS Euro Center section (No Cats)
Stock 2.5L engine internals
19 lbs Injectors
M30 AFM/K&N filter (Stock airbox Included)
DINAN Chip 19lbs Inj.
OEM Euro Skid Plate
E12 motor mounts
Timing belt (1000 miles)
Water pump (1000 miles)
All belts (1000 miles)
Crank Position sensor (1000 miles)
Fan clutch (1000 miles)
Radiator (1000 miles)
Spark plugs (1000 miles)

Body:
Original M technic II body kit Euro spec (no sidemarkers)
Original M technic door sills
Original Glass Moonroof (Stock sunroof included)
Euro Hella Smiley Headlights
NEW Turn signals
NEW Taillights
Sport Evolution Grills
Sport Evolution hood gaskets
HARTGE Monowiper
HARTGE Trunk emblem
Euro rear license plate panel

Interior:
HARTGE Dead Pedal
HARTGE Shift Knob
HARTGE Steering wheel
HARTGE Speedo
Front SRD style seats in Original M Tech 044 cloth
MASSIVE BRAKES Front Seat mounts on stock rails
Rear E30 M3 seat in Original M Tech 044 cloth
Red Evo Seatbelts
M Coupe OEM mats
E30 M3 leather e-brake boot
Alcantara e-brake handle
ALPINE 90's Head unit (Will include factory radio)

Suspension (Front):
HARTGE/BILSTEIN front strut inserts
HARTGE strut brace
K-Mac camber plates
Control arms
e30 M3 offset control arm bushings
Eibach Adjustable Sway Bars
Eibach pro kit springs

Suspension (Rear):
HARTGE/BILSTEIN rear shocks
HARTGE shock tower brace
EIBACH Adjustable Sway Bars
Upper shock mounts
H&R Sport Rear springs
Spring pads

Transmission/Diff:
320i Trans mounts
Redline MTL fluid
Z3 Short Shifter
Input shaft seal
Selector rod bushing

Brakes:
Cross Drilled rotors
PBR Ceramic brake pads
E30 M3 Master Cylinder
ATE Super Blue brake fluid

Wheels/Tires:
HARTGE 16 X 7.5 wheels
SUMITOMO HTRZ 225/45ZR16

All the below maintenance items have ~3000 miles. Oil changed every year!
Redline MTL Trans fluid
Redline 75/90 LSD diff fluid
OEM BMW Filter with Mobil 1 15w50 Engine Oil
OEM BMW antifreeze Coolant
Redline D4 ATF Power steering fluid
Drive Belts
BEHR/BMW Radiator
Water pump
Fan Clutch
Crank position sensor
Timing Belt
Spark plugs
Fuel Filter
Tie rods
Control Arms
Control Arm bushings E30 M3 offset type
Brake rotors, pads and brake fluid

That's all I can think of right now but feel free to contact me if you need more details, want specific pictures, want to come see it, etc, etc. I am a hardcore enthusiast and hope that the car goes to someone like me that will cherish it and take care of it like I have. I never thought about selling this car therefore the amount of work, sweat, money and enthusiasm I've invested in it, so for those of you who are wondering why I'm selling it's because I'm divorcing. Otherwise I would keep it forever!

I will include the stock parts I have and some spares easily worth $1k. Will also include a Bentley repair manual, a Haynes manual, the original owners manuals with all booklets, radio manual, glass sunroof manual and the binder with all service records including the Original window sticker and original purchase invoice from '89. Also 3 Original BMW keys are included.

More than my reserve price has been invested just in parts and maintenance in my years of ownership. As you may know period correct Hartge parts are pretty much impossible to find even in Europe. I would venture to say that it would be impossible to build this car today due to the scarcity, rarity and price tag of original Hartge period correct parts. I am very active on most BMW forums including the international ones and I'm always scouring US, German and UK Ebay sites and forums for these Hartge parts so I know how difficult it would be to replicate it. So unless you are hoarding a stash of Hartge parts and know of a super clean "is" this is your chance! This is a true collector, and with the current prices E30 M3's have been commanding recently these are destined to become the next big thing. Any e30 M3 in similar condition will bring twice of what I'm asking! And I guarantee you'll get the same if not more attention with this one. I've owned both (88 M3 Henna/black and this one at the same time) so I know.

Please be aware that all photos are real photos, not photo shopped, un-edited and straight from my phone/camera taken by myself with my total lack of photo skills. They were taken on 7/11/15 so they represent the current state of the car as it is.

As much as this is a no stories, super clean car, there is no warranty expressed or implied. It is a 26 yr old car and it should be considered as that. If you think you are buying Japanese type transportation reliability to daily drive I suggest you pass on older German cars as they do need stuff done and addressed as you go.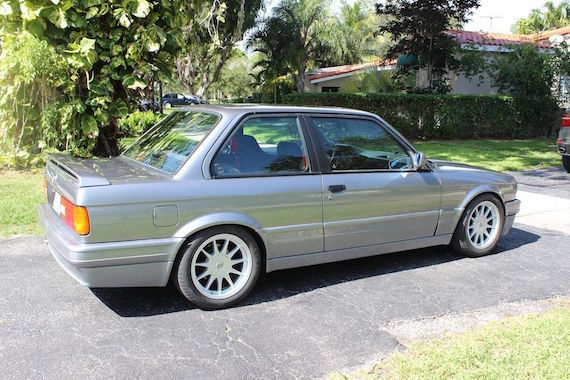 It's an impressive car, but appears to have been more of a showpiece than an enthusiast machine – 3k miles in 13 years is borderline neglect, and "squared" tires seem ridiculous on a car that has had so much attention lavished on its other elements. If a car is to be squirreled away and ogled, then it should be a complete and original piece of history. A good-looking E30 with tuner parts isn't what I consider museum-quality. The H26 SP that Carter wrote up – a rare and full-fledged Hartge car – landed at $20k from a $30k asking price, meaning this seller is going to have to take a much bigger hit than he's expecting in order to sell this car.
-NR