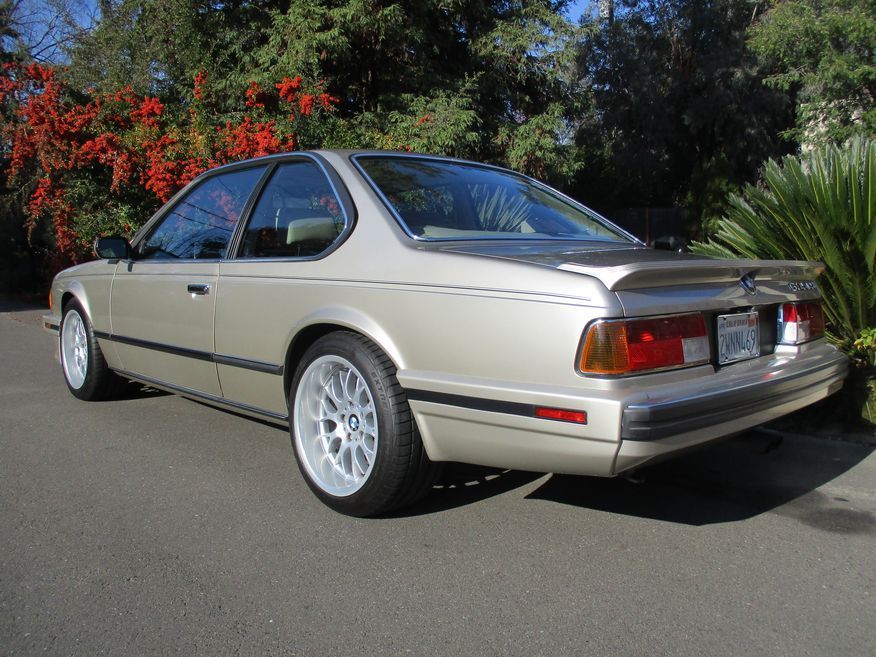 Just as Rob's first 911 experience was a Targa and he consequently always has a soft spot for them, my formative BMW experience was my father's first foray into German automobiles. I was a young teenager when he purchased a 1982 633CSi. Coming from a family that had otherwise had only Toyotas, the 633CSi looked, felt and went in exotic ways I could never have imagined. The tactile sensations remain with me; the bark of the exhaust, the smell of the leather, how unbelievably small and uncomfortable that rear seat was.
He later followed up the 633 with a 1985 635CSi. Though outwardly the only change was larger wheels and the front air dam with integrated spoiler, it felt much more modern. I didn't know it at the time, but of course that's because it was – underneath, the E24 had moved to the E28 bits and that really did make a difference when you drove the two back to back. But BMW wasn't done updating the dinosaur from the 70s quite yet.
1988 saw a host of further upgrades to the chassis even as its planned successor 8-series was completed on the drawing board computer. Inside the car got an airbag steering wheel, while outside saw revisions to the headlights and bumper caps. But the bigger news was under the hood, where the M30B35 replaced the B34. Moving from the 3.2 to 3.4 motor between the 633 and 635 change had netted only 1 more horsepower for the shark, though it did have more torque. However the newly updated 3.4 really did up performance a few ticks. Now with 208 horsepower and 214 lb.ft of torque, the last of the E24s were the best non-M you could buy in terms of luxury, performance and drivability. It's no surprise, then, that they're also generally the most valuable outside of the M range, and this 1989 has been offered with no reserve to the delight of many bidders: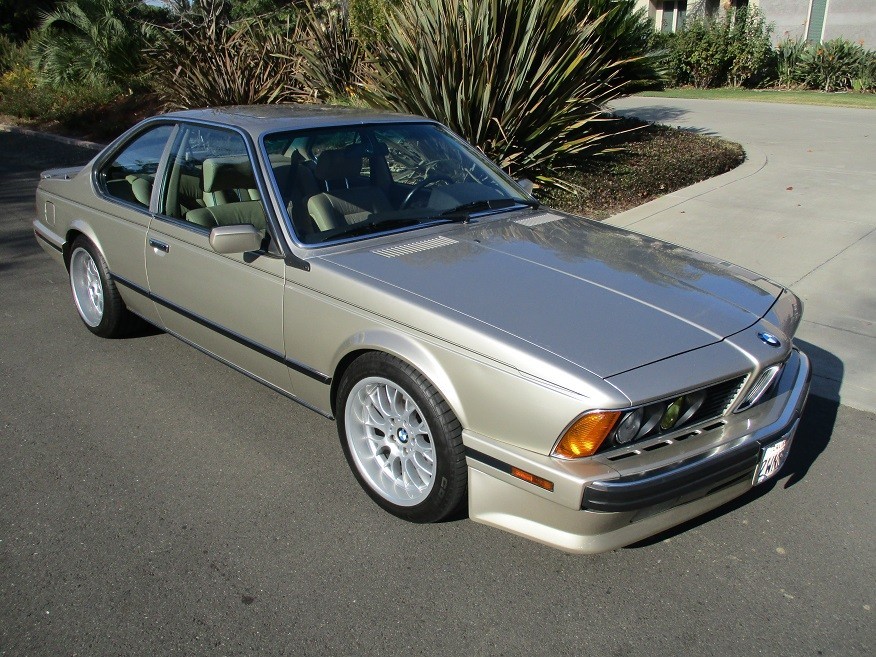 Year: 1989
Model: 635CSi
Engine: 3.4 liter inline-6
Transmission: 4-speed automatic
Mileage: 105,887 mi
Price: No Reserve Auction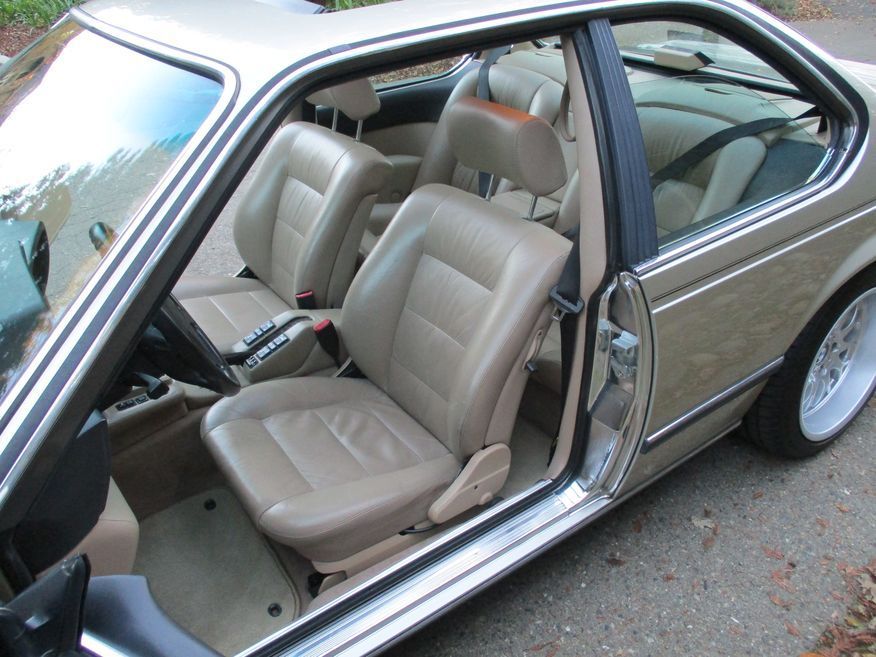 1989 BMW 635CSI auction starting @ $1989 with no reserve.

Examples like this very rarely come to surface in the general marketplace. This one is something special.

Garaged and pampered since new, with service records and service stamped manual from the beginning.

Purchased new and always resided in CA. Perfect smog history (pictured below).

Books, manuals, tools, spare and factory accessories all included and mint condition.

Original wheels included.

Flawless Autocheck report (see for yourself above).

Exceptional exterior. Paint meter readings indicate even, consistent accident free condition with a possible clear professionally applied at some point.

Equally exceptional interior, with crack free, dash, outstanding leather, carpets and appointments.

Extremely well sorted. Everything on the car works and functions properly.

Just the right upgrades and mods include, H&R springs, cross drilled rotors, Bilstien sports & period correct 17″ staggered 8s & 9s with new 235/45 & 255/40 ultra high performance ExtremeContact Continental tires.

Also included in the sale are a pair of custom sisal front floor mats and full Wolf Automotive Duralite car cover (not pictured).

These 80's era cars all left something to be desired in the audio dept. We have updated this car with a new Sony CD/AUX head unit, Earthquake 4 channel San Francisco Amp, and custom rear trunk matching carpet box housing two 12″ Kicker sub woofers. All interior speakers function now with the aid of the modern base levels to create and outstanding, not overpowering, listening experience.

In full disclosure, as nice as it is, it still has almost 30 years of age now and is not perfect, nor has it ever been restored, just remarkably well taken care of. A few tiny rock chips, front spoiler touch ups (the spoiler sits very low on these models and is extremely venerable to parking lot curbs), lite curb marks on the right rear wheel & some very lite misc. glazing (the overall paint condition is near show level and not needing paint whatsoever).

PPI is welcomed and encouraged.

DRD Motor Trade is a licensed, bonded CA dealer.

Sales tax due at time or purchase to all buyers taking delivery in California.

130+ pictures below, enjoy.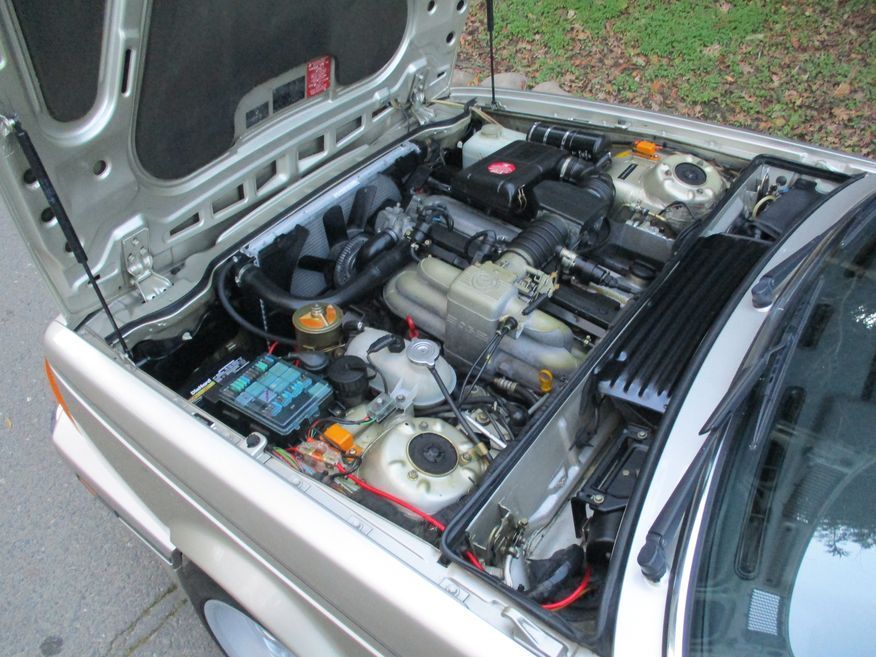 The seller notes that the car appears to have original paintwork, but the M-Tech rear spoiler that has been added has obviously been painted to match the body color. Because the bumper caps are also matched, it doesn't stick out as much as it would on an earlier example, but properly it's not correct. Yet it's in keeping with this car's stance, which has been aggressively modified to look more purposeful with large Style 42-inspired deep-dish wheels which look a bit too new and wide to me, though the lowered suspension does solve the nose-high attitude many 6-series adopt later in life. Those mods have been met with a quite sizable radio update, and though I'll agree with the seller that the original BMW head units were not the best, at this point I'd rather see that stock unit. Thankfully, the seller does include the original wheels but sans TRX tires. My immediate though go to the clever modders that have taken those wheels and turned them in to custom 3-piece units. While not cheap, that's a look that would work much better in my eyes and actually be period correct.
So what's left? Well, it's a pretty nice but not stock E24 that is well documented. It's from the period that is most sought in these cars, but it's also a slightly boring color with a boring interior and a boring transmission. But would it make a nice driver to cruise to shows? Undoubtedly, and honestly that's more in line with the character of the GT-oriented 635CSi. It's not a sports car, so sit back and crank some tunes in a unique car and will generate smiles as you eat up highway miles.
-Carter