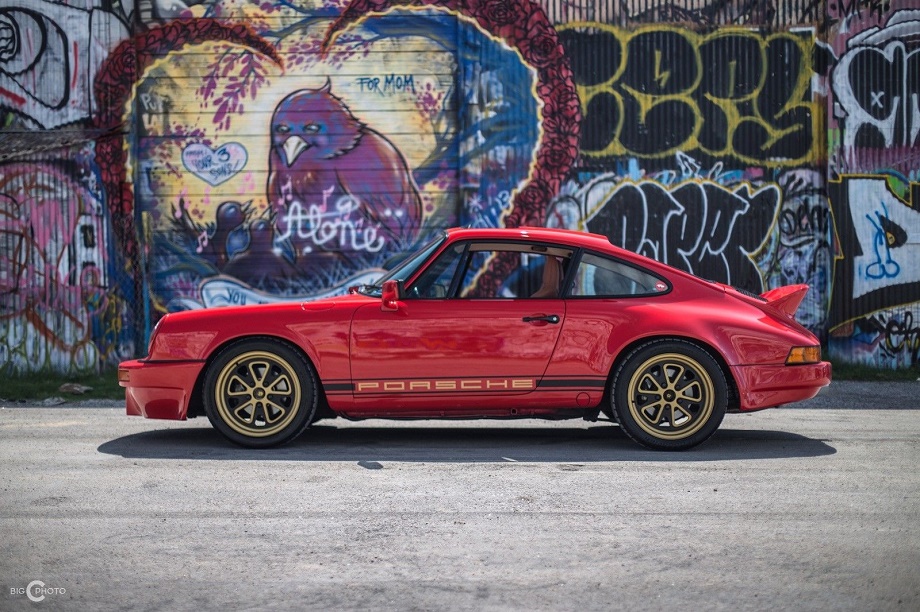 The 911SC remains one of my favorite Porsche models. It played an important role in the 911 establishing itself as the premier sports car in the Porsche lineup and without it this iconic rear-engine performer may have gone the way of Porsche's many other former models. It also presents good value among the air-cooled line. While they played an important historical role, their relative simplicity has kept values down compared with some of the other models. So you can still get a good classic 911 in original condition without spending too much.
Or those values can allow you to follow another route. The 911SC becomes a canvas to build the 911 of your own. Along with the 3.2 Carrera these are the most commonly modified Porsches we see. However, unlike the Carrera, which builders tend to use as their foundation for building pretty highly priced back-dated 911s attempting to replicate the heroic Carrera RS of the past, the 911SC can be found in a wider variety of builds and generally much lower prices. It seems regardless of where they end up the 911SC keeps those values lower.
That's more or less the situation with this 911SC. The owner bought it a couple years ago and began to transform it. The overall look is quite different, but it still maintains the basics that make it identifiable as one of these '80s 911s. I'm not sure the price is quite right, but it's not nearly as egregiously high as many of the Carrera builds we see. I think it provides a point we can work with.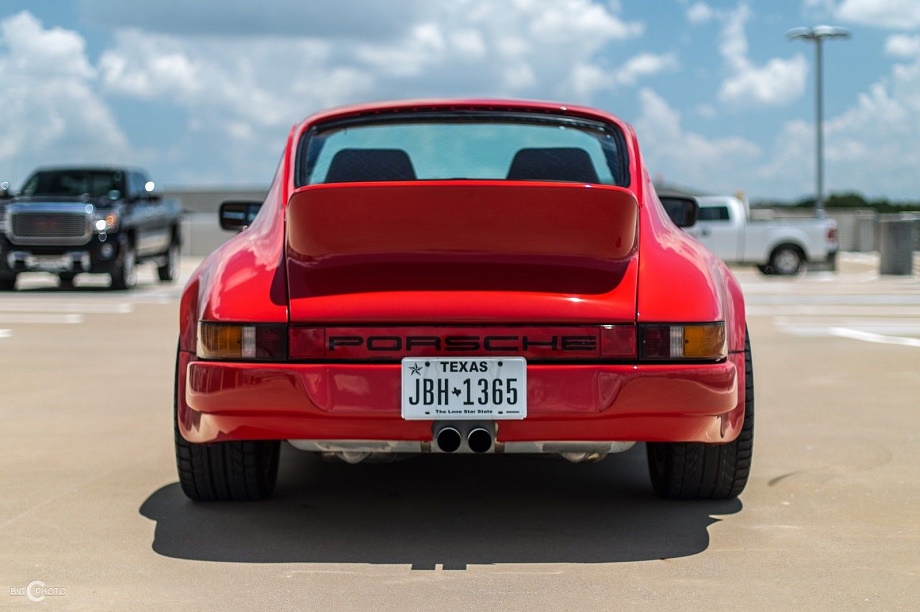 Year: 1981
Model: 911SC
Engine: 3.0 liter flat-6
Transmission: 5-speed manual
Mileage: 124,000 mi
Price: $55,000 Buy It Now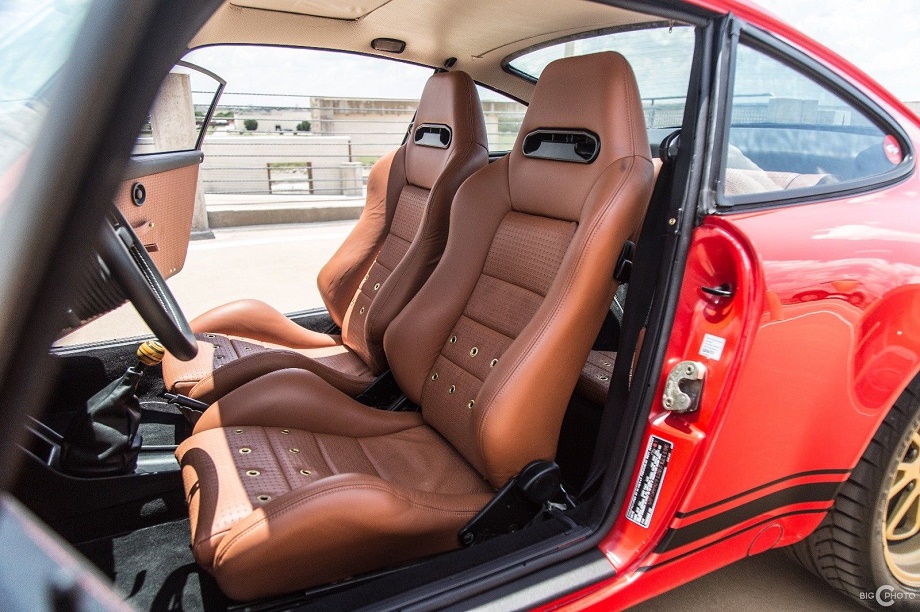 Up for sale is my 1981 911sc. I purchased this car in September of 2015 in drive-able form and I have since performed some cosmetic and mechanical restoration. The drive train is original to the car and the odometer currently reads around 124000 miles. I am driving the car about twice a week and it is an absolutely fantastic drive. It still pulls hard, starts quickly and handles beautifully. All maintenance has been done by Mayo Performance in Euless, TX. I'll list the work performed and upgrades below but please feel free to ask any questions.

transmission rebuilt by Mayo performance

leak down test performed by Mayo performance on 8/25/2017 shows 1 at 7%, 2 at 9%, 3 at 5%, 4 at 9%, 5 at 5%, 6 at 6%

Dansk GT3 muffler and heat exchangers installed by Mayo performance

Not shown in photos, the center vent and ashtray cover have been replaced

Full glass out respray performed in 2016

New Sekurit windshield with all new glass seals

TRE Motorsports bumpers and deck lid

17″ Fifteen52 Magnus Walker Outlaw 001's

Flat Six Illumination HID headlamps

Interior completely redone using Relicate Leather (used in many recent Riddler Award nominees)

New headliner and carpet kit

Recaro seats

Momo Prototipo

Rennline floorboards

Joshy Robots Broke deck knob!

List of needs: front signals and mirrors need to be wired, washer tank and horn need to be installed. AC is inoperable and needs overhaul. Fuel gauge is inoperable (sending unit replaced but I have not had time to chase new problem). Radio works but there are no speakers (who needs them?!)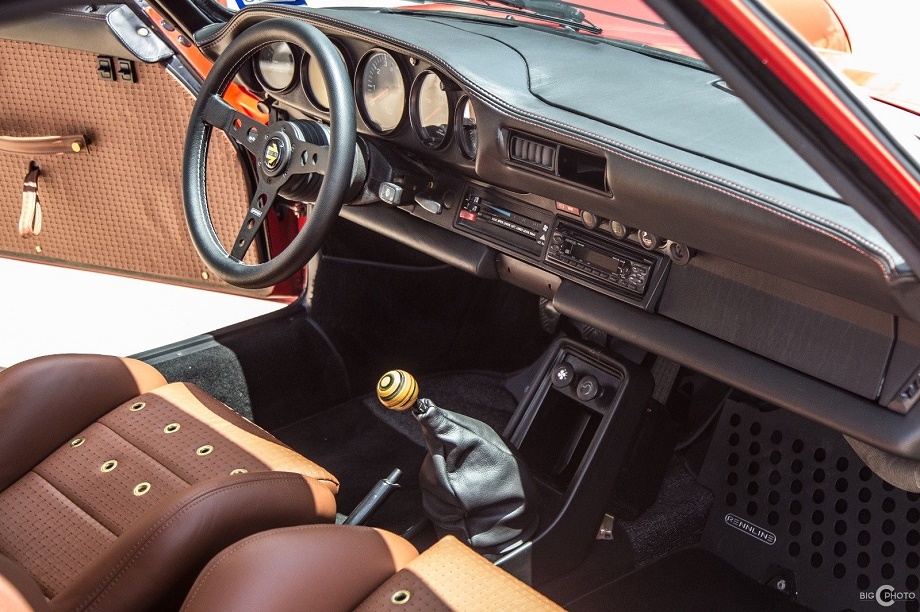 I'm not sure if this 911 was purchased with the express intention of modifying it and then selling, but that appears to be where we're at now. That's not always the most cost effective route for any seller to take, but perhaps something came up that necessitated the sale. It does help explain the price that's probably higher than it should be. It also helps explain why it's not quite complete. At this asking price I'd expect this SC to pretty much need nothing. While its needs may not be significant – depending on your desire for functional AC – there are still some areas needing work.
But let's look at what we have. The overall look is outstanding. It's more muscular and aggressive than a standard SC, but far from over the top. Most will easily recognize that this 911 has been modified, but it doesn't have the street-racer look. It's an outlaw build with the appropriate character. The Magnus Walker Outlaw 001s are fantastic wheels. I've seen them on a variety of 911s and always liked the look. The contrast of the gold wheel with the red exterior paint looks great and the ducktail spoiler works really nicely. It's an eye-catching exterior that looks well executed. The interior presents similarly, though from the pictures I think we could quibble a little bit over the quality. The basketweave leather looks great, but it doesn't quite have the fit and finish we might hope. The fitment isn't perfect and with basketweave it really needs to be taut throughout. Perhaps in person that issue will appear minor, but I'd definitely want to see it. The rest of the interior is fairly straightforward, but all looks in good condition.
Mechanically it doesn't sound like there have been any modifications to the engine or transmission. The transmission has been rebuilt while the engine remains as is with standard maintenance. These are stout engines so longevity typically is quite good. It does get a new center-exit exhaust from Dansk. Basically, this is a build more about appearance than performance. I think it looks great so for me it presents as a nice example of what the 911SC can be. As stated, I think the price is too high, but if you're happy with what you see it certainly could make for a nice option to finish up and live with for a while.
-Rob