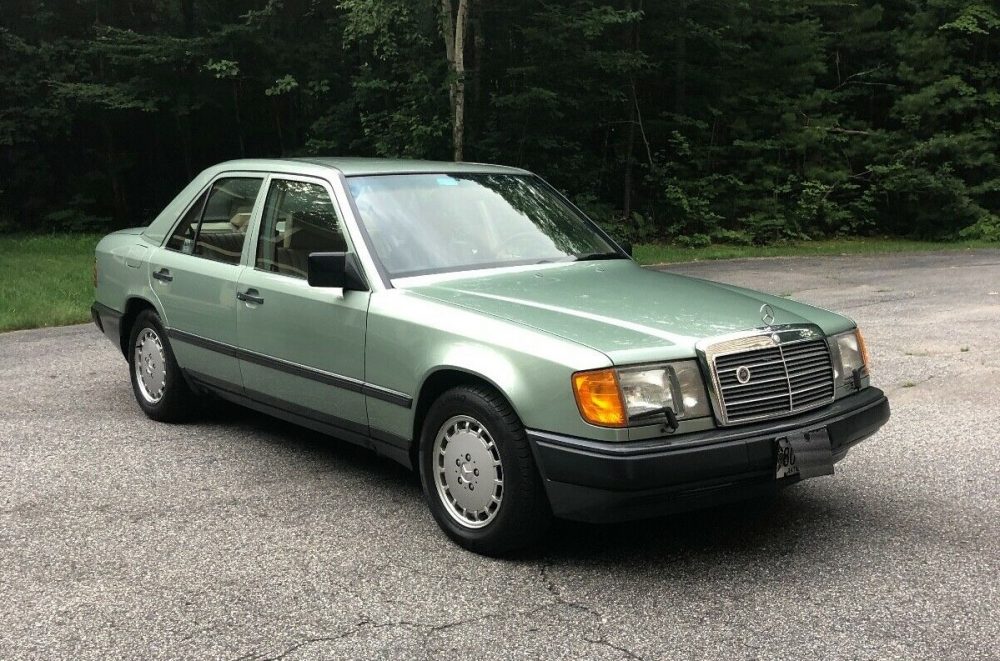 I think it's becoming pretty clear to everyone that the reality of owning a "new" car that was recently produced for a really long time is slim. Unless you own some factory diagnostic software and tools, or get really cozy with an independent shop that does, the weekend warrior at home in the garage will be a thing of the past. Even with something like an oil change requires software to reset the service intervals, and changing a battery? That literally needs to be coded to the car. No more slapping a new one in and calling it a day. Because of all this, I think the demand for relatively simple cars will grow greater and greater. A perfect example of that? Of course its a W124 Mercedes-Benz E-Class. This example up for sale in Maine is no low-mileage garage queen, but nice enough to make you think is. The thing, the price certainly reflects that.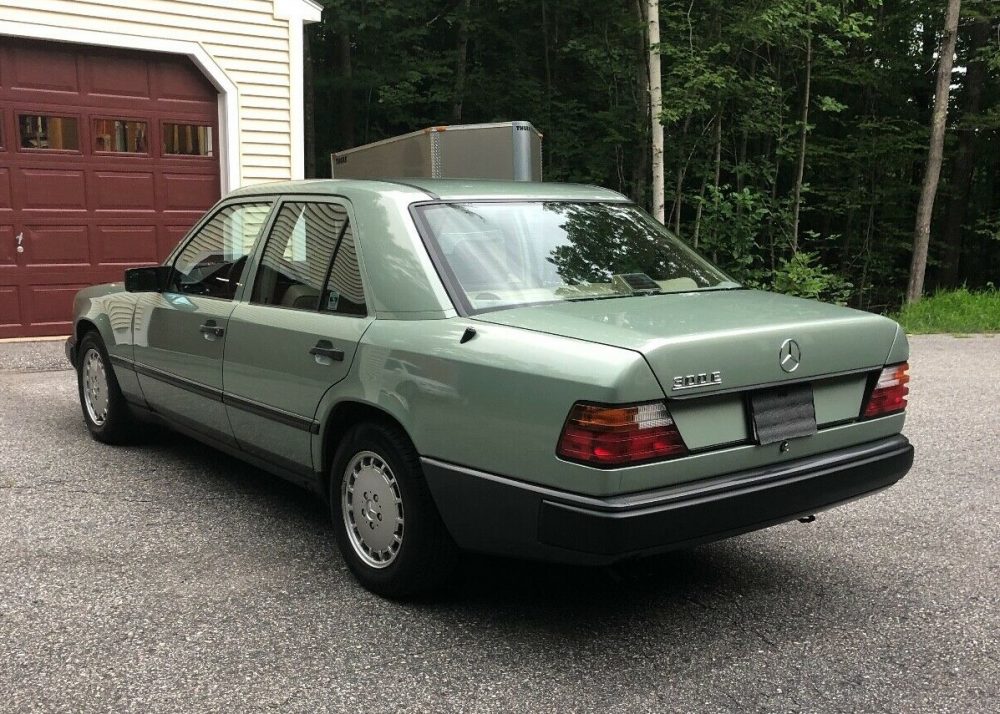 Year: 1989
Model: 300E
VIN: WDBEA30D1KA937040
Engine: 3.0 liter Inline-6
Transmission: 4-speed automatic
Mileage: 112,156 mi
Location: New Gloucester, Maine
Price: $11,000 Buy It Now
For your consideration, I am selling my 1989 Mercedes Benz 300E. This is an outstanding car and I hope you will bear with the length of this message to learn more about it. By way of background, I am not a dealer or someone who buys "estate cars" as commonly is the case with older MB cars. This is a car that I searched for over a very long period of time and was able to finally locate a truly beautiful, one owner car that you will learn about. I owned several of these 300E's back in the mid 90s and into the early 2000s. It was those experiences that prompted me to search for another I could enjoy on nice days.

With regard to the background of this particular car, it was owned by a retired Mercedes Benz executive who came to the US in the late 50s to help establish the Montvale, NJ MB facility. He was a high ranking official associated with the diesel engineering program for MB in Germany earlier in his career, and located here to finish his career. During his time at MB, he and his wife would get a new Mercedes to drive each year. When he retired, he decided to purchase this 300E – the only gas powered Mercedes he ever owned or drove. He took delivery via the European delivery program and had the car shipped to the States. He loved the car so much, he kept it until passing away a few years back at 92 years old. His son sold the car to me after sharing this awesome story.

This car is finished in Seafoam Green, an unusual special order color for Mercedes Benz. It has a Parchment interior in MB Tex. The car lived in NJ during the spring/summer/fall and in Sarasota, Florida during winter months. It did not see harsh winter conditions which contributes to its exceptional condition.

Starting with the exterior, the paint finish is truly very, very nice and you can see from the photos has been very well maintained. The car is rust free, including underneath. The paint is original to the car. Rubber items are in exceptional condition, including plastic bumper trim and other items. The original antenna works as it should. The car is simply beautiful. The wheels are excellent and I clean them after every single drive. Those who know these wheels know that they tend to be tedious to clean and are often black from baked on brake dust. Not these. The tires were purchased new by me and have approx. 5000 miles on them. They are excellent and ride well.

The interior is finished in Parchment and is beautiful as well. No tears or damage and I carefully attend to it each week. The original First Aid kit is still in place. The dash is perfect with no cracks or warping whatsoever. Everything works as it should, everything. AC blows cold and all gauges, switches, seats, etc work exactly as they should. The car has heated front seats, a rare option in these years. The console wood trim is very nice, but does have two cracks that formed last year. You can see these in the photos. I have consistently kept the console covered if parked in the sun, but age finally created these two cracks. I found a company to refinish that piece ( the others are perfect) , but have not done that yet. I do have a piece that is crack free and extremely nice that comes with the car. The sunroof operates smoothly in all functions. I replaced the original Becket radio with this modern unit to get Bluetooth capability. The original working radio is included with the car.

Mechanically, this 300E runs exceptionally well. Starts and drives as it should. It does not use oil and runs smoothly with no over heating issues of any kind. This straight six is the sweet spot for Mercedes and this motor is very, very smooth. The car shifts nicely and braking is excellent. I replaced all fluids when I purchased the car to be sure I was starting with a solid foundation. I also installed a new Mercedes hood pad as the original had deteriorated. This car is a joy to drive and one of the nicest riding cars I have ever owned. If you have ever owned a 300E, you know what I mean. The car has been regularly serviced by an independent Mercedes Benz repair shop that I have used for 30 years. Excellent mechanics with incredible knowledge of these cars. I have repair slips from my ownership and repair documents from the original owner as well. Of course, I have all books that came with the car from new.

This is a special car, one that is not easy to duplicate. If you have been looking for a 300E to enjoy, this is an excellent example that will impress any enthusiast. You would simply not be disappointed. I purchased this car approx 3 years ago and have put just under 10k miles one it . I am very sad to see this car go, but promised my wife I would sell it if I could purchase a rather special air cooled Porsche 911 that came available. It took that sort of purchase to even get me to consider it. I am a neurotic car guy who has the resources to take care of these cars and thoroughly enjoy them. It is a huge passion of mine. At 62 years old, I simply enjoy how special these cars and how rare they have become. It's worth looking at Hagerty Valuations to see how the market has fallen in love with these. I'm sure it has a lot to do with the very limited numbers that have actually survived in this condition.

Thank you for taking time to read this narrative. You can be sure this is a great and honest car. Take care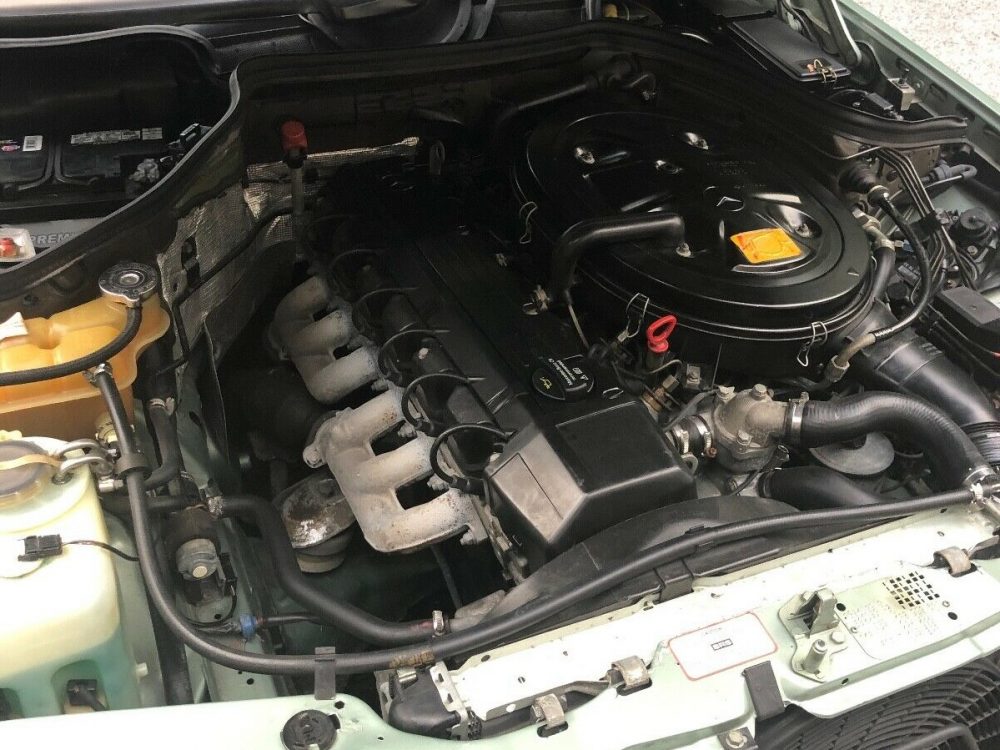 The seller claims this 1989 300E was owned by Mercedes-Benz employee and maybe I could buy that. The real star of the show here is that it is finished in Willow Green, which is far from a common color. Inside, classic MB Tex that you'd think has 50,000 miles, not 112,000. Under the hood, you'll find the workhorse M103 inline-6 that traditionally has very few problems. If it does have a problem, you can probably figure it out and fix it yourself.
With this asking price, you'll be fixing things a lot of things yourself. $11,000 is for sure the top of the market with these miles, as most 300Es that top $10,000 have around half that number on the odometer. The color might bring a small premium over a black of silver car, but not thousands of dollars. I think somewhere around $7,500 is probably more realistic for this one. If you can get it in that ballpark, hang on it to and keep it nice. You won't lose a dime.
– Andrew