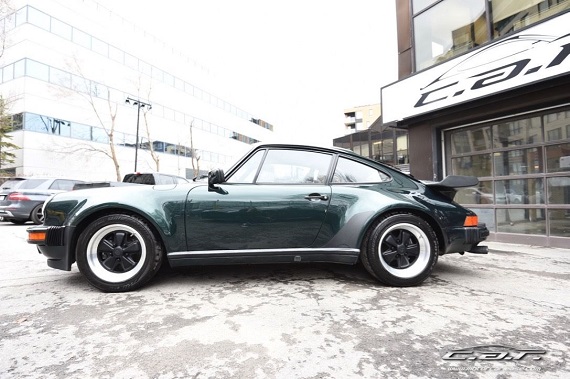 Through the Porsche 930's nearly fifteen years of production it saw a number of incremental changes but few with enough significance that we separate out those years from the rest. However, there were two such events. First there was the move from the original 3.0 liter turbocharged flat-six to the 3.3 liter flat-six that would power the 911 Turbo even through much of the 964's life, a span of around fifteen years itself. That increase in displacement also brought with it the introduction of an air-to-air intercooler and revised rear spoiler. The second major change was the utilization of a 5-speed manual transmission made available only in 1989, the final model year of 930 production. While 911 Turbo values in general have continued to climb, it is the cars that exist on either side of these boundaries that command the most attention and, thus, the most money. Here our focus is on that final model year equipped with the 5-speed manual. For many this is the 930 to have not just because of the more stout transmission and extra gearing, but it is the most refined of the breed benefiting from numerous years of upgrades to enhance its drivability. Also, it is the last Turbo surrounded by the classic 911 design as the 964 would debut later that same year with all-new styling. The example here is a Forest Green Metallic 1989 Porsche 930 Coupe, located in Montreal, with 38,094 miles on it.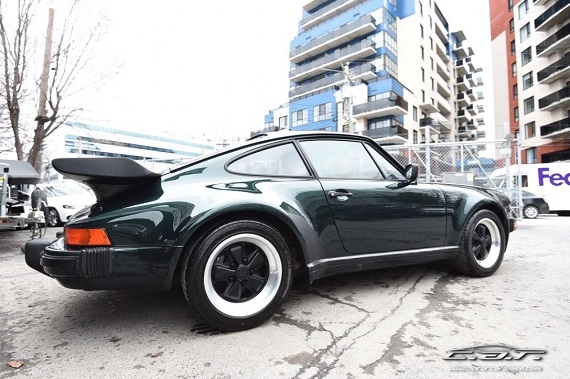 Year: 1989
Model: 911 Turbo
Engine: 3.3 liter turbocharged flat-6
Transmission: 5-speed manual
Mileage: 61,307 km (38,094 mi)
Price: Reserve Auction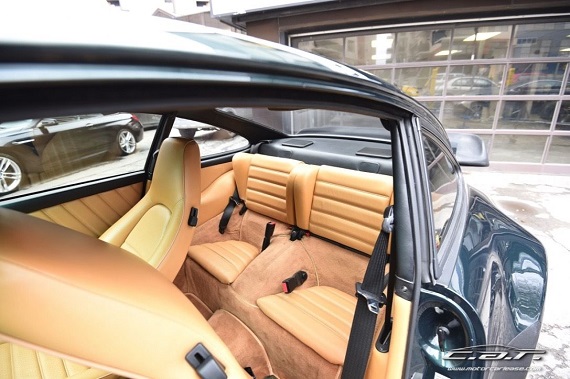 1989 Porsche 911/930 Turbo Coupe

100% original car, this is a true collector piece, original factory paint.

This fine example of a Forest green metallic paint on cashmere/black leather interior was produced 06/16/1989.

The 3.3L Turbo engine is running exactly how it came from factory pushing 282 horsepower, along with the 5 speed G50 transmission it makes for an incredible drive.
The car has recently gone through a series of in depth cleaning and small parts either restored or replaced. Every little detail has been looked after.
The original 16×7 and 16×9 were just properly re-anodized and painted, and new tires are all around.
The raised hub makes it easier for taller drivers to get in and out of car.

Full service done on car. engine oil, air filter, gaskets, spark plugs, air pump drive belt, heat exchange gasket, adjust valves, heater hose, new battery, new wiper blades, transmission & diff oil, rear shocks replaced Bilstien, sway bar bushings, tie rods and ball joints, fluids have been changed. Compression test performed cyl1 130, cyl 2 150, cyl 3 150, cyl 4 150, cyl 5 140, cyl 6 140. Car needs nothing.

COA from Porsche included, service documents, original radio, original steering wheel, Porsche tool kit, air compressor, spare tire.

Approximately 1496 930 Coupes where produced in 1989, 639 for North American market.

Optional equipment:
steering wheel w/ raised hub
limited slip differential
shorter gear shift lever
stone guard foil added separately
amplifier system
electric sliding sunroof
radio w/CD player 'CD-2'

Presently car is located in Montreal Canada. We specialize with exportation to anywhere in the world.
Buyer is responsible for finance and full payment.
Deposit is expected within 48 hours of purchase.

Please contact us to for any questions regarding exportation and payment.
Thanks

Call 514-735-9727

MOTORCARLEASE.COM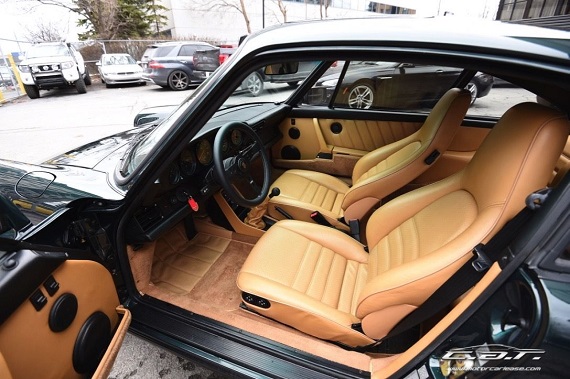 We don't have the best selection of pictures here, especially when it comes to the exterior, and I think that's doing a disservice to this color. Any of the darker metallic green shades excel because of their variability as we move from light to dark and these colors look particularly good under direct sun light. Here all we get are a few shots in the shade and you'd be forgiven if you failed to identify the color at all or simply assumed it hadn't been cleaned properly (the pictures also look like they're from an impound lot). When we move to the interior our perspective improves and the overall condition of this 930 appears quite good. But right now this 930 seems to be flying under the radar. Either there are issues that aren't apparent here, and given the wintry environment from which this Porsche hails that could be possible, or many are just passing this by with little notice due to these pictures. But I would expect this car to be bidding well above its current bid of $100,000 given its interesting color and that it has fewer than 40K miles. Whether buyers take notice will remain to be seen, but this one should be worth additional investigation.
-Rob