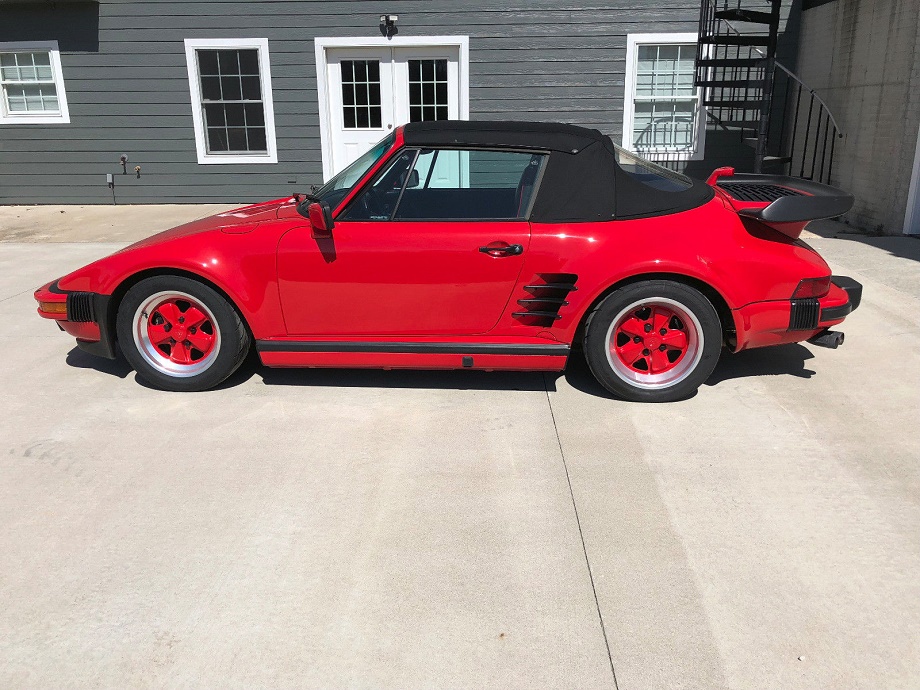 There are a couple things about this ad that make me chuckle, but the overall impression of this 1989 Porsche 930 Slantnose Cabriolet remains the same: it looks very good. With fewer than 6K miles on it this is one of the lowest (perhaps the lowest) mileage 930s I've seen and its condition looks the part. As the seller makes clear, these are very rare in general among all 930s, but that this is an '89 makes it just that much more special. This is the only year you could get a 930 with the 5-speed manual transmission and the premium buyers have been willing to pay for that one-year-only transmission has been significant for quite a while. I don't know if buyers will pay the steep premium this seller is seeking – this 930 has been up for sale for a few months now – but even if the price comes down some, I do not expect it to come down a lot. If you want a collector time capsule of one of these very unique Porsches, then this one requires a look.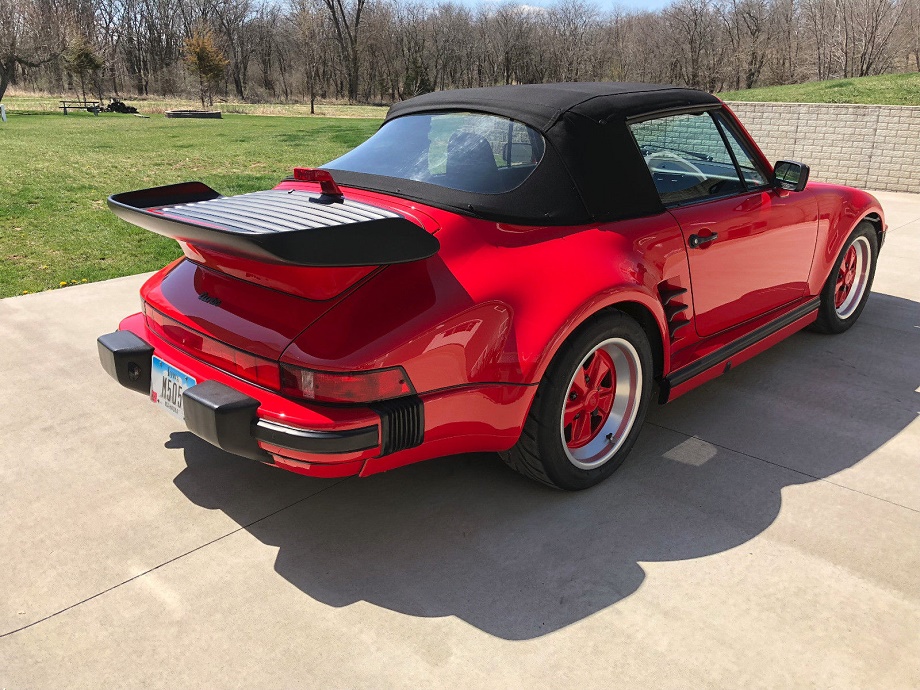 Year: 1989
Model: 930 Cabriolet
Engine: 3.3 liter turbocharged flat-6
Transmission: 5-speed manual
Mileage: 5,900 mi
Price: $310,000 Buy It Now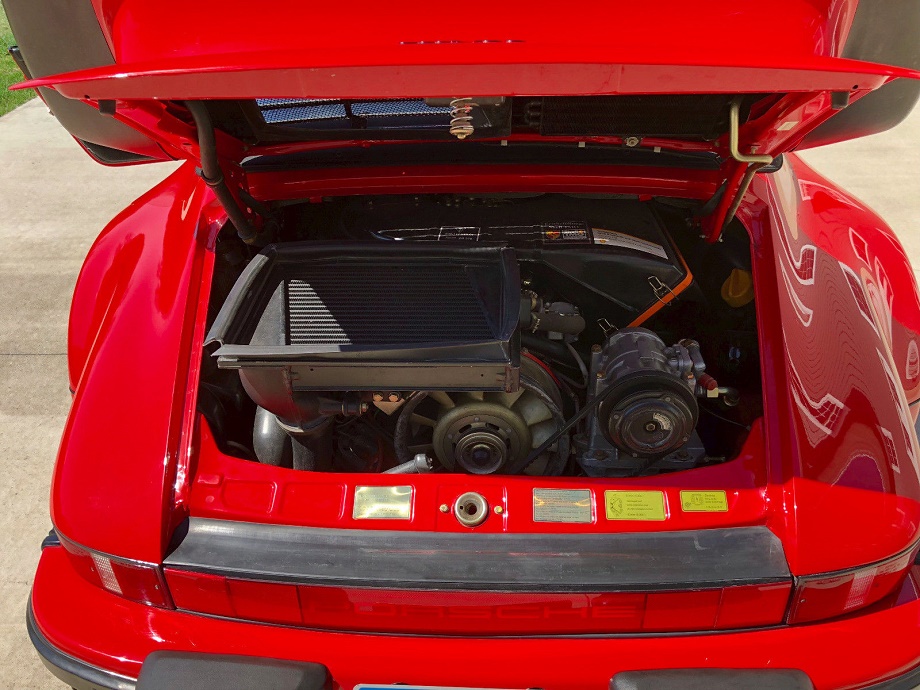 Porsche 930 Slantnose Cabriolet M505

The wife would like to see this go before winter….

Yes….This is the real deal!

This vehicle was ordered and purchased new by my father. It was picked up European delivery and had about 3500 miles put on it as an overseas delivery. After that it was driven fairly infrequently over the years to the present mileage of 5863 miles (which may increase slightly as I take it for some short drives on these increasingly nice days of Spring).

I purchased this car from my father's estate/Automotive dealership called Action Performance about 4 years ago.

My Dad was a renowned collector and was notably one of the earliest people to recognize the potential collectible value of certain vehicles. He was best known in the Corvette, Muscle car and Ferrari circles due to his extensive abilities to see the collectable value of certain vehicles. He was a true enthusiast as he was also one to enjoy the vehicles and to use them respectfully. He cherished the way that they were produced at the factory and carefully preserved their originality. He was truly a master of finding rare factory options and desirable combinations of features. All of his vehicles were professionally maintained and stored in a temperature and humidity-controlled environment. This Porsche 930 Slantnose Cabriolet was no different, having been stored in his personal warehouse with the company of Ferrari Daytonas, numerous C2 Corvettes, a GT40 (P/1059) and various significant Muscle cars.

Since his death in 2007 the collection has been slowly released to the care of others who no doubt recognizes the importance of the vehicles and will cherish them as well. Many of which have become top examples of originality and well documented investments.

In his bid to find the perfect Porsche (The only Porsche that he would ever own), he waited patiently to be able to order what he felt was the most significant Porsche of the era. Since you have read this far, you are probably aware of the rare and exotic nature of the WERKs Slantnose production. More importantly you likely recognize the very small number of these cars that were optioned with the G50 5 speed transmission (only in 1989). This makes this particular Porsche an exceptionally rare example within an infinitesimal number of rare examples.

I won't pretend to know the exact number of 1989 M505 930 G50 Cabriolets are out there…. mostly because the numbers vary from source to source. We can probably agree that the likelihood of seeing another one of this caliber for sale soon….is probably pretty slim. This article puts the number at 28….is that accurate? I honestly don't know. The article is however a nice homage to the cars idiosyncrasies that some find endearing and others find maddening or even dangerous. Love it or hate it, It certainly stands out in a crowd.

Provenance:

Porsche at the time did not keep very good records of the WERKs production vehicles. In fact, there is a very long thread on the Pelican Forums that has been very helpful at tracking the available documents concerning these vehicles. Dad was very good at collecting documents and we are fortunate to have some impressive provenance including his personal correspondence with the Porsche factory concerning his purchase and European delivery. Of Course, included with the purchase will be numerous documents (Including the Certificate of Authenticity) and even some pictures of their trip.

In addition, a picture of this car was featured in an article about Dad in Medical Economics where it was discussed his approach to collecting and the recognition of upcoming values. Dad viewed this car as a driver and did so over the years. Part of the reason that this vehicle was spared many miles was that very shortly after this cars purchase….he bought a 1990 Corvette ZR1 and the combination of being a "Corvette guy" and a coupe, ended up spending more time with the Corvette.

Originality and Revitalization:

At the time of my purchase, the car had not been significantly driven since the time of my father's death in 2007. Basically, it had sat idle for almost 1 decade in a climate/humidity controlled environment. My oldest brother who was the caretaker of the collection had recently passed away so we were unsure exactly when the last time the car had been run. As a mode of precaution, I elected to allow experts revive the car and made no attempts to even start the car. After getting in line for about 1 year, I was able to transport the car to StallTech in Wellman Iowa (if you are not familiar with them….they offer premiere restoration of older Porsche vehicles and are well respected within the Porsche community). It was under their considerable expertise that the car was inspected and "revived". The worklist is included in the photos so you can see what things were done in order to bring the car back to pristine condition.

We were even treated to a surprise when the car first went on the lift and were pleased to find the inspection markings still intact and that the car still has significant coverage of Cosmoline on the undercarriage where it was applied prior to shipping to the United States. Simply a testament of how original and gently this car was used.

The car is absolutely original with the following exceptions. There have been no accidents, Damage or Flaws other than that listed below.

Paint: There were a few very small paint chips that Stalltech expertly repaired on the hood and rear flares. As I recall, these occurred during the European trip during the leg through Scotland.

Tires: I am not sure what brand the original tires were (probably Pirellis, the COA does not specify) but according to the date codes on the current tires….they appear to have been replaced a few months after the European trip with BF Goodrich T/A's. He probably replaced them after the wear from the trip (he was that way). The car now wears brand new set of Toyo Proxes R888s (roughly 3 years old at the time of this writing). The "original" set of tires is included with the sale should the new owner prefer a period set of tires on the car.

Mods: There has been a small but significant (and easily reversible) modification made to the fuse system. Basically, a modern fuse hack has been applied to the fuses that run the fuel pumps. This has made startups considerably 100% reliable in the humid Iowa weather.

Starting Module: For the sake of reliability, the original CDI ignition module was rebuilt to factory specs.

Any questions about the cars "revival" can be discussed with the staff of StallTech. I am sure that they supply ample details and I am sure would be glad to assist in any verification inspections if requested.

The fine print:

Inspection: We encourage a personal inspection before purchase and will do our best to accommodate your schedule.

Presentation: The car has been accurately presented to the best of my knowledge. I have been personally involved with this vehicle since it was new. If you are aware of the importance of this vehicle and have done your homework, there should be no surprises for you.

Included as well:
• A set of Custom WERKS Floor mats
• Custom Car cover
• Factory Car Care kit (I would not expect the contents of the bottles to be any good though…nice display item)
• Factory Tool set
• Factory Air Compressor
• Manuals
• Emergency Reflective Triangle
• Factory 1st Aid Kit
• Factory Wind deflector (Goes over the seats…appears to have never been used)
• Tonneau Cockpit cover (appears to have never been used)
• Tonneau cover for soft top when down (appears to have never been used)
• Several pieces of factory optional fitted luggage with Porsche logos that were actually used on their European delivery trip. These are in very good…but "used" condition.
• All documentation AND personal correspondence with the Porsche factory, Misc. provenance and COA as displayed.

Terms:

• Warranty: I am the personal owner of this vehicle. There are no other entities representing myself or this vehicle. While I wish you to completely comfortable with your purchase, please understand that there is absolutely no warranty included with this vehicle (Either written nor implied)
•
1) Once accepted and paid for….the car is the responsibility of the buyer.
2) Payment: Full Payment will need to be received and verified before the car will be released to its new owner.

• I do not need your assistance with selling the car. This will be a direct transaction from myself to the buyer….I do not care if you are a Nigerian prince with too much money or other such nonsense.

Trades:

I will consider the possibility of a partial trade for an exceptional AMG SLS Gullwing, a Lister Bell Lancia Stratos replica or a later model Nissan GTR. Please submit pictures and your expected value of your car vs mine. Please do not be offended if I turn down your car.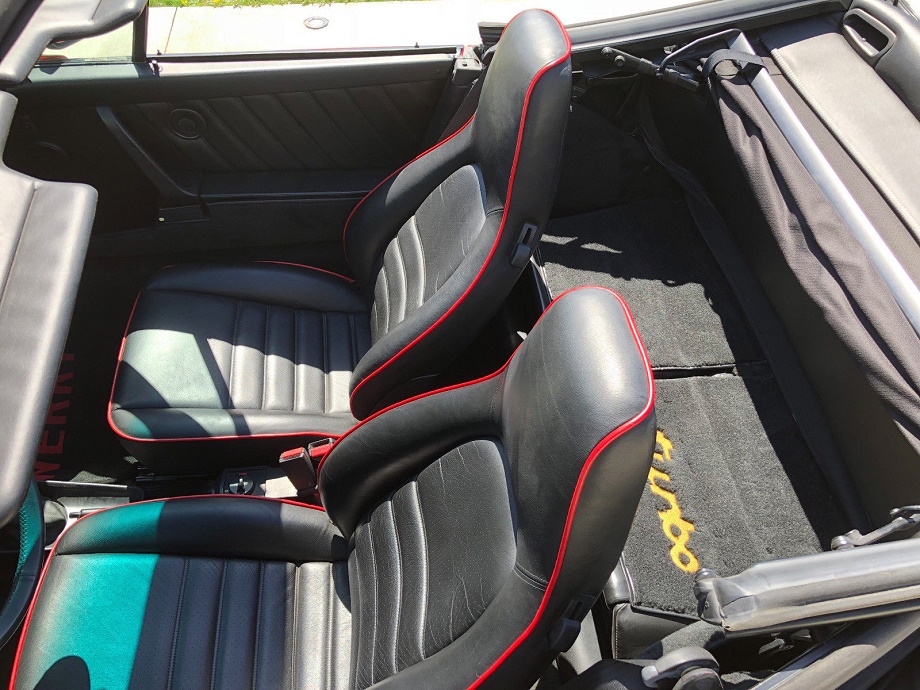 Even as a big fan of the Slantnose I can admit that the Cabriolet is a ridiculous looking car. I've never actually seen one in person so I don't know quite how they come together in the flesh, but from nearly every angle there is something jarring about them. I don't think any of that is accidental, but given the relatively simple design of the 911 we can understand why they can be tough to love. All of that said, there are few cars that fit into the late 1980s better than a Slantnose 930 so if you desire that period-correct nature it's hard to find something better.
Obviously, there is a lot to verify with this one. The seller has provided a decent bit of explanation for how it shows so few miles at this stage in its life, but you will still want to make sure you can verify the mileage. I'm guessing that this ad was copied from one of its previous listings because it seems we've lost some of the detail in the pictures that the ad says are present. We aren't shown any service records or the CoA, though both are stated to be available. So hopefully you can get your hands on those and better understand what you're getting.
Recent auctions don't really suggest to me that it'll get this sort of price, but given the very low mileage it's hard to say for sure. Mileage can command a significant premium. So we'll have to see. This 930 has been part of a single family for its entire life and looks to be an exceptionally rare example of the breed. It's now time for it to find a new home and hopefully it will continue to see the care it has seen throughout its life so far.
-Rob