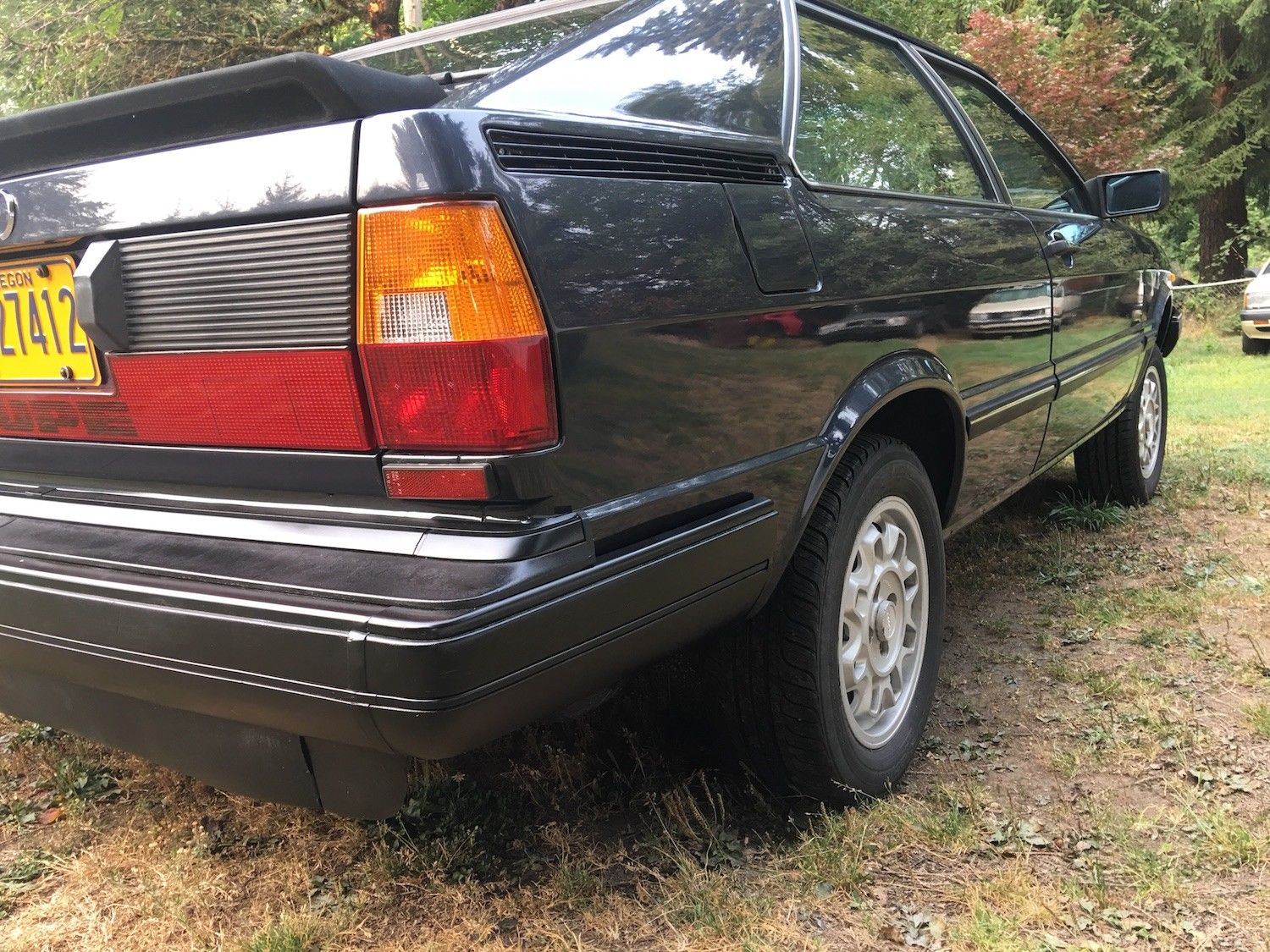 This 1982 Audi Coupe is an interesting counter-point to yesterday's survivor Scirocco. Obviously, there are the links within the parent company – but beyond that, both the Scirocco and Coupe occupied the same market segement. Audi's offering went more upscale, with leather interior options, a bit more power and refinement and a host of power equipment. They were styled by the same man, too; Giugiaro's masterful work on the Scirocco was influenced by his 'Asso' designs, but then so was the 2-door Audi. The Coupe's C-pillar, window silhouettes and lower character lines closely echo the inspired 1973 concept.
There's another similarity between the two budget 2-doors, though. While both have always had a pretty devoted fan following, the values on each have meant that for a long time you had to hope to find a survivor like yesterday's. Undergoing a restoration on a car like this has been as unthinkable as restoring a Mazda 626. The market has started to turn the corner, especially on the Scirocco, but the Coupe is holding its own now, too. Still, it would be much easier to jump into a chassis that has had a large amount of the heavy lifting done: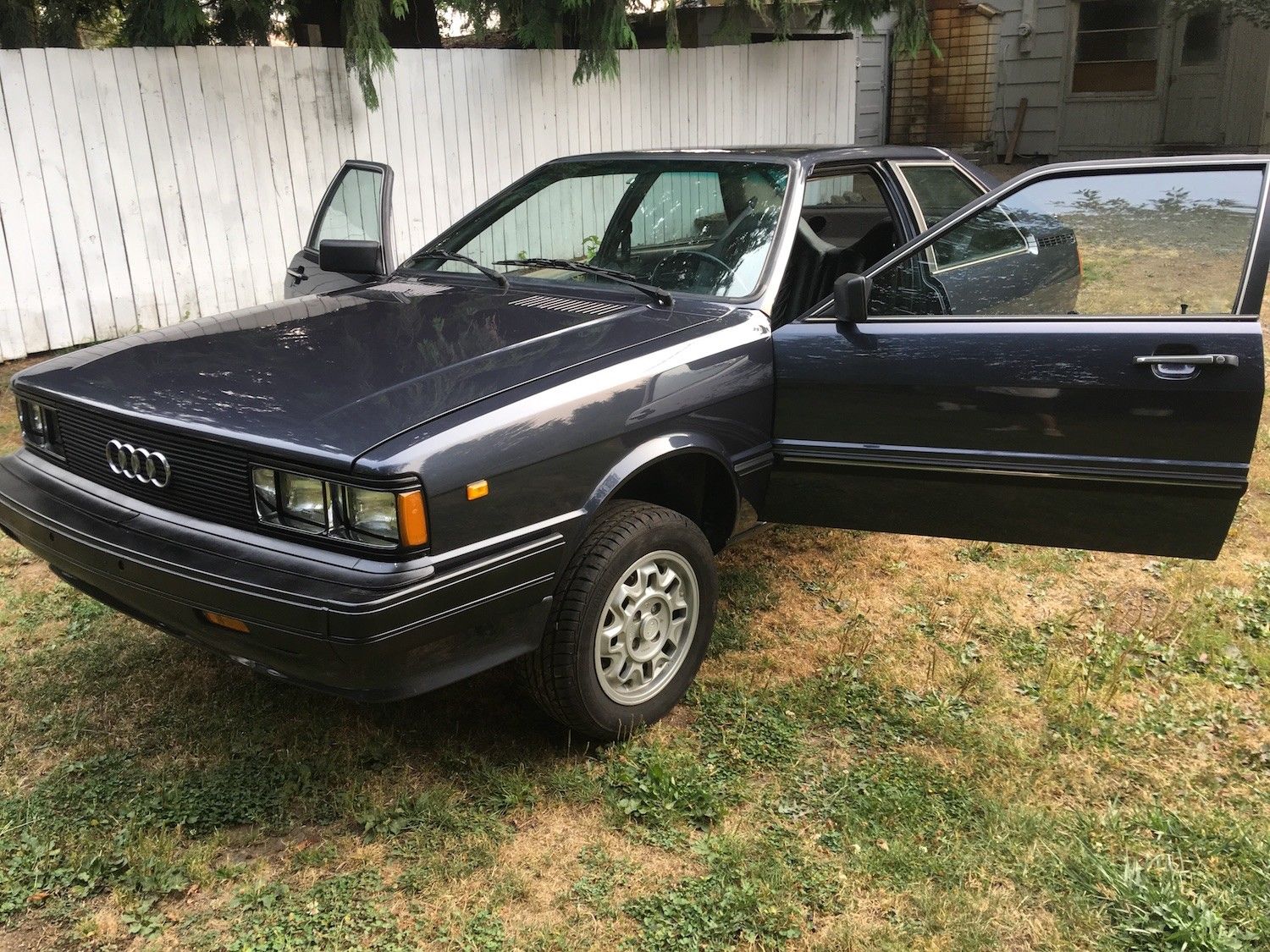 Year: 1982
Model: Coupe
Engine: 2.1 liter inline-5
Transmission: 5-speed manual
Mileage: 67,000 mi
Price: No Reserve Auction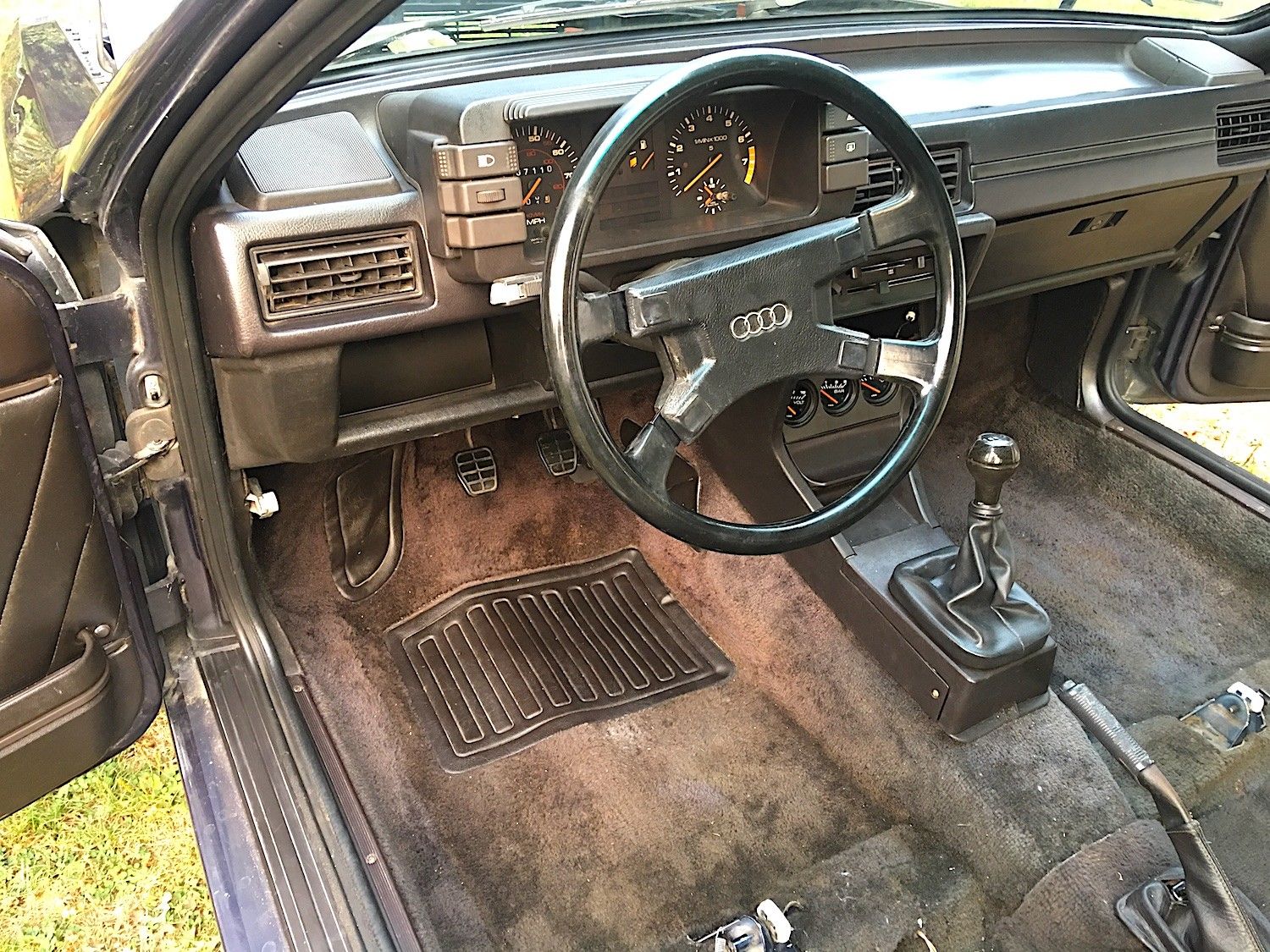 1982 Audi Coupe GT Restoration "project". 6 years of work till this point. Just needs someone to finish her up. This is a very rare early B2 Type 85 Coupe GT in factory Helios Blue paint. Extremely Rare Non Sunroof, Non rear wiper, Non AC car. Manual windows and locks as well. Power mirrors is only option on this car from the factory other than the Ur Quattro Sport interior. I doubt there is one anywhere in America. Comes with the OEM 14×6 Wheels. New tires.
Car had been sitting in the sun for nearly 20 years before I got it in 2012. Ive spent hundreds of hours over the years restoring and also sourcing some things I needed. Dash was destroyed, so I found a much nicer one. Rear seats were still decent, but fronts not as nice. Sun cooked the fronts, especially the driver seat side is pretty bad. not worn out bolsters, just cooked. New owner should have them redone. Passenger seat isnt that bad tho. Ive restored all the door panels and super cleaned carpet when I had it removed. Put all new sound deadening under carpet. Replaced the rear dash as original was destroyed.
Car was taken nearly completely apart except for the rear glass and rear quarter glass were left in place as well as the doors. Trunk lid and hood were removed. all trim pieces, etc were all removed. Motor/Trans Pulled too. I was able to get them working before it was dismantled. I was going to clean and replace gaskets, etc. New owner will need to clean and freshen up motor and make it look clean as the rest of the car. I am out of time at this point. There has been a lot of time invested in this car. Looking for someone to finish it up and keep it around for years to come. It wont take much to get it show shape. Body and Paint was $3500. Ive restored both bumpers and front grill and bezels. Lots of new parts where I could. Brand new windshield Seal was put in after paint. Ive spent about 40 hours so far cut/buff/polishing to really make it shine. could use more for sure as I didnt touch the roof yet. extra clear coat was put on for this purpose. I will add a link to well over a hundred pics of the entire restoration. Someone could just slap the motor back in, but I highly recommend freshening it up first. timing belt, water pump, etc is a must tho at the very least. Other than some surface rust on undercarriage sub-frame, it is very clean and rust free. I had planned and removing all suspension and rear axle to clean and powder coat. Just ran out of time. Car come complete with Motor/trans and lots of other little spares too. The top trim on edge of roofline needs to be riveted back on still. front seats need work. motor and trans need to be reinstalled. I would probably restore the wheels to perfect too. Ask any questions you may have.

On Aug-22-18 at 19:14:44 PDT, seller added the following information:

I do not know if the odometer is working.. True Miles are unknown. You never know on these older Audi's..
I installed a new heater core and hoses I forgot to mention. Original mud flaps will come with the car as well as the original stereo. I will put stereo in the slot, but buyer will have to hook up speakers in front and rear.

$500 non refundable deposit by buyer. i reserve the right to end this anytime as I was hoping to get onto BaT.
Steering wheel will need to be recovered. I tore the old leather off as it was destroyed..

I should have all of the over hundred photos up tomorrow of the entire restoration paint, etc.

On Aug-24-18 at 01:55:14 PDT, seller added the following information:

www.flickr.com/photos/76198669@N03/

I know there is a lot of pics, but I wanted to document all of the work.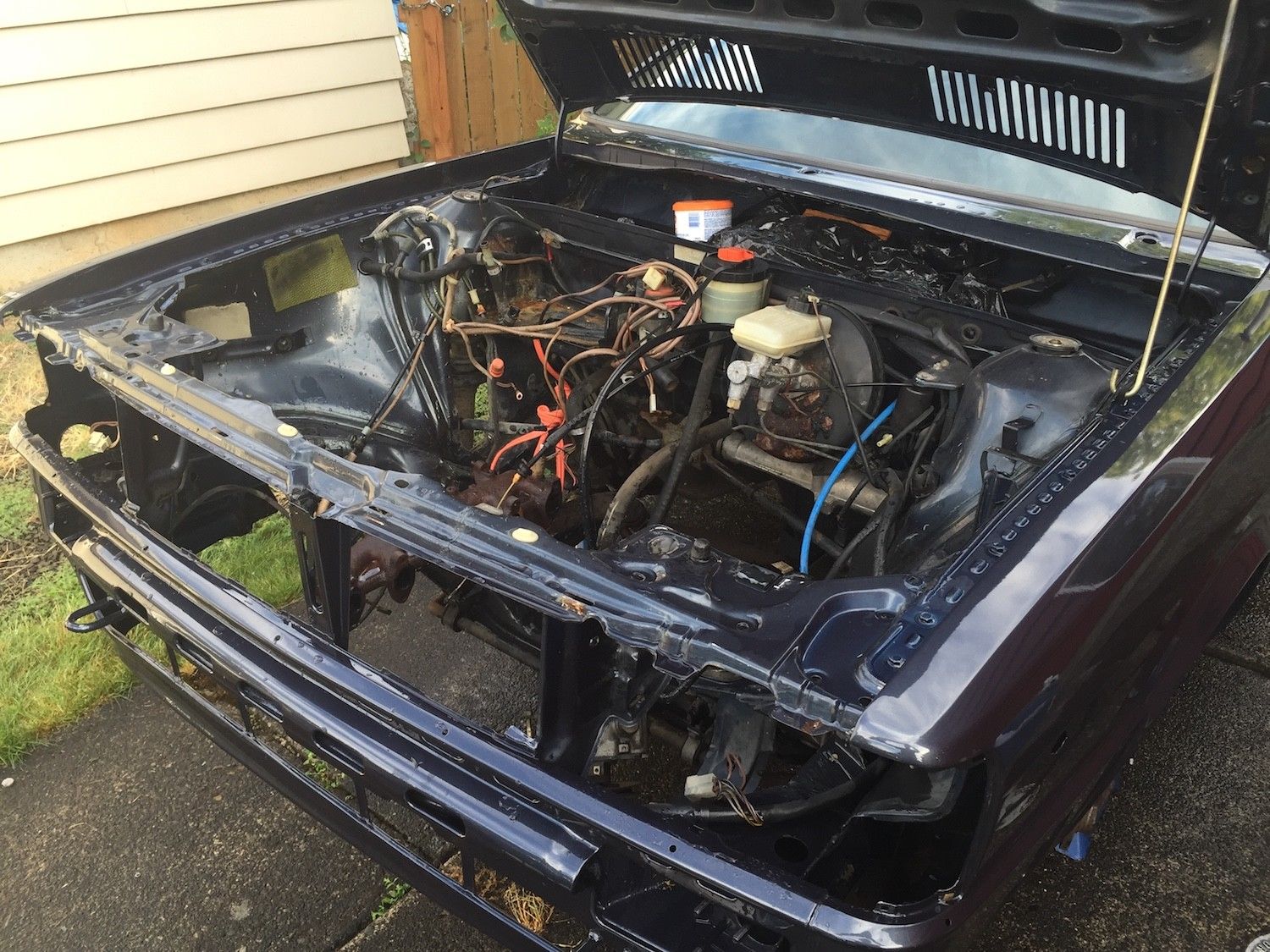 Coupes, especially early Coupes, rarely appear on market having been redone. This car is very interesting, too, as a very low option model. Prior to adding the "GT" suffix, the early cars weren't really as sporty to drive. The original WE 2.1 inline-5 developed 100 horsepower – about 10% more than the period GTI and Scirocco developed – but the Audi also weighed about 10% more than they did, too. Early coupes shared smaller brakes with the VW counterparts, but the nice touch here is the rare items shared with the big brother Quattro. That'd be the Helios Blue Metallic color and the diagonally striped leather seats. Since those seats are shared with the Quattro, these early Coupes are sometimes grabbed as part doners for restoration of the more iconic turbo model. The bodywork on the car seems to be in good order and the seller has gone through a lot of work to clean up the interior. While the motor is still out, these are relatively simple engines to rebuild and install. I'd wager the most difficulty you'd have is getting the fuel system to work properly after such a protracted time sitting, but even that isn't insurmountable.
Bidding has been relatively quiet on this clean Coupe, but that's not too much of a surprise. Since you can get a decent original and running example around $4,000, it's pretty hard to justify much more for a pile of parts even if the completed work looks great. I doubt bidding will exceed the seller's cost of restoration here, which unfortunately doesn't incentivize more people to fix up needy examples – though admittedly were the restoration done it would be much more compelling.
-Carter