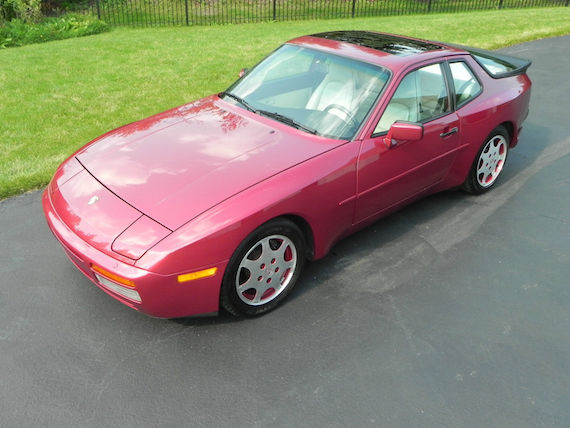 The Velvet Red Porsche 944 Turbo we featured earlier in the month had no takers at $19,900, so now it is up on offer once again at no reserve.
The below post originally appeared on our site September 8, 2015:
With exception of the SUVs and Panamera sedan that grace the lineup currently, Porsche seems resistant to revisit the idea of a front-engined sports car. Growing up, I would always marvel at the Porsche lineup each year as a new version of the 924, 944 or 928 would emerge. By the time the mid-1990s rolled around, I was in high school and the sun was setting on the 928 and 968. I took a moment to consider these cars in their twilight and had a feeling that somehow, Porsche would never be the same. With the Boxster approaching a two decade production run and turbocharging coming to the refreshed 911 Carrera, it's time we look back and admire these historic Porsches. This 1989 944 Turbo for sale outside of Chicago is finished in an uncommon shade of Velvet Red with nicely contrasting Linen leather and contrasting piping.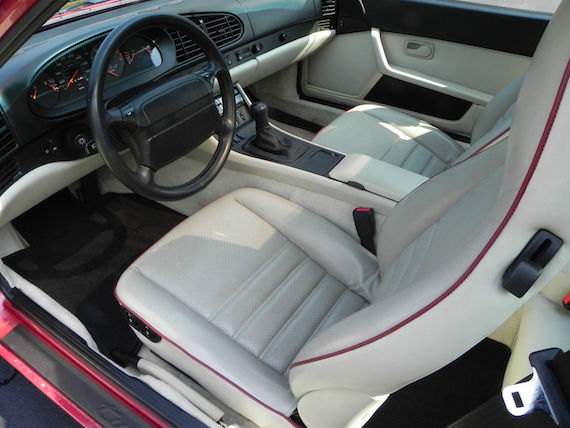 Year: 1989
Model: 944 Turbo
Engine: 2.5 liter turbocharged inline-4
Transmission: 5-speed manual
Mileage: 87,150 mi
Price: No reserve auction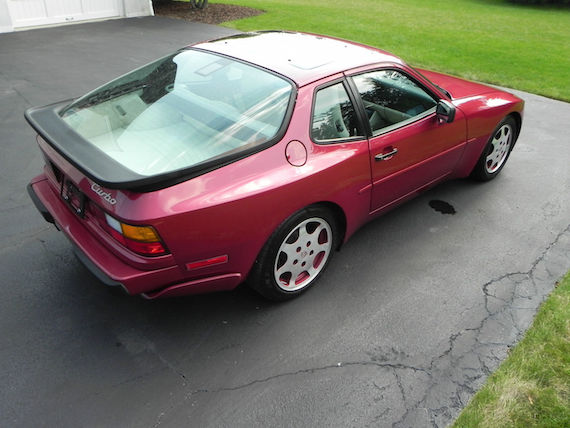 This is a beautiful running and driving 1989 944 Turbo. 1989 was the final year for this model, and it is comparable to the Turbo S of prior years. I have the Porsche Certificate of Authenticity as pictured. I believe the car to have had three owners since new. It has just been serviced and inspected by a well-known independent Porsche repair facility in the Chicago area. Clean CarFax, with no accidents or recalls reported. Original jack, owner's manual, and keys are still with the car.

Optional equipment on this car includes glass panel sunroof, partial leather seats, cruise control and HiFi sound. The photos really don't do the car justice. It also drives as tight and solid as you'd expect of a well-kept Porsche. You'd be hard pressed to find a nicer looking or driving example.

BODY: Super clean body shows no evidence of rust, rust repair or previous damage. All sheet metal panels appear to have their original factory VIN labels. There are a few chips and minor sratches from normal use. Glass and rubber trim are excellent. Both the glass and body-colored sunroof panels are included. This car gets a lot of attention and compliments.

INTERIOR: Very good to excellent carpets, door panels, dash, dash top, headliner and original steering wheel. Seat leather is gerally excellent, with good color except for a small fade spot on the driver's seat cushion. The cargo area is immaculate.

ENGINE AND DRIVETRAIN: The engine pulls strongly and runs smoothly. Compression was just checked and is approximately 145 in each cylinder. Trans shifts smoothly, and no clutch issues are apparent.

STEERING AND SUSPENSION: Everything tight and operating as it should. Power steering is typically smooth with no excess play. The car rides and handles very well. Shocks and bushings are very good.

BRAKES: System inspected. Everything is in proper working order. No pulls or pulsation. Plenty of pad life left. Handbrake operates properly

ELECTRICAL and INSTRUMENTS. Everything working with the exception of the digital clock. Radio is an aftermarket addition with Bluetooth and auxiliary capability. The original Blaupunkt Reno is included.

WHEELS and TIRES: Excellent W-rated tires appear barely worn. Forged Porsche wheels show some wear and tear, but are still very presentable. The wheel background was painted at some time in the body color of the car.

126 SUPER DETAILED PHOTOS AVAILABLE AT:

https://www.dropbox.com/sh/t6m83lyrp2f63lc/AABJph_L2hQ4j25_K6aNhqpta?dl=0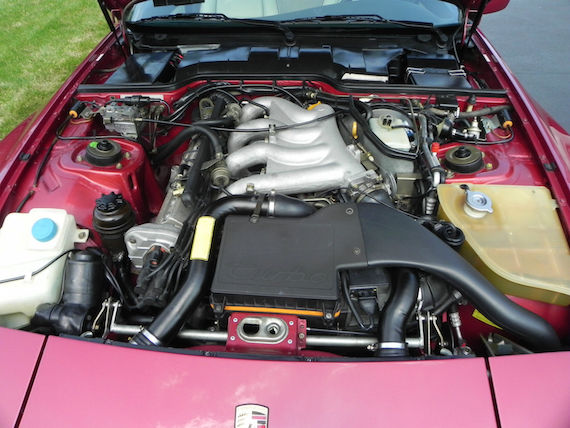 If a 944 Turbo is on your radar, the folks at flüssig magazine have done a great job documenting these sports cars and addressing issues surrounding the purchase and upkeep of them. Back in July, we saw a 1988 944 Turbo with 47,000 miles sell for $21,900. Consider this 944 Turbo is closing in on 90,000 miles, the almost $20,000 ask might be a little bit on the high side, but not too far off the mark, as these cars are gaining traction in the collector car market.
-Paul