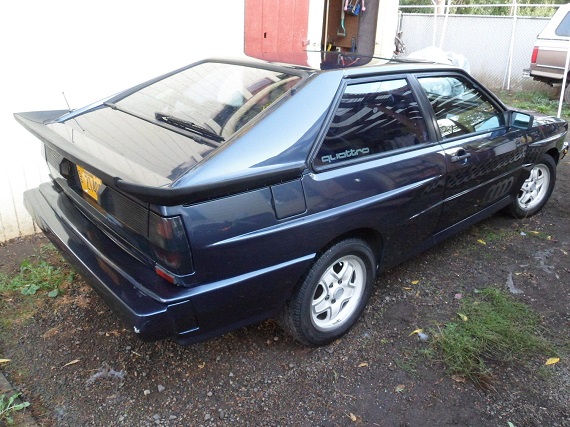 I'm always a fan of the showdown posts; no surprise, since I think I'm the only one who does them here! While it's nice to highlight one car at a time, I'm just a fan of the opportunity costs; considering what my money could go towards otherwise. Plus, though we see comparisons of new cars in magazines and online fora, it's not often that we have comparos including nearly 40 year old cars. While I usually highlight this type of comparison in my 10K Friday posts, today is a bit different and I believe the first time I have a showdown on Tuner Tuesday. I've rounded up a quintet of neat cars that are all modified from stock by some of the most famous tuners of the 1980s; which is the winner?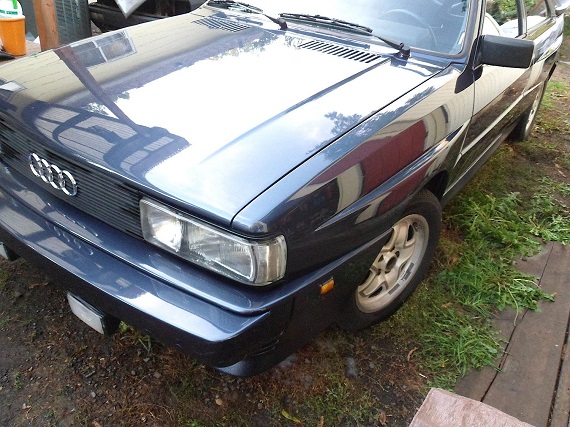 Year: 1983
Model: Quattro
Engine: 2.1 liter turbocharged inline-5
Transmission: 5-speed manual
Mileage: 105,327 mi
Price: Reserve Auction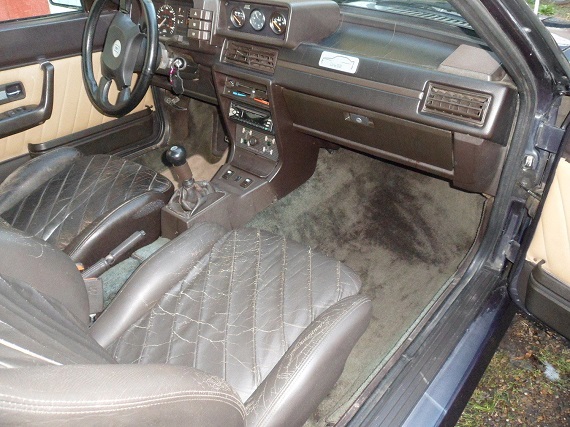 Very Rare 1983 Audi Ur Quattro Coupe. I have been told it is 1 of only 2 Treser Edition cars that came to the USDOT. Finding records on these cars isnt easy..Finding records of Treser is impossible im finding. So I really cant be sure. Steering Wheel(had cover on it so its like new), Shift knob, ABT taxicab gauge pod, Tail are all Treser modifications. It also has the rear fog light wired in. being that it is a low vin # and also a 3/82 build date I am thinking they send 2 of these to Treser and they came over as 1983 cars. going thru usdot switched bumpers and kph/mph when it came over. But like I said who knows as I cant find anything. I am waiting to hear back from the dealer still with more info if they can figure it out.
Anyway, its a very rare car, Helios Blue with nice repaint just under ten years ago. one small bubble on drivers fender. No rust issues. all pics should show how nice and solid the car is. I have driven this car over 4K miles in the last 2 years of which 3400 was in one trip. Has new sun roof seal. Interior is decent. originally the seats were tan and 2nd owner at some point redyed them chocolate brown. The Headlights are new flat glass cibie European spec($600) with daytime running lights wired in. The rear tail lights and rear center prismatic strip or European spec tinted and brand NOS. impossible to find. $1000. These cars are becoming classics quickly and more and more rare with less than 250 left here in the US.

On Sep-21-15 at 15:13:13 PDT, seller added the following information:

Pictures…
s120.photobucket.com/user/hoopster21/library/URQ Treser

Car needs E-brake cables.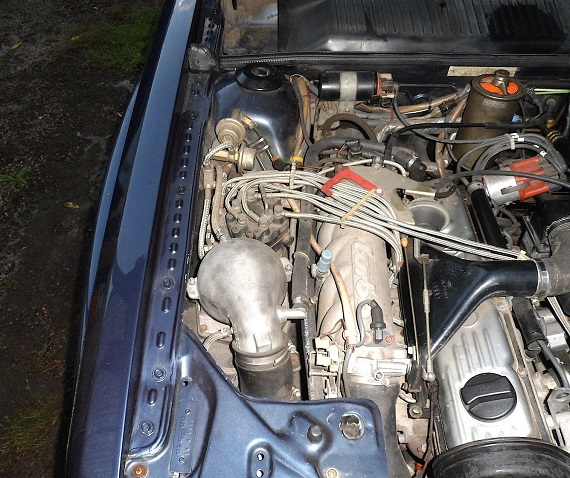 Very rare accurately describes any original Quattro these days; numbers in the U.S. today are in the low hundreds, which breaks down to roughly 5-6 per a state on average. Now, this car has the added rarity of some period modifications from Abt and Treser; polarizing might be the best way to describe the mods. A Helios Blue Metallic car underneath sporting the forged Fuchs wheels and European headlights, there's a lot to like. But, it's hard for me to get on board with the Treser rear wing and there's no documentation that this was an original car. Further, the mix-match of items probably points towards assembly of the parts rather than originality; Treser cars were usually completely outfit, and there is no indication of that here. This seller is a bit notorious, as well – having previously mis-represented cars for sale and still seemingly unable to take a picture of the entire car. You have to balance liking the base car (and perhaps returning it to stock) versus the unknowns of what the seller isn't telling you here. That has already translated into mid-teens bidding; in all honesty, more than I'd want to spend on such an example.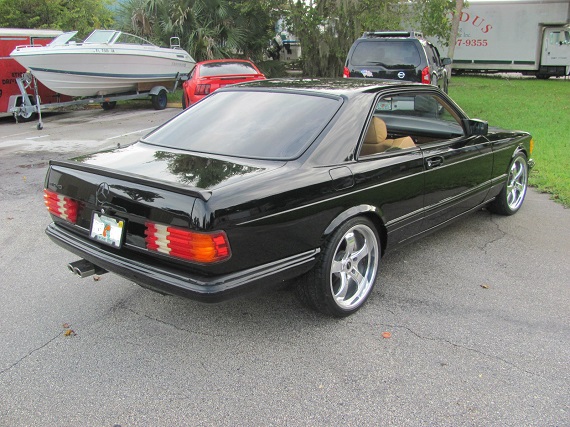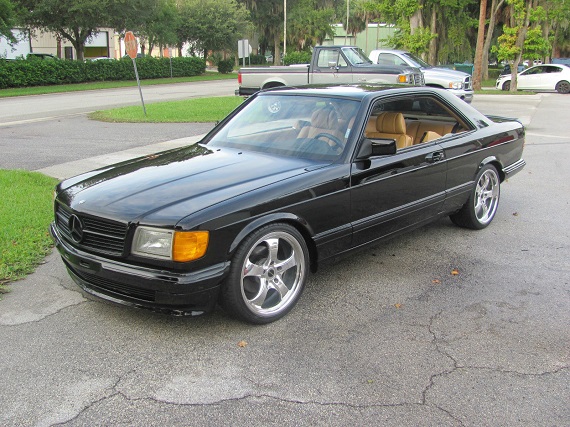 Year: 1987
Model: 560SEC
Engine: 5.6 liter V8
Transmission: 4-speed automatic
Mileage: 92,323 mi
Price: Reserve Auction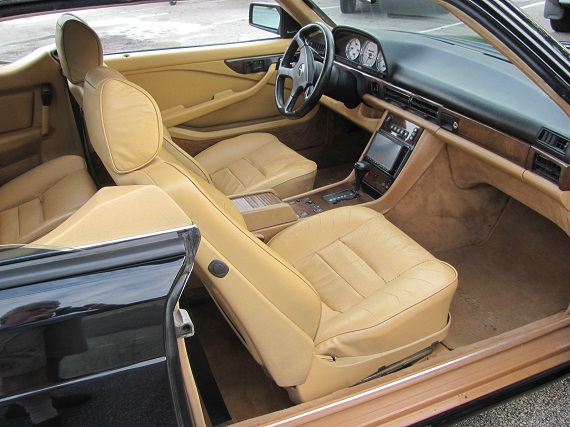 A rare opportunity to purchase a motoring Icon.
1987 AMG 560 SEC.
This is an original rare AMG car with correct driveline gauges interior and codes on AMG extras Spoilers ETC.
The present owner has had and cared for this car for the last 3 years has decided to sell due to lack of space.
The car has a very nice finish in black on black exterior and tan leather interior.
Acari forged one piece aluminum wheels built for racing 245 35 ZR1 front 275 30 ZR1 rear with almost new ATR sport tires.
The engine and transmission operate as should with no leaks.
Since owning it he has replaced the master cylinder and flushed the braking system
The cam chain guides etc have been replaced as a precaution.
Steering parts replaced oil changes and servicing as needed.
$3565 spent since owned so you will benefit as the mileage has only increased by around 2500 miles since.
Remember this AMG is 28 years old as you can see the interior is showing wear and the paint has minor blemishes (it has had a respray) The stereo is currently not working. Due to its age there is no warranty and the buyer should inspect the car before bidding.

I am selling this for a friend and he knows everything about this car.
Please come and inspect or send someone.
And please call with any questions.
Mark 386 307 3281
Clear Florida title.

On Sep-20-15 at 14:56:12 PDT, seller added the following information:

The seat belt auto retractors are not working at present but are being checked out.
They do not affect seat belt operation though.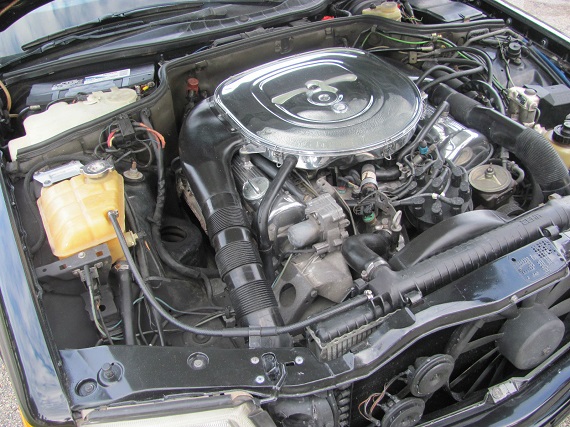 Along the same lines as the Quattro comes this AMG 560 SEC. Again, there are period modifications; the European-spec body has been upgraded with AMG spoilers. But outside of the spoilers and white gauges, it's hard to see any other AMG mods unless I'm missing them. Lack of documentation – at least, expressed through the advertisement – means it's hard to get hugely excited about this find, along with the horrible wheels. But the overall aesthetic is good and the condition appears to be one of a good quality driver with lower overall miles. Bidding should stay relatively low, making this the bargain of the bunch though it's also likely the least sporty.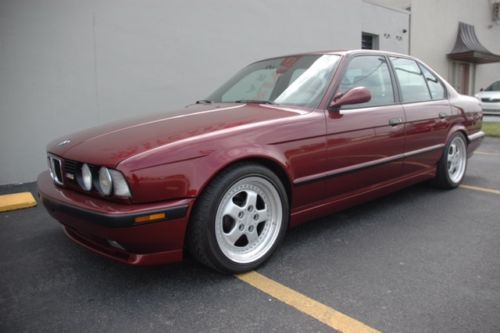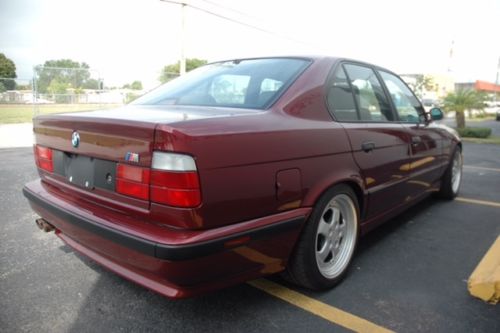 Year: 1991
Model: M5 Dinan 3.9
Engine: 3.9 liter inline-6
Transmission: 5-speed manual
Mileage: 125,000 mi
Price: $24,999 Buy It Now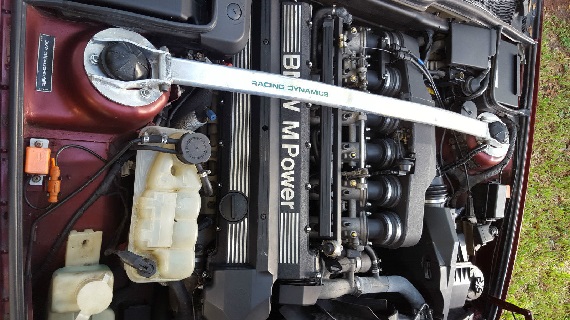 This is truly a Unique E34 M5!

It has a brand new paint job in Original Calypso Red.

The vehicle will include a complete book with all of the receipts and services done to the car.

Interior: The interior of the car need some mild work and care. I would give it a 8 out of 10. Very good shape considering it is a 20+ year car!

It has a Dinan Upgrade that includes all of the following modifications ( I HAVE ALL PAPERWORK TO DOCUMENT THE PROCESS):

Stage 3 Suspension which includes:
4 Lower Springs
1 25mm front bar ADJ
1 19mm Rear Bar ADJ
1 Set Camber Plates
Load Levering Adaptor Kit
Dinan Brake Conversion
Dinan Speed Delimiter (Turbotrornics 7)
Dinan Performance Chip.
Dinan M3.9 Stage II
Dinan High Performance 3 Piece Wheels
If you require any additional photos or info please don't hesitate to contact me at 786-546-71-88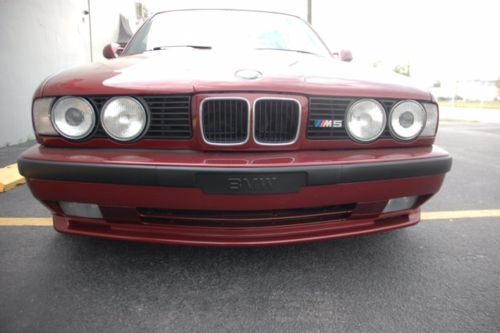 Look familiar? It should, as this car has been featured last year here. Unlike the previous two posers, this 1991 M5 has the full range of Dinan products – from exterior with the three-piece wheels through the suspension and culminating in the 3.9 stroker conversion. There's a tremendous amount to like, since Calypso Red Metallic also looks awesome on the E34. But there's no getting over that about a year ago this car traded hands at around $10,000; a respray doesn't make up the extra $20,000 in value the seller was looking for last fall – especially when several details are wrong. Consequently, here we see it again now for $25,000 – on the right track, but likely still a bit high. It's a lovely example and should be a screamer, and even though I think it's a touch too expensive it's hands down the performance bargain of this bunch.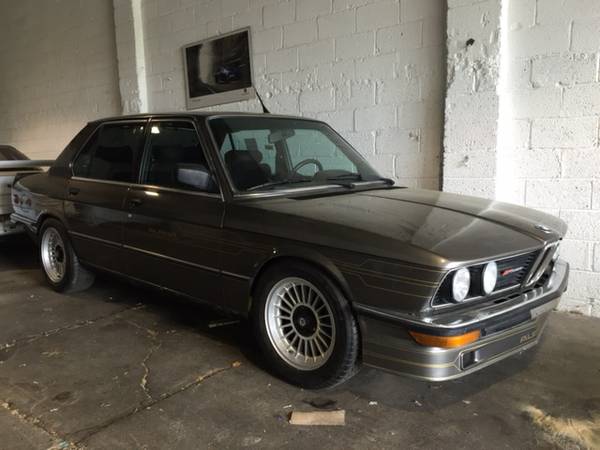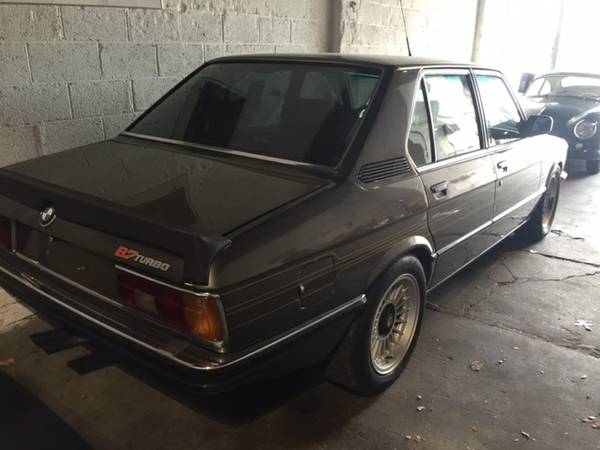 Year: 1978
Model: B7 Turbo
Engine: 3.0 liter turbocharged inline-6
Transmission: 5-speed manual
Mileage: 45,000 mi
Price: $35,900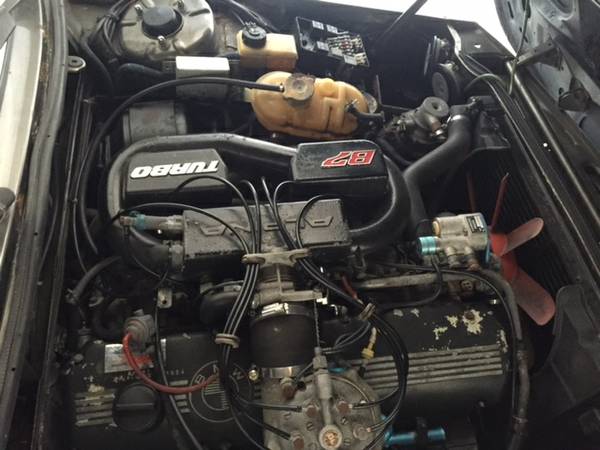 E12 Alpina B7 Turbo , this car is a project, was sitting since early 90's has only 65000 km, good interior, few rust sports, engine turns,mechanical condition unknown. I don't really need to sell it, will probably start to restore it this summer it it's not gonna sell . The pictures are the best I could make inside of the dark warehouse they are to give you an idea this car is REAL, I am really busy but probably can pull it out and get some nicer photos for the serious buyer .inspections are welcome .This is the car #4 , the earliest e12 Alpina known in existence.I have a pile of paperwork for this car from Alpina dealer in Germany. please dot waste my time if you are not serious buyer. Will consider trades for aircooled 911's,BMW 2002 TURBO and maybe e30 M3,
Have too many projects want running and driving car,

Some history from the internet for someone who does not know what it is:

The B7 Turbo was the world´s fastest 4-door car when it was introduced at the 1978 Frankfurt IAA Motor Show Indeed, it´s still very fast by today´s standards. At first the car was called 530 Turbo, but Alpina soon changed the name to B7 Turbo.
The engine is based on BMW's 3.0 litre 'M30' six; but not much is left of the standard engine. Alpina fitted a KKK (Kühnle, Kopp und Kausch) K27 blow-through turbo with a maximum boost of 12psi. But the boost was variable (by a dial in the interior) between 8psi and the maximum, which means, in terms of power, between 250 bhp and 300 bhp. An intercooler is also fitted located behind the right pair of headlamps.
The turbo blew through race-style Pierberg/Zenith DL mechanical fuel injection, but while there was no ECU needed for the injection, there was with the ignition. In a world first for a road car, the B7 used Hartig adjustable electronic ignition, crucial for reliabilty. Because of the turbo's variable output and the fierce under-bonnet heat, the Hartig system would retard the ignition to kerb detonation, potentially lethal to long turbo life. Lower compression forged pistons and new valves were also fitted, more suited to the turbo installation. To handle the greater power and 342lb/ft torque, Alpina fitted a specially modified 5-speed Getrag gearbox.
The suspension was uprated with Bilstein springs, progressive rate springs, and adjustable dampers. The original brakes, while good, were deemed not up to task of reining in the power the B7 was packing, so were replaced by new, bigger ventilated discs front and rear. The signature Alpina alloys are 7×16 (f) and 8×16 (r), wrapped in 205/55 rubber up front with 225/50s bringing up the the rear. Speaking of the rear, the LSD had it's own oil cooler to compliment the Vader-esque looking diff cover.

Inside, the seats are replaced by hip-hugging items, manufactured to Alpina´s specifications by Scheel. The instruments have been replaced with special Alpina gauges, with red needles. There were additional gauges for turbo boost level, oil pressure and oil temperature. Other changes were the now much sought after four-spoke steering wheel (a Momo item also used on Maseratis of the time) and gear knob, a left foot dead pedal and a variable boost control located between the front seats.

There aren't many changes to the exterior, but that only adds to the subtle menace, in my opinion. The B7 had Alpina's mad 80's striping, but that was a no-cost option, front and rear spoilers and, of course, the trademark Alpina wheels. The B7 is also little lower than a standard 5er, due to the revised suspension.
As stated before, the B7 Turbo is a very fast car, even when compared to today's Autobahnstormers. In Auto Motor und Sport´s test back in 1981, the B7 accelerated from 0-60 mph in 6.1 seconds, 0-100 mph in 13.8, 0-125mph in 23.6 seconds and reached a top speed of 155mph. That 'Fastest 4-door saloon in the world' tag was no empty boast..

Between December 1978 and February 1982 a total of 149 cars were made..
The B7 arguably set the template for the 'super-saloon' and while it has long been surpassed in overall performance, their exclusivity, not to mention their desirability, is still sky-high after all of these years.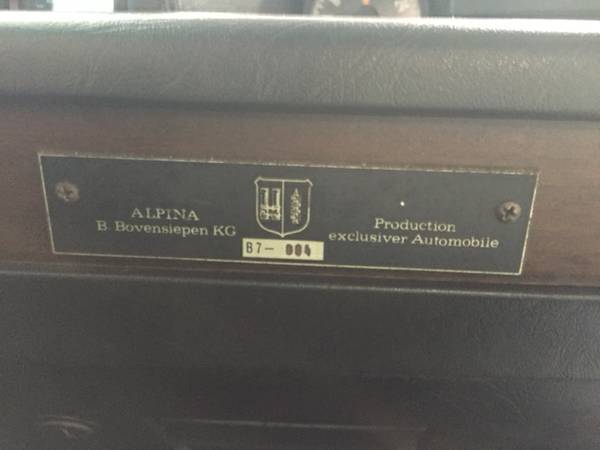 If Dinan's take on a turned up 5-series wasn't to your liking, perhaps the more popular and legendary Alpina B7 Turbo will turn your head. Classic styling in a package that offered M5-levels of performance a full decade before the M5 landed on these shores is certainly alluring, but the siren's song may be playing here. The purchase price, at $36,000, is only a down payment on a non-running project car. When I hear non-running, mechanical condition unknown rusty E12, I don't typically think E92 M3 money. But a rare bit of kit this is; only a few hundred E12s were modded by Alpina and fixed, running and restored this is surely a collector car – especially as one of the first official cars produced by the firm. If you're considering slapping down $50,000 for a E30 M3, this could be an alternative to help you set yourself apart for similar money with the prospect of it being worth more – perhaps – in the end.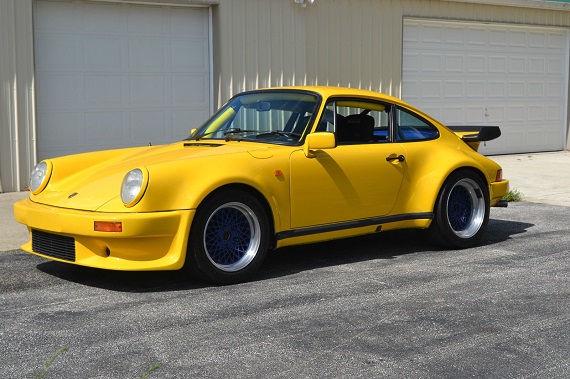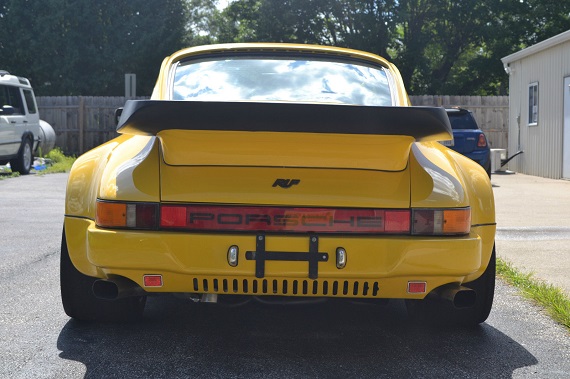 Year: 1984
Model: 930
Engine: 3.4 liter turbocharged flat-6
Transmission: 5-speed manual
Mileage: 45,220 mi
Price: $89,888 Buy It Now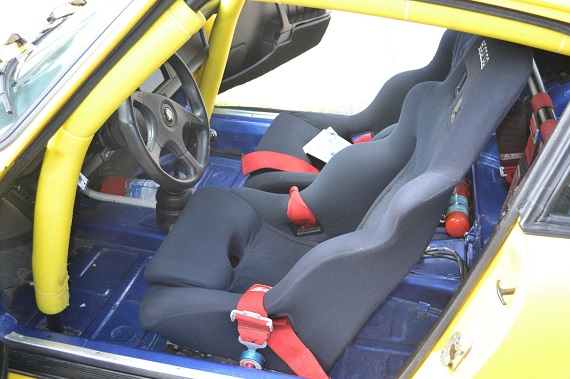 1984 Porsche 930 Turbo RUF

VIN: WP0ZZZ93ZES000384
Produced in Germany

All work was done by Exclusive Motor Cars in Upper Montclair, New Jerey
-One of two authorized RUF dealers/installers

-This car was purchased new by a Mr. Robert Winer out of Morristown, New Jersey. He bought the car from Paul Miller Auto Group whom imported the car in 1984. Mr. Winer had all the RUF conversion done by Exclusive Motor Cars who was the authorized RUF Dealer and installer. Winer then sent the car back over to Europe and competed in GT2 and Group B Racing all throughout Europe. This car competed in several races at the famous Nurburgring. Its last race was at the ring. Winer also competed in many races here in the states including the 48 Hours at Watkins Glen in 1988. He sold the car in 1997 to a private collector who has had the car up until I acquired it in the spring. I have driven this car on the streets and it is a pleasure to drive.

-RUF BTR 3.4L Turbo
-45,220 Original Miles
-Zytek 1 Engine Management System
-Blue Print and Weight Balance Pistons and Connecting Rods
-Hand Grind and Polish Case
-Machine main bearing webs
-Improve Crankcase Ventilation
-Machine/Shuffle Pin Engine Case halves
-Polished Crankshaft Journals
-Electronic Balance Crankshaft, Flywheel, Clutch, ETC
-3.4 RUF Pistons and Cylinders
-Dilivar Studs
-Carrillo Rods
-Racing fuel injectors
-Racing Valve Springs
-RUF Larger Intercooler 1134ci
-TS04 Turbocharger
-RUF CTR Cams
-Racing Waste gate
-RUF Tuned Headers and Mufflers
-RUF Racing Front Oil Cooler
-510WHP on pump gas
-650WHP on Race Gas
-RUF 5 Speed Transmission
-Quaife Torque Sensing Differential
-RUF CTR Clutch
-RUF CTR 330 Braking System
-330mm Disk Brakes
-928 Calipers
-RUF Sport/Track Shocks
-BBS 9×16 Front 3 piece Racing Modular Wheels
-BBS 12×17 Rear 3 piece Racing Modular Wheels
-GSCS Tires
-RUF Light Weight Front Bumper
-RUF Light Weight Rear Bumpers
-RUF Aluminum Hood
-RUF Aluminum Fenders
-Sparco Racing Seats
-5 point Harness
-Full Roll Cage (Removable)
-5 lbs fire extinguisher
-Electronic Cut-Off Switch
-Light Weight Interior

For more Information Call Matt: 513-646-7757

Email Pictures of any trades to golfer9491@roadrunner.com

Will ship worldwide.

I reserve the right to end this auction early.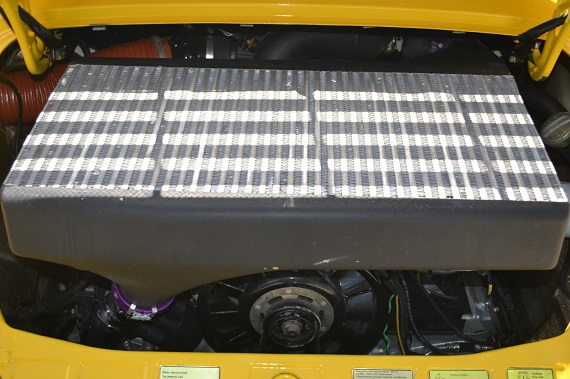 Talk about an interesting story; I'd love to hear a bit more about the many roads this 930 has traveled – or, at very least, see the documentation to back up everything. This car isn't a real Ruf, but a converted car brought up to BTR specs and stripped out to race. But there are details that seem odd; the Sparco seats, for example, are too new to fit the story, and the electric blue interior clashes with the Speed Yellow outside. At least the BBS wheels are period correct, but there's some digging here to see exactly what this car is underneath. Priced at $90,000, it won't be a cheap investment – and it's priced around where we've seen other 930s listed. But I'm not sure that the modifications or story here translate into a market-setting price tag. It's a cool car, and likely easily the fastest here, as well as the most recognizable – but I think it's still overpriced for a cut up, non-original 930 even if it has a neat story.
Who is the winner? While my heart flutters at the thought of a Helios Quattro and the Alpina is such a neat and rare car, it's hard to get on board with either of them. The Ruf is too much money even though it's neat, which leaves the SEC and M5. The Mercedes sure looks great as a potential driver, just don't expect AMG-levels of performance or value down the road; the M5 offers the performance, but again might not be the best example out there. I think for a driver, I'd probably shoot for the SEC first with the M5 second. Put some color-matched period ATS, BBS or Ronal alloys on the 560SEC and you'd have a stunner on a budget.
-Carter