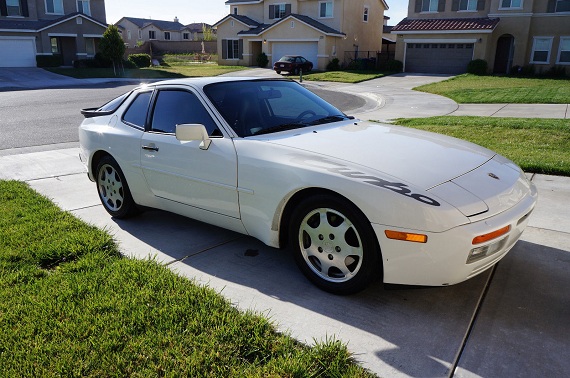 While yesterday I hinted that the E46 M3 might be the next 944 Turbo, let's not forget that the original 944 Turbo is still alive and kicking. While generally speaking the 1988 Silver Rose Turbo S cars seem to be the most valuable of the street cars, the 1989 Turbos came in "S" specification, complete with the M030 suspension, more power and those special wheels. I'm lucky enough to have spent a fair amount of time in one of these; my father bought a 1989 just like this, but with white sport seats. It's an amazing car, capable of effortless acceleration, swallowing huge trips in a single gulp, and yet gets good mileage and is comfortable. It's one of those strange "fish story" cars; it just shouldn't be as good as it is, and yet it is still largely overlooked as a performance value. While clean examples of the performance bargains in the 1980s and 1990s have steadily been on the rise, the 944 Turbo remains attainable. Today's 1989 example is one of the better ones: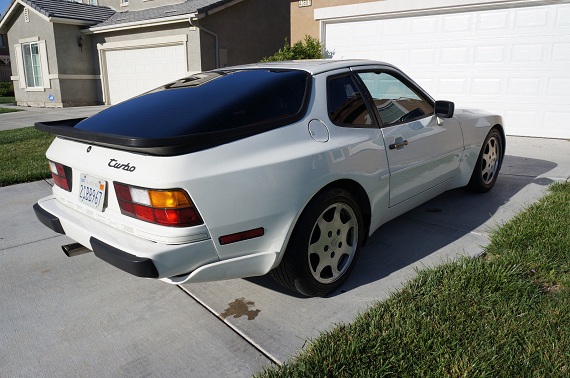 Year: 1989
Model: 944 Turbo
Engine: 2.5 liter turbocharged inline-4
Transmission: 5-speed manual
Mileage: 85,535 mi
Price: Reserve Auction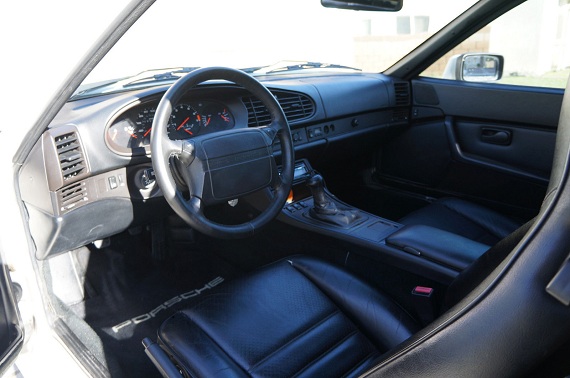 Rebuilt engine with all component replacement 79k miles with all Porsche parts
New clutch, timing belt, water pump, injectors all at 79k miles
New lighter flywheel 79k miles
New turbo 79k miles
Engine needs nothing
K&N Filter fresh and clean 82k miles
Upgraded engine software
New alignment 84k miles
New rear sway bar 83k miles
Over 60% brake pads left
New sway bar bushings front and rear 83k miles
Transmission oil flush 83k miles
Oil change 84.5k miles
Original factory "turbo" script on front fender
New shifter rod 83k miles (very crisp shifter feel)
Aftermarket head unit for CD and mp3
Newly stitched steering wheel leather
Very clean interior Original wheels
Tire have 80-90% tread left
New battery
Cruise control works very well
Professionally tinted windows
All window and door seals are good no water leakage into cabin

Several cracks in dash
Few scratches on front bumper

Turbo S model is rare and the 89 Turbo is the last year for all 944 turbos
Special Turbo S package:
Adjustable Koni M030 suspension from factory
Upgraded transmission with tempered 1st and 2nd gear
Upgraded turbo
LSD (Limited Slip Differential)

Some mild paint chips mainly bumper area
Overall very good condition for 1989 model
Always garaged and well maintained
Have 4 volumes of workshop manuals
Recently passed smog

Buyer responsible for shipping if not local to Los Angeles area

Serious BIDDERS ONLY!!!

Very reasonable reserve price
Happy Bidding!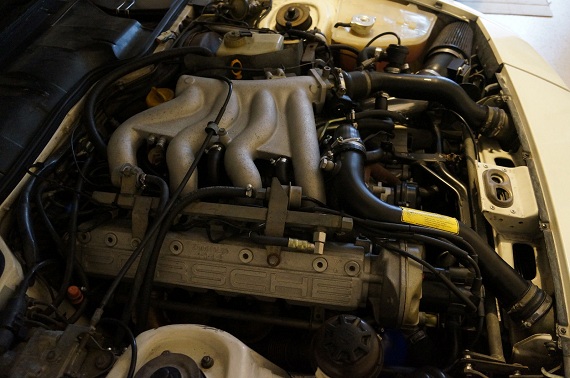 I, too, have a soft spot for that Turbo-script decal on the fender; my father also put that on his. It was a neat option that's just a bit shouty but fun, too – a throwback reminder that this was a 1980s car. Condition on this car looks to be very good; witness the wheels, for one, that tend to discolor and are easily curbed around the edge. The interior looks great too, with the exception of the cracked dash. The tint is a bit much, but then there is a high glass-to-cabin ratio in this car, so in part it's understandable. Then there is the rebuilt motor with only 7,000 miles on it – a costly item to undertake, though also a bit unusual to undertake; perhaps it was a turbo problem that lead to a larger internal issue, though. All in all, as an original 1989 example they don't get a whole lot better than this. These are well built cars, capable of many miles and unlike some other 1980s cars don't feel hugely dated when you step inside. I'd expect the reserve is set in the high teens, and for that money there aren't many cars that can compete with the value of the 944 Turbo, especially in S spec. Born a supercar killer, it is still the best bang for the buck you can find.
-Carter