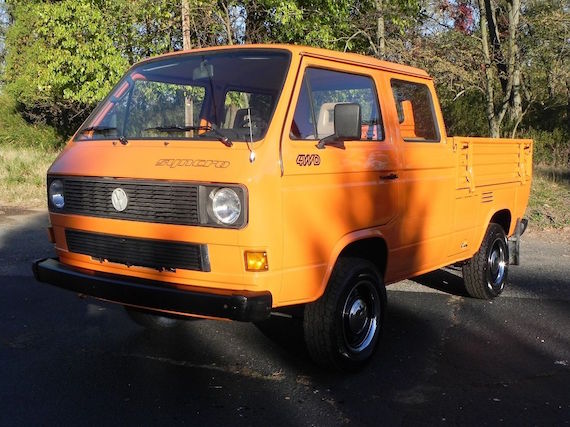 Just a little late for Halloween, today's examination of my new favorite eBay seller's offerings is quite the pumpkin. Another low-mileage DoKa Syncro, this one also has a factory 1.6-liter turbodiesel churning out a whopping 70hp, 16 more than the naturally-aspirated 1.7-liter diesel. When you're counting horsepower by the dozens as opposed to the hundreds, 16hp can make quite a difference! With just 37k miles, it should still be making close to that amount. The oil-burner is a nice addition to the real meat of this T3 that makes it exceptional: the 4WD and truck bed. No matter how many this New Jersey outfit imports, DoKa Syncros are going to remain extremely rare in the US. The color and condition are both outstanding, and the impeccable black undercarriage completes the Halloween (or SF Giants?) theme. As usual with this seller, there is no reserve, so have at it, people! You too could have the near-twin of Grandpa's Adventure Truck.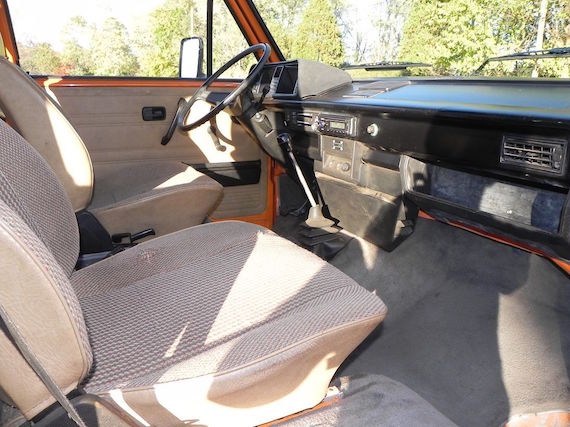 Year: 1989
Model: DoKa Syncro
Engine: 1.6 liter diesel inline-4
Transmission: 5-speed manual
Mileage: 37,469 mi
Price: No-reserve auction
a NO RESERVE

1989 Volkswagen Doka SYNCRO 4WD Turbo-Diesel. If you are looking at it than you know what it is. Low documented 60,302 km (That is only 37,469 miles). Rear Axle Locker provision. 1.6 liter Turbo-Diesel Engine. 5-Speed Manual with Low Range. Brand-New 16″ Wheels and Tires. Truck Runs, Drives, and Looks EXCELLENT, with the exception of the gear shifter being somewhat "sloppy" and hard to get/keep into gear. This is a common problem with these vans and is easily cured with simple Shifter Repair Kits found here: www.gowesty.com/ec_view_details.php?id=24025 and www.gowesty.com/ec_view_details.php?id=3368 , which I have on order and will include in the sale. Takes about and hour to install by a knowledgeable repair shop or you can do it yourself is you are mechanically inclined. The truck is pretty much as nice as they come otherwise. You will not be disappointed. Free and Clear Title in Hand. Please feel free to come and inspect this truck prior to bidding. This is NO RESERVE sale. Highest bid wins. HAPPY BIDDING!sdf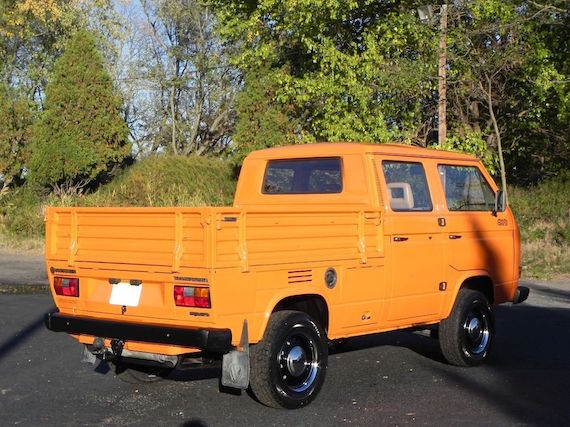 Bidding is just above $8k at time of writing, probably hindered by the listed transmission troubles. If you've ever driven a Vanagon/T3… sweet lord, sloppy doesn't begin to describe it. But fixes, including the seller's already-purchased kit, are plentiful for those willing to put in the effort. If this truck stays anywhere below $15k, I'd say a little effort would be well worth it to have an amazing, low-mileage, go-anywhere, do-anything adventure Volkswagen. I even see a great business plan: rent it out as a Halloween Pumpkin Taxi, carting the trick-or-treaters (or their beleaguered parents) to the next stop. Make enough money to strap on the roof tent, fill the bed with supplies, and strike out on a roadtrip until the next October 31st, make more money, rinse, repeat. Seems legit, right? Bottom line, it's a great deal on an attractive and rare Volkswagen – jump on it!
-NR