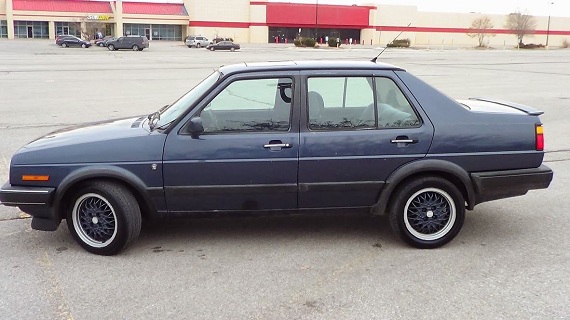 If yesterday's 1987 Jetta GLi didn't spark your interest, perhaps one of the most sought-after GLis made will. The 1989-only "Helios Edition" Jetta GLi took the already good economy sports sedan from Volkswagen and followed the "more is better" rule, adding better BBS RA color-coded wheels and awesomely striped and hugely supportive Recaro seats. It was the prototype for what would become the standard GLi in 1990, but this car was decidedly the best GLi we had seen to that point. Only 1500 were made and they infrequently come up for sale, so while today's isn't in as good of shape as the 1987 from yesterday, it's still a bit of an event to see one: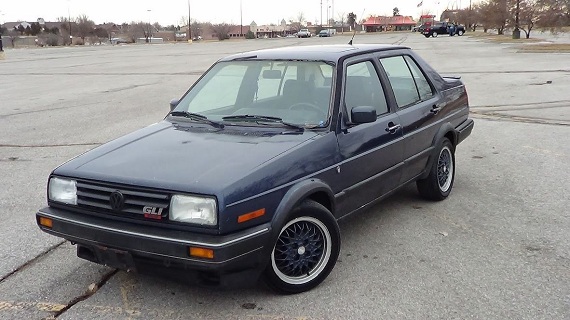 Year: 1989
Model: Jetta GLi 16V
Engine: 1.8 liter inline-4
Transmission: 5-speed manual
Mileage: 115,732 mi
Price: No Reserve Auction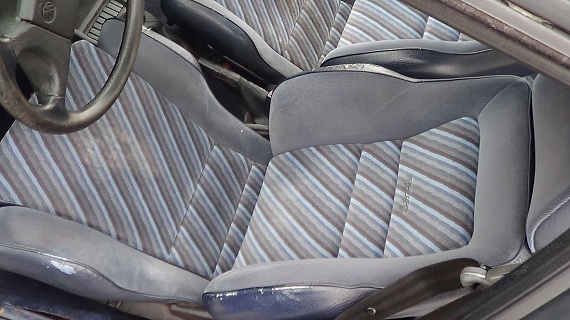 1989 Volkswagen Jetta GLI 16V Helios Edition

Up for auction is my 1989 Volkswagen Jetta GLI 16V "Helios Edition." I recently acquired this vehicle but no longer have the garage space so I need to sell it. This is an excellent example of the special Helios edition GLI, one of only 1500 made. The Helios package consisted of special paint, color matched BBS wheels, power windows/locks/seats, and a sunroof. This vehicle has a clean AutoCheck with no reported damage or accidents. This is a German built car and based on its VIN, the car was manufactured in March of 1989. There were only two options available on the Helios GLI, cruise control and ABS. This car was ordered with the optional cruise but not ABS. The car is a great candidate for restoration with minor rust (included in pictures) and runs and drives. This GLI would be a great addition to any VW enthusiast's garage. Overall this is a great project and is a very solid example of an MKII GLI. I have included a number of pictures as well as links to several YouTube videos of the car running and driving. I also have a bucket of trim pieces as well as some miscellaneous spare parts which will come with the car. This vehicle is also for sale locally so I do reserve the right to cancel auction if it sells. This vehicle is being sold as-is.

Condition Notes:

-New tires, starter, battery, distributor, timing belt, radiator, and ball joints.

-Both front power seats work.

-Car shifts into all 5 gears and into reverse, it does however have a slight grind when shifting into 3rd gear.

-The car is somewhat bouncy and needs new strut mounts installed, included with the car.

-Only one of the power windows works currently, the driver's side rear.

-Sunroof opens and shuts, newer seal and does not leak.

-The windshield and seal need to be replaced; there is a large crack in it. I have washed the car a number of times and it does not leak though.

-The hood has some dents and paint that is faded and chipping, see picture.

-Horn does not work.

-Heater only blows on high, AC does not blow cold

-Drivers side mirror glass is missing

-Body does have dings, dents, and scratches. Paint on roof and trunk is oxidized.

-Power steering pump leaks fluid around the reservoir, may need new lines or to be replaced.

-No radio or speakers.

-Missing headliner.

Google Site with additional pictures and videos: https://plus.google.com/u/0/b/115178454563435632587/115178454563435632587/videos

Short Drive: https://www.youtube.com/watch?v=dzcWKbGa1VU

Headlights: https://www.youtube.com/watch?v=-EOZ4WajOA8

Sunroof: https://www.youtube.com/watch?v=3oYBsjsPSG8

Starting/Running: https://www.youtube.com/watch?v=J7SbcRMYt84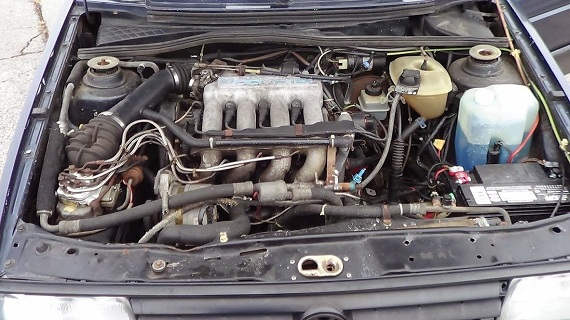 Unlike the 1987, this car has the cruise control option and the updated steering wheel, along with the signature dual-duct deeper front spoiler and roof-mounted Fuba antenna that all of the 16Vs saw, and the addition of the later GLi spoiler. The 1.8 16V engine was a great performer in it's day, even though 123 horsepower seems like a quite small amount today. The car made pretty good use of those horses that were available and these are reasonably quick little cars. The 16Vs are known for self-machining transmissions, but replacements are easy enough to source. While not a "heap", the future owner of this car will have their work cut out to return it to former glory; there's a decently long laundry list of needs and the interior isn't mint condition. But, it's a Helios GLi, and this is one of those VWs that is worth saving! With around two days left, bidding is where you'd want it on a repairable Volkswagen of this vintage around $500. If it stays below $1,500, I'd say it's well bought and a fun project!
-Carter