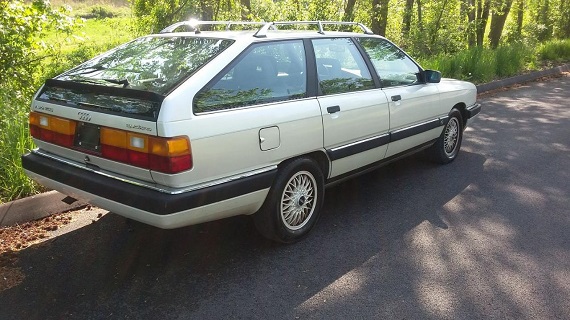 Although the C3 Audi chassis enjoyed a reasonably long production run of 1984-1991, each year introduced changes that, while evolutionary, were notable and make each specific model year feel a little bit bespoke. The biggest change was the 1986 introduction of Audi's all-wheel drive system of quattro to the large model range, making three distinct packages you could get the unique drivetrain in the luxury market. In the U.S. market, 1986 5000 quattros came only in "CS" spec and sedan – basically, fully loaded with only heated seats, Fuchs forged wheels and Pearlescent White Metallic paint as options. 1987 opened the options, but not with more gadgetry – the Avant, previously only available in front drive normally aspirated "S" form, joined the quattro lineup full time after being introduced about halfway through the 1986 model run. Alcantara also became a seldom-selected option. 1988 saw a very minor revision to the turbocharged "CS" models with new script badges in the rear and a few more options including heating for the rear seats and Velour interior options, but the big news was a new "5000S quattro" model, which came sans turbo and without the twin-bulb headlights, but shared the big brother turbo brakes and wheels. It was a smart move to drop the price on the quattro models, as the normal run 5000 reported outsold the 5000CS quattro by a measure of 4:1! 1989 was highlighted by a complete model refresh, moving to the European "100/200″ model designations. Accompanying the change were some new colors and minor alterations, such as more upscale-looking 15″x6" BBS wheels (color matched on Pearlescent White Metallic examples, just as the aero and Fuchs wheels had been). But inside an entirely new sweeping dashboard setup would be the standard on big Audis for the next 7 years. Instead of the previously confusing "S/CS" monikers, turbocharged models now wore the 200 badge, while normally aspirated models were 100s. The Alcantara and Velour options disappeared on the 200 models, which came only fully-loaded, and Fuchs were no longer an option. The 100 quattro shared many components with the 80/90 quattros from the same time, including the NG normally aspirated motor instead of the turbocharged MC1. 100s also ran the familiar small-chassis 4×108 bolt pattern with accompanying smaller brakes, but oldly Audi commissioned BBS to make a run of 15″x6″ wheels that matched the look of the 200's wheels outwardly. Mechanically, otherwise there were few changes to either model, though as with the 80/90 quattros, the option to lock your own differential was now limited to the rear, and then speed limited to 15 m.p.h.. While 1990 saw few changes to the run overall, there was a change in motor in the 200. A rolling change saw the revised (and very short lived) MC2 replace the MC1. Twin knock sensors allowed engineers to run higher compression; coupled with a reground camshaft, lighter mass flywheel and smaller K24 turbo meant that the MC2 could run less boost and spool more quickly for a better driving experience, but ultimately the facts and figures say the power was unchanged. As always, top of the heap was the 200 quattro Avant, and they didn't get any more expensive than when optioned with the Pearlescent White Metallic paint: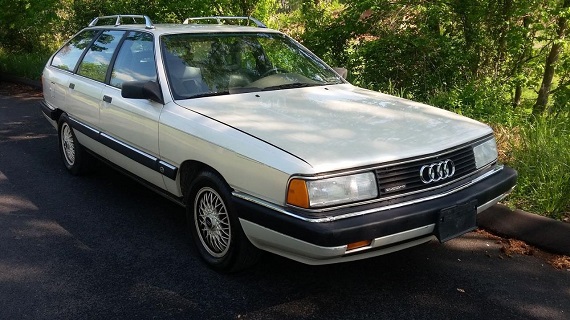 Year: 1990
Model: 200 quattro Avant
Engine: 2.2 liter inline-5
Transmission: 5-speed manual
Mileage: 190,000 mi
Price: Reserve Auction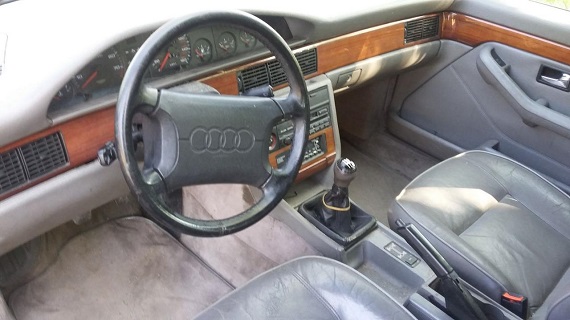 1990 Audi 200 Quattro Avant Wagon 1 Owner Last 10 years

This gorgeous pearl-white sports wagon is super rare!
The 5 cyl. turbo provides surprising power coupled with a 5-speed manual transmission
An exhilirating blast to drive
All four wheels will grip the road in any climate
Is nicely appointed with leather, sunroof and all power options
Ice cold A/C
This beauty fires right up and runs like it should
Tear in drivers seat bottom
You have to drive this rare classic to really appreciate it
Extremely collectible and hard to find – a great asset to any collection

Terms and Conditions (Please read carefully):
NO TRADES. A deposit of $500 or 10% (whichever is greater) of the final sale price will be required within 48 hours. The remaining balance is due in 5 days only. PAYPAL OR PERSONAL CHECKS NOT ACCEPTED. If payment is not received within the allotted time, an Ebay case will be opened to resolve it. I will also refund your deposit if the vehicle is not as described in the ad.

Buyer is responsible for transporting vehicle and travel arrangements

$85 DOC FEE DUE AT DELIVERY.

When purchasing a used vehicle it is necessary to get the car road ready especially if it is a classic car, restoration project or has been store for a period of time. Please be advised in most cases you will need to add fresh fluids, jump start, change hoses, belts, and any other items that age over time. UNDER NO CIRCUMSTANCES CAN A VEHICLE BE RETURNED ONCE THE BUYER TAKES POSSESSION OF THE VEHICLE. WE STRONGLY SUGGEST THAT ALL CLASSIC, RESTORATION OR ANTIQUE CARS BE TRAILERED OR TRUCKED. ONCE THE BUYER BEGINS TO TRANSPORT THE VEHICLE, ANY DAMAGES INCURRED, WHETHER MECHANICAL OR BODY, IS THE SOLE RESPONSIBILITY OF THE BUYER.
All sales are final and are sold as is. Seller has the right to pull ad before closing and reserves the right to sell vehicle outside Ebay at any time.

PLEASE NOTE:
Ebayer's with 0 feedback MUST email us with your questions first, before placing bids on our vehicles or your bids will be removed. Serious buyers who are committed to the purchase will pay in full within the allotted time.
We strive and work hard to deliver accurate descriptions and list all the deficiencies to the best of our ability. Please note it is possible to miss deficiencies such as, i.e., fine scratches. The seller will not be held liable for any missed deficiencies.

Storage:
Buyer must pick up vehicle within 20 days from the close of auction. After 20 days, buyer is responsible for a storage fee at: $20 dollar per day.

GOOD LUCK!!!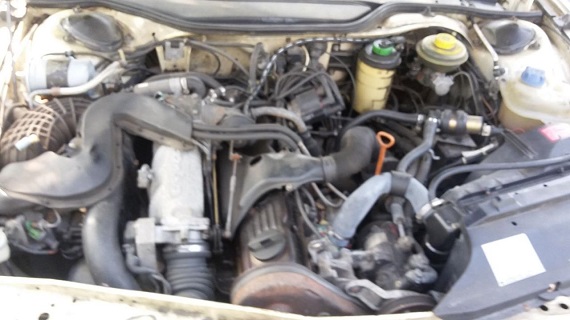 The MC2 swap seemed to be a bit of a parts-grab by Audi; change over reportedly started mid-1989 but there are various owners who report having some (but not always all) of the upgrades to the MC2. Ultimately it's not a huge deal for an owner today except that parts for the brief run of MC2s are more expensive if you need them because they're more scarce. Without the flares and extra 10 valves of the '91 model, the 1989 and 1990 200 quattros don't have anywhere near the same appeal or mystique and are often forelorn and forgotten by all but the most devoted Audi nuts. Yep, that means yours truly owned one – I had a 1989 200 quattro Avant in Lago Blue with Platinum Leather. I've told many stories about that car which I'll spare you from today, but sufficed to say there is only one thing that can kill these old Audis – neglect. Overall this one seems to have avoided that fate, but still the value is pretty low overall. Despite the turbocharged, all-wheel drive wagon wonderment, figure the sale price on this car won't go much above $2,500 on a good day. With 3 days still to go, active bidding has failed to even break 1/3 of that amount and this pretty swell example sits at $720 at time of writing. I'd expect the reserve is likely set around the $2,000 – $2,500 mark. If it gets to that point, the buyer will have a really neat niche car that made Audi famous, and if they're willing to put up with the potential numerous expensive repairs these cars generate post 200,000 miles (specifically, the hydraulic system can be a bear) they'll have a really cool wagon that is scarcely seen these days.
-Carter