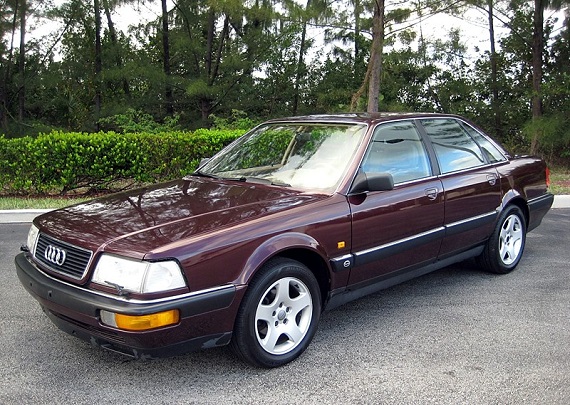 I have a fun ongoing exchange with our reader John; we send each other pretty much every V8 quattro that comes to the market in the U.S., usually accompanied by some brutally honest and laughable one-liner. Considering the number of V8 quattros imported – less than 4000 – and that they were both expensive and a DTM star, they would have been coveted like the rest of the Audi lineup. Yet, many have fallen into extreme disrepair or neglect, leaving precious few left running today and making good ones a rare find. For example, recently John sent me a pretty worn Pearlesant White '93 model with the line: " 'cheap' and haven't seen it before, but that's about it". I responded that I'd done the "cheap" V8 route before, and that were I to do it again I would have been better off spending three times as much to get a maintained example. The V8 is truly a car that could bankrupt you trying to restore a poor one to original condition. However, if you find a reasonable example that's well priced, is it a better proposition?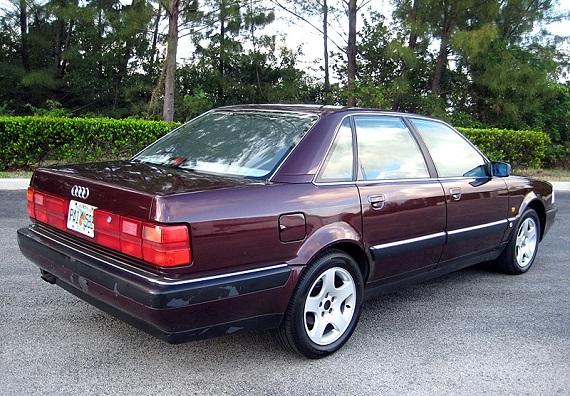 Year: 1990
Model: V8 quattro
Engine: 3.6 liter V8
Transmission: 4-speed automatic
Mileage: 155,378 mi
Price: $3,000 Buy It Now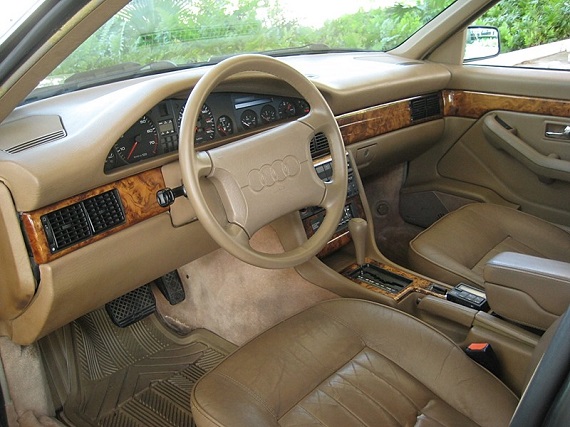 1990 Audi V8 Quattro
Cyclamen Red Metallic with Tan Leather and walnut wood trim
View the CarFax Report
3.6L V8 w/247-hp
4-speed Automatic with "S" Sport, "E" Economic and "M" Manual operation
Quattro full time all-wheel-drive

Back in the day the V8 Quattro was Audi's flagship sedan, built to compete with the Mercedes S class and the BMW 7 series. As the predecessor to the A8, these cars have all the features you would expect on a German luxury sedan of the era.

These Audi's excel at winter driving. Traction and handling from the quattro all wheel drive is legendary and standard features include heated front and rear seats, heat ducts in rear seating area, heated windshield washer jets, heated door locks, defrost side view mirrors and a ski storage sack.

Just because the previous owner retired to Florida doesn't mean the car should also. This quattro should be returned to it's natural habitat, some place cold with lots of snow perhaps Colorado, Maine or New Hampshire. Winter might be over for now but I guarantee it will be back in 8 months. V8 quattros this nice don't come on the market that often, the time to buy one is when you find one.

This is a two owner vehicle with the last owner buying it in 2005. Judging from the overall condition, I believe this car was always well maintained, the timing belt was last replaced at 129k miles. The paint is original and looks very good from a few feet away. The body is straight and there is no rust. The AC is cold, the Bose audio system sounds great and all of the power accessories work except the drivers side front window (needs a regulator) and the Alpine CD changer. This is a nice driving car with good power and that tight, agile European performance car feel.

If you have a genuine interest, please call me with your questions

John 954-790-9570

Available for inspection by appointment in Fort Lauderdale, Florida

The asking price is $3,000 and it's worth every dollar,
but serious offers will be considered.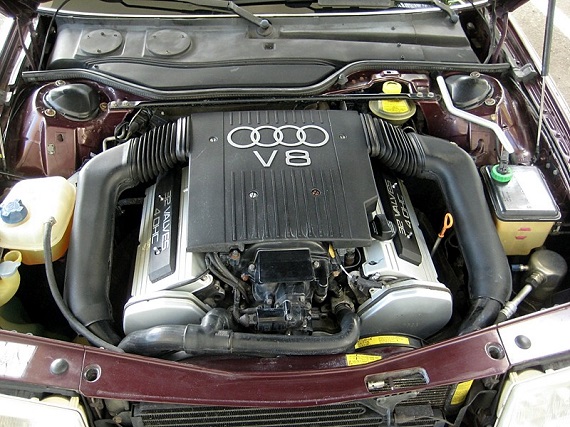 A fair chunk of the 889 reported sold 1990 V8 quattros are two colors – Pearlesant or Black. It's nice to see a dash of color with Cyclamen Pearl, a vibrant color that doesn't adorn Audis of that generation nearly enough. Inside is also a rare sight, with upgraded Connolly leather in Travertine color. Normally that color exhibits a tremendous amount of wear, usually in the steering wheel; yet, overall this interior looks nice and the Walnut shines well. Outside again, there are trim issues that need to be addressed; the black trim could be fairly easily remedied in a weekend, and would really go a long way to dressing the car up. Source some 1991 spec BBS RG alloys with the correct offset too, since the A4/A6 wheels it current sits on are 10mm too far inset. Under the hood lies the 3.6 liter all-aluminum V8 which appears visibly better than most with a timing belt service approximately 25,000 miles ago. The fact that the mileage on the timing belt was documented via label maker perhaps points towards careful and thoughtful ownership (or a pedantic mechanic), but being complicated older Audis there's still plenty to go wrong. The early V8s are noted for transmission failures – the cause of the death of a majority of the early examples, so you'll want to make sure that's serviced too. Performance won't light a fire under you since the 240 horsepower – while the most in the Audi lineup – was still saddled by the automatic 4-speed and 4,000 lbs., but they're still great highway cars that are very comfortable. Is this the one to get? It's certainly not a bad example and it comes to the market far above average condition for the model, yet is priced probably around its correct value. But the pool of people interested in these early V8s is very small; most of the people that really want one already have one – or they had one, and are waiting for just the right example. This one's pretty close, but it's not "the one". It's still worth saving, though the potential for it to be an exercise in self-mutilation means your friends may start referring to you as a flagellant.
-Carter