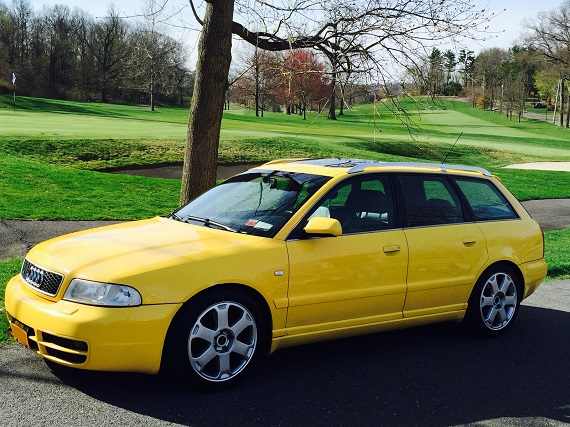 For some time, the B5 S4 was dismissed by a fair amount of enthusiasts as a heavy, complicated car. Truth told, the B5 seemed a bit of a let down initially compared to the already gone and instantly legendary C4 S4/S6 with the venerable inline-5 power plant. But Audi had a new range of motors when it came to the B5, and the inline-5 did not really fit under the more compact hood in the lineup. Replacing the single turbo 5-pot was a new 2.7 liter V6 with not one but two turbochargers. Despite that, performance seemed a bit tame; 250 horsepower was nothing to sneeze at, but it was only a bit more than the outgoing M3, after all. However, the B5 had a few trump cards over its competition. Of course, the major one was that quattro all-wheel drive continued to be the high-performance platform for Audi. In this guise, the lockable options were completely removed from the driver, instead having the computer's brain work electronically locking differentials coupled with electronic stability. While the combination of these things didn't sound like an enthusiast's dream, out of the box the S4 was a quite competent performer. Of course, the big bonus with turbocharging was that there was a tremendous amount of performance potential on tap with some upgrades. Free up the exhaust and turn up the boost, and these Teutonic turbocharged wonders went from tame to terror. There was one other major trump card the B5 had over the competition; as with the last of the run C4 S6s, Audi finally allowed their fast wagons to come over to these shores. They were an instant hit amongst the Audi faithful, and brought many more customers over to the four rings from other marques as well. Arguably the most popular were the two wild color options; the ever popular purple-blue Norgaro Blue and the retina-searing shade of Imola Yellow. Only a reported 64 Imola Yellow Avants were imported between 2001 and 2002, making it one of the more rare B5s produced. Paired with a 6-speed manual gearbox, these Avants have stood the test of time and are still highly sought by enthusiasts: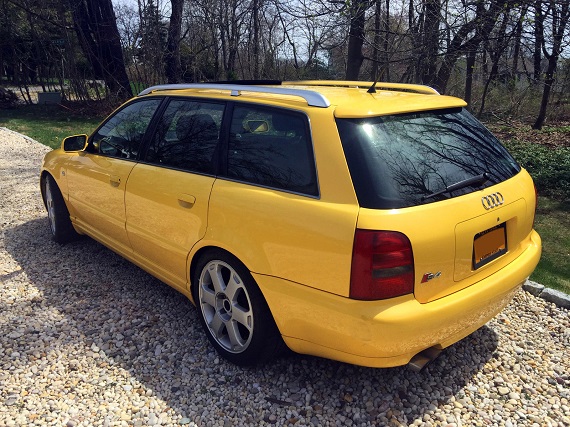 Year: 2001
Model: S4 Avant
Engine: 2.7 liter twin-turbocharged V6
Transmission: 6-speed manual
Mileage: 182,000 mi
Price: $9,999 Buy It Now
Car is in fantastic shape and everything works on it. It is a 2001 Audi (B5) S4 Avant Quattro, Imola Yellow exterior with Black leather interior.

Just Completed: It has BRAND NEW Tires, Wipers, Battery, and Oil Change. Also did a recent Emissions inspection (all this 3 days ago)

This is a NO-EXCUSE car and ready to go! All necessary maintenance has been done including timing belt, water pump etc.
Recent overhaul of entire brake system, Suspension system.

I will have all 4 wheels repainted before delivery to new owner

Adult driven. Many highway miles between Pennsylvania and Maine and everywhere in between. Oil changes every 3,000 miles. Maintenance done religiously. I am a meticulous owner that has a need for everything being correct, renewed and overhauled…. look at the extensive list below and you will understand.

Highlights of this vehicle:
-ABS
-Airbag Driver, Passenger and overhead
-Telescoping Steering Wheel
-Fold-flat rear seating
-Heated Seats
-Moon Roof
-6-speed manual transmission
-twin-turbo 2.7 liter engine
-produces 20-23 psi of boost (depending on which gear you are in)
-"quattro" four wheel drive system
-performance air intake system
-performance exhaust system
-performance ecu remapping, car specific, moderate tune
-coil over suspension system
-uprated brake system
-RS4 parts
-euro parts
-uprated lighting system
-many brand new OEM parts
-Adult Driven, many highway miles
-never raced
-no accidents
-above range AutoCheck score!!

Exterior Items that were changed:
(1) RS4 front grill with new S4 badge
(2) RS4 rear spoiler
(3) OEM right side electrochromatic mirror
(4) headlights: removed amber corners and added chrome to amber bulbs (they look chrome but light up amber)
(5) headlight xenon ballasts upgraded from 35w to 55w
(6) foglight converted to matching xenon lights with 55w ballast I will convert back to stock if winning buyer prefers
(7) high beam H7 bulb to philips I will convert back to stock if winning buyer prefers
(8) euro rear tailights, blinkers are amber, reverse light with LED projector bulb easily changeable back to original
(9) front and rear aeroquip wiper arms and blades (these are original Audi parts) I will convert back to stock if winning buyer prefers
(10) OEM new driver door hinge, has that crisp feeling when you open and close the door
(11) OEM new rear trunk shocks
(12) OEM new rear trunk trim (upper and lower trims i got the last ones in the country!)
(13) OEM new both external temperature sensors and interior cabin filter
(14) OEM wiper assembly with new motor
(15) OEM new engine cowl trim and battery cover

Interior items that were changed:
(1) RS4 matte black door openers
(2) RS4 piano black trim in all doors, dashboard, astray, center console (9 pieces all together)
(3) euro driver side knee bar (underdash trim) with extra storage compartments, you can have the original item that came with the car
(4) OEM new both front door upper speaker trims
(5) OEM new both front door grab handles
(6) OEM new driver door window switch trim
(7) OEM new hazard switch
(8) OEM in-dash cup holder
(9) OEM cigarette lighter car has never been smoked in
(10) Instrument Cluster integrated Boost Gauge
(11) all speakers are Focal Speakers you can have the original speakers that came with the car if you would prefer these
(12) OEM center arm-rest cover
(13) OEM new right door inner trim for mirror
(14) OEM sun visors left and right

Suspension, Engine, and Mechanical upgrades/maintenance:
(1) Ecu with moderate chip, Forge Blow-off Valves
(2) PPI Cone Air Filter intake system I will convert back to stock if winning buyer prefers (only if i still have the parts, might have thrown them away)
(3) Exhaust system from cat-back
(4) OEM all brand new control arms, tie rods, upper control arms
(5) stassis street coil-over suspension, currently the car is at moderate height and can go lower or higher if you prefer
(6) street density subframe bushings all around
(7) aluminum engine tray (better suited for our roads over here)
(8) OEM both rear axles
(9) electric cooling fan, this works much better then the original system, I will give you the original system if you would like to have it to install at a later time (for whatever reason)
(10) OEM new brake master cylinder
(11) OEM new exhaust gas temperature sensors, both of them! This was absolutely the most amazing thing i did with the car!
(12) OEM new timing belt service, tensioner, water pump, thermostat,
(13) apikol rear diff bushings and carrier,
(14) OEM new rear crossmember,
(15) rear differential mount,
(16) transmission mounts,
(17) OEM new expansion tank,
(18) new tires, Michelin Pilot Super Sports
(19) brand new OPTIMA battery (if you do not know what this is, this is the top of the line battery)
(20) OEM new handbrake cables
(21) front and rear spacers

The Good, The Bad, The Ugly section:
(1) front hood clear-coat is coming off (see photos)
(2) front bumper in need of repair and repaint (see photos)
(3) front right fender has rust at lower edge (see photos)
(4) rear trunk lock seized, opens and locks with remote, but you cannot turn the cylinder with a key
(5) center display has pixelation problem, i had this fixed…and a few years later it is happening again, i was not interested to fix this again
(6) one motor in the passenger seat stopped working, i assume this is a simple fix…. its an electric motor
(7) rear center seat headrest does not have that stiffness like all the others, so it stays down (hey… i am telling you everything in case you can't come see the car)
(8) rear bumper could use a repaint as well (see photos)
(9) left rear window chrome trim, not perfect

Other Items:
All tools come with the car
2 sets of keys
1x oem hubcaps (i like the look without them on the car)
S4 engine shield
S4 license plate frame
euro Hazard Triangle

NOTE: I will be listing a separate auction for what i call my "Winter kit":
4x Snow Tires
2x Audi Sport front rubber matts
1x Audi Sport rear heavy-duty trunk liner

i love this car, i love this car, i love this car!! it puts a smile on my face every time i drive it!! It's Imola Yellow, one of the rarest colors for these cars. I am not going to tell you i need to sell it, i am not going to give you any BS about my wife…. I recently bought another car…and now have 5 cars in the driveway now… it's becoming a logistical nightmare for me, that's all.

Car is being sold AS-IS, no warranty implied with this vehicle. This car is my daily driver, i anticipate that i will put on an additional 200 miles before the car is sold (so, up to 182,200). Keep in mind, I am not a mechanic, the service bills and maintenance speak for themselves. You are welcome to come and inspect the car if you would like. I will accommodate all request besides joyrides. Adult owned, adult driven. Put gas (do your oil changes) and go!

GOOD LUCK!!!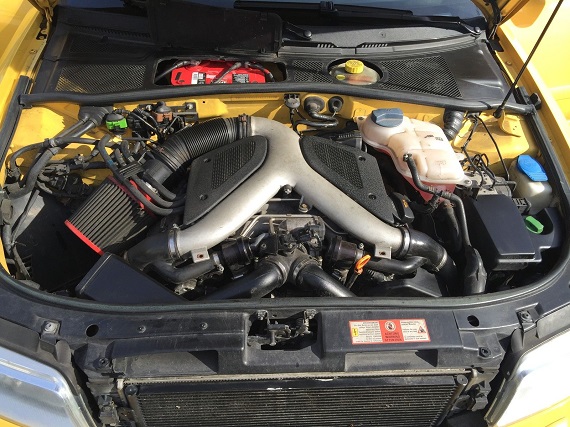 While the C4 enjoyed a fringe community of enthusiastic fans and aftermarket support, the B5 chassis really brought Audi front and center in the tuning community. The existence of Audi's own super-version of this car, the Cosworth-tuned RS4, made upgrades all the easier and showed the potential of the chassis. This car has many subtle but notable upgrades; the Stasis suspension and mildly tuned motor leave adjustability on the table without being too outrageous. The RS4-sourced bits are also clever and tasteful additions that help to set the car apart. Overall condition appears to be above average; these Avants were often used and used well, so it's not surprising to see higher mileage and some wear. It's nice to see the original Ronal-made Avus alloys which really suit the design well, and inside the black leather looks inviting for you and your small family. A few of the issues are quite typical to the chassis and VAG products of the period; my Variant's trunk lock is also similarly frozen and the pixel problem is pretty well documented, so no surprises there. Those issues are also balanced by recent maintenance including new tires and new battery, along with lots of OEM trim items that have been replaced. What is surprising is the longevity of the V6 twin turbo motor; living in the shadow of the notoriously long-lived C4, the B5 wasn't really immediately considered a suitable replacement. However, several B5 S4s I know of have ticked over 300,000 miles and are still pulling strong, a testament to still quite strong build quality. And despite a still hefty weight and not much more power, this chassis feels decidedly more sporty than the C4 felt – yet it's still at home for high-speed long distance dashes. The recent revelation that the B6/B7 S4 V8s are problematic has turned attention back towards the B5 generation, a trend which is helped by the still quite enthusiastic and supportive community that drives them. While there is no magic bullet in the used car market, the B5 S4 Avant is a car that wears many hats; commuter, family car, winter wagon, sports car. Despite this, it manages to do all of them well with style – and virtually everyone who has driven them, this author included, will tell you that the experience put a smile on their face. It's a reminder of what I wish Audi still imported to the U.S.!
-Carter