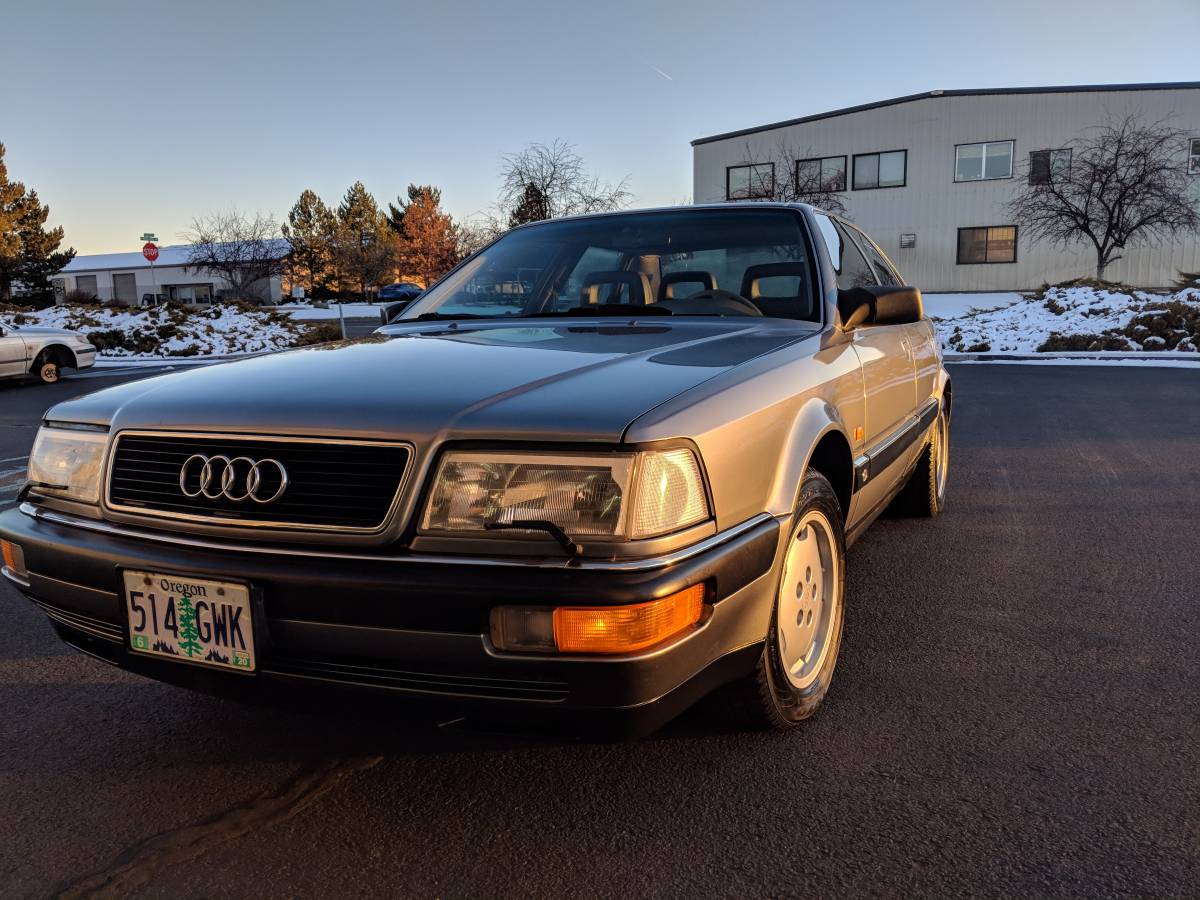 From the dated underpinnings of the Type 44 chassis, Audi emerged in 1988 with an all-new 4-cam aluminum engine that could be mated to an automatic transmission. Now, to most enthusiasts that probably sounds like a bad idea. But when it came to selling car – especially expensive luxury cars – the overwhelming majority of buyers wanted the car to do most of the heavy lifting. Audi's response was the next generation of quattro drivetrains with a series of clutches in the center differential that helped to transfer power and allowed the car to be mated to an automatic transmission. That transmission – the ZF 4HP24A – was a derivative of the 4HP24, the same automatic found in the V12-equipped BMW 750 and 850s. Like the Mercedes-Benz, Audi employed Bosch ABS and a locking rear differential. But unlike other Audis with their manual- or electronic-locking rear differential, the V8 quattro used a Torsen rear differential with helical gears which would automatically split torque in up to a 3:1 ratio to the wheel with grip. Coupled with a more rearward weight bias with the shorter V8 and the gutsy torque on offer throughout the rev range, though much of the car was borrowed from the rest of the lineup it took on an entirely different character. That was matched with new, updated bodywork outside and a wider stance with flared arches. The effect? Magical. And, complicated.
But the V8 quattro wasn't only about its unique new form of all-wheel drive. The moniker obviously indicated there had been a change in motivation, too, and indeed the V8 launched a new all-aluminum 4 cam, 32 valve V8 displacing 3.6 liters dubbed the PT. Rated at 240 horsepower and 254 lb.ft of torque, it was the most powerful Audi for sale in the late 1980s and brought the brand to a luxury level it had previously not competed at. In the U.S., these mega-Audis were met with mixed success. The 1990 launch of the V8 resulted in reasonably good sales; Audi sold 2,823 between late 1989 and the end of 1990 which represented over 10% of their yearly sales. Values in the used market plummeted after timing belt fiascos on early cars and the general recession of the early 90s, along with the '92 launch of the turbocharged, manual and later Avant-equipped S4/S6 twins. Today, we it's a bit of a treat to see a clean V8 quattro, and this looks to be one of the better examples out there for sale: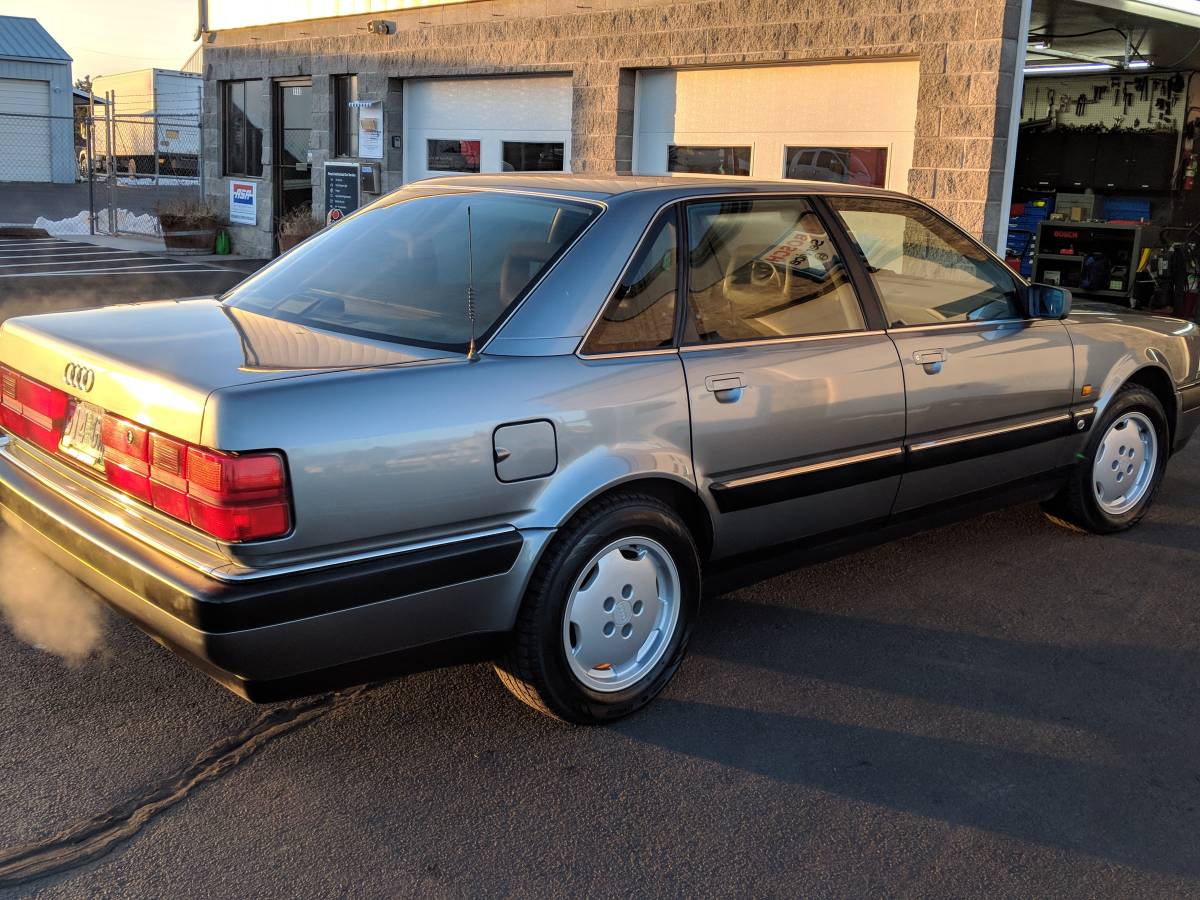 Year: 1990
Model: V8 quattro
VIN: N/A
Engine: 3.6 liter V8
Transmission: 4-speed automatic
Mileage: 80,214 mi
Price: $4,500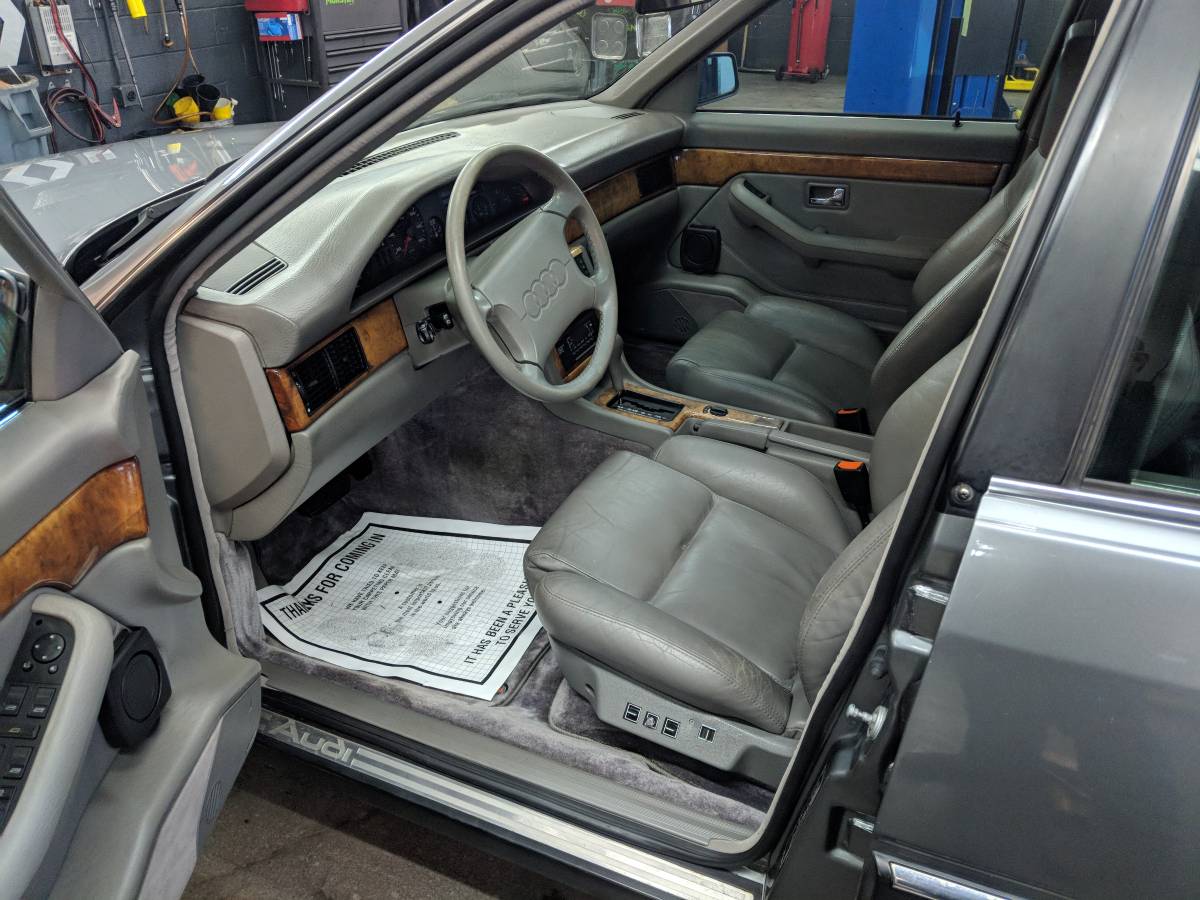 Here is your chance to own a rare 1990 Audi V8 Quattro 3.8L V8 automatic. It's a two owner car and is in immaculate condition. Only 80,000 original miles. Must see to appreciate it and get lots of compliments. Vehicle was top of the line when it was new and is fully loaded. It has front and rear heated seats. Gets on average 20mi to the gallon. Clean title. $4500 OBO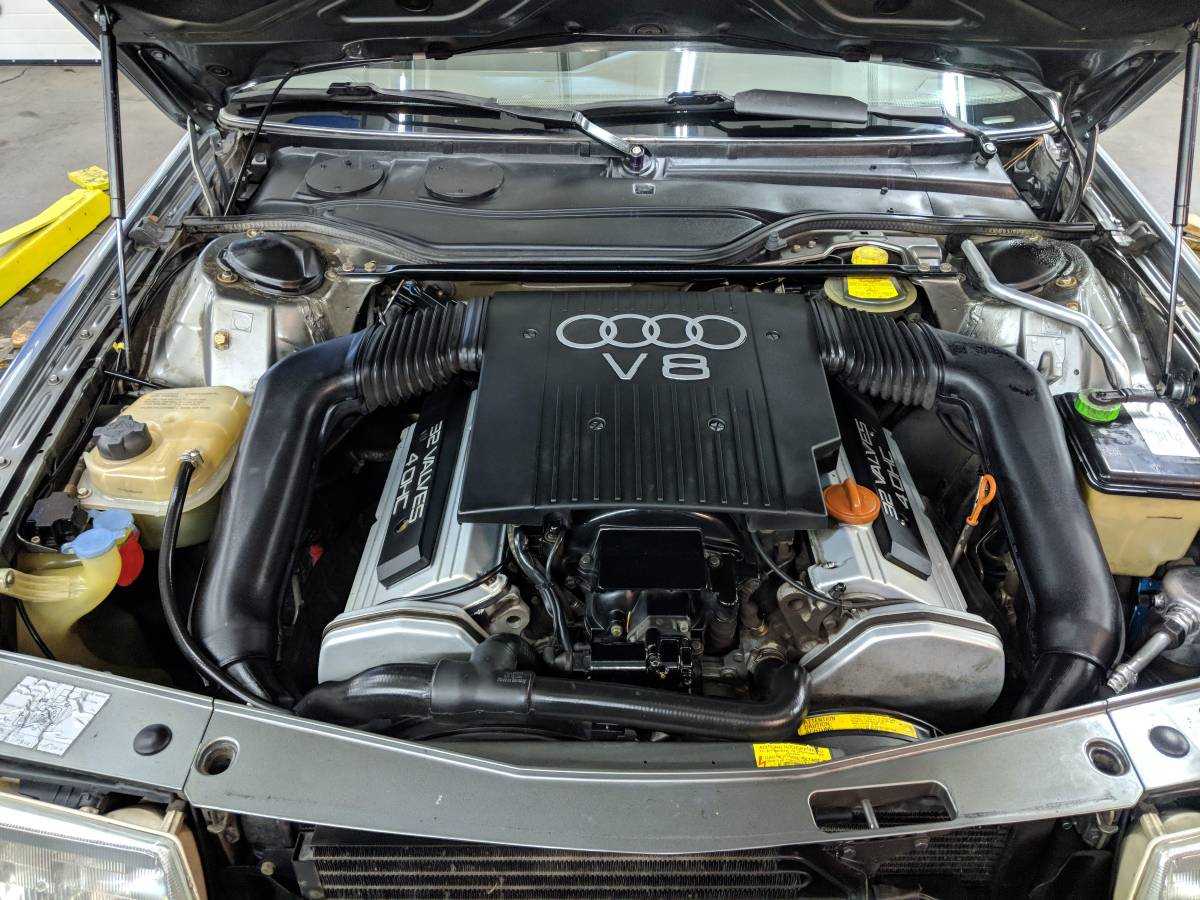 The result of the complexity, character, and scarcity of the D11 was that the V8s developed a unique fanbase separate from most of the other models. The Phantoms of the Four-Ringed Opera, these cars have long-lived in the shadows, myths that are only seen rarely, cars no average mortal would consider owning. The social pariahs who do own them are even more strange, lurking in the dark corners of the internet muttering "NLA" to themselves while figuring out creative ways to keep their coveted creations running, mostly though cannibalization of others. It seems Audi managed to pull off the unfathomable achievement of creating a whole new and unique set of VAG problems specific to the V8.
This one appears to have been spared the ravages of time and most of the typical problems associated with the chassis. Little information is included in the ad, but this one appears to be Stone Gray Metallic with the rarely seen Platinum sport seats. Mileage is low (in the realm of old Audis, anyway) and it appears to be all original. That probably means it retains the 'UFO' floating rotor design in the front. This is generally a negative for most today, but it's easily sorted with later S4/S6 uprights and a swap to conventional G60 Girling calipers. I'd also plan on a timing belt change, it probably needs a cleaning of the throttle body and cruise control unit, and early cars suffer transmission failure too from getting a bit too toasty, so plan a fluid swap there. But one can't argue with the asking price, which is a very reasonable $4,500. You can get V8s cheaper than this, but you probably shouldn't get a V8 cheaper than this unless you're planning on more of a project. As this car sits, some preventative maintenance should yield you a refined and rare comfortable cruiser to roll into a local show. These cars are every bit the match of the contemporary Mercedes-Benz and BMW designs, if not being a bit more technically interesting and better to drive. There's a reason they won the '91 and '92 DTM championship, after all, over lighter and purpose-built cars like the M3 Sport Evolution and 190E 2.5-16 Evo II. The 90s and 91s also lacked all badging outside of the rings – one of their most endearing qualities to me. You have to know what you're looking at. Most will have no idea what you're driving or why it's special – but in the realm of having talking points to discuss, you'll have them all beaten.
Thanks to our reader Gary for the spot!
-Carter