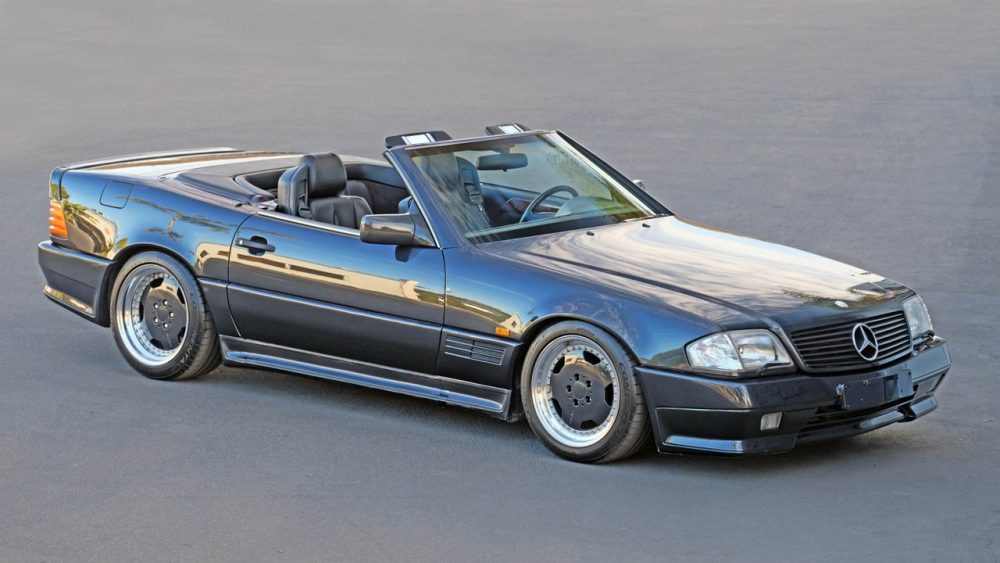 I promise that this will be the last Mercedes-Benz R129 for a while. It's just that I ran across this car and if you look at the title, you know it is something special. This is a 1990 500SL 6.0 AMG with just under 22,000 miles. The backstory on this car is that it was originally commissioned by the Jordanian Royal Family in 1990 but for whatever reason never made it there and ended up in Japan. This car was built as a normal 500SL before being transported to AMG's facilities in Affalterbach for the full conversion. The biggest change to the car was of course the M119 being converted to a 6 liter which increased power to 380hp and 428ft-lb of torque. Those are respectable numbers even for today, never mind in 1990. Now it is up for sale in San Diego and ready for a new home.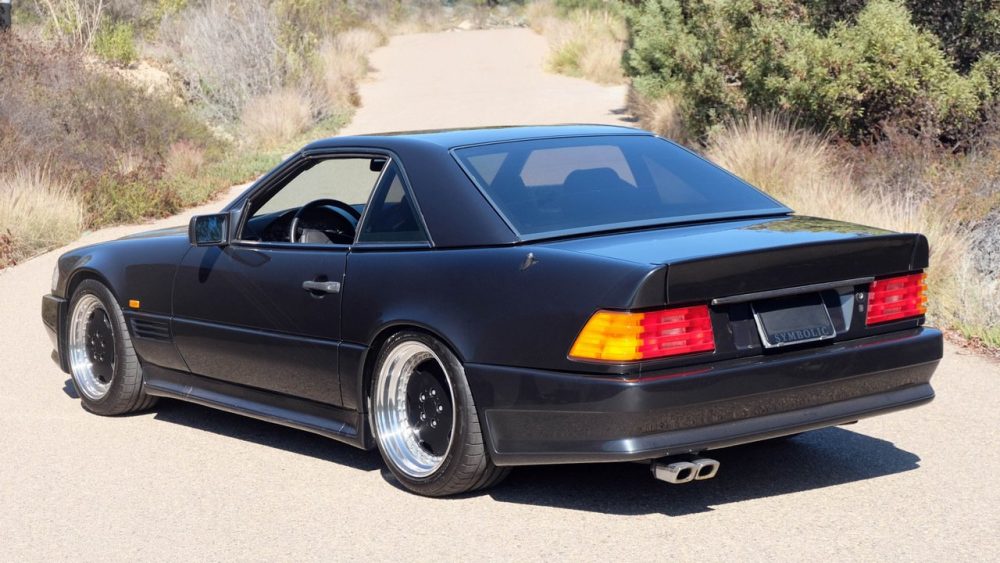 Year: 1990
Model: 500SL 6.0 AMG
VIN: WDB1290661F017341
Engine: 6.0 liter V8
Transmission: 4-speed automatic
Mileage: 34,911 km (21,692 mi)
Price: On Request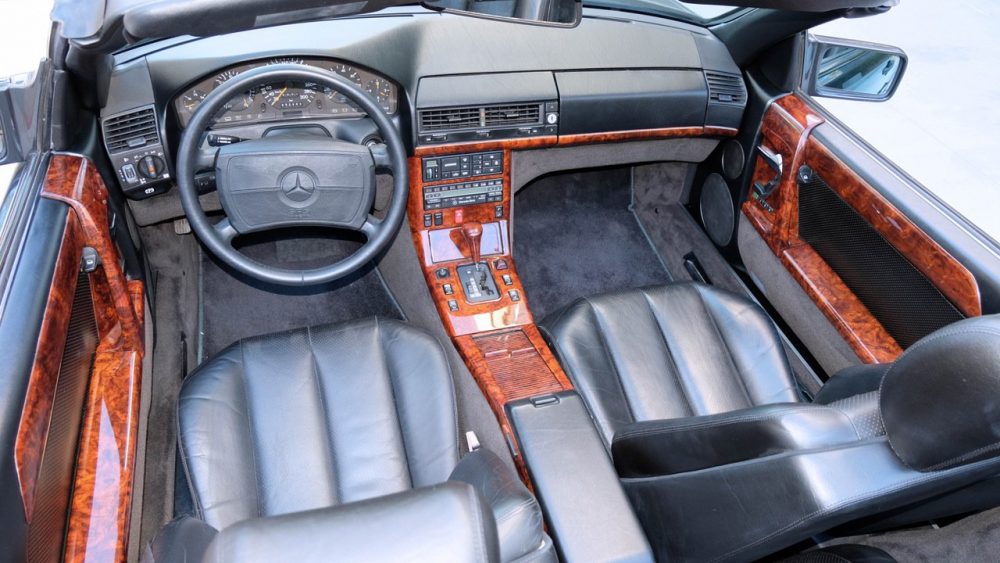 1991 Mercedes Benz 500SL AMG 6.0

Year 1991
Make Mercedes Benz / AMG
Model Mercedes Benz 500SL AMG 6.0
Type R129-066 12
VIN WDB1290661F017341
Engine No 119960-12-009675
Gearbox No 722353-03-000042
Commission No 0 0 843 10114
Production No 0811862 2
Destination Kingdom of Jordan (Royal Family)
Completion Facility Bremen, Germany
Mercedes Completion Date September 2nd, 1990
Mercedes Delivery Date September 13th, 1990
AMG Completion Date December 1990
Exterior Paint "Blauschwarz" blue/black metallic (Code 199)
Interior Color Anthracite Leather Seating front and rear (Code 271A)
Total Original Mileage 34,911 Kilometers / 21,692 Miles

Option Codes:
— Bosch Special Lighting System
— Bosch Special Headlight System
-199 "Blauschwarz" blue/black metallic Exterior Paint
-241 Left Full Power Seat with Multi-Mmemory Function
-242 Right Full Power Seat with Multi-Mmemory Function
-246 Mirrors with Memory Functions
-271A Anthracite Leather Seating front and rear (Code 271A)
-283 Body Wind Draft Deflector
-363 Unknown
-440 Cruise Control and airbags
-442 Passenger Side Automatic Belt Tensioning
-444 Combined Code 440 and 442: Cruise Control and airbags (driver side) with belt tensioners (passenger side)
-452 Dual-Tone Horn System
-481 Body Under Shields
-490 Windscreen Heater Deleted for Tropical Climate Delivery
-538 Automatic Antenna and Speaker System without Radio Installation
-551 Anti-theft Warning System with Immobilizer
-565 Special Fitted Rear Seating and Restraints Instead of Cargo Tray
-581 Automatic Climate Control System
-592 Heat Insulating Glass all Around with Darker Upper Windscreen Band and Rear Laminated Window
-600 Bosch Headlamp Washing System
-682 Fire Extinguisher
-740 Folding Top Fabric in Black
-828 Elimination of Exhaust with Emissions Equipment / Sport Exhaust System
-873 Heated Front Seats
-880 Remote Control Infrared Locking System
-881 Special Headrests

Background:
AMG was founded as a racing engine forge in 1967 under the name AMG Motorenbau und Entwicklungsgesellschaft mbH (AMG Engine Production and Development, Ltd.), by former Mercedes engineers Hans Werner Aufrecht and Erhard Melcher in Burgstall an der Murr, near Stuttgart. The letters "AMG" stand for Aufrecht, Melcher and Großaspach (Aufrecht's birth Town). In 1976 most of AMG moved to Affalterbach, with the racing-engine development remaining at the old location in Burgstall. At this time Erhard Melcher ceased to be a partner, but continued to be an employee at the Burgstall location.

From 1986 to 1992, interest and the desirability of AMG tuned and prepared Mercedes Benz road cars bordered on the obsessive with demand and interest far exceeding the small firms capabilities to keep up. These facts were not overlooked by MB corporate personal and in 1993, Daimler-Benz AG and AMG signed a contract of cooperation, allowing AMG to leverage Daimler-Benz's extensive dealer network and leading to commonly developed vehicles (the first one being the Mercedes-Benz C36 AMG, in 1993). On 1 January 1999 DaimlerChrysler, as it was called between 1998 and 2007, acquired 51 percent of AMG shares, and AMG was renamed to Mercedes-AMG GmbH.[4] Racing engine development was divested and continues to exist in Burgstall under the name HWA (Aufrecht's initials). On 1 January 2005 Aufrecht sold his remaining shares to DaimlerChrysler, and since then Mercedes-AMG GmbH has been a wholly owned subsidiary of Daimler AG.

1986-1992 The Golden Years of AMG:
The release of the AMG Hammer sedan in 1986, based on the W124 E-Class, took AMG's performance modifications for a fast midsized sedan to a new level. AMG made the world's fastest passenger sedan at the time, nicknamed the Hammer, by squeezing Mercedes 5.6-litre V8 tuned by AMG to 360 hp into a midsized sedan. It was very aggressive for the era, with 32-valve cylinder heads and twin camshafts, and said to be faster than the Lamborghini Countach from 60 to 120 mph. Later models were even more powerful and introduced the 17-inch AMG Aero 1 Hammer wheels. 1986 was also the year Mercedes introduced the 560 M117 engine. This provided yet another opportunity for customers to order the largest AMG displacement available at the time, these 6.0-liter with 100mm bore SOHC or DOHC engines available for both the W126 coupe and sedans.

1990 AMG 560SEC 6.0 Wide-Body "Widenamebody":
AMG received a series of orders from several prominent Japanese Private Museums and Collectors in the late 1980s. Shortly thereafter the first of a handful of fully re-engineered 560 SEC 6.0 "Wide-Body" Coupes fitted with the ultimate development of the already legendary M117/9 V-8 engines appeared in several Japanese motor shows. The engines were now fully developed to 6.0-liters with radically improved cam and ignition timing on the quad-cam, four-valve cylinder heads. Massive increases in bhp were achieved but more impressive was the fact that these machines now produced more than twice the torque and at 1/2 the rpm of the original MB Factory design. The result was un-heard of performance in an utterly reliable overall package that came with the same warranty as provided new by the MB Factory. Such performance and utter exclusivity came at a steep cost. Individual sale prices varied but they were now all in excess of $200,000 and even at that level, there were long wait lists and very few such examples were completed.

1991 Mercedes Benz 500SL AMG 6.0:
In the Spring of 1990, while production of the 560SE 6.0 "Wide Body" coupes was well underway, AMG began quietly taking special request orders for a R129 / 500SL Roadster based version with the same 6.0-liter, quad-cam, four-valve V8 found on the SEC wide-bodies. The handful of examples completed were done so with little fanfare or public announcement. AMG officially states that 12 examples were completed but most experts believe that number is far to low and that at least 30 were completed for the European market and another 25 for the Japanese market. There is a separate source that states upwards of 100 examples were eventually completed but most feel that number is too high. Unfortunately AMG's pre-merger records are poorly organized and not alway accurate. None of these rare AMG variants initially came to the States through official channels but over the years a handful have been privately imported. Part of the reason for the low production numbers was a result of the shortened one-year only production run from September of 1990 to July 1991 of the model. Several were acquired by Prince Hakim and Prince Geoffrey (Sultan of Brunei.) At least one remained in Germany with a private enthusiast and several found their way to Middle Eastern and Persian Gulf State owners. In 1992, AMG stopped taking orders on the 500SL 6.0 to focus on the new SL60 and the all new class of 7.0 and 7.3-liter V12 models that would soon be released.

WDB1290661F017341 Individual History:
This particular 500SL AMG 6.0 was a unique special order, special request example that came from the Jordanian Royal Family in Amman, Jordan. The specific order originated with Mercedes Benz Commission No. 0 0 843 10114 which assigned assembly to their Bremen, Germany facility. The order came in the Summer of 1990 with completion taking place on September 2nd, 1990. The original Mercedes Factory Assembly Records provide fantastic detail on the special options incorporated into this vehicle's assembly. No fewer than 27 individual option packages were identified on the original assembly sheets. (A complete listing of these can be found above as well as on the attached assembly summary sheets.)

Less than two-weeks later, this vehicle was delivered under a "Tourist Delivery Package) by overland transportation to AMG's facilities in Affalterbach, Germany for conversion to AMG 6.0 specifications. These modifications included increasing the bore and stroke with special AMG Rods, pistons and hardened steel crankshaft which increased displacement from the stock 5.0-liters to 5,955cc (6.0-liters.) The modifications increased engine output to an astounding 380BHP and 428ft-lb at just 3,750rpm! Additional modifications took place to the suspension, interior and body work. Completion of the work at AMG was finished by the end of September, 1990. For unknown reasons, the original order from Amman, Jordan was cancelled and the vehicle instead remained at AMG until finally being sold to a private Japanese museum collection. Shortly after arrival on November 28th, 1992, it was road-registered on new Japanese plates "33 5417." There were several changes of ownership over the next 26 years between two additional museum collections and several dealers before this rare AMG was purchased by our company in July of 2018. The original Japanese road-registration and DMV extra documents fo this vehicle have been preserved. They are an absolute treasure as they confirm engine displacement for the vehicle was 6.0-liters instead of the standard 5.0-liters. It remains the only example we have encountered so far with documentary evidence of this sort.

WDB1290661F017341 Today:
This completely accident and rust free AMG has just had complete service and safety checks performed. Even the tires were replaced and all the vehicle is "turn-key" ready for any manner of enthusiastic use. This is an all matching numbers example with full documented history from new. Please contact me for additional assistance with the purchase of this vehicle.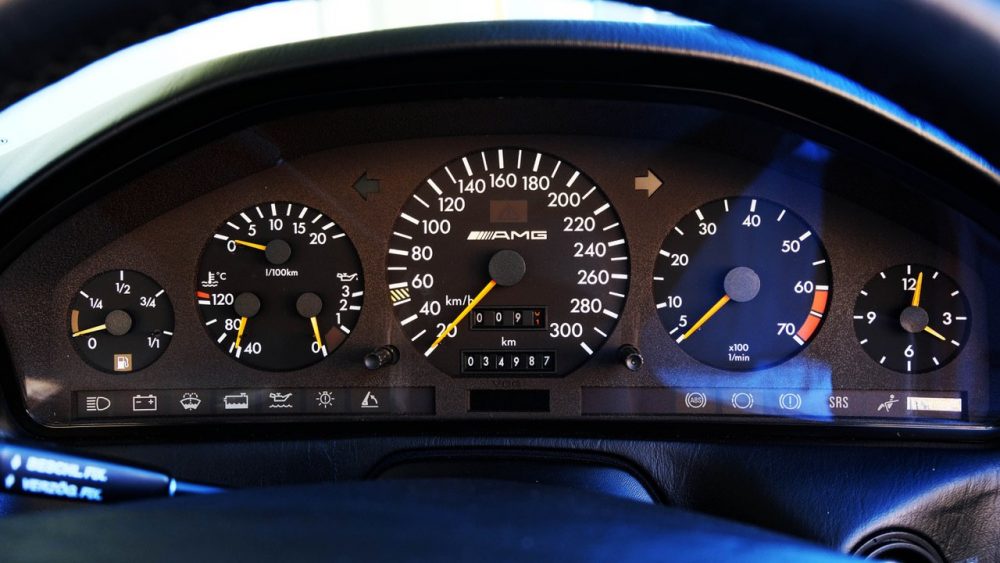 The seller does a really excellent job of telling the story on this car and it probably has one of the more comprehensive backgrounds of these pre-merger AMG cars that I've run across. As for the car itself, it looks every bit the part of a prime example and surely looks like it has just 22,000 miles. The exterior looks great and the extra wood that AMG added on the doors really sets the car off. None of it is faded and still has that deep shine that the burl wood on these cars originally had when new. I'm a little disapointed there are no shots of the engine since they took a ton of photos of everything else, but I'll assume it is as clean as everything else on this car.
The price? Well, there is no price listed but I assume it is not cheap at all. This same dealer also has a Gullwing, Bugatti EB110 GT and LaFerrari for sale, so dabbling in inexpensive cars probably isn't their forte. If I had to take a guess, I would bet at least $75,000, if not more. This is one of the best R129s, let alone pre-merger AMGs, I've seen in a while. I'd wager that whatever the price is, it probably is worth it.
– Andrew