It's often difficult for a second act to follow a legend, and that's just what the C4 S4 had to do when it launched for U.S. customers in 1992. The Type 44 was already a fan favorite before the 20V version appeared here briefly for the 1991 model year, with wider flared track, bigger brakes, and more power. To answer fans, Audi introduced an even more potent version with the S4; even bigger wheels, lower suspension, and a few more horses were encased in a thoroughly modern shape, yet one that was easily recognizable to fans of the brand. With a reputation for smooth power delivery and still the market cornered on all-wheel drive performance luxury vehicles, Audi's new S4 sold out almost immediately in a period when the European makes had difficulty moving their expensive wares.
But the Type 44 still held one advantage over its replacement; as we saw recently, an optional fifth door. While the Avant version of the new 100 was available immediately, there was no range-topping S4 wagon brought here. That was finally remedied with the relaunch of the now renamed S6 Avant for 1995. With smoothed out bumpers, revised passenger mirror, rolling changes such as new Speedline Avus 6-spoke wheels replaced the Fuchs that the S4 wore, and headrests became closed. There were more changes with the "95.5" model; the infrared remote locking became radio frequency and the B-pillar receiver disappeared; so, too, did the option to lock the rear differential yourself, as Audi opted to work in an electronic differential lock utilizing the ABS speed sensors rather than a physically locking rear end.
These were really only minor changes to the recipe, which at its roots remained a fan fantasy. The traditional inline-5 that had hung out of the nose of the high-end Audis was still there, with its dual-cam head augmented by electronic fuel injection and electronic boost control. The turbo spun up quickly and had an overboost function, giving drivers 227 horsepower and 258 lb.ft of torque to be mastered solely by a manual transmission with Torsen center differential. Form-fitting electric sport seats kept front passengers firmly planted in place through the prodigious grip generated by the meaty 225 section tires. Combined with the prodigious space the Avant offered families and the ability of these cars to eat up highway miles with aplomb regardless of weather, not to mention the incredible tuning potential of the AAN 20V turbo, they've become highly sought steeds with a very limited pool of around 300 originally imported: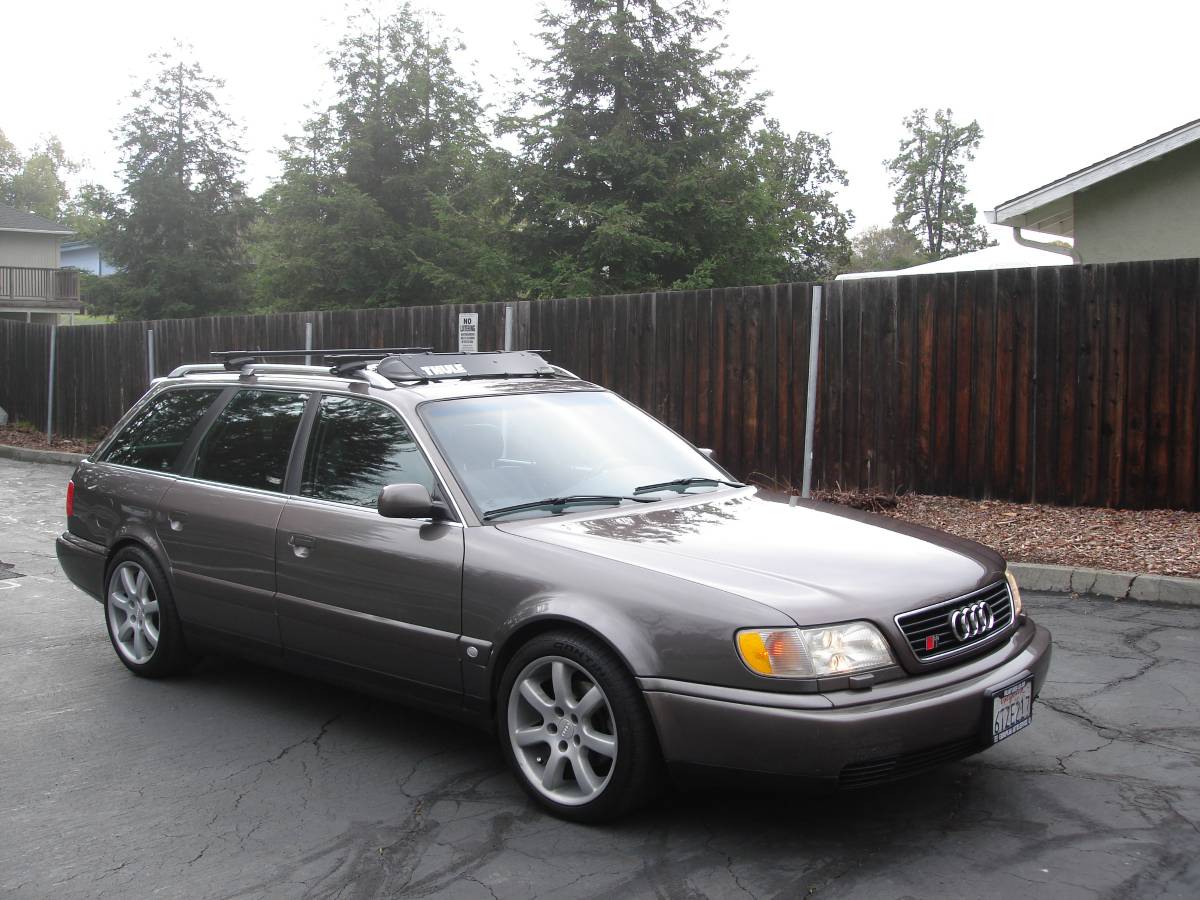 Year: 1995.5
Model: S6 Avant
VIN: WAULA84AXSN121309
Engine: 2.2 liter turbocharged inline-5
Transmission: 5-speed manual
Mileage: 107,624 mi
Price: $15,000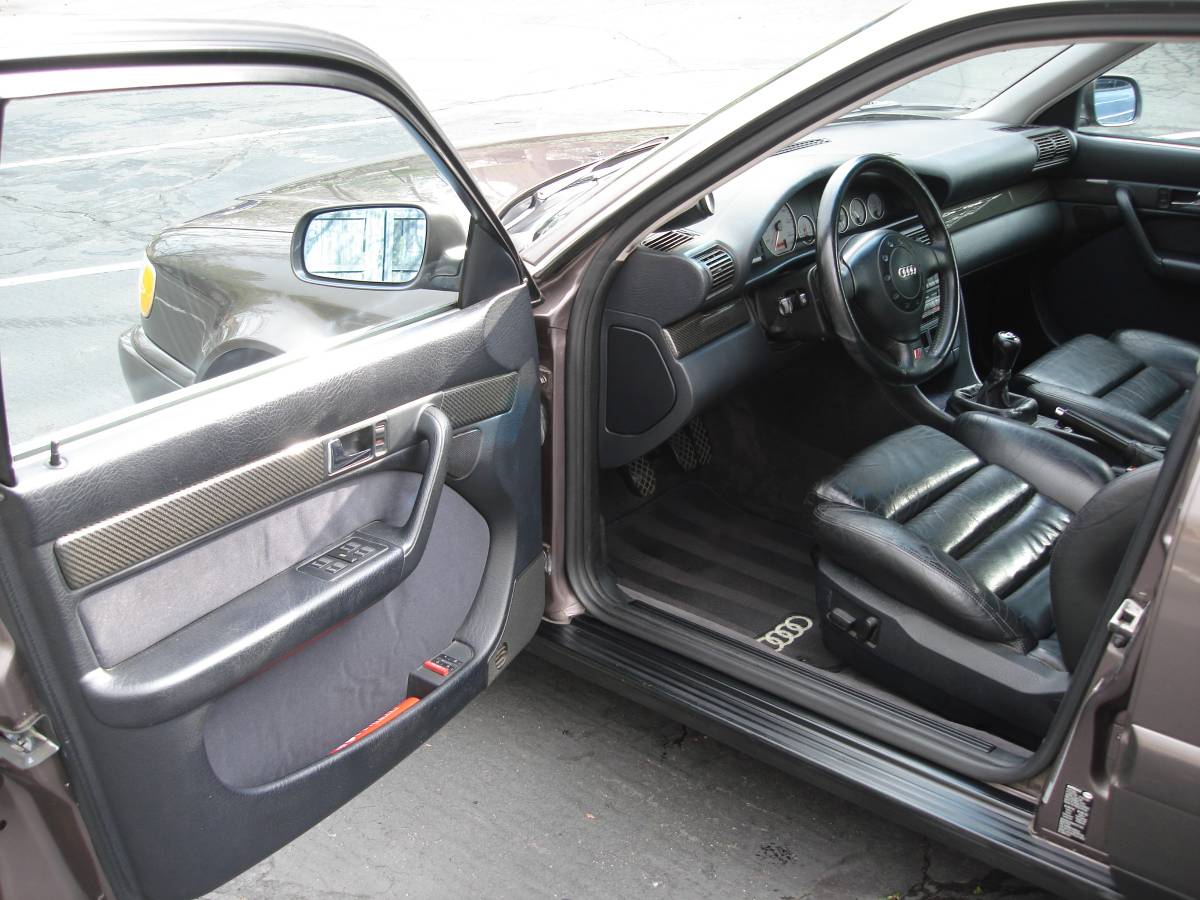 1995.5 Audi S6 Avant Cashmere Grey with Black Leather Interior from Northern California
Here is your chance to own a rust free, low mile, & mildly / tastefully modded UrS6 Avant.
Only selling because I have too many Audi's, shrinking down the herd.
This is my 5th 95.5 UrS6 Avant that I have owned out of only 300 imported.
107k mile garaged California Avant.
Basic services done every 4k miles with Swepco engine oil.
Full service & preventive maintanance at 90k included: timing belt, tensioner, lower crank pulley, rollers, drive belt, water pump, thermostat, spark plugs, air filter, cabin filter, fuel pump, fuel filter, fuel pump relay, oxygen sensor, rebuild front axles with inner and outer boots with grease, rebuild power steering hose, front and rear complete brake job with new rubber brake hoses.
Modifications: Mihnea Cotet custom made software for 91 octane fuel, pillar mounted turbo boost gauge, metal intercooler lower cross over pipe from UrS4, H&R lowering springs with Koni Yellow Sport Shocks, 2 Bennett front camber plates, rare 17×8.5 ET34 Ronal R28 wheels, Stromung full exhaust with downpipe catalytic convertor & extra catalytic delete pipe if you prefer, 2 watt instrument cluster bulbs, genuine UrS4 carbon fiber trim.
Keep in mind the car is 24 years old, interior is in very good condition and the paint job is not in a show room condition with few scratches and couple of dents.
If you are looking for a solid rust free low mile UrS6 Avant here it is.
Under the hood the engine, and components are coated with Nyalic Clear Coat protection.
Extra parts that come with sale of this Avant: black dashboard, center tunnel with switches & radio, left and right UrS6 rust free fenders, 4 complete doors with glass, door panels, regulators & motors.
All work is done by me, no expenses spared, and at my European Autoservice Shop in Walnut Creek, CA.
Price is $15,000
Thanx for your time.
Tomas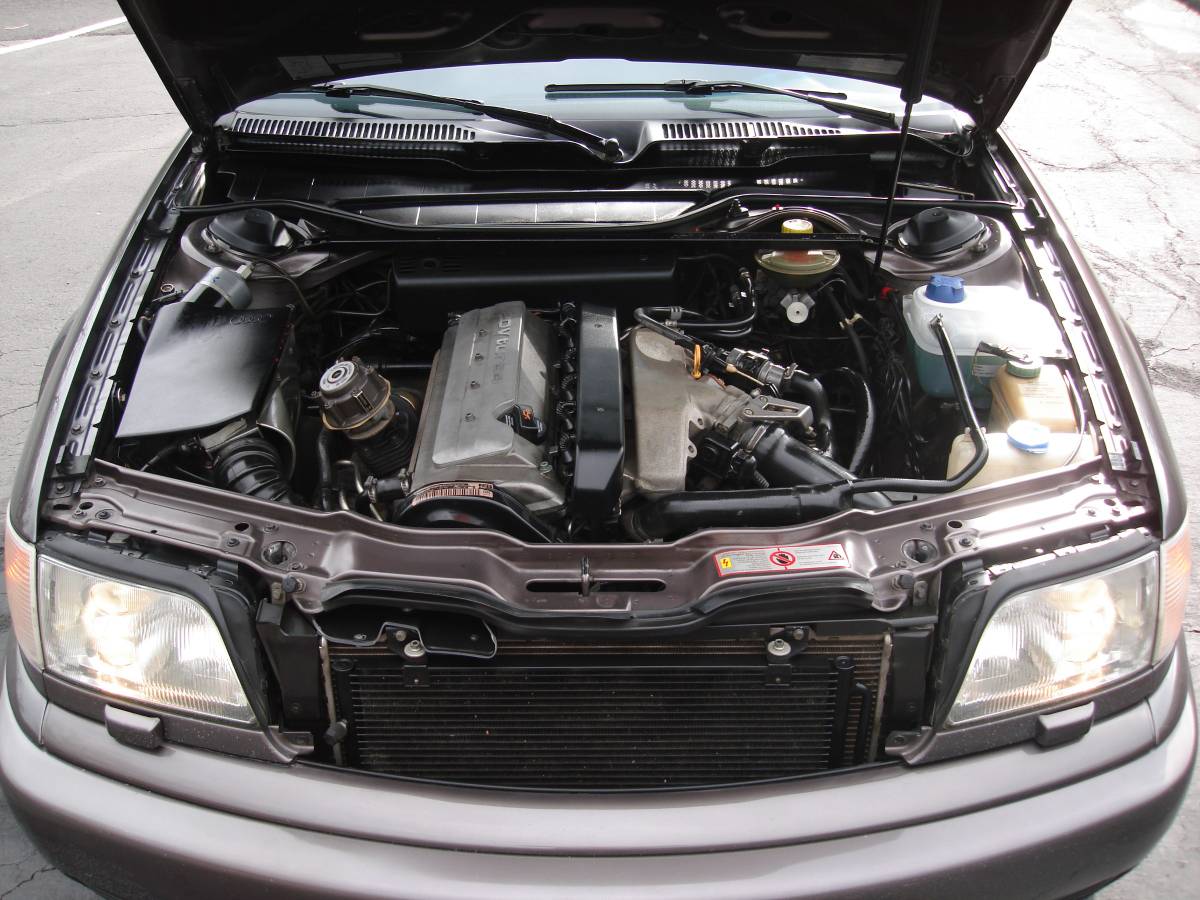 This is I believe part of the answer to why the V8 quattro was not more successful. Although they had distinctly different missions, there was no denying that there was quite a lot of overlap between the upgraded but aging 1992 V8 quattro with its 4.2 liter V8 and the brand-new S4. Europeans got even more overlap, as a turned up version of the ABH 4.2 made its way into the C4 S4. So, too, were automatic transmissions available for Europeans in the S cars. On top of that, the V8 was more expensive than the S4 if you walked into a dealership. And since manual, turbocharged all-wheel drive wagons had always been the hallmark of the fast Audi crowd, to me its no surprise that the S6 Avant's launch coincided with dropping the V8 quattro model from the U.S. – though the reasons are more complex than that, of course.
Today's Cashmere Gray Pearl Effect example is, quite simply, about as good as they come these days. The paint gleams. The mileage is low (again, in the realm of Audis). The interior is the right color. The mods make it unoriginal, but they're also generally ones approved of by the people seeking these cars out. Maintenance hasn't been deferred, rust isn't present, and as with the V8 quattro, the ravages of time that plague most examples today are blessedly absent.
Predictably, that also means a much higher price because of much greater desirability. Coming in at three times the V8 quattro's price and 50% more than the 200 quattro Avant's ask, to a layman it probably sounds like a bad deal. To people in the know, though, it's likely spot on for what is a nearly irreplaceable package.
Thanks to our reader Mike for the spot!
-Carter