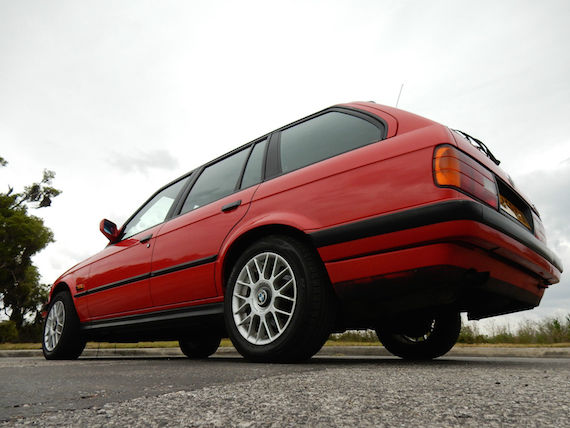 The E30 Touring is among the tastiest variety of European forbidden fruit. I first laid eyes on one in an issue of EVO magazine some years ago and I've been a fan ever since. The story goes that BMW engineer Max Reisböck was worried about having enough space to go on holiday with his expanding family and so he fabricated a long roof from a wrecked E30 sedan. Just think about that for a second, a guy built this car without the knowledge or backing of management and here it is today, one of the most coveted vehicles of the era among BMW enthusiasts. Without that passion to go out and just make things happen, who knows if BMW would have ever gone on to build some of the best looking wagons of all time.
Its silhouette is as good looking today as it was when it first debuted in 1988, unlike some other wagons of the era. Though red is one of my least favorite colors on any car, here it's kinda working for me. I don't know why but the combo of the tuning fork Fox Racing wheels and the Red exterior just make the car enjoyably quirky. Further upping the quirk factor is the fact that this car is a RHD model, which combined with the 5 speed manual acts as a fantastic theft deterrent. I've never had the opportunity pilot a vehicle from the right side but I'm sure hoping that changes in the near future because doing so unlocks the level 5 enthusaist badge, or so I've been told.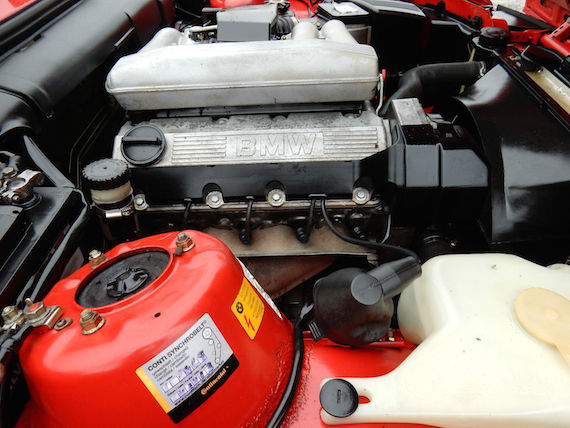 Year: 1990
Model: 318i Touring
Engine: 1.8 liter inline-4
Transmission: 5-speed manual
Mileage: 109,873 mi
Price: Reserve auction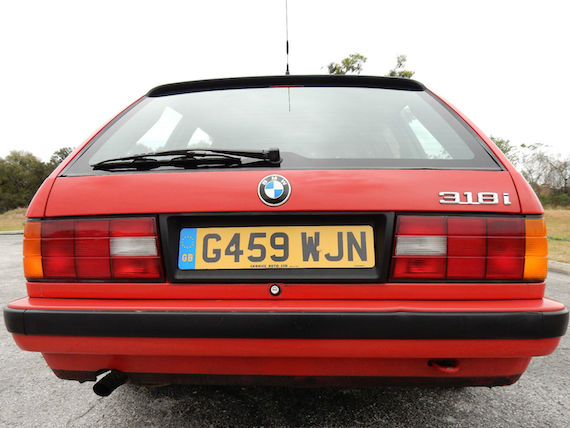 1990 318i TOURING RHD *****Very GOOD condition with under 110K miles*****

Recently Imported we are offering this beautiful 318i Touring (5-Door Estate Wagon) RHD. This is a very clean example. One close look at the undercarriage, body panels, and engine you can see the amazing original condition of this car. The e30 Touring, which was not offered in the states is sure to draw some curiosity. The right hand drive configuration is perfect for someone wanting to try something new, and enjoys the uniqueness of these fine cars.

*** 4 Cylinder M40 Motor in excellent running condition

*** 5-Speed Manual Transmission

*** Complete Tool Kit, First Aid Kit, and Emergency Triangle

*** Good suspension with NO Issues

*** European Ellipsoid Headlights (Euro Smileys)

*** Fog Lights

*** Clean body and under carriage with no rust issues

***AM/FM CD Player USB Port

Make sure to check out all the photos in the Gallery and the ones shown below. We had a little fun this time with the "visitors" to the photo shoot. They loved the Red Touring too! ENJOY!!!

Happy Bidding!!!!!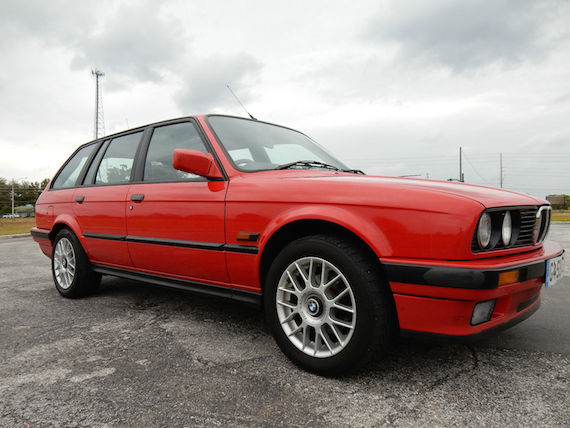 I wish I knew what the reserve was set at for this listing because bidding is already at $6,700 and the reserve is not yet met. Given that the driver's seat bolster needs to be repaired and the sunroof has rust I wouldn't want to pay more than the current bid. I know these cars are rare and yes this one is a relatively low mileage example but these really shouldn't go for much more than $6,500. If it was a 325 with the inline 6 or an all wheel drive ix model that would justify a higher price but this one, not so much. I'm guessing that the reserve is set at $7,000 and that the bidding will get there by next Tuesday.
The lust for these cars is strong. It's easy enough to swap in a more potent power plant and heavier duty transmission which would crank the driving enjoyment up to 11. I've only driven one E30 BMW and it was a 1987 M3 with 650 hp (not kidding) so I'm not an expert on how these cars handle. However I've been reading about them long enough to know that 30 odd years of people showering the car with affection couldn't be a mistake. If I was to bring an E30 into my life it would most certainly be a touring because just like the B7 Audis, the wagon is the best looking body of the bunch. Besides, building an E30 M3 Touring super sleeper from scratch sounds like the most noble of projects.
Cheers,
-Andrew