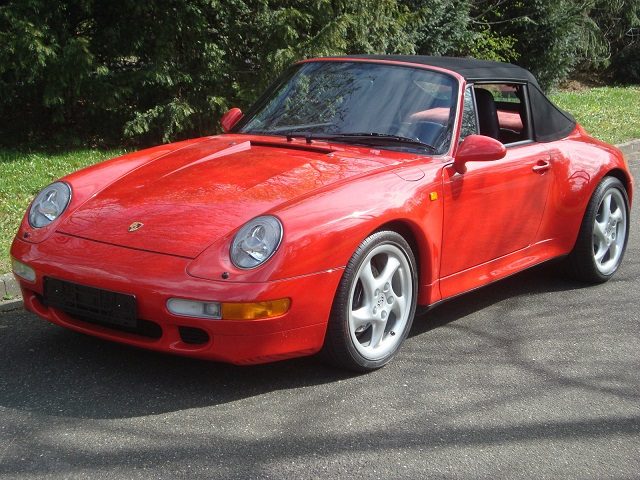 Coming across a factory version of a model that doesn't actually exist is always a lot of fun. At least it is for me as someone who will view this 993 from afar, analyze and read about it, and then write. Were I an actual interested buyer I'd either be very anxious – perhaps because I was already aware of this car's existence and waiting for a sale – or befuddled as I try to track down all of the necessary verification to support the factory production of such a rarity. But either way there's plenty to look at. The 993 Carrera S, also known as the C2S, was only produced as a Coupe. It's a wonderful car; one of my favorite 911 designs Porsche has released. It seems, however, that at least one buyer convinced Porsche to make a Cabriolet and it is that car which we see here. The asking price is astronomical and the mileage is very low. All of which combines to make for a very special 911.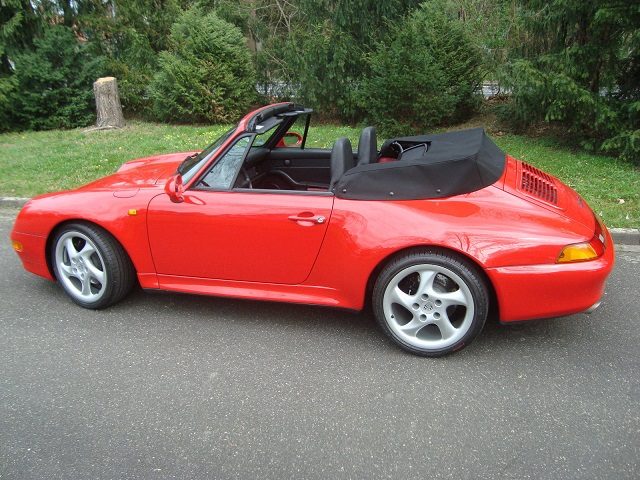 Year: 1998
Model: 911 Carrera S Cabriolet
Engine: 3.6 liter flat-6
Transmission: 6-speed manual
Mileage: 10,200 mi
Price: Reserve Auction ($499,000 Buy It Now)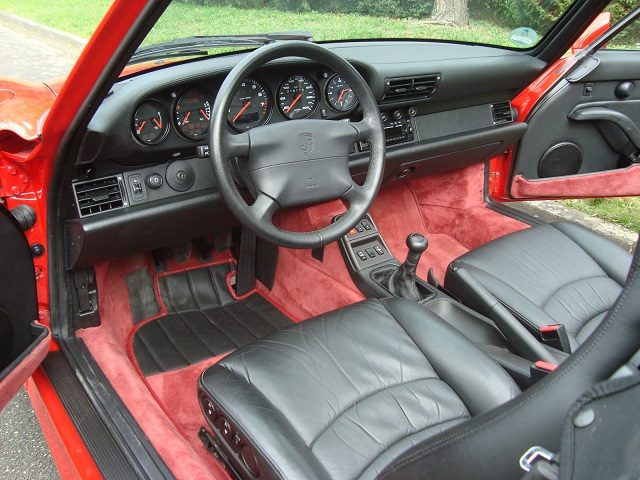 Absolutely rare example of a 993 "S" Convertible with turbo body.

Original Porsche factory conversion to turbo body according to special customer request. This model has never been available through the official Porsche sales program.

This Porsche has been ordered new in late 1997 by a gentleman, who had been a Porsche enthusiast for quite a long time. Therefor at that time he already had purchased a significant number of vehicles from Porsche in Stuttgart. Obviously he was able to convince the engineers at the Porsche Exclusive Department to convert his brandnew 993 convertible to a 993 "S" Cab with a turbo body. He received his personal sample in May 1998. The car was titled "ORIG. PORSCHE-WERKSUMBAU" ("ORIG. PORSCHE-FACTORY CONVERSION" see photo of title).

Porsche always refused to do this kind of conversion (e.g. see story "Rare Air" by Zachary Maine in Excellence Magazine, June 2011) although there were a lot of serious requests at that time. We do not know what made the Porsche engineers authorise this rare exception.

We were able to trace only one more 993 Cab which was converted by Porsche in Stuttgart to a turbo body: Jerry Seinfeld sent in 2000 a Porsche 993 Cab to Porsche Exclusive. In 2001 he received a vehicle which was converted by using not only the turbo body but also parts of the 964 Speedster. Another 993 which was turned by Porsche in Stuttgart into a Speedster was presented to F.A. Porsche for his 60th birthday. But this one is missing the wide body.

A number of conversions were carried out by independent Porsche shops but never at the Porsche factory in Stuttgart. Please do not mistake any unauthorized wide bodies with this orig. Porsche Factory Conversion.

The 993 S Convertible with naturally aspirated engine seems to be even rarer than the 993 Turbo Convertible, of which the production of 14 cars by Porsche is known.

This Porsche remained with its sole owner in Germany for 27 years and has always been registered. During all this time it has been supervised and maintained by the same Porsche workshop. All service records and a complete set of books come with the car. The owner was fully aware of the uniqueness of his 993 and therefor she collected very few miles. Driven just 16.200 documented kilometers (10.2k miles) since new, this is an absolute collector's item. Since 2015 the vehicle is part of a private collection and has not been registered anymore.
Option codes:

139 Seat heating, left
226 Bridgestone / Conti / Michelin / Pirelli tires from the factory

326 Radio Becker Porsche CR-21 (has been replaced by Becker Traffic Pro Highspeed)
340 Seat heating, right
408 18″ Technology wheels (lightweight hollow spoke)
551 Wind deflector
573 Air conditioner
616 Telephone Preparation various provider
659 Onboard computer
939 Seat cover rear draped leather
981 All leather lining
982 Soft leather look seats
00061 Porsche Exclusive Special order
09971 Porsche Exclusive Custom Manufacturing Instructions
18231 Porsche Exclusive Carpet from previous year
18232 Porsche Exclusive Carpet edging synthetic leather

Serious buyers are encouraged to inspect the vehicle in person or award a third party to do a PPI prior to the auction ending. Please make sure to complete your due diligence before bidding on this vehicle. Car is sold as is where is with no warranty written or implied.
The car is located in Germany and can be shipped worldwide. Shipping is buyer's responsibility. However we will gladly assist the shipper and prepare the vehicle for shipping.
We reserve the right to end this listing at any time should the vehicle no longer be available for sale.

Payment Terms:
The successful high bidder will submit a $2,000 non-refundable deposit within 2 business days of the close of the auction to secure the vehicle. Buyer agrees to pay remaining balance due within 5 days of the close of the auction. Payment by bank transfer only. All financial transactions must be completed before delivery of the vehicle.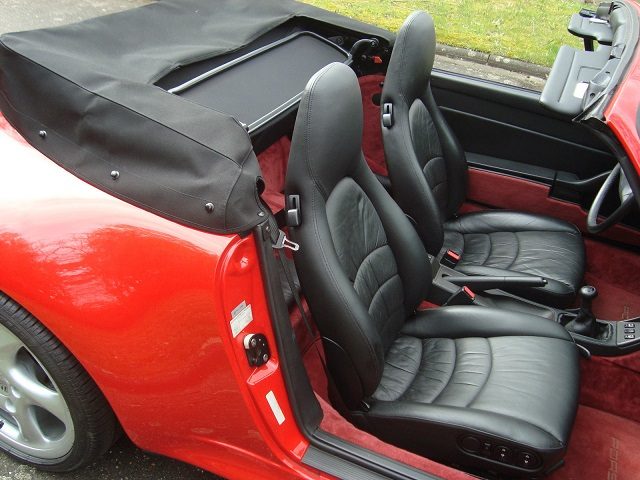 This is thought to be the only extant 911 built to this specification by the factory. The ad mentions Jerry Seinfeld's 993 Speedster, but that's a slightly different car so I'm not sure it would count. Does that add up to a nearly $500K asking price? I really don't know. That's Turbo S money, and we've certainly seen exceedingly rare 993s sell for far more than even what is asked for here. But those high-dollar cars tend to be of the GT variety or the RS. I don't know if the pedigree of the C2S, wonderful though it might be, is enough to carry it to these heights.
Of course, all of this assumes verification so there's plenty of legwork to be put in. It's a beautiful car though combining all the sensations of drop-top motoring with that shapely wider rear. I guess the big question for any prospective buyer interested in a rare 993 Cabriolet is whether you'd prefer this Carrera S or one of the 14 993 Turbo Cabriolets that have been produced. This one appears to be more rare, and ultimately with a car like this that exclusivity may decide the day, but I'd have to think hard about that choice. I mean, if you're going to search out a model that doesn't officially exist why not go the full distance and get the extra power too?
-Rob