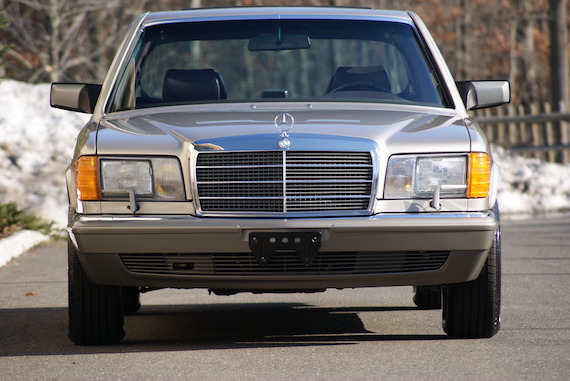 While on a business trip to The Netherlands last month, I happened upon a very clean Mercedes-Benz 560SEL parked on the edge of one of the famous canals of Amsterdam. This car, like much of the older metal tooling around this capitol city, was in quite mint condition. The dedication of the Dutch to classic vehicles is quite impressive and warms my heart, as I find little out there on the new car market these days that I'm interested in. The W126 is one of those cars I wished they still produced to this day, as it just has a timeless air about it. I highly doubt that years from now, the last three generations of S-classes will age quite as graceful as this car has. It was one of Bruno Sacco's best designs, in my opinion. If you missed your chance at a new 560SEL, this example for sale in New Jersey has covered just over 14,000 miles, making it one of the lowest mileage examples on the marque. It comes, however, with a stiff price tag.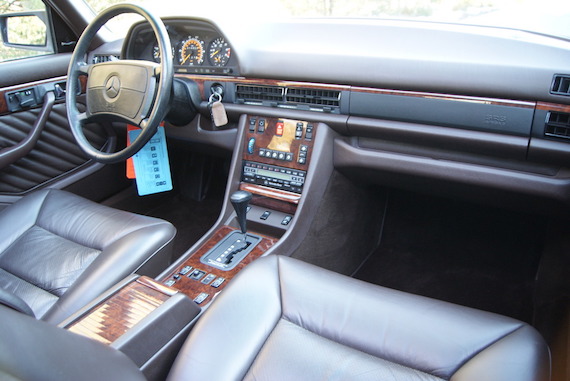 Year: 1990
Model: 560SEL
Engine: 5.6 liter V8
Transmission: 4-speed automatic
Mileage: 14,020 mi
Price: $55,000 Buy It Now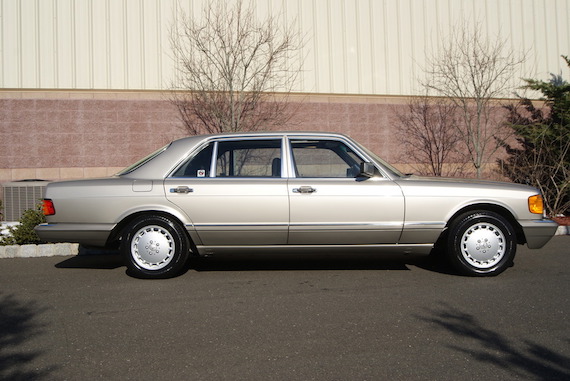 1990 Mercedes Benz 560SEL

14,020 miles from new !!!

Primary: Smoke Silver (Code 702)

Trim Cladding and Bumpers: Gray Metallic (Code 7177)

Interior: Brazil brown (Code 273)

Presented for auction, is one of the nicest all original Mercedes-Benz 560 SEL on the planet! Finished in one of the most beautiful color combinations Mercedes-Benz offered in the S class of the era; exterior-primary color, High gloss elegant Smoke Silver 702, lower cladding and bumpers trimmed in beautiful Gray Metallic 7177; interior trim and leather are finished in a stunning well complementing Brazilian Brown 273. To say this car is an impeccable example of the flagship S class (Sonder class or special class) of its era is an understatement! The Mercedes W126 is one of the most iconic, recognized vehicles in the world! The minute you lay your eyes on this car you know whoever owns it is someone very important, or very well-off! It truly defined an era of special class people in the 80s and early 90s, not many luxury vehicles have ever found such a niche market as did the W126 S class. Manufactured and assembled 100% in Sindelfingen Germany, the car reeks of superior engineering, finest appointments, niceties and quality rivaled by second to none! When you get behind the wheel of the Mercedes 126 S Class, you truly do feel you are in a special class!

This beautiful example has been meticulously maintained, covered and garaged in a climate controlled environment. To all who know this vehicle, this is an extremely rare find to say the least! A true southern California rust free car! In the 20 plus years in the business of high quality Mercedes Benz automobiles, This is the nicest w 126 example I have ever come across, This is a genuine number #1 condition car by all standards! I can say with confidence this vehicle is a "BEST OF CLASS WINNER!" and may take BEST IN SHOW! The condition of this car is incredible! The instrument cluster markers are day glow, bright orange as if they had never seen the light of day and the Burl wood inlays are the best I have ever seen! A clear sign this car has never been left out in the sun for any length of time. Take a close look at the under carriage, it is in like new condition with all factory stickers and cosmoline present; I truly believe this car has never been driven in the rain… One original owner and when he passed the vehicle was re-titled in wife's name. All service is up to date, all fluids are fresh and the vehicle wears 0 mile new matching Michelins all around, including spare! The car needs nothing mechanically or cosmetically and is ready to be enjoyed or shown… You could drive this car another 5500 miles and it would not depreciate the value of this car one nickel, so enjoy it, drive it, make love to it in the privacy of your garage with a bottle of your finest spirits! Life is made to be enjoyed and owning a fine automobile like this one will bring you much happiness and pleasure! This is one of the nicest low mileage W126 sedans on the planet!!! A true Blue Chip Investment Grade Vehicle, that you can keep in your garage, see it, touch it and no market crash is going to take it from you!!! Above all it's not like Germany is cranking these out anymore, so you can count on it only going up in value!!! I promise that you can beat your key board keys for the next decade and you will be lucky if you ever find an example like this one again! This is an extremely rare example of a W126, Whoever gets it will be one fortunate individual and I promise your friends will be green with envy!!!

The exterior finish is show quality and is beautifully complimented by bright and clear show quality chrome trim!!!

The anodized aluminum trims around the vehicles glass is in outstanding like new condition (very rare), show quality bright and clear all around!!!

All original Glass is crystal clear and free of nicks or chips!!!

The OEM 15″ wheels are in perfect 100% original condition and we even had the inside of each wheel cleaned to like new at the time of mounting new tires!

Interior is the nicest I have ever seen with zero sun fade!!! Seats, carpeting, the entire interior is impeccable and as close to flawless as you can get, literally factory fresh and new!!!

Burl wood inlays have a mirror-like shine and are free of imperfections everything looks and feels factory fresh and new!!! (The works of the southern California climate and the indoor climate controlled conditions the car spent its entire life in..)

All power options functioning 100%, Becker Radio sounds beautiful and the A/C is ice cold!!!

Engine Bay is Factory fresh and one of the nicest I have ever seen! The under carriage is in exceptionally preserved like new condition; to describe it as excellent would be diminishing; it's the best I have ever seen! It well represents fair weather usage and in my expert opinion, no rain weather operation!!!

In short basically the vehicle looks exactly like it did back in 1990 the day it rolled off the factory line!!!!

If you Demand PERFECTION, this car is a close to perfect as you will ever get!

Museum piece!!!

This is a worldwide Auction ,USA bidders please keep in mind a majority of our cars end up making their way back to Europe, Germany, Poland etc.; many thanks to our Asian buyers as well! That being said please keep in mind the US dollar is competing against the Euro and the Yen.

All Books, keys, dealer brochures, first aid kit are in order.

Owner will consider trades or vehicle of equal condition and value or an RV.

Located in Central NJ 07753

Contact Dean at 848-459-7776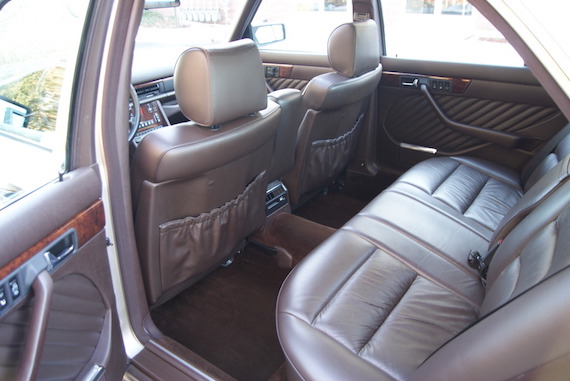 Having grown up with Mercedes-Benzes of this era, I think this is why I find myself bewildered at the current crop of new Mercedes-Benzes. They've lost that elegant restraint. With this 560SEL, there's just the right amount of chrome, wood and leather to signify that you are in something a bit special without being too over the top. While I don't normally like shades of beige, this Smoke Silver exterior looks great over the brown leather. Such a subtle look. In addition, Mercedes from this era have that bank vault feel that is lacking in new Mercedes-Benzes. It's not that the new Mercedes feel cheap, but they just don't inspire confidence in me that they could be driven until Kingdom Come. The price for this 560SEL has to be one of the highest asks I've seen yet. Most likely this will wind up in the hands of a collector, but if I had the money lying around, I'd be half tempted to try and strike a deal and take solace in the fact that I got the S-class I really wanted. As good as the 2016 S-Class is, it just can't compare to the car we see here.
-Paul