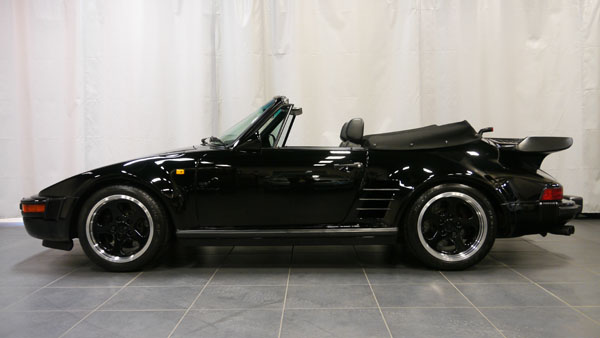 The 1980s were a grand time for automotive outlandishness. Cars like the Lamborghini LM002 and Ferrari Testarossa visually thrilled while technologies such as turbocharging and fuel-injection became en vogue. Through it all, there was one constant: the Porsche 911. This perennial sports car evolved into its own in the 1980s, culminating with some wild variations towards the end of the decade. One variation came by way of Option Code M505, more commonly known as the "Flachbau," or Slantnose in English.
During this era, tuning firms were working their magic with all sorts of vehicles. One of the most famous and widely respected tuning firms to turn a wrench on a Porsche is Ruf Automobil GmbH. What began from a small garage in the 1940s turned into a manufacturer of high performance Porsches beginning in the late 1970s. Alois Ruf Jr. began by servicing and restoring cars out of his father's garage and would go on to create his first tuned Porsche, a 930 with an enlarged motor. In the late 1980s, Ruf cemented his company's reputation with the CTR, affectionately known as the Yellowbird. This was a wicked 911 with 469 horsepower on tap, capable of reaching 60mph from a standstill in well under four seconds and do the standing quarter mile in 11.9 seconds at 126 mph. It comes as no surprise, then, that this beast held a track record at the Nurburgring for several years.
This RUF Slantnose Cabriolet is a bit more tame than the CTR but nevertheless an important vehicle in this tuner's history. It comes with a slew of upgrades over the standard 930 Turbo, such as the 6-speed manual gearbox. With only 1,400 original miles, it is pretty much a time machine back to the era of air-cooled performance.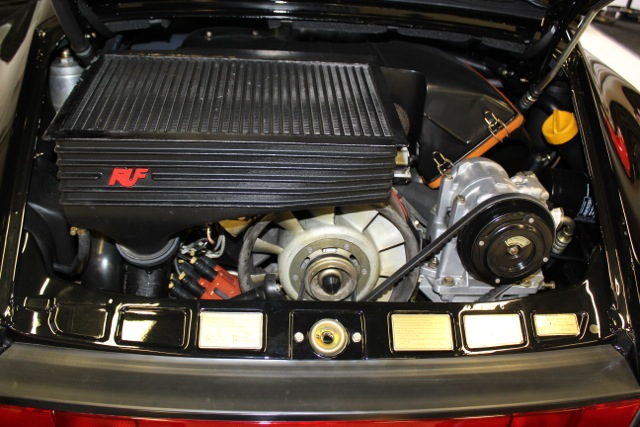 Year: 1990
Model: RUF BTR 3 Slantnose Cabriolet
Engine: 3.4 liter turbocharged flat six
Transmission: 6-speed manual
Mileage: 1,400 miles
Price: $299,000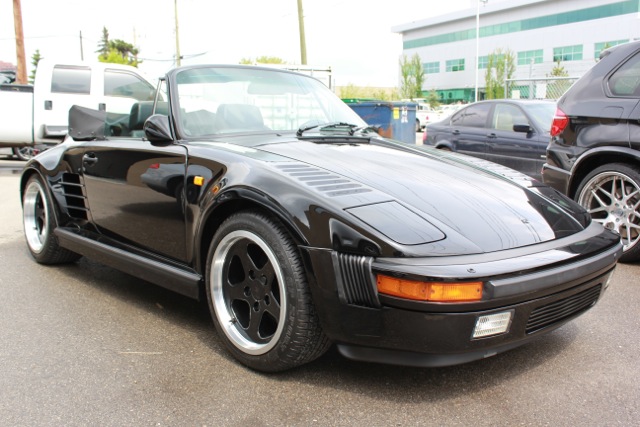 This a RUF FACTORY BUILT 1990 Slantnose RUF BTR 3 cabriolet. Only 1,400 miles on it. Original factory window sticker price in 1990 was $249,000. It is the only one ever built like this, highly collectable and VERY RARE. $299,000 USD

RUF BTR lll 3.4L Engine
RUF 4 Pipe Exhaust System,
RUF Short Shift, Limited Slip Differential 40%, 17″
RUF Centers painted to match body color Wheels with original Dunlop tires and RUF centre caps,
RUF Logo LARGE Brembo calipers.
RUF, Two piece Rotors
RUF Stabilizer,
RUF Comfort Suspension,
RUF Front Spoiler with Oil Cooler,
RUF Instrumentation,
Ruf exterior badges,
RUF Sport mirrors,
RUF adjustable booster ,
RUF 6-Speed hydraulic operated clutch system,
RUF Leather steering wheel with raised
hub, Full Leather Interior,
RUF Inspired Recaro Electric Seats and
Electric Power Top.

Motronic System $10,000 Upgrade

RUF BTR lll start with the engine, which had the original partially finned cylinder barrels replaced by ones with air-cooling fins around their complete diameter. The bore was increased giving a new displacement of 3.4 L from the original 3.3 L. Ruf added unique Mahle Pistons and connecting rods and 935 type camshafts.

The turbo was replaced by a larger KKK K27 unit, and a larger free flowing intercooler was added. boost and 425hp with 1 bar. RUF added an adjustable boost control in the cockpit. The intake manifold was replaced, as was the exhaust. The first BTR engines used Bosch K Jetronic (CIS), but later engines called BTR III, used Bosch Motronic, and had 408hp up from the 374hp of the CIS engines. The Ruf Motronic system was the first digital engine management system to be available on a street Porsche 911 Turbo and had a dual injectors per cylinder, custom injector blocks and fuel rails derived from the 962 race car. Motronic was a $10,000 option on a BTR, but standard on the CTR.

A larger oil cooler was installed in a RUF front spoiler, moving it from the inside passenger fender. RUF modified Porsche G50 transmissions to take the increased demands of the BTR's prodigious torque lowered and the suspension was stiffened. RUF single piece forged rims sized 9×17 and 10×17 ran on Dunlop Denloc tires. RUF offered a complete set of gauges including a 350km/hr speedometer, 1.5bar boost gauge, and Tachometer with the red line turned to near vertical.

Top speed was 300km/hr for the narrow body car and 280km/hr for the Turbo body. Acceleration to 60mph was in less than 5 seconds; by reaching 62mph in 4.6 seconds a 3.4 Liter Turbo-Ruf became the fastest accelerating production car ever tested by Auto Motor und Sport. It reached 100mph in only 9.5 seconds. RUF had matched, or even bettered, the performance figures for Porsche's own Group B Le Mans car!
It's easy to go out and drop $300,000 on any number of new supercars these days, but to do it on a vintage tuned Porsche is not the most common way of going about it. These RUF Porsches are more than your average tuner vehicle. These cars are about taking a 911 and making it better; turning it up to 11 in order to lay the smackdown on anything that might challenge it. For anyone interested in this impressive Porsche, they can contact the seller directly at euauex@icloud.com
-Paul