Warning!
This post is in our archives. Links in this post may have been updated to point to similar cars available to bid on eBay.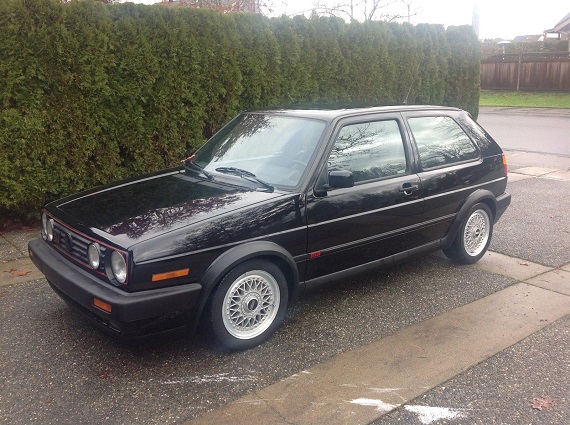 While it's nice to look at imports from Europe that we didn't get here, when it comes to the Volkswagen front we got at least one of the most desirable 1990s VWs that wasn't sold in Europe – perhaps, one of the most desirable all around Volkswagens ever made – in the 1990-1992 GTi 2.0 16V. It wasn't really the best at much of anything compared to the competition; the engine was thirsty and noisy, the upright shape of the Mk.2 Golf was old and on the verge of being replaced, the expensive wheels bent at the mere sight of a pothole, the transmission self-machined occasionally and the electronics were the work of a high school tech class. If you wanted a fast, economical, awesome handling hatch that actually worked all of the time, you bought an Acura Integra GS-R. But all of these faults didn't detract from what was for the the most desirable GTi package Volkswagen produced. You got the iconic chunky shape of the Golf with extra wide flares. It sat lower, and though they were soft those BBS RMs were gorgeous. Inside were the spectacular Recaro Trophy seats and little else – these were no-frills cars compared to the more luxurious GLi models. And to top it off, under the hood was the screaming 16V in 2.0 form. Good for 134 horsepower and vibrating the entire car (and your eardrums) at highway speed, this car moved beyond look and into entire sensation: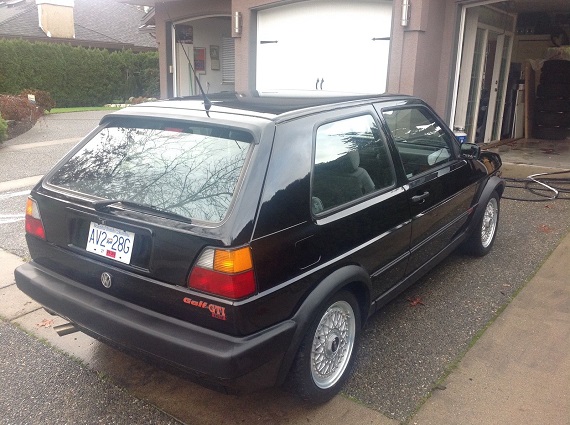 Year: 1990
Model: GTi 16V
Engine: 2.0 liter inline-4
Transmission: 5-speed manual
Mileage: 160,000 mi
Price: No Reserve Auction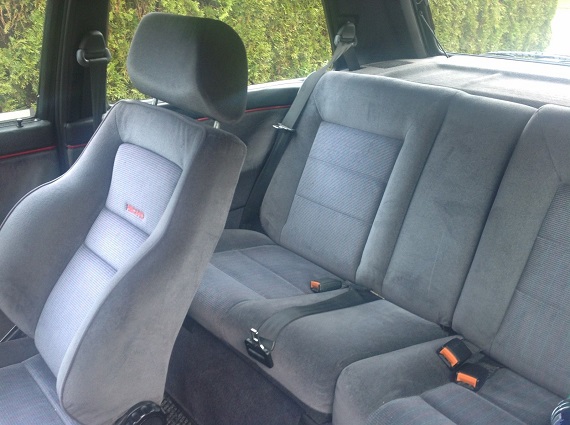 This is a very clean example of a stock 1990 VW GTI 16V. Which was once the dream car for many young car enthusiasts including myself when new, has now become a fan favourite again. The original BBS RM 2 piece wheels, real Recaro power sport seats, wider factory fender flares, black headliner, and don't forget the potent 2.0l 16v DOHC motor producing 134hp make this an absolute blast to drive.
I am the third owner of this local BC car. The car has been my daily driver and has never let me down.

Recent work includes, new head gasket, timing belt water pump and tensioners, Plugs, Injectors and all fluids changed. Not yet installed but included are new front lower control arms with TT bushings, new ball joints, and new tie rod ends.
The only mods on the car are 11″ Corrado G60 front brakes, Tectonics chip, Header and Borla exhaust.
The rims are in excellent original shape with a little bit of peeling in the clear but no corrosion. Tires are BFG in descent shape.Front brakes have approx. 60% and rears are new.
Car is complete and hasn't been messed with. All plastics and trim in tact. No rust apart from a little bubble under the RR qtr glass and another under the windshield.

Please feel free to contact me with any questions you may have. Please clarify any concerns before bidding.

Car is listed locally and reserve the right to end auction early.

Thanks for looking and Happy bidding.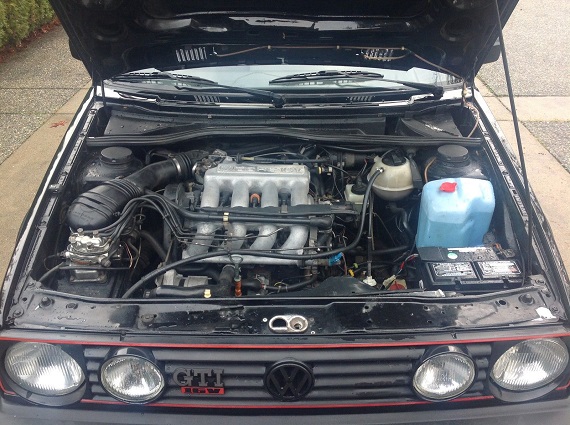 While for some the G60 models of the Golf are more desirable, I absolutely adore these late GTi 16Vs. Something was so right about the wheels, stance, bumpers, flare and profile. And, while we lament about the multiple cool Mk.2s not sold here, the 9A 2.0 16V never was sold in Europe in the Mk.2 GTi, so we have at least one trump card. Now, you could argue that the uncatalyst version of the 1.8 16V made more power, and you'd be right – it had 3 horsepower more than the North American market bigger displacement cars. But that power came at the absolute top of the rev range; the 9A had more useable horsepower below 5,000 revolutions and produced more torque basically everywhere. Condition of this car is top and it's neat to see subtle changes between the Canadian-spec cars versus U.S. models, which didn't carry "Golf" badges. This is just about as pristine and original as one of these GTis comes to market these days. Bidding has already been active and is past $5,000, but I'd argue that's still quite cheap for this car which I'd expect to hammer closer to $10,000 if the right people were in the room. This is a great looking and exceedingly hard to find package in this condition and you don't have to look overseas!
-Carter