It's rather funny. With the SUV craze in full force for the last twenty years, the van has lost popularity. I sure don't see as many of them on the streets as I do the atypical urban assault vehicle. Volkswagen's van offerings have always been for those who drive to the beat of a different drummer, and one of my favorites was the T3 Camper Van. I remember playing around in one of these as a child when my father went to purchase a brand new 1987 Volkswagen Golf GT. It was always fascinating to me to have a half kitchen inside a vehicle.
Here's a clean, low mileage Westfalia Camper for sale in California.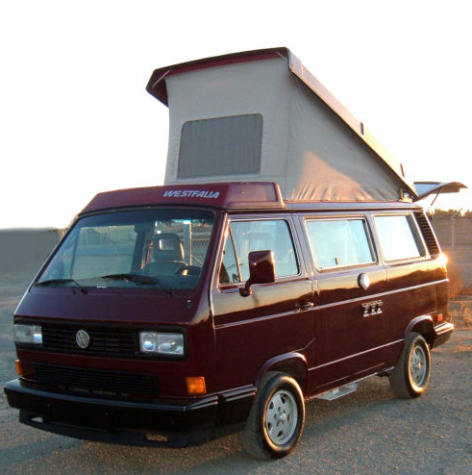 I am selling my 1990 VW Westfalia Camper Van with a 4-speed transmission and a clear title. The vehicle has 42.8K miles (67,343 km) on the odometer. This a low-mileage rust-free van with a gorgeous interior and extremely strong engine. It has a new CD player and brand new front and rear Pioneer speakers. The van has alloy rims and 6-ply load-rated tires. It has a current California smog certificate. I am selling this Westfalia van with NO RESERVE price.

Recent repairs include:
> new rear brake shoes and wheel cylinders.
> new rear KYB shocks.
> complete tune up including new oxygen sensor, spark plugs, plug wires, distributor cap and rotor.
> new valve cover gaskets and a new tail pipe.
> new oil filter, seal and oil change (20W-60 Castrol GTX oil).
> new front cross-drilled and vented rotors for cooler braking on hills and new ceramic brake pads for greater stopping power.
> the body was recently painted the original burgundy paint and the bumpers and grills were painted a special semi-gloss formula.
> a new clear sun-roof cover and winder.
> new utility covers and stickers were purchased from Van-cafe and installed along with new rear hatch struts (shocks) and a new locking radio antenna.

Included with the van are all the correct privacy curtains, front and rear tables and table stands as well as the original jack. This is a gorgeous, low-mileage van just looking for its next adventure.
With about five days left and no reserve, there has been no interest yet. The Doka trucks built on the T3 chassis have been pulling large sums as of late, and a clean, low mileage Camper such as this is bound to be attractive to the right collector. Whether someone is willing to pay almost $20,000 for the privilege remains to be seen. One thing is certain, this is one of the nicest Campers I've seen in quite some time.
And now all Volkswagen sells is the Volkswagen Caravan. Excuse me, Routan. Perish the thought.
-Paul