The Volkswagen Syncro TriStar Doka with under 50 kilometers on the clock is back up for sale, this time via online auction with a reserve. Will it sell this time around? With such low mileage and such a high reserve, it's going to take a very special buyer indeed.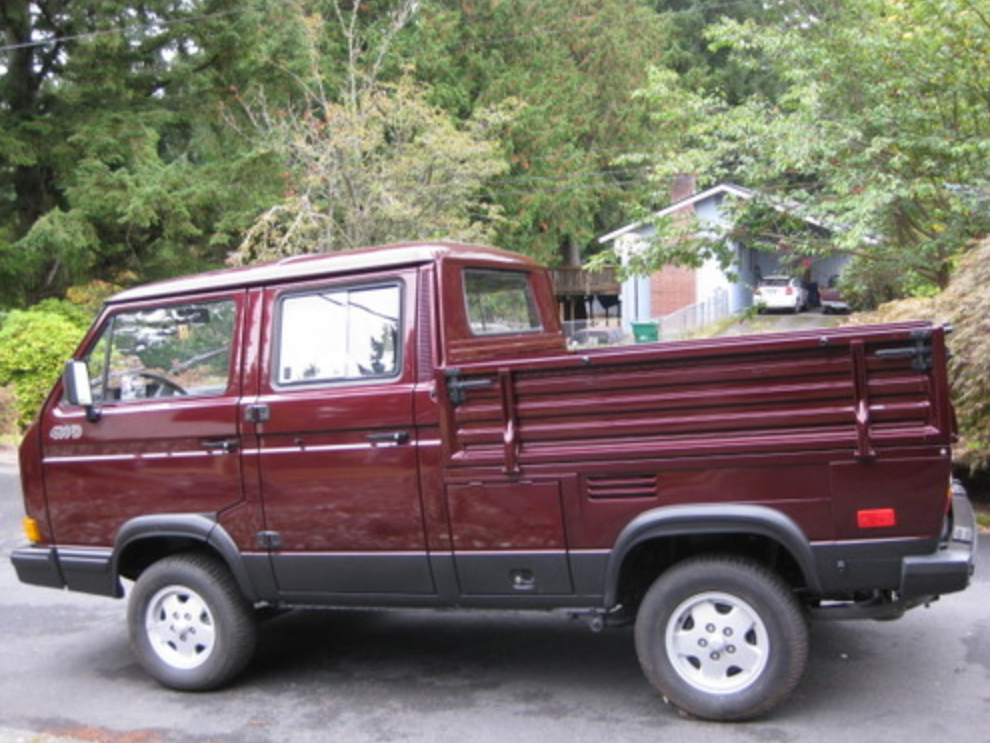 The below post originally appeared on our site August 24, 2012:
Every so often a rare opportunity comes around. In the automotive hobby, that usually involves an old timer, and a rare time capsule that in its day was just another car. This is a prime example of those circumstances. Back in 1991 a custom order of VW transporters was released to the public, resulting in this rare time capsule for sale in Redlands, California.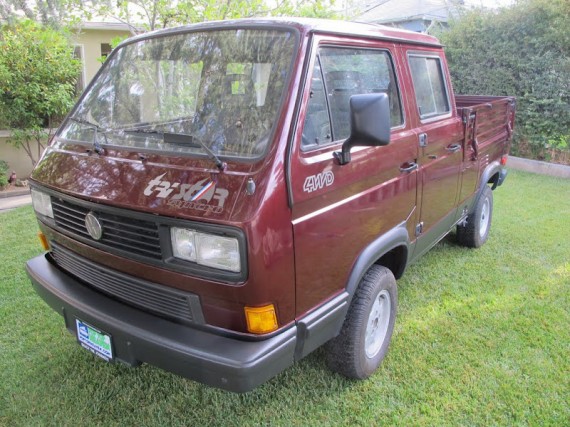 Legend from the factory has it that there were only 1500 TriStars ever built. This was between 1988 and 1991. 1000 of them were 2 Wheel Drive. Only about 500 were 4 Wheel Drive. Of those 500 4×4's, less than 120 were 1991's. While most DOKA's stayed in Europe, a few made their way across the Oceans. One was even special ordered and sent to Australia, and 19 of them made it to North America. Well, 18 actually, and here is the story…

In mid 1990 a Canadian mining company contacted VW Germany with their needs for an off road mining work vehicle and the logical choice for the terrain they were working in was the Syncro platform. The DOKA fit the bill because not only was it 4×4, it could haul both cargo and 4-5 people comfortably at the same time. The mining company signed a promissory note and 19 of the DOKA's were ordered for the operation. As the story goes, 19 were shipped, but only 18 made it. Now either #19 fell off the train transport, or #19 caught fire once it arrived. Both stories are out there. I bet it was both. It fell off the train, bounced twice, and caught fire. Either way, there went about 6% of the existing North American DOKA's.

Now these weren't just DOKA Syncros, but they were the Limited Edition TriStars. Luxury. This meant they would have the extra door for passengers on the drivers side that neither the DOKA 2WD or the DOKA 4WD standards had. As well, only the TriStar had the following options that made it an even more comfortable and utilitarian ride: Heated drivers seat Rear passenger heat Sliding windows in rear passenger doors Front seats with arm rests Grey door to door carpet front, rear and all the way into the storage bay instead of standard rubber matting Light grey cloth interior front and rear Interior "Oh Scheisse!" handles with integral map reading lights Illuminated vanity mirror on passenger side Padded dash cover Heated rear window Door storage pockets Map pockets on back of front seats Additional body insulation for cold weather Power windows Rear differential lock Twin rectangular headlights Wheel arch trim And, oh yeah, cup holders.

On with the story…So during the time the vehicles were making their way across the ocean, the mining company that ordered them came into some hard times and went belly up. Well VW Canada took those 18 units and spread them across the country to sell at their VW dealerships with 1 of them landing at the Toronto location. Here is where it gets personal. Our little DOKA landed in the hands of Karl at the Toronto VW Store. Karl knew a fellow that was really into VW's and collecting cars and motorcycles in general. Freddy was his name. Still is. So Karl gave Freddy a call and told him what had just arrived. Freddy popped over to look at it. Freddy had never seen one, but he knew it was a rare bird and purchased it that day. That was back in the Fall of 1991.

Fast forward to Spring of 2012. Freddy is a few years older now and decides it's time to thin his collection. Somehow he finds us online and puts in a call to Chris at the office. Freddy tells him he has a rare old VW truck that he wants to sell. Chris texts me a few details since I am the Syncro guy to see what I think. I am in South America at the time but I tell him it sounds interesting. We had never had a DOKA Syncro. Then a second text arrives that says "Good news is it only has 48,000 KM's on it, but forget it cause the bad news is, it's in Canada". My response…"Canada??? Then we are definitely interested because only Canada got them legally. If he didn't import it and he is the original owner, it could be one of the Canadian 18!" I was pretty excited but Chris reminded me that Canada generally means rust, and always means paperwork at the border to get it legit in the USA.

When I got back from my trip, and back to the office, I put a call into Freddy and he told me all about his funny little rare truck. Then I told him what I knew about them and sure enough we determined it was one the special order Tristars. He wanted a lot of money for it though, so I said I would think about it. He said no problem, and that it wasn't going anywhere. Just before I got off the phone with him I said, "You know Freddy, you sure didn't use it much" He say's "I didn't use it at all" Hmmm. "Well if you are the original owner and it has 48,000 Kilometers on it, how does that work?" "48,000 Kilometers???" he says, "No, It has 48K on it, as in 48 kilometers. I've never used it."

I covered the mouthpiece and yelled as softly as I could to Chris "Forty Eight K!!! K as in 48 Kil-o-me-ters, not as in thousands of Kilometers!" Chris had heard him say it had '48K' on it, and down in these southerly parts, we convert that to thousands…48 Kilometers…that's like 29 miles right? Yes it is. How is this possible? Knowing it was rare, and even though he lived less than 10 miles from the dealership, Freddy had it trucked over to his underground storage space. Freddy hopped in it, drove it into the parking spot, covered it and that's where it was for 21 years. But Freddy knew how to take care of his vehicles so every once in a while, he would start it up, and on a few occasions he shipped it on flatbed over to the dealer and get the oil changed and have it looked over. All in all, of the 48 kilometers that are on it, he says he put maybe 2 of those km's on the clock driving it out of the storage spot and on to the flatbed for its check up. The other km's were VW delivery km's in Germany and in Canada when it arrived.

Now I understood why Freddy was asking so much. We wired him the full asking price the next day and shortly after I was on a plane to Canada to document it where it sat hidden in a suburb of Toronto. My trip North…Early June I arrived at Freddy's house and after a short tour of his classic motorcycle collection, we were off to see the DOKA which was just a short ride away. We got to the location, opened a big steel door and there it was, just like he said. Stored and covered in an underground cool climate parking space alongside an old tired Karmann Ghia. Off came the cover with lots of dust, on went the battery cable, and in went the key. It started right up, and purred without a knock or a ping. I carefully pulled it out into the filtered sunlight under a maple tree and parked it. I hopped out, took a few steps away to stand next to Freddy and stared at it. I just stood there holding my chin, and shaking my head, and 84 year old Freddy just stood there smiling. "Told ya." he said.

A word from Freddy: -I am 84 years old now. Starting to slow down a little I guess. I bought this truck back when I was 63. I was a pilot for most of my life, but I have always loved collecting and working on interesting cars. Been driving since I was thirteen. I think I have had over 70 cars and motorcycles in my life. Anyway, I figured it was time for this VW to go to someone that can use it or share it's uniqueness with others like at a VW museum or something. I hope people get a kick out of how well preserved and rare it is. And I hope the next owner takes good care of it. Maybe some day it will get used for what it was intended to be used for. I have heard they have some amazing off road capabilities. Hell, I barely used it on the road! Good luck and good travels to whoever is lucky enough to enjoy this next. ~ Freddy W, Toronto Canada

So there you go. We know everyone has a story to go with their VW toys. This was one of the best ones we have been a part of.
*In addition to those TriStar features noted above, the word from our importer, and the one man in North America that has seen more of the DOKA's than anyone else stateside (Jeff at Autostadt) tells us it has at least two additional unique features he has never seen. One being original factory cable connectors to attach and lay the rear gate down 90 degrees (flat) as opposed to having it swing down the full 180. And finally the bed of the DOKA. This is usually raw painted metal or covered with Germany's equivalent of Diamond Plate. This DOKA has what appears to be nice Oak slats running down the bed. We thought of refinishing them but wanted to pass it on as we found it. The one thing I noted was that the entire underside of the vehicle is factory sealed with a Ziebart like protectant probably in anticipation of the Canadian weather. As for the current mileage, we haven't even put a kilometer on it yet ourselves. Not even to take the photos. But that's going to be part of the deal. We want a ride in it from the new owner…off road.

PS: The vehicle has not been detailed yet~ it sits as it came.
This is one of those vehicles that you can't really put a price on. DOKAs are rare to begin with, Syncro DOKAs even more so, add in the Tri-Star upgrades and the fact that it only has 48 kilometers on it, and you have a once in a lifetime truck.
This is my dream truck right here; it does everything I need. It's no wonder it was the truck of choice for mining in Canada. This particular truck however, is too nice and too pristine to even consider using. This belongs in a VW museum or in a collection, because I just wouldn't have the heart to put miles on it. Considering how much classic Type 2s are going for these days; it's only a matter of time before the same collector pool gets hip to the modern transporters for their collections to the right collector, this will fetch pretty close to the $85,000 asking price.
-Brian