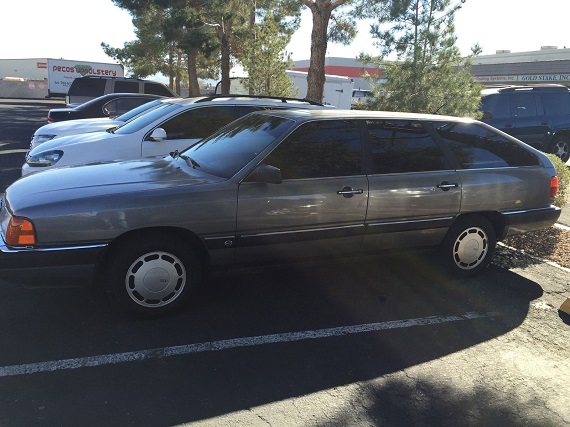 One of the unintentionally funny quotes from Stephen King's Pet Semetery was the haunting warning from the crusty old Jud Crandall; "Sometimes, dead is better". Now, I know what you're thinking – "What, Carter? You're the biggest Audi/Volkswagen fanboy who writes in complete sentences on a daily basis! And now you want to suggest that these two classic VAG wagons shouldn't have been buried in the Micmac Indian burial grounds?" Well, I wouldn't go that far but it does seem that 1980s Audi and Volkswagen products of this ilk are resurrected from the underworld because we see them so infrequently. And for enthusiasts, inevitably they're not quite the cars we wish had been saved. As a result, besides both being beige in color, these two wagons are completely beige in their totality. Neither was a top-spec car originally though they were both fairly expensive – the Volkswagen stickered at around $14,000 in 1986 without options, while the Audi was the best part of $22,000 base price in 1987. Both come with the long lived but rather forgettable KX-code 110 horsepower inline-5 engine, and both original buyers opted to pay an astonishing $1,000 extra (from memory, it's been a while) for the dull-witted 3-speed automatic. And then, if that wasn't enough, both buyers selected their respective marques' beige tones in a celebration of their mediocrity. Yet here we are, nearly 30 years later, smiling just a bit to see both in overall very good shape. Who wins the "race to watch the paint dry" competition?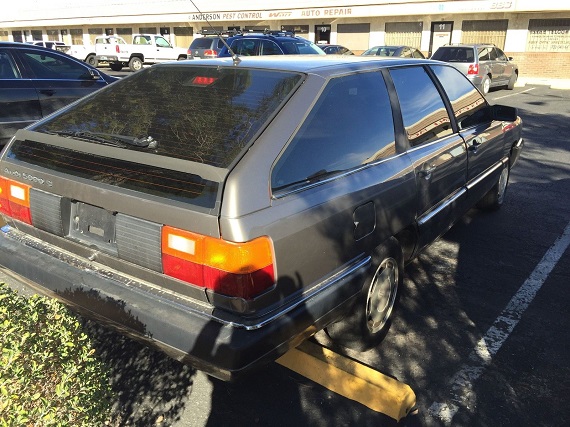 Year: 1987
Model: 5000S Avant
Engine: 2.2 liter inline-5
Transmission: 3-speed automatic
Mileage: 48,430 mi
Price: Reserve Auction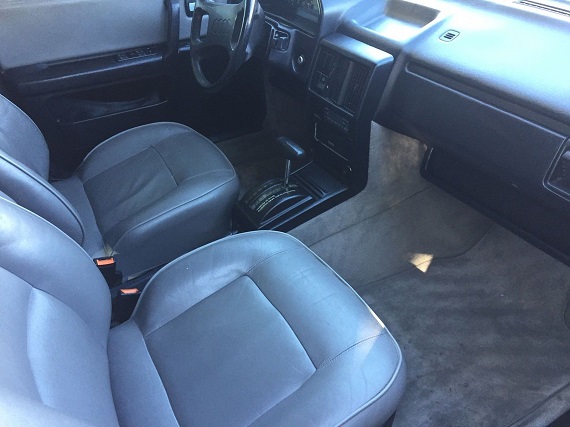 1987 Audi 5000 S Wagon 4-Door 2.2L- VERY CLEAN. SUPER LOW ORIGINAL MILES. 48,430 MILES. GOOD ORIGINAL PAINT AND CLEAN INTERIOR. SMALL CRACKS ON DASH. STARTS RUNS AND STOPS AS IT SHOULD. A NICE COLLECTOR WAGON THAT IS IN GREAT ORIGINAL SHAPE. LOW RESERVE.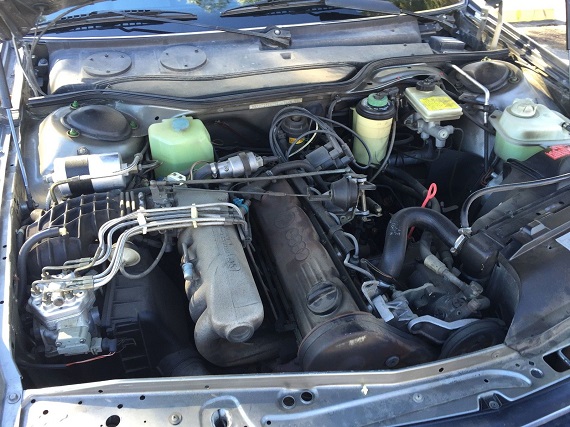 To me it's pretty staggering that Audi managed to pull off selling an underpowered, front drive automatic wagon for the equivalent of $46,000 today. To put into perspective what that got you, today that amount would put you into a moderately equipped Audi allroad with a 2.0T, 200 horsepower motor, a 7-speed automatic and quattro all-wheel drive. But in the 5000S, you got features such as asbestos-free brake pads and fuel injection. Remember when those were highlights? Unsurprisingly, the performance of the 110 horsepower KX-code inline-5 isn't spectacular in this package. That motor was shared with the Coupe GT; however, the 2-door Audi was several hundred pounds lighter than the 5000S in Avant form. The result, especially when mated to the 3-speed automatic, is pretty lethargic acceleration and passing maneuvers. Luckily, it got worse fuel economy and wasn't really particularly happy on the highway, either. One thing that the automatic did allow you was 0-60 runs in first gear. It's slow and noisy, but doesn't need to shift before it gets there. Inside, in addition to selecting that fantastic drive combination and the dull Almond Beige Metallic color, the original purchaser also selected leather interior. Unfortunately, those leather seats are the "comfort" seats, which I can say from my time in my similarly equipped 200 Quattro Avant are not particularly comfortable. On the upside, condition of this car is very impressive overall; miles are quite low and the car appears all-original outside of some tinting, which given the amount of glass and likely lack of functioning air conditioning probably isn't a bad idea. Though slow, these Avants are incredibly long-lived and can carry a seriously impressive load. I carried the entire 7A 20V inline-5 motor – complete and fully-assembled – in the back of my 200, for example. There was nearly room for another as well. For someone who loves older Audis and needs a car capable of retrieving parts to support the other Audis littering their yard, this one probably makes sense. Without the turbo and quattro, keeping these Type 44s alive is much easier and less expensive (though, admittedly less exciting). And frankly, it's probably because of the lack of those more desirable descriptors that this Avant is still alive.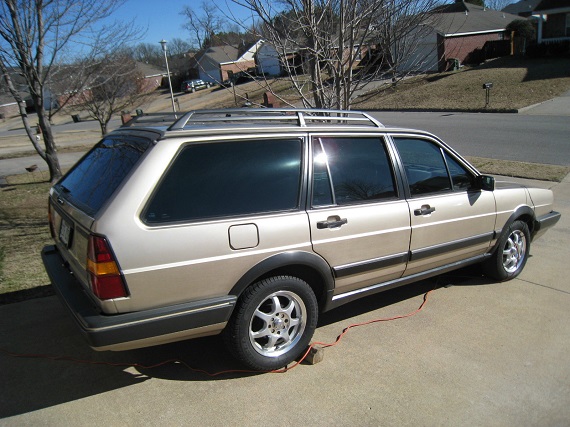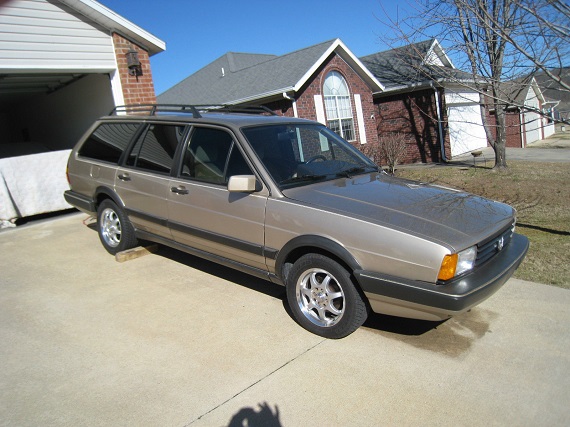 Year: 1986
Model: Quantum Wagon
Engine: 2.2 liter inline-5
Transmission: 3-speed automatic
Mileage: 119,100 mi
Price: Reserve Auction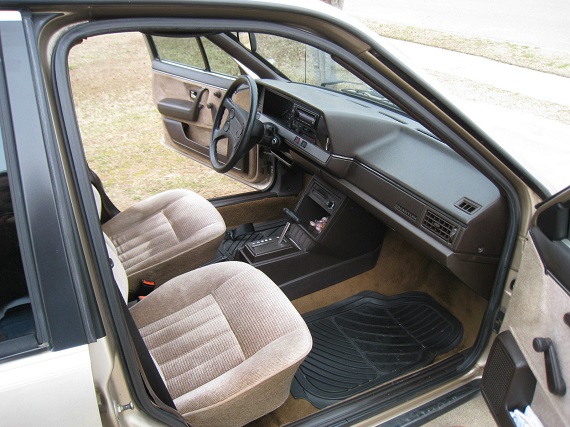 Purchased new, family car passed on to me 10 yrs ago. Motor runs very good and the fuel injection system works perfect. doesn't burn oil and runs clean. The transmission shifts perfect in all three speeds. This is a California car and was garaged or covered 29 yrs. The car has no rust and the interior is like new. Newer Stuff.. Battery, Tires, Timing Belt, Brakes, CV joints, Wheel Bearings. No electrical problems, doesn't have a engine check light. Everything works. All the lights, gauges windshield wiper and the washers, heater and the A/C is still blowing cold. The car runs down the road very good. This car has a 3 spd auto trans and was never a good freeway car and runs best at 60 mph or less. This would be a great project car or store it because it is becoming a rare find. What is Wrong. Transmission drips from the torque converter and another place on the side of the trans. case. The brake booster is weak, the brake pressure regulating valve has a drip and the brake petal is soft. The hand crank type sunroof got out of syn and is hard to open. the drivers door window need to be put up and down by hand. The engine leaks oil from the valve cover and if the car sits a few days one of its hyd. lifters will tap until it pumps up. I figured how to get the cooling system to run at 180 degrees many years ago and I think that is what has kept this car going and not trying to run her 75 mph 4,000 rpm down the freeway. This is not a car you buy for your kid and think your going to get years of dependable service. You either restore this car or keep patching it up as I have for many years. It was my around town pickup truck and go to work car and fun to drive like a sports car. I know a lot about this car so you can ask me anything.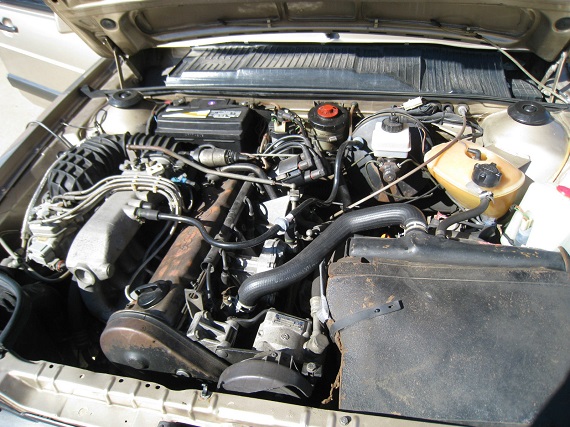 If you were looking for a slow, automatic Audi wagon in the 1980 but wanted to save a money, as ever the large Volkswagen was the best option. The B2 Volkswagen Passat shared a fair amount of its internals with the B2 Audi, after all. Like the 5000S Avant, this Quantum was originally selected with the inline-5 110 horsepower motor and expensive 3-speed automatic transmission. It's a bit lighter than the Audi, but the difference won't shock your rear end, since the Quantum is about as aerodynamic as the Sears Tower. Presented in Nevada Beige, this Quantum was matched by the brown Tweedish interior. Those interiors, for some reason, seem to wear better than the Audi velour interiors did and despite the much higher miles than the Audi, the insides of this very brown Volkswagen still look quite fresh. Missing are what should have been the original "Snowflake" wheels borrowed from the GTi; one of the advantages of the Quantum over the 5000S is the 4×100 bolt pattern in place of 4×108 that the Coupe GT, 4000 quattro and non-turbo 5000/100 ran allowing you greater Volkswagen-sourced wheel options. It should come as no surprise that, despite being substantially more affordable than the Audi was new, the Quantum was still quite expensive. At $14,000 without the transmission and options, this Quantum equated to about $30,000 in buying power today. That amount will get you a fully-loaded Jetta TDi Sportwagon with sunroof and navigation; about as expensive as a Jetta gets. That TDi, despite being a diesel, will thoroughly outperform the Quantum not only in performance measures, but also will get better fuel mileage and arguably is probably even quieter than the inline-5 was. What it didn't get you then – or today – was all-wheel drive. The Quantum Wagon's single party piece – and the item everyone looking for them desires – is the rare to find Syncro drivetrain. Remember, there was no B2 Audi wagon; in fact, there wouldn't be a small Audi wagon available until the B4 in the 1990s, and not until the B5 in the U.S.. But the Quantum Syncro Wagon offered the Audi 4000 drivetrain in a more versatile platform. This, unfortunately, isn't one – but like the Audi, that likely resulted in this car being in the condition it is today.
Is the paint dry yet? Okay, so I haven't been particularly complimentary to either of these wagons. And that's not fair, because they're both cool bits of Audi and Volkswagen history, and both are in remarkable shape compared to how you usually see these models – namely, in junkyards, and even then only very occasionally. They're also a reminder of something that's disappeared in large part from the U.S.; Audi now only offers one wagon in the allroad; there is no A6/S6 option. Similarly, the 5-door Passat has left these shores, seemingly not to return. Perhaps ironically, you can still get a front drive, automatic 5-cylinder wagon from Volkswagen in the form of the Jetta Sportwagon with the 7K 20V engine. They even have two beige/brown tones outside and no less than three beige/brown interiors to select for future generations to mock. But to this competition, I'd have to call the Audi the victor. The list of broken items on the Quantum is sizable and there's effectively no aftermarket or manufacturer support for either model. As such, I'll take the one that's in better shape by default. The Audi also boasts galvanized body panels, meaning it's a bit less prone to rust than the B2 was. Plus, the Avant looks cooler than the Quantum to me. But one thing that the comparison highlights is how much more car you get for your money today than you did in the 1980s!
-Carter