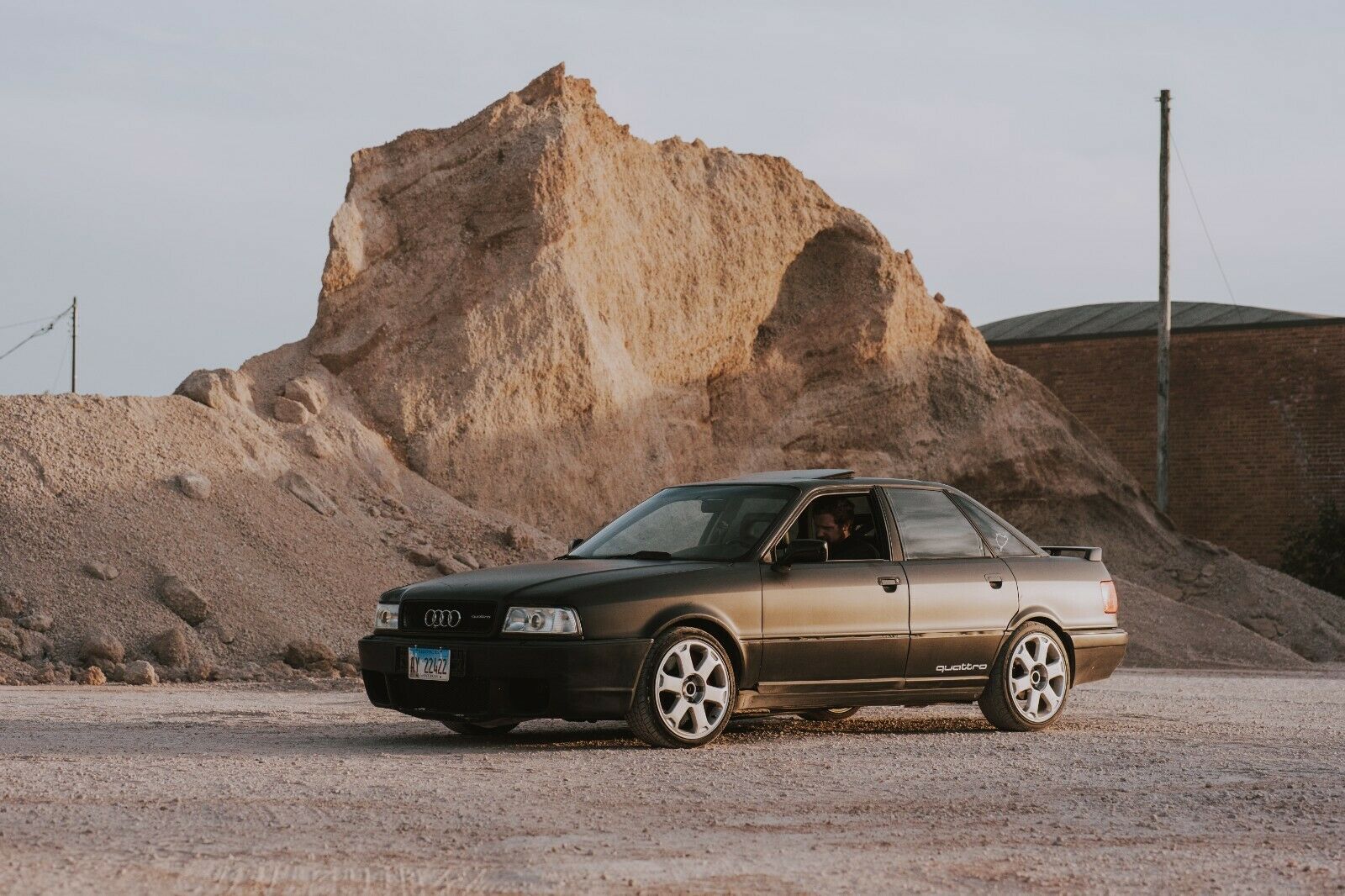 Everyone talks a good game, but let's be honest – few undertake the heavy lifting involved with a project car. I've certainly been guilty of it more than once, having had a Coupe GT racecar that I just couldn't quite come up with the resources to get together. Then I was going to drop my spare Audi 4.2 V8 into a derelict 924 chassis that was kicking around. I still think that's a good idea, but it has not occurred. And I'm not alone, judging by how often 'project' cars come up for sale.
One of the more prevalent dreams in the Audi swaps is to recreate what Europeans had the advantage of all along – 20V turbo power in the small chassis. While most take the Coupe Quattro route for their swap, some go the unusual route of choosing an 80 or 90 quattro. They're not as popular for a few reasons – mostly, the sedan platform doesn't look as neat to some, but another reason is that tire size is more limited on the sedan. But let's not forget that Audi built about 300 S2 sedans themselves, so it's not without precedent.
Today's car has taken inspiration from that and done the heavy lifting for your project already. So is it the car for you?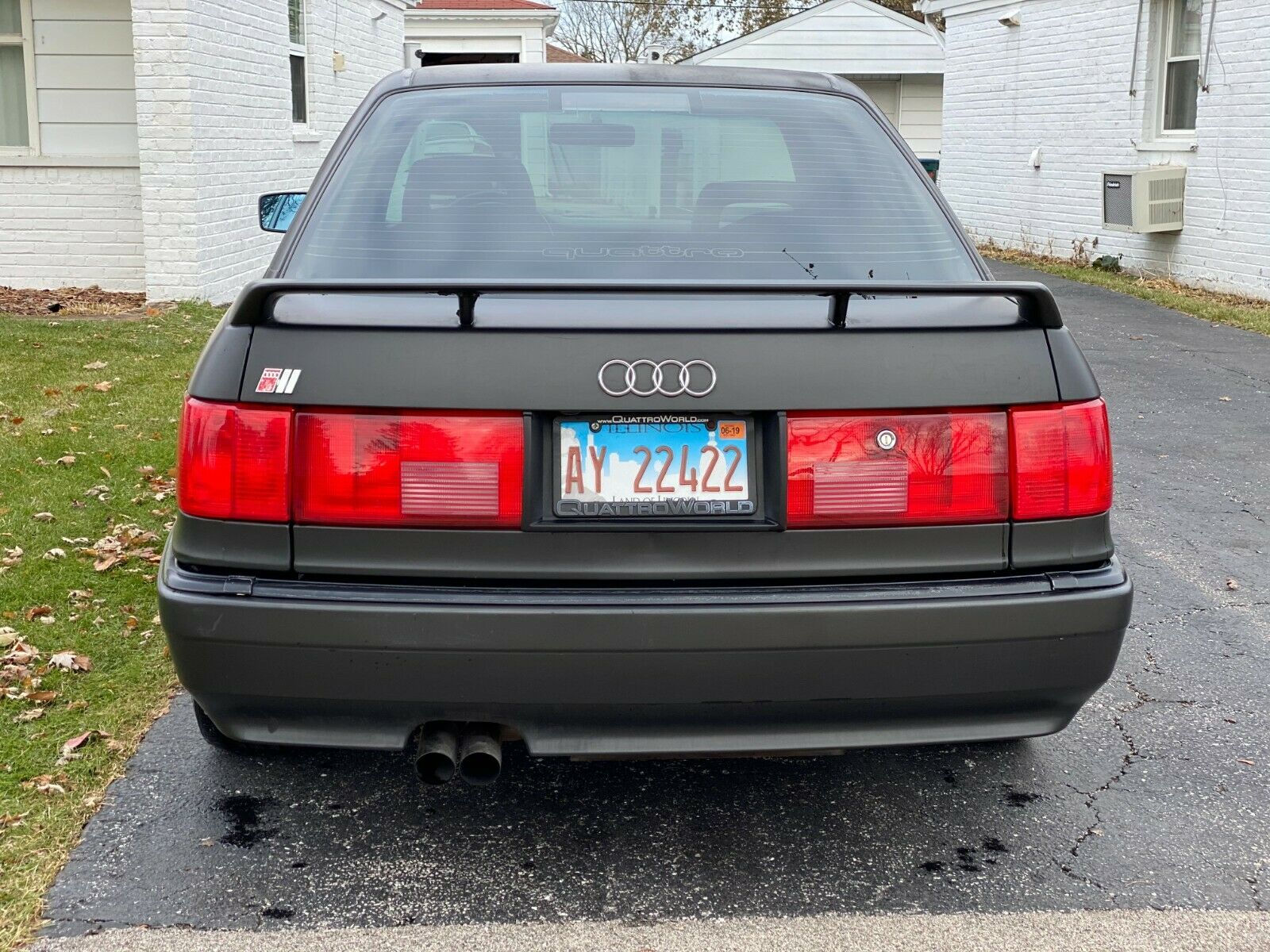 Year: 1991
Model: 90 quattro 20V
VIN: WAUHE58A8MA024056
Engine: 2.2 liter turbocharged inline-5
Transmission: 5-speed manual
Mileage: 211,000 mi
Location: Arlington Heights, Illinois
Price: No Reserve Auction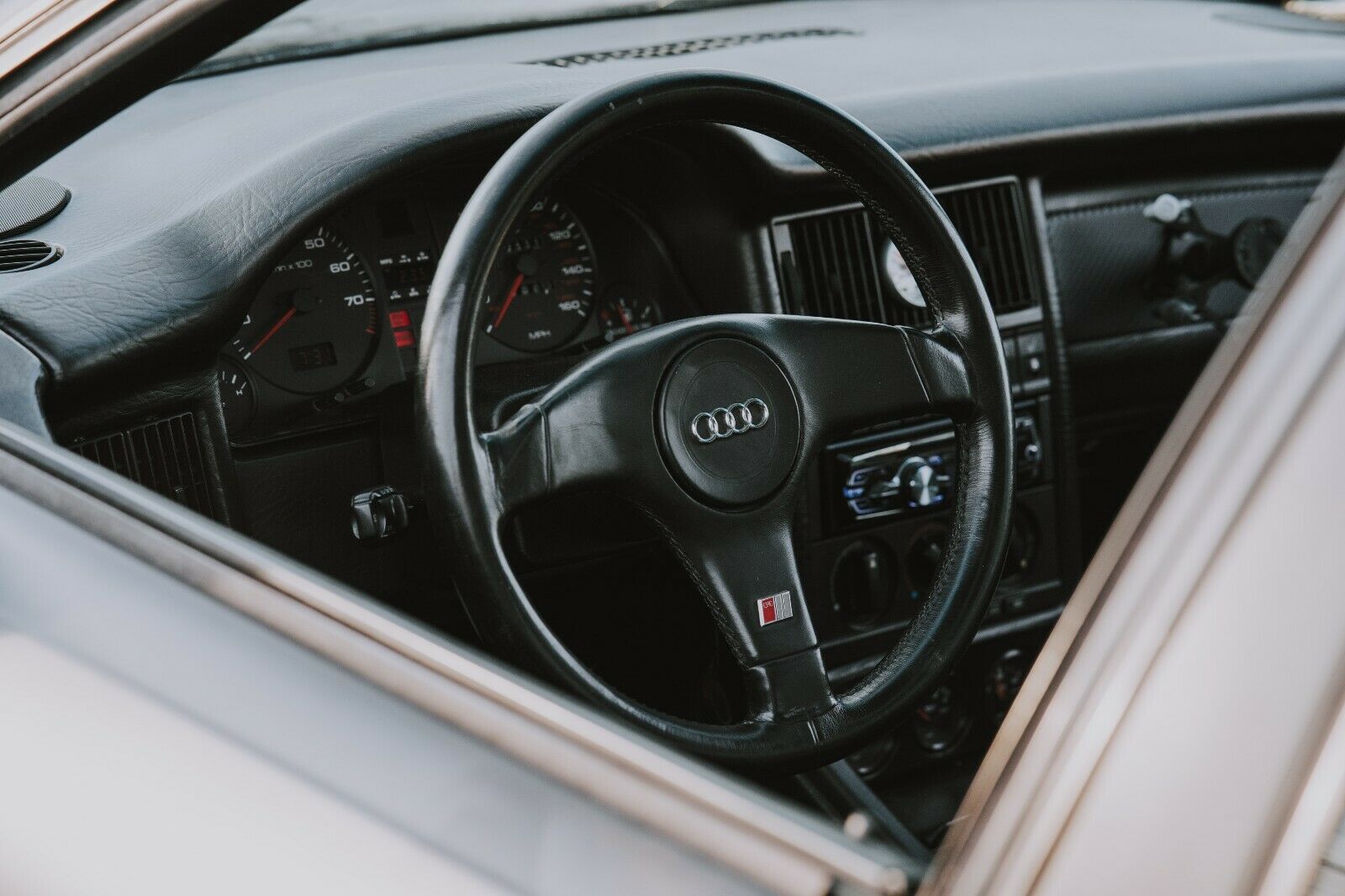 1991 Audi 90 Quattro with 20v, Turbo engine (3B) on a 01E 5spd by previous owner.

(Euro S2 B4 clone Car we should have had in North America)

Car is in great running condition with no major issues; 211,000 miles indicated for chassis;

Engine swapped in 2014 from 1991 Audi 200 (mileage unknown);

Black leather interior shows its age, drivers seat worn and cracked with large center section repair;

Compression check – 170-185 psi across all 5 cylinders;

Last 3 years replaced failed driver side window regulator, valve cover gasket (eliminated small oil leaks) and few small improvements, just installed a new OEM style clutch;

Car was wrapped (by the PO) in 3m 1080 Vinyl Wrap in Matte Black which still looks good (some small imperfections showing);

Original color of the car is black excluding 2 front fenders (Audi 90 B4, green) which were installed in order to accommodate European RS2 headlights which are hard to find and expensive;

Straight rust free body with exception of two dents located on the edge of the roof (the driver side);

Car also has a cracked windshield at the lower part, not visible unless you are looking for it.

Upgrades:

– VEMS Engine Management System (original ECU was replaced)

– EVO VIII front mount intercooler

– 17z front brakes (big brake upgrade)

– New Volvo k24 turbo

– 7A Valve cover machined for the 1.8 coils

– 1.8 coils

– 01E 5 speed (from Audi URS4)

– 034 euro short shifter

– Iroz engine and trans mounts

– new subframe bushings

– new control arm bushings

– Custom Downpipe

– Stebro exhaust turbo back

– 5 lug hub conversion

– S2 steering wheel

– Clarion Head Unit

– Battery relocated to trunk

Maintenance (lots of hard to find restoration pieces):

– VEMS tuning (see below)

– Replaced Turbo Oil cooler flanges/hoses/hardware/gaskets

– Aluminum Alloy double Row Radiator (fresh VAG coolant)

– Refurbished 4x S4 with 2 different style center caps wheels with fresh rubber less than 500 miles

– Replaced missing/dead dash bulbs

– Replaced damaged & missing interior trim pieces

– Replaced trunk carpet and trim

VEMS

With digital dash tablet for passenger side.

turned on overboost safe at 22psi by A former AMS tuner now working for himself

VEMS Stock'ish Config:

rescaled the fueling map to get more resolution

EXTRAs:

– H&R Spring

– Aftermarket shocks ready for install

– Also an euro S2 front bumper in green with lower grills

– Rust free lower door/fender guards/trim

On Jun-26-20 at 13:30:52 PDT, seller added the following information:

Added image from clutch install
The good? Well, the 20V is already slotted in place, it's turned up with some popular mods, the brakes are upgraded, and there are a lot of other fairly desirable parts done. The bad? To me, the result looks a little sloppy, if I'm honest. Perhaps its the matte black wrap that's undoing the package for me, but that front end just doesn't work – and it certainly doesn't help that it's poorly aligned and zip-tied together. I also partially get why people go gaga over the RS2-look bumpers, but to me the regular S2 sedan front end looks waaaayyyyyyy better. So, too, do the correct Speedline Avus wheels, though admittedly sourcing the European-market S8 wheels is pretty difficult.
I'm probably being too harsh, but then this car isn't exactly cheap. So far, bids have hit $6,800. And you'd be right in saying 'sure, but it's a lot of car for that money'. But personally, I think I'd really rather have a clean stock and original 20V sedan sans turbo.
-Carter