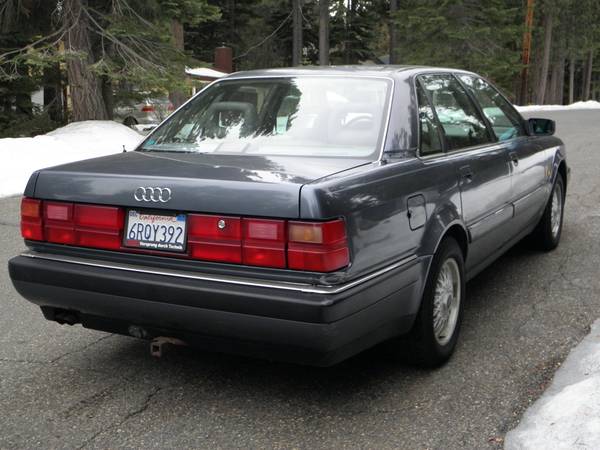 The Audi V8 quattro – one of my all time favorites. Finding a good one these days is difficult, especially if you're not a fan of very popular Pearlesant White that a fair amount seem to be. In fact, prior to today I had written up four Pearl V8 quattros; like 3 of those examples, today's is one of the earlier 3.6 "PT" engined cars, with subtle differences to the 1992-1994 4.2 V8s. Like the later cars, the 1991s gained the light and fashionable BBS RZ wheels; seemingly a requisite for luxury German motoring in the late 80s and early 90s. Other than that, there weren't too many running changes to 1991 cars – but this particular example is offered in the rare-to-see Opal Pearl metallic and seems to shrug off most of its 170,000 miles: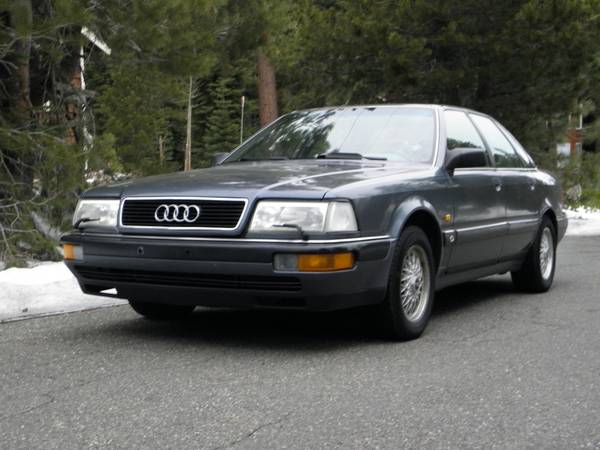 Year: 1991
Model: V8 quattro
Engine: 3.6 liter V8
Transmission: 4-speed automatic
Mileage: 170,000 mi
Price: $3,000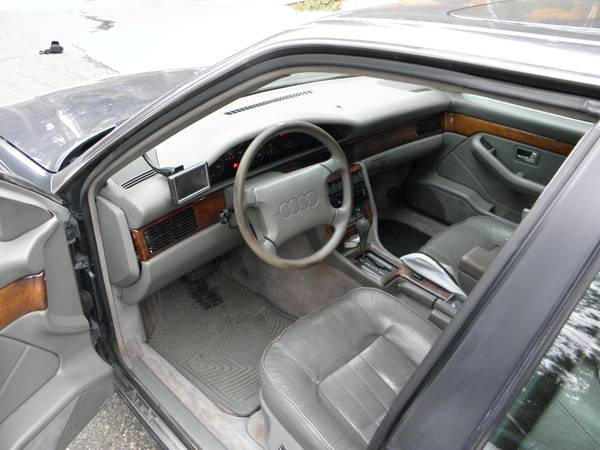 1991 Audi V8 Quattro. 3.6l V8. Audi's flagship vehicle in the early 90's. $50,000 new.
Nice car. Clean. 170,000 + miles. Received lots of maintenance. Tahoe car since +-95.
Opal Pearl paint. Some fading on roof. Clear coat defect on hood. Dent right rear corner.
Platinum Gray leather in great shape. Comfort seats are excellent and comfy! Drivers seat heater not working. I have an extra element, need to be installed.
3.6l V8. Stock exhaust headers. Newer aftermarket catalytic converters. CA smog.
4 speed trans shifts nice. 3 modes Sport/ Economy/ Manual.
Kenwood cd player. usb/ aux input.
Lots more. Extra parts. A few "Audi glitches".
Car drives great. Rides better than a lot of new cars. New tires. (2nd set of snow tires and wheels in pictures, negotiable.) 16-20 mpg.
Everything works. Cruise Control/ Climate control. ABS.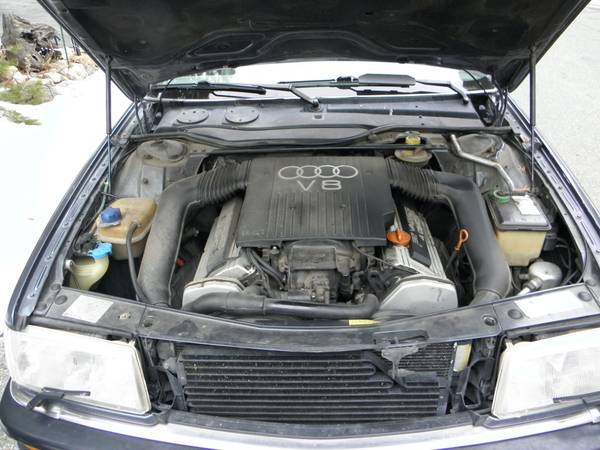 The PT engine, in spite of it's top of the Audi line 240hp in 1990 and 1991, felt pretty flat overall mated to the automatic transmission. On the go it wasn't bad, but the V8 quattro really woke up with either the 5-speed manual option or the later 4.2. This car has the premium leather option, along with reported (though undisclosed) maintenance. On it's way to 180,000, this car should be prime for it's third timing belt – an expensive necessity on these cars. Early transmissions were also noted for being less reliable than the later models, though with proper servicing they've been known to last. Unfortunate is the clearcoat damage to the roof and hood, but the overall condition of the car appears to be fairly good. At $3,000 it's not a bargain and it certainly won't be free to run over the next few years, but these V8 quattros are absolutely a blast in the snow and to me, if you fix the driver's heated element this car would make a great winter car/ski ride. $3,000 barely gets you into an acceptable 4000 quattro these days – this is a lot more car, a lot more refined, and properly set up as good in the snow as the 4000 quattro ever was. Ski trip time!
-Carter