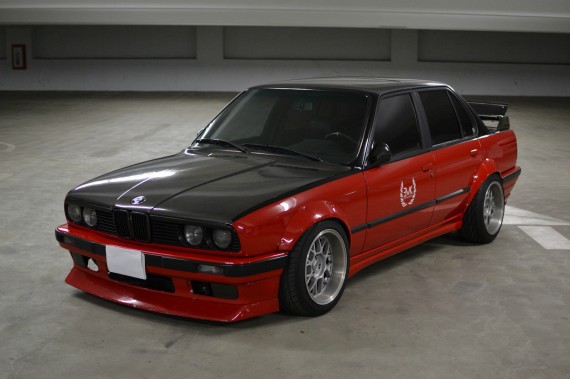 I've been pretty focused on clean classics recently, but sometimes being careful is boring. Someday when I have more time I will go the thrasher-project car route, hopefully before all E30s are five-figure propositions. If it's going to be a toy, it might as well have a toy paint job too, and I always wanted my toy cars to be red and black. Today's E30 started out as 318i but is now significantly more potent with an E36 M3's S52. Brakes might have helped, but springs and wings are present and will assist slowing down… right?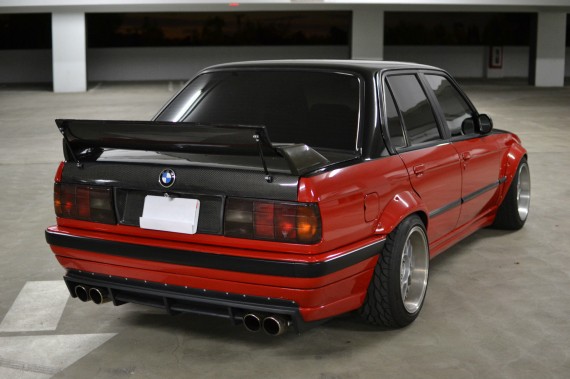 Year: 1991
Model: 318i
Engine: 3.2 liter S52 inline-6
Transmission: 5-speed manual
Mileage: 180k mi on chassis
Price: Reserve-on auction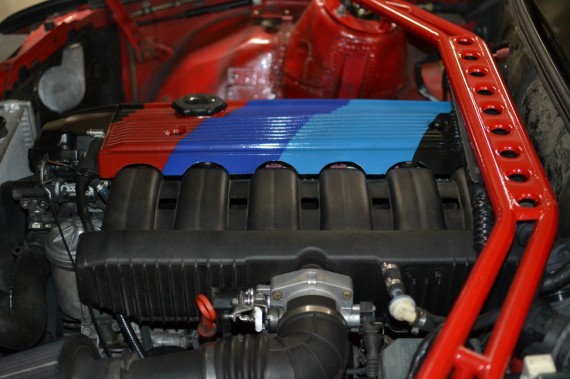 This is a 1991 BMW 318i, Clear title, California car.
Lots of work done to this car from exterior to interior, and to the engine bay.
over $18,000 invested and hours upon hours in the shop.
Exterior:
Brand new briliantrot paint job with custom black paint job on top.
custom front side and rear moldings (no reflectors)
Carbon fiber hood
Carbon fiber trunk
Carbon fiber dtm adjustable spoiler with the big flap
Carbon fiber dtm mirrors
Carbon fiber grill
Lids over the lights
Carbon fiber fog light covers
DTM lip
custom side skirts
E36 m3 rear bumper converter and diffuser
Fender Flares (requires custom cutting on fenders and quarter panels)

Interior:
Reupholstered recaro bucket seats (600 bucks each)
NGK full quick release
Brand new limo tint in rear and one shade lighter in front
original floor mats
no rips in the carpet
Speedometer is out with a cracked screen but it will be included

BF goodrich g force tires just installed in rear.
Bosch european head lights with HID (only made in Europe)
smoked out tail lights that aren't made anymore.

D2 coilovers (36 way damp)
mason front and rear strut bars
SS (stainless steel) brake lines
Specially ordered wheels by the owner of DTM Body Works (Eurostopusa) wheel specs: 16×10, 15 offset, (you can't buy these) light weight, less than 20 pounds a wheel with new tires.

Engine:
S52 E36 M3 engine and transmission and driveshaft with obd1 management
S50 intake manifold
New battery
New starter
New intake boot
only 5w-30 BMW synthetic oil was used in this motor.
I have a lot of receipts stored away for this car.
Motor and drive train was taken out of a 1998 BMW M3 with approximately 85,000 miles.

cons.
No AC (saved weight)

I highly recommend the buyer inspects before buying. Sold as is.
The car starts up perfectly, drives, and does everything a car should do.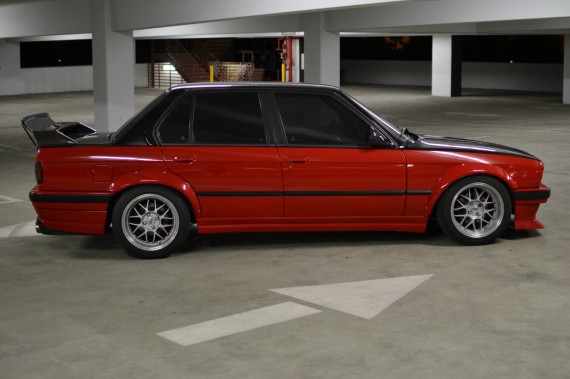 As usual with someone else's project, I have some aesthetic changes I'd make immediately, mainly the wing. Once that was gone though, you'd have a unique and intriguing donut machine. The reserve price had better be significantly below the claimed $18k invested, but the owner will probably think he can get close for a few auction's time. Not my standard taste in BMWs, but I'm in the mood to break out of the restrictive day-to-day.
-NR