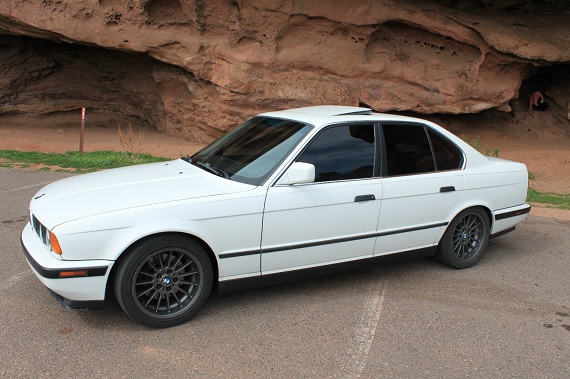 As M prices continue to soar, one of the safe havens if you want something special that isn't outrageously priced is still the E34 M5. The E34 is often overlooked by enthusiasts because it's the slightly conservative filling in a legendary bread sandwich. With the bookends of the E28 and E39 M5s, the E34 in comparison seems understated and perhaps even a little boring when you first look at it. It doesn't visually look much different than the rest of the production line other than two M5 badges (do you read that BMW? You only need TWO badges to make us take note. TWO!). But that understated presence hides driving dynamics that are second to none – this is a Q-Ship in the greatest sense, perhaps even better in its execution of that goal than the E28 was, and certainly less showy than the E39. For those who want a great driver from one of the best periods of BMW history with a legendary engine, excellent build quality and enough luxury to make you and your 3 friends feel very special on your weekend getaway while staying on a reasonable budget, look no further: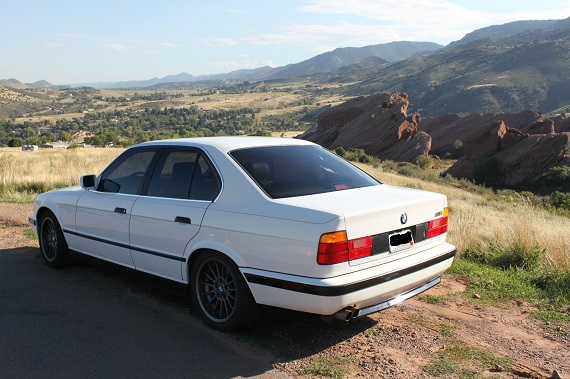 Year: 1991
Model: M5
Engine: 3.6 liter inline-6
Transmission: 5-speed manual
Mileage: 190,724 mi
Price: $7,900 Buy It Now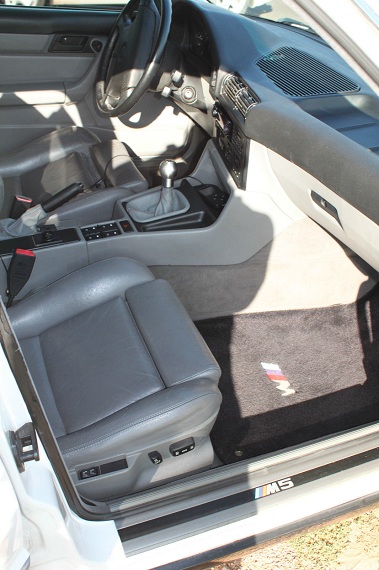 1991 BMW M5 E34 Alpine White 191K Last Hand Built in Germany M Car 1 of 1296 307hp

Selling my 1991 BMW M5. Alpine White with gray leather interior. Inline slant six with 310hp. This car is 100% adrenaline to drive. It is a true M series car, being the last M series hand built by a team of engineers in Germany and the quality still shows even 23 years later. It was rated in the top 10 cars of it's time, even being matched against the Porche's and Ferrari's. I have had so many people coming up to talk to me about it and lots of looks driving it. You most likely will never run across another one. Ever. Here is your chance to own one of the legends. One of only 1,296 made.

Click on the YouTube link provided below (actually had to remove it per ebay's policies but you can access "BMW 5 Series M5 Startup & Acceleration") to get a true representation of the stock exhaust and general performance of this car. This M5 is absolutely radical in every sense of the word. I have been told that the engine sounds like a jet engine from the outside. The sound from the cockpit is exhilarating and really gets your heart pumping, constantly reminding you that you are literally in a true Supercar.

Recent service done but it needs new tires. No rust, originally a West Coast vehicle. Clear title and it just received a Fast Pass at the emissions meaning it did so well they cut the test short. 190.5K on the odometer. No leaks at all. The suspension was upgraded with Bilstein shocks with adjustable Ground Control coilovers. It appears the upper and lower control arm bushings have been replaced. The previous owner included a brand new Powerflex rear bushing set but I never installed it, it will be included with the sale. The previous owner included all old parts that were replaced and there are old control arms in there so those have been replaced. These M5's had overheating issues and all components have been replaced by the previous owner including the fan clutch. I believe the windshield was replaced in 2013 from the previous owner. Please view the list of repairs below.

I have had the windows professionally tinted since purchase, along with the transmission and differential fluids professionally replaced, also the Output Shaft Seal, Shift Shaft Seal, Safety Plate, Drive Shaft Carrier Bearing all professionally replaced on my watch. The Check Engine light is on and has been the entire duration of my ownership. It was diagnosed at Autoworks Colorado as a faulty O2 sensor. The previous owner had replaced this as well so it could be a computer glitch. Either way, it does not affect emissions at all and ultimately it is just an annoying light. The steering does shimmy once in a while on uneven roads due to the bald tires and the fact that they are now way out of balance. This issue will be remedied with fresh rubber and a balancing. I would recommend a four wheel alignment at that service as well to completely button up the job. It is due for an oil change and I will leave that up to the new owner as the oil type is dependent upon the season of driving. I did not want to put summer oil in if it will be driven in winter.

All power windows including the sunroof work. All electrical works, for that matter, with zero issues. The transmission is sometimes a bit finicky and pops out of reverse on occasion. All other forward gears have zero issues. The clutch feels nice and strong with no slipping. The A/C is charged but does not blow cold, I am not sure of the issue there. The brakes are squeaky due to excessive pad dust during braking. A spray with the garden hose will temporarily fix this issue. I inspected the brakes and the pads have lots of meat on the padding and the rotors look and feel very good. The brake rotors are slotted which help in hard driving conditions and are excellent for mountain driving.

The car has some small dings in the body and rock chipping on the front. I purchased exact match touch up paint and have covered those areas. The interior leather on the driver's side seat is cracked and a bit worn, some noticeable wear on the passenger seat but not too terrible and the rear seats are excellent. M badge on the floor mats and nice machined M shift knob. No cracks in the dash and really the interior is excellent overall. This car has been very well cared for and respected.

I will be more than happy to answer any questions about the car, although I do have limited knowledge of previous ownership and maintenance. Clear and clean title in hand. One new oil filter, air filter and belt are included. Also, a brand Powerflex rear bushing set are included. Original Original Owner's manual and even the original BMW stereo manual is included. Please, only serious inquiries.

Recent documented work:

4/29/2013 183,802 Replace Fuel Pump Accuracy Automotive $160.00 Previous Owner/receipt

4/29/2013 183,802 Replace Valve Cover Gaskets and spark plug tube seals Accuracy Automotive $230.58 Previous Owner/receipt

3/4/2013 183,288 Complete Vehicle Driveability / Safety Inspection Accuracy Automotive $55.00 Previous Owner/receipt

3/25/2013 183,802 Replace engine oil & filter Accuracy Automotive $53.24 Previous Owner/receipt

3/25/2013 183,802 Replace spark plugs, distributor cap and distributor rotor. Accuracy Automotive $280.00 Previous Owner/receipt

3/25/2013 183,802 Replaced fuel filter Accuracy Automotive $96.40 Previous Owner/receipt

7/22/2013 185,182 Replace temperature sensor, replace hose clamp, replace radiator, replace coolant. Schomp BMW $1,150.69 Previous Owner/receipt

8/5/2014 187,492 Replace Transmission and Differential Fluid Autoworks Colorado $123.66 Receipt

8/6/2014 187,492 Full Custom Tint IDS Window Tint $268.13 Receipt

9/26/2014 190,123 New Output Shaft Seal, Shift Shaft Seal, Safety Plate, Drive Shaft Carrier Bearing Autoworks Colorado $574.88 Receipt

Thank you for taking the time to read and view this listing! I insure all items over $20. I do not make any money from overages on shipping costs. If the paid shipping cost totals more than the actual shipping cost, the difference will immediately be refunded. I will gladly combine shipping. I take my shipping time and packaging seriously. The items I have listed are unique and interesting to me and I jealously have fought for it on some level to obtain it. I care about the items and I care about the item you purchased getting to you in the exact condition as it is pictured. When you buy something and pay for it you can expect it to be packaged and shipped within one day in most cases. I will be more than happy to answer any questions about any item. I research my items and always give as much correct information about the item as I can. I admittedly am not an expert in any area so I urge you to please be diligent on your behalf if there is any question to the item prior to bidding. International bidders please contact me for a shipping quote to your location.

You may wish to save me as a seller as I come across a very wide spectrum of items, some fairly rare and unique one-of-a-kind treasures. I get new items weekly. Thank you again and best of luck if you choose to bid!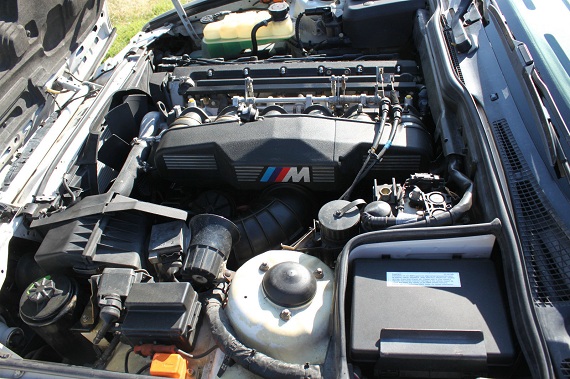 Kudos to the seller for an upfront, thorough and what appears to be honest description of a great car. The thought of jumping into one of these expensive-to-maintain M cars can be a bit ominous as the miles accrue, but as our own author Nate has shown getting into a higher mile M5 isn't necessarily an automatic death sentence. The car looks great for nearly 200,000 miles with the possible exception of the dark-painted Style 32 wheels. While I miss the M-System wheels and were this mine I would probably seek out a set, the Style 32s look good – just not painted quite so dark, at least in my mind. There also appears to be an aftermarket alarm fitted, and I've yet to see an older one of those work particularly well. Otherwise, at below $8,000 this looks like a very well priced and compelling option to get into a semi-exotic BMW.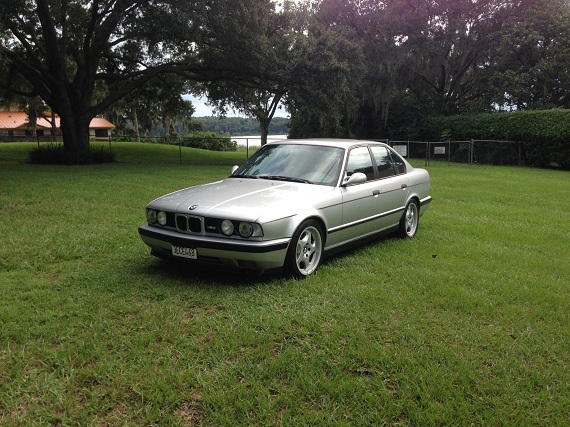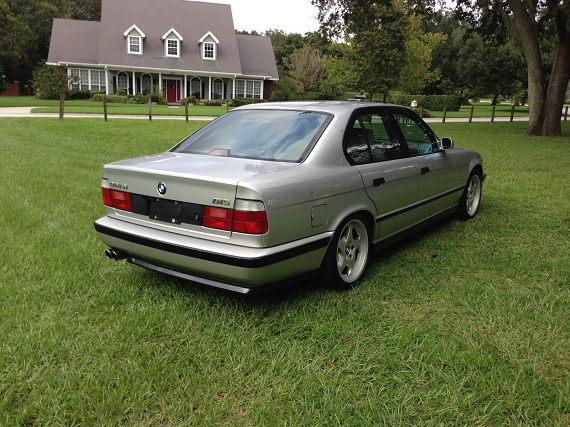 Year: 1993
Model: M5
Engine: 3.6 liter inline-6
Transmission: 5-speed manual
Mileage: 141,000 mi
Price: Reserve Auction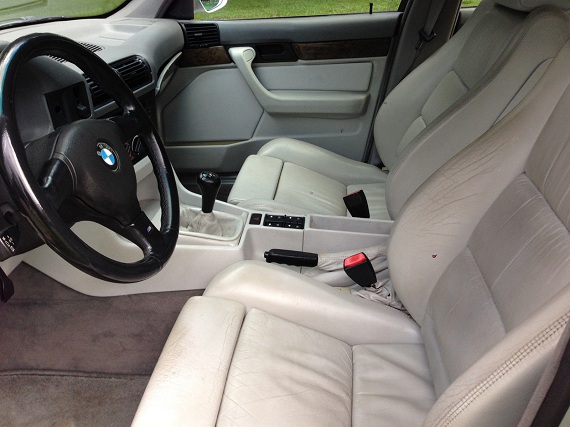 For Sale: 1993 BMW e34 M5
3.6 L six-cylinder, Silver Exterior, Gray Interior, Wood Trim

The e34 M5 was the last of the handbuilt M5's to be released by BMW, very rare, and in 1993 they released only 261 to North America. This particular year had the "Throwing Star" wheels, M3 style rear view mirrors (M-Technic), front exterior BMW Motorsport door handles, Maple wood trim, and addition trims and stitchings.

Upgrades include Dinan Chip, Dinan Cam Sprocket, Dinan Springs, Koni & Bilstein Shocks, UUC Shifter, the B&B Triflo Exhaust, Euro steering wheel, Euro Trim, Euro Headlights w/ H1 HID (smileys) and Euro lighting, Racing Dynamics Sway Bar, BMW illuminated shift knob. All doors and trunk area has been fitted with Dynamat Extreme for improved acoustics.

This M5 has been serviced and garage kept. Recently has had new spark plugs, new windshield wipers, new latch for glove box, additional minor repairs. No rips or tears to leather, light wear to front drivers seat. The toolbox in the trunk is fully equipped, and the spare tire is a BBS from BMW. The engine is powerful and the manual transmission shifts smooth. The exhaust note produced by the Billy Boat exhaust has a deep resonating tone and truly does the S38 engine justice. It is an absolute thrill to drive and to experience.

Low Reserve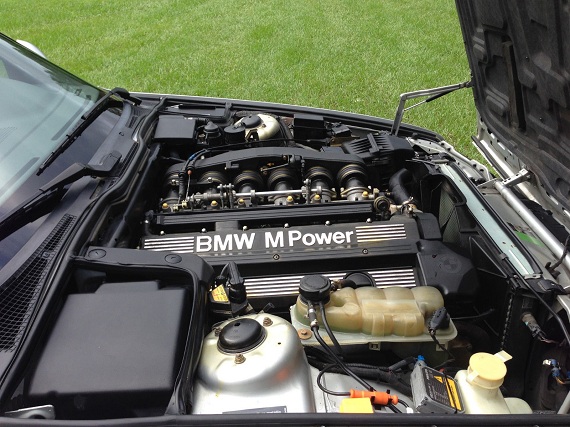 If I have one complaint about E34 M5 advertisements, it's that the sellers almost always revert to the "last of the handbuilts" line almost immediately. But get past that and this is a good looking E34. The silver exterior and grey leather remind me of the first M5 I ever got a ride in. Like the white example, this one appears to be enthusiast owned, and here you get a host of upgrades including suspension and drivetrain items. Miles are a bit lower, and with some additional items and what appears to be equal or slightly better overall condition than the '91, the reserve price on the auction is set accordingly higher than the earlier car. However, I would guess this car will remain quite affordable even compared to the other affordable M, the E36 – making this a much more unique car to get into. The repair bills will be higher than the E36, but you do get that legendary S38 under the hood – and hearing that motor in full song will remind you why your choice was a good one.
I think either of these cars would make a great driver candidate for someone looking for a very special BMW that stands apart from the crowd in the right ways; I'd probably opt to pay a little more for the silver example because I like the look a bit more personally, but correct the wheels and the '91 also looks very nice.
-Carter