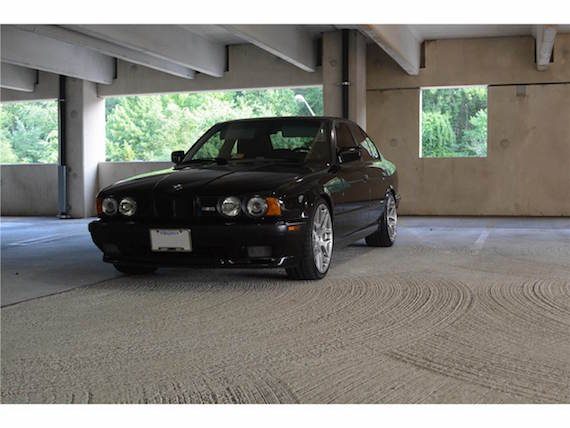 The other day I posted a 500E, which was Mercedes' take on the Q-ship formula of stuffing a large, powerful engine and race-tweaked suspension into an ordinary looking mid-size executive sedan. What I didn't mention was that the 500E was, of course, a response to the original (and some would say best) wolf in sheep's clothing: the E34 generation M5. While I've posted a few E34s lately, I've so far avoided writing about the M-variant (though my colleagues have written up some really nice ones: see here and here, for example). This is only because my preference is to find cheap daily drivers to share with our readers and, as enthusiasts begin to seek out more affordable alternatives to the E30 M3, these M5s are increasingly becoming too expensive to count in that category. Still, when this lovely example popped up the other day on Bimmerforums.com, I couldn't resist the temptation to write it up.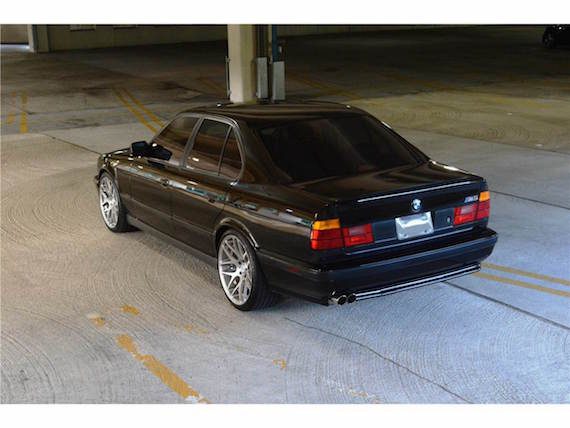 Year: 1991
Model: M5
Engine: 3.6 liter inline-6
Transmission: 5-speed manual
Mileage: 138,000 mi
Price: $17,500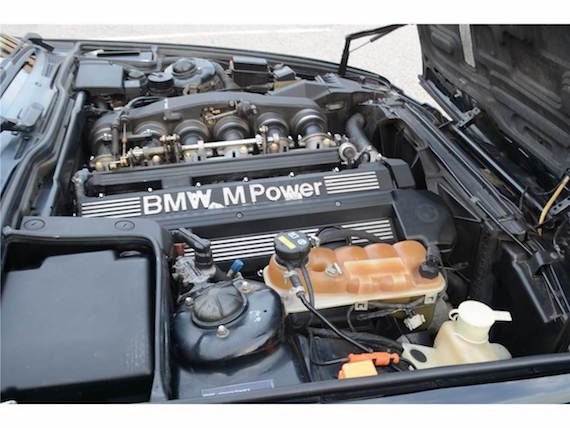 1991 E34 M5. Black/black 138K miles. Receipts since new

Long time owner of several prior and current BMWs selling due to recent new house and P car purchase. A couple too many cars on the fleet so unfortunately I'm selling this beautiful E34 M5 and at least one of my E30s.

Black exterior / black leather interior. 138.1xx miles. 3.6L 6 cyl. Engine. The last of the handmade M5s which recently have been appreciating in price. Purchased in 4/14 with 130K miles from a doctor who purchased the car in 1994 (stacks of maintenance receipts dating back to the original owner when the car was 1st purchased). All electronics work. No rust, leaks or funny noises. It looks, drives, handles and sounds great. Very clean interior, very well maintained, upgraded sound system and in excellent overall condition. Clear title under my name.

– E34 M5 D'Sylva performance chip (also have stock)
– New B&B Triflow stainless steel cat-back exhaust
– New Koni yellow single adjustable front strut assemblies and rear shocks
– New H&R sport suspension springs
– New BMW OEM shock / strut mounts
– New BMW OEM front Brake rotors
– New BMW OEM front & rear brake pads
– Fully forged (extreme light & strong) silver Morr VS8.2 19×8.5 & 19×10 wheels wrapped in 245/35/19 & 275/30/19 Continental DW tires with over half thread left (set cost almost $4k new).
– 17×8 M-System original spare wheel (& tire) in great condition
– No dash cracks (removable dash cover always used)
– Steel braided brake lines front and rear
– Complete factory toolkit
– 3M Crystalline window tint (lifetime warranty)
– Alpine CD/MP3 player head unit, amp & upgraded speakers
– Prewired for Valentine 1 radar detector
– Illuminated ///M leather shift knob
– Extra sound insulation throughout installed by previous owner (very quiet inside)
– Black kidney grills (have stock chrome pieces)
– Paint matched rear trunk lip spoiler
– New professionally installed German made European H1 "smilies" headlights set with daytime running lights wired to intermediate lights (also have the stock ones)

Other Recent Maintenance

– 7/17 VA Safety inspection completed
– BMW coolant system flush
– New coolant hoses
– New BMW air filter
– New power steering hoses
– Various suspension bushings and drive train mounts were replaced when suspension was refreshed
– New rear subframe mounts
– Several other minor items replaced as required under my ownership
– Regular Lexol leather treatment throughout all leather surfaces
– Maintenance done by previous owner prior to purchase: "recent tune-up/air filter/oil filter/valve adjustment/valve cover gasket/clean valve train without sludge/new belts/fuel filter/fuel lines replaced. Cooling system flushed, water pump & hoses replaced".
– Tons of receipts dating back to the original owner in late 1990when the car was new.

Notes
– Leather is in very good and supple condition throughout with the exception of a small rip on driver's side seat bolster. A good upholsterer should be able to replace this panel.
– Several paint chips and scratches commensurate to a vehicle of this age and mileage. Paint is thin in some areas where previous owner or detailer got too aggressive with orbital buffer.
– Glue on door panels is coming undone. This is a common issue with early E34s and some owners replace these with easily obtainable later model E34 door panels. These were built based on a slightly different design which minimized this problem. I was going to have an upholsterer fix these and the seat bolster at the same time but focused in refreshing the suspension & other more pressing items 1st so didn't get around to do these yet.

Only if you're serious and able to purchase the car please PM me for any details, questions or more pictures. Located in NoVA outside of DC. No trades, no low-ball offers, no scams, no joy rides.

Thank you.

List Date: 7/29/2016

On Sale For: $17,500.00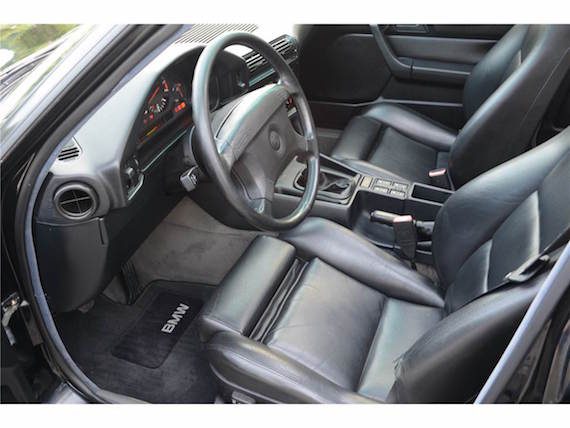 Produced between 1988 and 1995, the E34 M5 was the last of the hand-built M-cars. Each one was assembled at BMW M GmbH in Garching after the chassis had been sent over from the main plant at Dingolfing. The M5 was externally differentiated from ordinary examples of the 5-series only by the slightly revised front and rear lower valences and side skirts, M-system wheels and subtle M-badging. But in all other respects they were outwardly no different from their less powerful siblings; perfect for disguising that glorious, race-bred S38 3.6 liter inline six motor, good for about 315 hp routed through a slick, 5-speed manual gearbox.
This particular car presents nicely in the winning combination of black over black leather. It's mostly stock with some gentle mods: a chip, aftermarket exhaust, 19″ Morr wheels, Euro-spec "smiley" headlights and trunk lip spoiler chief among them. I think the wheels are a bit too much, and would prefer the stock M-system items, but the more I look at the photos the more I think I could learn to live with them. The seller (who appears to be a knowledgeable member of the enthusiast community) promises that there is no rust to worry about and offers a decent amount of information regarding maintenance history. The only major cons listed are a tear in the driver's seat bolster and the dreaded E34 door card peeling problem. The seller mentions that he decided to invest in mechanical repairs instead of having this fixed. I'm not surprised: I recently went to an upholsterer in the DC area who was recommended to me as cheap, and even still he wanted $500 to reglue the 4 doors on my E34. I decided to attack the problem myself with some gorilla glue, and ended up with mixed results.
The asking price of $17.5k is strong but not completely out of line with prices we've seen for nice well-kept examples. And it may well be worth it: these are fantastically capable and cool cars, a reminder of a time when BMW built ultimate driving machines unencumbered by fussy styling, turbos and fake engine sounds piped into the cabin.
– Craig