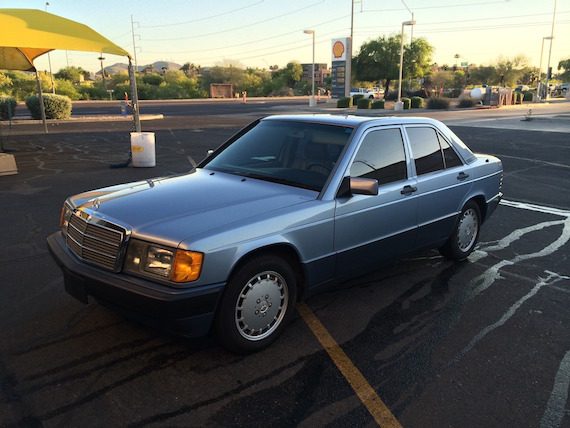 You know that feeling you get when you stumble across a car that resembles one you used to own, and now sorely miss? That pang, deep down in your stomach, of gut-wrenching remorse that you let it go, mixed with familiarity and excitement ("hello, old friend"), and the irrational urge to buy another car just like your old one, even though you probably shouldn't (because: reasons)? I got that feeling when I saw this listing for a 190E. Outwardly it looks almost identical to my old baby benz, whose life ended ignominiously and prematurely in a ditch to the side of the I-95 on a cold, icy day in February. I still think about that car. This is my "one that got away." If I hadn't crashed it I would have kept it forever, because the W201 is the best kept secret in the world of cheap daily drivers that still, after all this time, feel expensive and luxurious. (A side note: after the insurance adjuster told me he was going to total it, a mechanic who was observing the scene, and who must have noticed the sadness on my face – as well as a lucrative opportunity – pulled me to one side to say he could probably rebuild it for less than the cost the adjuster had estimated, if I wanted. But because I was exhausted, broke and feeling upset and confused, talking to an unfamiliar mechanic who I was not sure I could trust, I said no. I should have said yes.)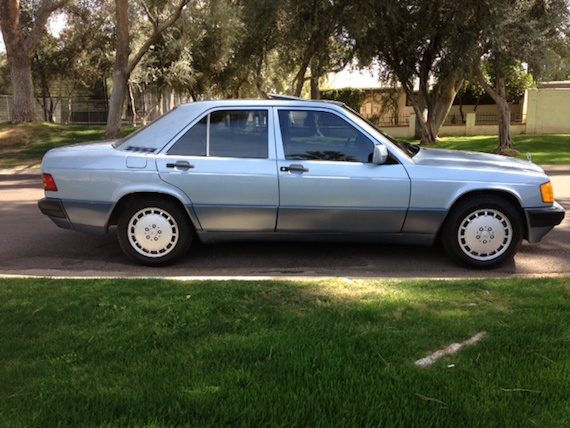 Year: 1991
Model: 190E
Engine: 2.6 liter inline-6
Transmission: 4-speed automatic
Mileage: 142,000 mi
Price: No reserve auction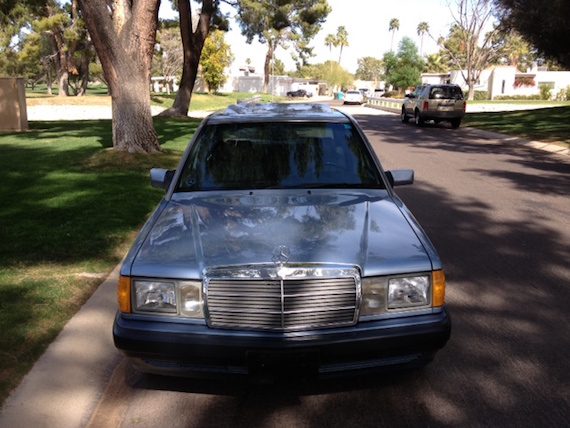 This Mercedes has been Garage Kept since new. Runs and drives great! Clean Arizona Title this car is 100% Rust Free! Transmission Shifts Smoothly, All Power windows and Sun Roof works Great, A/C Works Great, Good Tires, All Rubber in good shape, All Electrical is in Working order. No rips or tears in the Interior. No Cracks in Dash, Never been smoked in, Everything is Original on this car Except the radio. I Own 4 Mercedes's hate to sell it Moving an have no parking. if you have Any Q's Please feel free to give me a Call (480)747-5422
This is a No reserve auction Good Luck and Happy Bidding!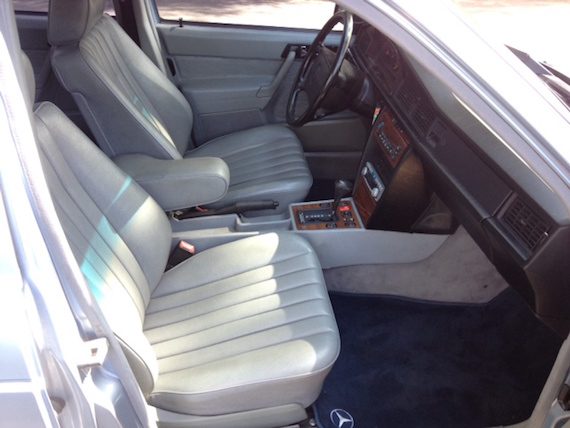 So, as you can imagine, it's taking a healthy dose of self-restraint for me not to bid on this car (it helps, though only a little, that I can tell myself: "mine had fewer miles," "it's located too far away anyway" and "my 525 has less character but it gets better gas mileage" ). Light metallic blues really suit the W201 body shape, and here the ice blue/pearl blue exterior (paint code 348) shines handsomely, highlighting the classic, teutonic lines of what remains, I believe, an iconic yet criminally underrated design (the work of Bruno Sacco, of course). The gray color of the MB-Tex interior is rather uninspired, but the seats appear to be in excellent shape. These vinyl interiors age well, with the exception of the interior door cards, which tend to become unglued. All electrical systems (windows, sunroof, A/C) are said to work. I think a set of Euro-spec headlights would clean up the front end, but otherwise I can't really fault this car.
At 140k miles, the silky smooth, bullet-proof 2.6 liter M103 inline six-cylinder engine is still a youngtimer, though potential buyers should check for oil leaks (since head gaskets tend to let go every 150k miles or so) and ensure that the transmission shifts smoothly with no clunks or judders. It sounds like the owner is a Mercedes fan and, judging from the condition on show in the images, I would guess that he or she has looked after it well. Good on them. I expect this to sell for between $3,000 and $4,000.
– Craig